Latin America Commercial Airport Full Body Scanners Market
Description
Table of Contents
Customer Intelligence
Full body scanners are an emerging concept of aviation security, which has promoted a strong R&D pipeline to constantly develop machines that emit minimal radiation. This would encourage passengers to use these machines without any inhibitions. Airports are now conducting trials, and demos are underway in most of the major class A, class B and class C airports.
The Full body scanners market is in its growth phase and is getting all set to witness joint ventures, mergers, and acquisitions between OEM's and technology providers. The Latin American full body scanners market is valued at $44.6 million in 2014, and is expected to reach $243.1 million by 2017. The market is segmented on the basis of technology and application.
The report provides insights on the full body scanners market, key market players, future scope, drivers, restraints, and challenges. The report also analyzes the required number of full body scanners with regards to the passenger handled in the base year.
The Latin American full body scanners market research study provides detailed qualitative and quantitative analysis of the Latin America full body scanner market from 2014 to 2017. The report provides a comprehensive review of major market drivers, restraints, opportunities, winning imperatives, challenges, and key issues in the market.
The increase in the air travel, airport security, and the growing need for screening passengers for security reasons will drive the growth of the market. The growth in economies to invest in pro-active security system, in addition to the regulations of the government for the safety and security will fuel the need of full body scanner over the next years.
The key players profiled in this report comprise American Sciences and Engineering, Inc., L-3 Security and Detection Systems, Brijot Imaging, Inc., Digital Communications segment of Cognizant Technology Solutions Corporation, Safran Morpho and Braun and Company Ltd. This report covers company overview along with their key products and services, growth strategies, major market acquisition, product launches, and business expansion in the recent past.
CUSTOMIZATION OFFERINGS
1.HISTORICAL DATA FOR 5 YEARS
Financials
Macro Indicator Data
M&A Data
2.COMPANY PROFILES
In-depth analysis of the company's product portfolio
Competitive landscape (revenue, operating margin, marginal cost, P/E ratio, EPS, developments/deals/events)
Ratio analysis
3.REGION-SPECIFIC INFORMATION (North America, Europe, APAC, Middle East, and RoW)
This covers market sizing/mapping, Latin America footprint, operation and financials information, and the competitive landscape. The MMM offering will cover a detailed market study of the point(s) mentioned below:
Class A Airports
Class B Airports
Class C Airports
4.GLOBAL TRENDS/MARKET ENVIRONMENT
Product and technological advancements/Latest innovations and developments
Demand and supply analysis
Market consolidation (M&A, joint ventures, divestments, and spin-offs)
Passenger traffic data
5.Predictive Forecasting
Time series
Regression analysis
6.OPPORTUNITY ANALYSIS
A comprehensive analysis to help understand the potential growth markets based on parameters like:
GDP percentage with respect to military expenditure of a particular country
Contracts & modernization programs
Defense review of countries active in this market
7.PRODUCT ANALYSIS
Usage pattern (in-depth trend analysis) of products (segment wise)
Product matrix which gives a detailed comparison of product portfolio of each company, mapped at country and sub-segment level
End-user adoption rate analysis of the products (segment wise and country wise)
Comprehensive coverage of product approvals, pipeline products, and product recalls
8.SUPPLY CHAIN/VENDOR ANALYSIS
Coverage - Vendor analysis, vendor financing, customers/self funding, and distribution network
9.ROUTE MAP Analysis, LOAD FACTOR, RPK,ASK, and FLF
Airline/Operator route map analysis on a regional and global level
Passenger and freight load factor, revenue passenger kilometer, available seat kilometer analysis
1. Executive Summary
1.1 Market size
1.2 Market segmentation
2. Introduction
2.1 Objective of the study
2.2 Market definition
2.3 Market coverage
2.4 Stakeholders
2.5 Research Methodology
2.5.1 Market Size
2.5.2 Key secondary sources
2.5.1Key primary sources
2.6 Assumptions
2.7 Acronyms
3. Market Dynamics
3.1 Drivers and Restraints for Airport Full Body Scanner Market
3.1.1 Drivers
3.1.1.1 Increase in air travel
3.1.1.2 Increase in airport security
3.1.1.3 Regulations of Government
3.1.1.4 Growth of economies
3.1.2 Restraints
3.1.2.1 Resistance from the traveler
3.1.2.2 Investments on the scanners
3.2 Auxiliary factors
3.2.1 Regulations from Government
4. Market Analyses and Forecast: Commercial Airport Full Body Scanner- Latin America
4.1Latin America- Full Body Scanner, By Technology
4.2Latin America- Full Body Scanner, By Class
4.3Latin America- Full Body Scanner, By Country
5. Commercial Airport Full Body Scanners: Competitive Landscape
6. Developments: LATIN AMERICA Region, By Companies
7. Aircraft Cabin Interior-Latin America, By Companies
7.1 Latin America-American Science and Engineering Inc.
7.1.1 Introduction
7.1.2 Product Portfolio
7.2 Latin America-Braun and Company Ltd
7.2.1 Introduction
7.2.2 Product Portfolio
7.3 Latin America-Brijot Imaging Systems Inc.
7.3.1 Introduction
7.3.2 Product Portfolio
7.4 Latin America-CST Digital Communications (Pty) Ltd
7.4.1 Introduction
7.4.2 Product Portfolio
7.5 Latin America- L-3 Security and Detection Systems
7.5.1 Introduction
7.5.2 Product Portfolio
7.6 Latin America-Rapiscan
7.6.1 Introduction
7.6.2 Product Portfolio
7.7 Latin America- Safran Morpho
7.7.1 Introduction
7.7.2 Product Portfolio
7.8 Latin America-Smiths Detection
7.8.1 Introduction
7.8.2 Product Portfolio
7.9 Latin America-TEK84 Engineering Group Llc.
7.9.1 Introduction
7.9.2 Product Portfolio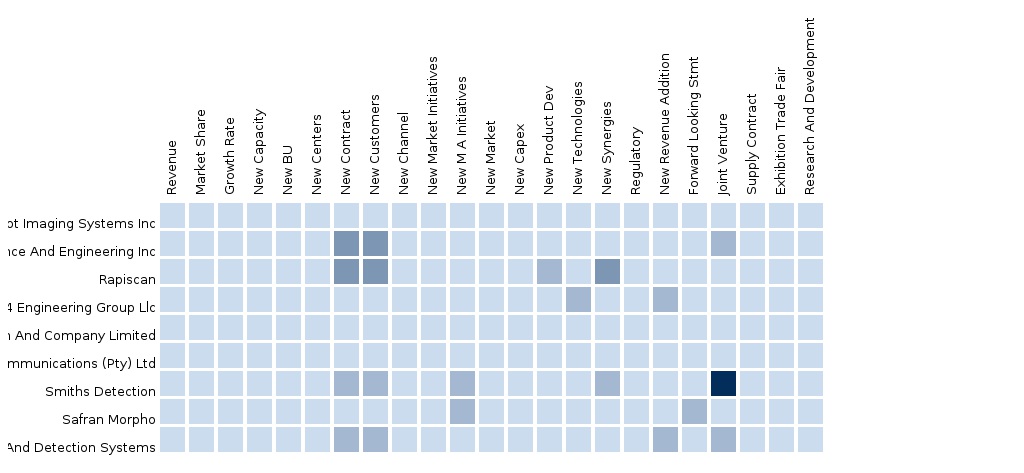 Latin America Commercial Airport Full Body Scanners