Battlefield Management System (BMS) is the integration of all systems meant for information acquisition and command and control of a military unit. The Latin American battlefield management system market is currently valued at $982 million and is expected to grow at a CAGR of 2.0% to $1,090 million by 2019.
This report provides an in-depth analysis of the Latin American Battlefield Management System market. It provides information about current trends in the market with respect to platforms and applications. It throws light on drivers and restraints of this market and the challenges faced that will impact the growth of this market in the region.
The report analyzes Battlefield Management System applications, namely, commander systems, dismounted soldier systems, tracked and armored vehicles, communication network systems, and BMS software. It provides information about the trends of these five applications across countries in the region, and also provides information about the top companies in the Latin American BMS market.
The Latin American Battlefield Management System market report also covers battlefield management system programs that have been implemented in the past and ongoing programs implemented across various countries in the region. It highlights upcoming programs in the field. In-depth analysis has been included about product life cycles and opportunities for the BMS market across various regions in Latin Americas. Platform segmentation for airborne, naval, and land-based BMS systems has been provided.
This report also contains a brief description of the competitive landscape of the Latin American Battlefield Management System market. The countries covered in the report include Brazil, which has laid high focus for BMS in the region.
The BMS market in the Latin American region will see tremendous growth in BMS applications; soldier modernization systems and armored vehicle procurement will see major developments. The market for Latin America is driven by interoperability, need for protection of troops, and system integration. The market is challenged by penetration difficulties.
The key players in this market are Rockwell Collins, Lockheed Martin, Thales, BAE Systems, and Northrop Grumman Corporation to name a few.
CUSTOMIZATION OPTIONS
1.HISTORICAL DATA FOR 2-3 YEARS
Financials
Macro Indicator Data
M&A Data
Budget and Defense Program Information
2.COMPANY PROFILES
In-depth analysis of the company's product portfolio
Competitive landscape (revenue, operating margin, marginal cost, P/E ratio, EPS)
Ratio analysis
3.REGION-SPECIFIC INFORMATION (APAC, North America, Europe)
This covers market sizing/mapping, global footprint, operation and financials information, and the competitive landscape. The MMM offering will cover a detailed market study of the BMS applications mentioned below:
Commander Systems
Dismounted Soldier Tracking
Tracked and Armored Vehicles
Communication Network Systems
BMS Software
4.GLOBAL TRENDS/MARKET ENVIRONMENT
Product and technological advancements/Latest innovations and developments
Demand and supply analysis
Market consolidation (M&A, joint ventures, divestments, and spin-offs)
Export/Import data (aerospace product and parts)
Industrial production and capacity optimization data
5.GLOBAL FORECAST NUMBERS/OUTLOOK (Historical and Forecast by Year)
Comparative analysis (for example, Boeing vs. Airbus)
Milicas (Military Aircraft) and Helicas (Military Rotary Wing, i.e., Helicopter)
6.PREDICTIVE FORECASTING
Time Series
Regression Analysis
7.DEFENSE PROGRAMS (By Name, Type, User, Spending by Year in $million, Prime Contractor, Program Status)
Aircraft Programs
Ground Vehicle Programs
Missile Programs
Naval Programs
Vehicle Programs
8.DEFENSE BUDGETS/SEQUESTRATION IMPACT
Impact of sequestration on defense programs
Programs impacted due to budget cuts
Impact on company's overall revenue, operations, and profitability
9.OPPORTUNITY ANALYSIS
A comprehensive analysis that helps understand potential growth markets based on parameters such as:
GDP percentage with respect to military expenditure of a particular country
Contracts and modernization programs
Defense review of countries active in this market
10.PRODUCT ANALYSIS
Usage pattern (in-depth trend analysis) of products (segment wise)
Product matrix which gives a detailed comparison of product portfolio of each company mapped at country and sub-segment level
Comprehensive coverage of product approvals, pipeline products, and product recalls
11.SUPPLY CHAIN/VENDOR ANALYSIS
Coverage - Vendor analysis, vendor financing, customer/self funding, and distribution network
1 EXECUTIVE SUMMARY
2 INTRODUCTION
2.1 OBJECTIVE OF THE STUDY
2.2 MARKET DEFINITION
2.3 MARKET COVERAGE
2.4 STAKEHOLDERS
2.5 RESEARCH METHODOLOGY
2.5.1 KEY SECONDARY SOURCES
2.5.2 KEY PRIMARY SOURCES
2.6 ASSUMPTIONS
2.7 ACRONYMS
3 MARKET DYNAMICS
3.1 DRIVERS & RESTRAINTS FOR THE BATTLEFIELD MANAGEMENT SYSTEMS MARKET
3.1.1 DRIVERS
3.1.1.1 MINIMIZING RISK OF FRIENDLY FIRE
3.1.1.2 SYSTEM INTEGRATION
3.1.2 RESTRAINTS
3.1.2.1 DEFENSE BUDGET CUTS
3.2 PRODUCT LIFECYCLE
4 LATIN AMERICA BATTLEFIELD MANAGEMENT SYSTEMS (BMS) MARKET, BY PLATFORMS, BY APPLICATIONS, 2014 – 2019
4.1.1 LATIN AMERICA: BATTLEFIELD MANAGEMENT SYSTEMS (BMS): MAJOR BMS PROGRAMS & CONTRACTS
4.2 COUNTRY ANALYSIS
4.2.1BRAZIL
5 LATIN AMERICA BATTLEFIELD MANAGEMENT SYSTEMS (BMS) MARKET: COMPETITIVE LANDSCAPE
6 DEVELOPMENTS:BATTLEFIELD MANAGEMENT SYSTEMS (BMS) MARKET:LATIN AMERICAN REGION, BY COMPANIES
7 LATIN AMERICA ,BATTLEFIELD MANAGEMENT SYSTEMS (BMS) MARKET,BY COMPANIES
7.1 ROCKWELL COLLINS
7.1.1 INTRODUCTION
7.1.2 PRODUCT PORTFOLIO
7.2 LOCKHEED MARTIN
7.1.1 INTRODUCTION
7.1.2 PRODUCT PORTFOLIO
7.3 NORTHROP GRUMMAN CORPORATION
7.3.1 INTRODUCTION
7.3.2 PRODUCT PORTFOLIO
7.4 THALES
7.4.1 INTRODUCTION
7.4.2 PRODUCT PORTFOLIO
7.5 L-3 COMMUNICATIONS CORPORATION
7.5.1 INTRODUCTION
7.5.2 PRODUCT PORTFOLIO
7.6 HARRIS CORPORATION
7.6.1 INTRODUCTION
7.6.2 PRODUCT PORTFOLIO
7.7 BAE SYSTEMS
7.7.1 INTRODUCTION
7.7.2 PRODUCT PORTFOLIO
7.8 SAAB AB
7.8.1 INTRODUCTION
7.8.2 PRODUCT PORTFOLIO
7.9 COBHAM PLC
7.9.1 INTRODUCTION
7.9.2 PRODUCT PORTFOLIO
7.10 GENERAL DYNAMICS
7.10.1 INTRODUCTION
7.10.2 PRODUCT PORTFOLIO
7.11 FINMECCANICA
7.11.1 INTRODUCTION
7.11.2 PRODUCT PORTFOLIO
7.12 RAYTHEON
7.12.1 INTRODUCTION
7.12.2 PRODUCT PORTFOLIO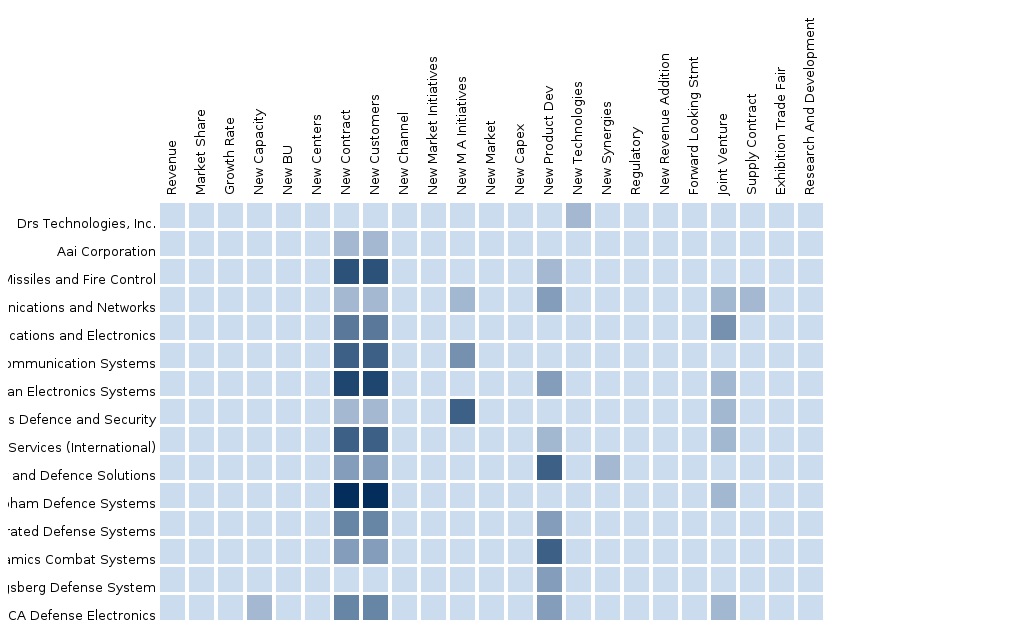 Please fill in the form below to receive a free copy of the Summary of this Report
Custom Market Research Services
We will customize the research for you, in case the report listed above does not meet with your exact requirements. Our custom research will comprehensively cover the business information you require to help you arrive at strategic and profitable business decisions.
Please visit
http://www.micromarketmonitor.com/custom-research-services.html
to specify your custom Research Requirement
Latin America Battlefield Management System