The cyber security market in Saudi Arabia is expected to grow from $1.51 billion in 2013 to $3.48 billion in 2019, at a CAGR of 14.50% for the period 2013 to 2019. The market is primarily driven by the continual attacks on energy companies, which have led to the high defense spending in the country.
Cyber security is a broad collection of technologies, solutions, services, compliances, and risk management approaches to protect organizational and users' personal and professional data from cyber crimes. The government, public utilities, and enterprises are all dependent on the internet, wireless technologies, and cloud-based services for storage, processing, and retrieval of data. With the increase in this dependency over the years, cyber attacks have increased exponentially in the past few years, and have generated the need for unified cyber security solutions that support the enhanced enterprise mobility and strict data disclosure laws. Cyber security products are defined as products possessing the capability to provide access management, authentication procedures, detection and responses to incidents, security updates or patch management, data recovery, mitigation of impacts, and risk & compliance management.
Energy sector is the major contributor to the economy of Saudi Arabia. Energy infrastructures are often targeted by cyber-attacks, for instance, the attack on 'Saudi Aramco', which is the largest oil producer in the world. Investments in cyber security are made for the protection of energy systems and e-commerce spaces. The Saudi Arabian government has acknowledged the vulnerability of the energy assets, and hence the cyber attack detection and prevention services are expected to address any related the issues. This trend offers an opportunity to foreign firms to enter the cyber security market in Saudi Arabia. Private financial institutions, technology firms, communications companies, and transportation providers are also likely to invest more in cyber security.
The Saudi Arabian cyber security market report further provides competitive benchmarking of the leading players in the industry such as Cisco Systems, IBM, Northrop Grumman, CSC, Symantec, and others in terms of their product offerings, key strategies, and operational parameters. The Saudi Arabian cyber security market report provides market trends, overall adoption scenarios, competitive landscapes, key drivers, restraints, and opportunities in this market. The Saudi Arabian cyber security market report aims at estimating the current size and the future growth potential of this market across different types, solutions, services, and verticals.
Report Options
The market segmentation detailed in the report is as given below:
By Types

Network security, end-point security, application security, content security, wireless security, and cloud security
By Solutions

Identity and access management, risk and compliance, encryption, data loss protection, unified threat management, firewall, anti-virus and anti-malware, IDS/IPS, security and vulnerability management, disaster recovery, DDoS mitigation, and web filtering
By Services

Consulting, design and integration, risk and threat assessment, managed security service, and training and education
By Verticals

Aerospace, defense and intelligence, government and public utilities, banking and financial service institutes, telecom and IT, healthcare, retail, and manufacturing
Customization Options
Along with the market data, you can also customize the MMM assessment that meet your company's specific needs. The following customization options provide a comprehensive summary of the industry standards and a deep-dive analysis:
Solutions Matrix

A comprehensive analysis and benchmarking of security types, solutions, and services in the Saudi Arabian cyber security market
Competitive Benchmarking

Value chain evaluation using events, developments, and market data for vendors in the market ecosystem, across various industrial verticals along with market segmentation
To discover hidden opportunities by connecting related markets using cascaded value chain analysis
Technology Watch

Update on the current technology trends in IDS/IPS, cryptographic techniques, and firewall technologies
Study of network-based IP sensor technology
Vendor Landscaping

Vendor market watch and predictions, vendor market shares and offerings, and analysis of adoption trends and market dominance (leaders, challengers, followers, and nichers)
Market Data Tracker

The Saudi Arabian cyber security market forecast and analysis
The identification of key vertical segments in Saudi Arabia
Analysis of internet traffic monitoring solutions
Vertical Analysis

An analysis of different industrial verticals by types, solutions, and services
Industry Verticals: Aerospace, defense and intelligence, government and public utilities, banking and financial service institutes, telecom and it, healthcare, retail, and manufacturing
1 Introduction
1.1 Objective of the study
1.2 Market Definitions
1.3 Market Segmentation & Aspects Covered
1.4 Research Methodology
1.4.1 Assumptions (Market Size, Forecast, etc)
2 Executive Summary
3 Market Overview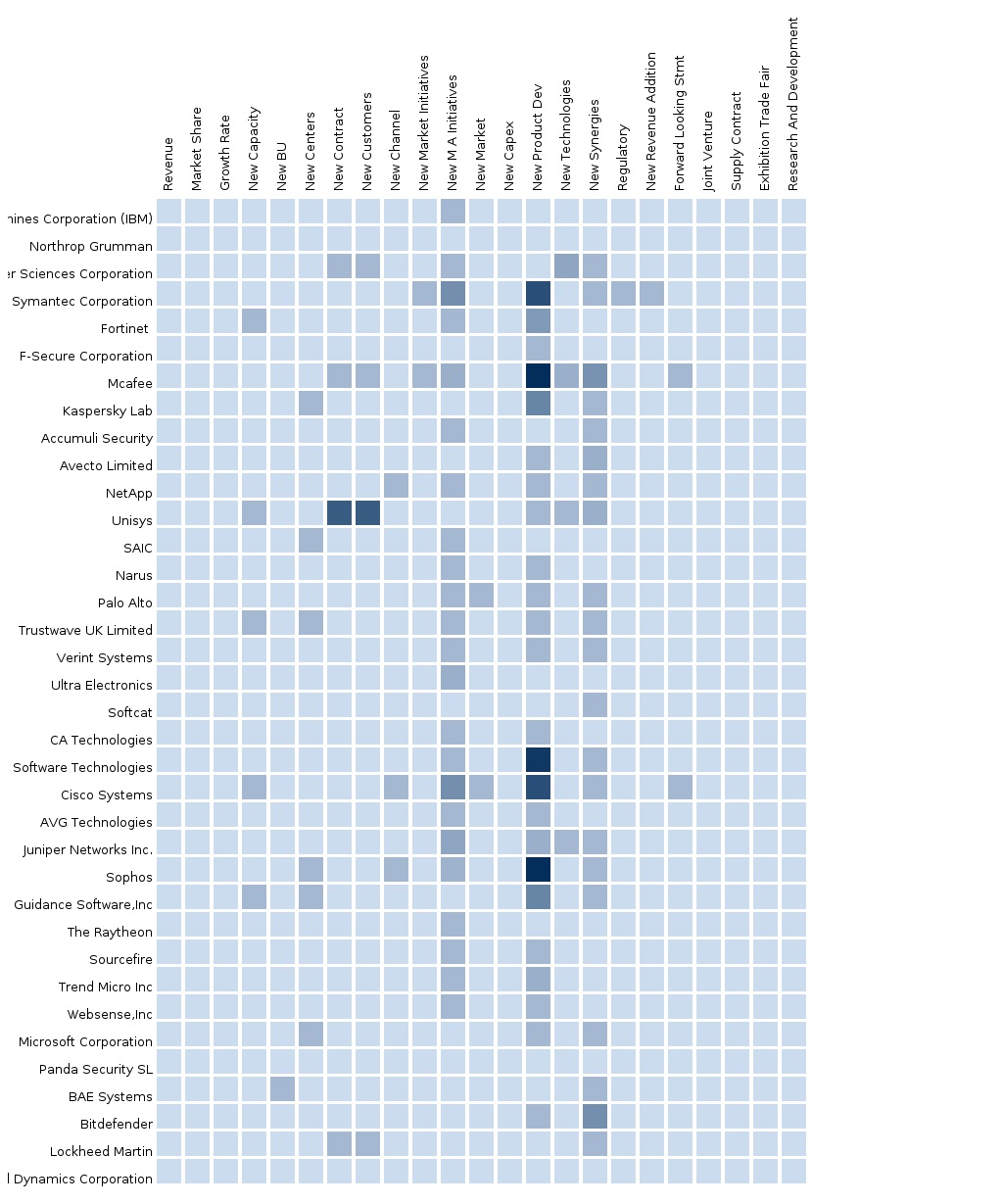 Please fill in the form below to receive a free copy of the Summary of this Report
Custom Market Research Services
We will customize the research for you, in case the report listed above does not meet with your exact requirements. Our custom research will comprehensively cover the business information you require to help you arrive at strategic and profitable business decisions.
Please visit
http://www.micromarketmonitor.com/custom-research-services.html
to specify your custom Research Requirement
Saudi Arabia Cyber Security