Rest of World Network Configuration and Change Management Market
Description
Table of Contents
Customer Intelligence
The Rest of World (RoW) network configuration and change management (NCCM) market is estimated to grow from $101.5 million in 2013 to $162.3 million by 2019, at a CAGR of 9.1% from 2013 to 2019. The market is primarily driven by the telecommunication providers and the increased adoption of cloud computing technology.
Network configuration and change management is the automated technology that provides protection against the interruption caused by changes in configuration. Today's network infrastructure is very difficult to manage, with numbers of devices attached to it. Managing such large complex network infrastructure is important for business units. NCCM helps to manage and improve system capability to manage the network, and also helps to manage critical data, save time, reduces costs, and eliminate manual tasks.
The telecom providers are fast upgrading their networks from 2G technology to 3G, and then moving onto LTE/4G. The deployment of these technologies on the networks requires the support of new network management solutions in the backhaul operations, thereby creating huge potential and market space for network configuration management solutions.
The report provides a competitive benchmarking of the leading players in this market such as BMC, Solarwinds, Emc Corporation, IBM, and Hewlett Packard. Furthermore, the report gives the financial analysis, which includes CAGR and market share of the different region, vendors, overall adoption scenario, competitive landscape, key drivers, restraints, and opportunities in the market.
Report Options
By Components: Software, and Services
By Deployment Mode: On-Premise, and On-Demand
By End-User: Small and Medium Enterprises, and Enterprises
By Verticals: Banking Financial Services and Insurances, Healthcare, Education, Government, IT & Telecom, Energy, and others
Customization Options
Along with the market data, you can also customize MMM assessments that meet your company's specific needs. Customize the report to get an insight into industry standards and deep-dive analysis of the following parameters:
Solutions Matrix
Comprehensive analysis and benchmarking in terms of components, deployments, end-users, and verticals in the Rest of World
Competitive Benchmarking
Value-chain evaluation using events, developments, and market data for vendors in the market ecosystem, across various industrial verticals, market segmentation, and categorization
Vendor Landscaping
Vendor market watch and predictions, market shares and offerings, categorization of adoption trends and market dominance (leaders, challengers, followers, and nichers)
Data Tracker
Country-specific market forecast and analysis
Identification of key end-user segments by country
Vertical Analysis
Analysis of different industrial verticals by components, by deployments mode, by end-users, and by verticals in Rest of World
Emerging Vendor Landscape
Evaluate tier-2/3 vendors' market offerings using a 2X2 framework (realizing leaders, challengers, followers, and nichers)
Channel Analysis
Channel/distribution partners/alliances for tier-1 vendors and application-specific products being built towards the customer end of value-chain
1 Introduction
1.1 Objective of the study
1.2 Market Definitions
1.3 Market Segmentation & Aspects Covered
1.4 Research Methodology
1.4.1 Assumptions (Market Size, Forecast, etc)
2 Executive Summary

3 Market Overview

4 Network Configuration and Change Management-Rest of World, by Segments
4.1 NCCM Services-Rest of World
4.1.1 NCCM Services-Rest of World, by Industries
4.1.1.1 NCCM Services-Rest of World-Telecommunication (ICT)
4.1.1.2 NCCM Services-Rest of World-Banking,Financial Services and Insurance (BFSI) (ICT)
4.1.1.3 NCCM Services-Rest of World-Energy and Utilities (ICT)
4.1.1.4 NCCM Services-Rest of World-Government (ICT)
4.1.1.5 NCCM Services-Rest of World-Others (ICT)
4.1.1.6 NCCM Services-Rest of World-Education (ICT)
4.1.1.7 NCCM Services-Rest of World-Healthcare and Life Science (ICT)
4.2 NCCM Software-Rest of World
4.2.1 NCCM Software-Rest of World, by Industries
4.2.1.1 NCCM Software-Rest of World-Telecommunication (ICT)
4.2.1.2 NCCM Software-Rest of World-Banking,Financial Services and Insurance (BFSI) (ICT)
4.2.1.3 NCCM Software-Rest of World-Energy and Utilities (ICT)
4.2.1.4 NCCM Software-Rest of World-Government (ICT)
4.2.1.5 NCCM Software-Rest of World-Others (ICT)
4.2.1.6 NCCM Software-Rest of World-Education (ICT)
4.2.1.7 NCCM Software-Rest of World-Healthcare and Life Science (ICT)

5 Network Configuration and Change Management-Rest of World, by Deployments
5.1 Network Configuration and Change Management-On-Premise (ICT)-Rest of World
5.1.1 Network Configuration and Change Management-On-Premise (ICT)-Rest of World, by Industries
5.1.1.1 Network Configuration and Change Management-On-Premise (ICT)-Telecommunication (ICT)-Rest of World
5.1.1.2 Network Configuration and Change Management-On-Premise (ICT)-Banking,Financial Services and Insurance (BFSI) (ICT)-Rest of World
5.1.1.3 Network Configuration and Change Management-On-Premise (ICT)-Energy and Utilities (ICT)-Rest of World
5.1.1.4 Network Configuration and Change Management-On-Premise (ICT)-Government (ICT)-Rest of World
5.1.1.5 Network Configuration and Change Management-On-Premise (ICT)-Others (ICT)-Rest of World
5.1.1.6 Network Configuration and Change Management-On-Premise (ICT)-Education (ICT)-Rest of World
5.1.1.7 Network Configuration and Change Management-On-Premise (ICT)-Healthcare and Life Science (ICT)-Rest of World
5.2 Network Configuration and Change Management-Hosted (ICT)-Rest of World
5.2.1 Network Configuration and Change Management-Hosted (ICT)-Rest of World, by Industries
5.2.1.1 Network Configuration and Change Management-Hosted (ICT)-Telecommunication (ICT)-Rest of World
5.2.1.2 Network Configuration and Change Management-Hosted (ICT)-Banking,Financial Services and Insurance (BFSI) (ICT)-Rest of World
5.2.1.3 Network Configuration and Change Management-Hosted (ICT)-Energy and Utilities (ICT)-Rest of World
5.2.1.4 Network Configuration and Change Management-Hosted (ICT)-Government (ICT)-Rest of World
5.2.1.5 Network Configuration and Change Management-Hosted (ICT)-Others (ICT)-Rest of World
5.2.1.6 Network Configuration and Change Management-Hosted (ICT)-Education (ICT)-Rest of World
5.2.1.7 Network Configuration and Change Management-Hosted (ICT)-Healthcare and Life Science (ICT)-Rest of World

6 Network Configuration and Change Management-Rest of World, by Endusers
6.1 Network Configuration and Change Management-Enterprises-Rest of World
6.1.1 Network Configuration and Change Management-Enterprises-Rest of World, by Industries
6.1.1.1 Network Configuration and Change Management-Enterprises-Telecommunication (ICT)-Rest of World
6.1.1.2 Network Configuration and Change Management-Enterprises-Banking,Financial Services and Insurance (BFSI) (ICT)-Rest of World
6.1.1.3 Network Configuration and Change Management-Enterprises-Energy and Utilities (ICT)-Rest of World
6.1.1.4 Network Configuration and Change Management-Enterprises-Government (ICT)-Rest of World
6.1.1.5 Network Configuration and Change Management-Enterprises-Others (ICT)-Rest of World
6.1.1.6 Network Configuration and Change Management-Enterprises-Education (ICT)-Rest of World
6.1.1.7 Network Configuration and Change Management-Enterprises-Healthcare and Life Science (ICT)-Rest of World
6.2 Network Configuration and Change Management-Small and Medium Business (SMB)-Rest of World
6.2.1 Network Configuration and Change Management-Small and Medium Business (SMB)-Rest of World, by Industries
6.2.1.1 Network Configuration and Change Management-Small and Medium Business (SMB)-Telecommunication (ICT)-Rest of World
6.2.1.2 Network Configuration and Change Management-Small and Medium Business (SMB)-Banking,Financial Services and Insurance (BFSI) (ICT)-Rest of World
6.2.1.3 Network Configuration and Change Management-Small and Medium Business (SMB)-Energy and Utilities (ICT)-Rest of World
6.2.1.4 Network Configuration and Change Management-Small and Medium Business (SMB)-Government (ICT)-Rest of World
6.2.1.5 Network Configuration and Change Management-Small and Medium Business (SMB)-Others (ICT)-Rest of World
6.2.1.6 Network Configuration and Change Management-Small and Medium Business (SMB)-Education (ICT)-Rest of World
6.2.1.7 Network Configuration and Change Management-Small and Medium Business (SMB)-Healthcare and Life Science (ICT)-Rest of World

7 Network Configuration and Change Management-Rest of World, by Services
7.1 Network Configuration and Change Management-Support and Maintenance -Rest of World
7.1.1 Network Configuration and Change Management-Support and Maintenance -Rest of World, by Industries
7.1.1.1 Network Configuration and Change Management-Support and Maintenance -Telecommunication (ICT)-Rest of World
7.1.1.2 Network Configuration and Change Management-Support and Maintenance -Banking,Financial Services and Insurance (BFSI) (ICT)-Rest of World
7.1.1.3 Network Configuration and Change Management-Support and Maintenance -Energy and Utilities (ICT)-Rest of World
7.1.1.4 Network Configuration and Change Management-Support and Maintenance -Government (ICT)-Rest of World
7.1.1.5 Network Configuration and Change Management-Support and Maintenance -Others (ICT)-Rest of World
7.1.1.6 Network Configuration and Change Management-Support and Maintenance -Education (ICT)-Rest of World
7.1.1.7 Network Configuration and Change Management-Support and Maintenance -Healthcare and Life Science (ICT)-Rest of World
7.2 Network Configuration and Change Management-Consulting-Rest of World
7.2.1 Network Configuration and Change Management-Consulting-Rest of World, by Industries
7.2.1.1 Network Configuration and Change Management-Consulting-Telecommunication (ICT)-Rest of World
7.2.1.2 Network Configuration and Change Management-Consulting-Banking,Financial Services and Insurance (BFSI) (ICT)-Rest of World
7.2.1.3 Network Configuration and Change Management-Consulting-Energy and Utilities (ICT)-Rest of World
7.2.1.4 Network Configuration and Change Management-Consulting-Government (ICT)-Rest of World
7.2.1.5 Network Configuration and Change Management-Consulting-Others (ICT)-Rest of World
7.2.1.6 Network Configuration and Change Management-Consulting-Education (ICT)-Rest of World
7.2.1.7 Network Configuration and Change Management-Consulting-Healthcare and Life Science (ICT)-Rest of World

8 Network Configuration and Change Management-Rest of World, by Industries
8.1 Network Configuration and Change Management-Telecommunication (ICT)-Rest of World
8.1.1 Network Configuration and Change Management-Telecommunication (ICT)-Rest of World, by Deployments
8.1.1.1 Network Configuration and Change Management-On-Premise (ICT)-Telecommunication (ICT)-Rest of World
8.1.1.2 Network Configuration and Change Management-Hosted (ICT)-Telecommunication (ICT)-Rest of World
8.1.2 Network Configuration and Change Management-Telecommunication (ICT)-Rest of World, by Endusers
8.1.2.1 Network Configuration and Change Management-Enterprises-Telecommunication (ICT)-Rest of World
8.1.2.2 Network Configuration and Change Management-Small and Medium Business (SMB)-Telecommunication (ICT)-Rest of World
8.1.3 Network Configuration and Change Management-Telecommunication (ICT)-Rest of World, by Services
8.1.3.1 Network Configuration and Change Management-Support and Maintenance -Telecommunication (ICT)-Rest of World
8.1.3.2 Network Configuration and Change Management-Consulting-Telecommunication (ICT)-Rest of World
8.1.4 Network Configuration and Change Management-Telecommunication (ICT)-Rest of World, by Segments
8.1.4.1 NCCM Services-Rest of World-Telecommunication (ICT)
8.1.4.2 NCCM Software-Rest of World-Telecommunication (ICT)
8.2 Network Configuration and Change Management-Banking,Financial Services and Insurance (BFSI) (ICT)-Rest of World
8.2.1 Network Configuration and Change Management-Banking,Financial Services and Insurance (BFSI) (ICT)-Rest of World, by Deployments
8.2.1.1 Network Configuration and Change Management-On-Premise (ICT)-Banking,Financial Services and Insurance (BFSI) (ICT)-Rest of World
8.2.1.2 Network Configuration and Change Management-Hosted (ICT)-Banking,Financial Services and Insurance (BFSI) (ICT)-Rest of World
8.2.2 Network Configuration and Change Management-Banking,Financial Services and Insurance (BFSI) (ICT)-Rest of World, by Endusers
8.2.2.1 Network Configuration and Change Management-Enterprises-Banking,Financial Services and Insurance (BFSI) (ICT)-Rest of World
8.2.2.2 Network Configuration and Change Management-Small and Medium Business (SMB)-Banking,Financial Services and Insurance (BFSI) (ICT)-Rest of World
8.2.3 Network Configuration and Change Management-Banking,Financial Services and Insurance (BFSI) (ICT)-Rest of World, by Services
8.2.3.1 Network Configuration and Change Management-Support and Maintenance -Banking,Financial Services and Insurance (BFSI) (ICT)-Rest of World
8.2.3.2 Network Configuration and Change Management-Consulting-Banking,Financial Services and Insurance (BFSI) (ICT)-Rest of World
8.2.4 Network Configuration and Change Management-Banking,Financial Services and Insurance (BFSI) (ICT)-Rest of World, by Segments
8.2.4.1 NCCM Services-Rest of World-Banking,Financial Services and Insurance (BFSI) (ICT)
8.2.4.2 NCCM Software-Rest of World-Banking,Financial Services and Insurance (BFSI) (ICT)
8.3 Network Configuration and Change Management-Energy and Utilities (ICT)-Rest of World
8.3.1 Network Configuration and Change Management-Energy and Utilities (ICT)-Rest of World, by Deployments
8.3.1.1 Network Configuration and Change Management-On-Premise (ICT)-Energy and Utilities (ICT)-Rest of World
8.3.1.2 Network Configuration and Change Management-Hosted (ICT)-Energy and Utilities (ICT)-Rest of World
8.3.2 Network Configuration and Change Management-Energy and Utilities (ICT)-Rest of World, by Endusers
8.3.2.1 Network Configuration and Change Management-Enterprises-Energy and Utilities (ICT)-Rest of World
8.3.2.2 Network Configuration and Change Management-Small and Medium Business (SMB)-Energy and Utilities (ICT)-Rest of World
8.3.3 Network Configuration and Change Management-Energy and Utilities (ICT)-Rest of World, by Services
8.3.3.1 Network Configuration and Change Management-Support and Maintenance -Energy and Utilities (ICT)-Rest of World
8.3.3.2 Network Configuration and Change Management-Consulting-Energy and Utilities (ICT)-Rest of World
8.3.4 Network Configuration and Change Management-Energy and Utilities (ICT)-Rest of World, by Segments
8.3.4.1 NCCM Services-Rest of World-Energy and Utilities (ICT)
8.3.4.2 NCCM Software-Rest of World-Energy and Utilities (ICT)
8.4 Network Configuration and Change Management-Government (ICT)-Rest of World
8.4.1 Network Configuration and Change Management-Government (ICT)-Rest of World, by Deployments
8.4.1.1 Network Configuration and Change Management-On-Premise (ICT)-Government (ICT)-Rest of World
8.4.1.2 Network Configuration and Change Management-Hosted (ICT)-Government (ICT)-Rest of World
8.4.2 Network Configuration and Change Management-Government (ICT)-Rest of World, by Endusers
8.4.2.1 Network Configuration and Change Management-Enterprises-Government (ICT)-Rest of World
8.4.2.2 Network Configuration and Change Management-Small and Medium Business (SMB)-Government (ICT)-Rest of World
8.4.3 Network Configuration and Change Management-Government (ICT)-Rest of World, by Services
8.4.3.1 Network Configuration and Change Management-Support and Maintenance -Government (ICT)-Rest of World
8.4.3.2 Network Configuration and Change Management-Consulting-Government (ICT)-Rest of World
8.4.4 Network Configuration and Change Management-Government (ICT)-Rest of World, by Segments
8.4.4.1 NCCM Services-Rest of World-Government (ICT)
8.4.4.2 NCCM Software-Rest of World-Government (ICT)
8.5 Network Configuration and Change Management-Others (ICT)-Rest of World
8.5.1 Network Configuration and Change Management-Others (ICT)-Rest of World, by Deployments
8.5.1.1 Network Configuration and Change Management-On-Premise (ICT)-Others (ICT)-Rest of World
8.5.1.2 Network Configuration and Change Management-Hosted (ICT)-Others (ICT)-Rest of World
8.5.2 Network Configuration and Change Management-Others (ICT)-Rest of World, by Endusers
8.5.2.1 Network Configuration and Change Management-Enterprises-Others (ICT)-Rest of World
8.5.2.2 Network Configuration and Change Management-Small and Medium Business (SMB)-Others (ICT)-Rest of World
8.5.3 Network Configuration and Change Management-Others (ICT)-Rest of World, by Services
8.5.3.1 Network Configuration and Change Management-Support and Maintenance -Others (ICT)-Rest of World
8.5.3.2 Network Configuration and Change Management-Consulting-Others (ICT)-Rest of World
8.5.4 Network Configuration and Change Management-Others (ICT)-Rest of World, by Segments
8.5.4.1 NCCM Services-Rest of World-Others (ICT)
8.5.4.2 NCCM Software-Rest of World-Others (ICT)
8.6 Network Configuration and Change Management-Education (ICT)-Rest of World
8.6.1 Network Configuration and Change Management-Education (ICT)-Rest of World, by Deployments
8.6.1.1 Network Configuration and Change Management-On-Premise (ICT)-Education (ICT)-Rest of World
8.6.1.2 Network Configuration and Change Management-Hosted (ICT)-Education (ICT)-Rest of World
8.6.2 Network Configuration and Change Management-Education (ICT)-Rest of World, by Endusers
8.6.2.1 Network Configuration and Change Management-Enterprises-Education (ICT)-Rest of World
8.6.2.2 Network Configuration and Change Management-Small and Medium Business (SMB)-Education (ICT)-Rest of World
8.6.3 Network Configuration and Change Management-Education (ICT)-Rest of World, by Services
8.6.3.1 Network Configuration and Change Management-Support and Maintenance -Education (ICT)-Rest of World
8.6.3.2 Network Configuration and Change Management-Consulting-Education (ICT)-Rest of World
8.6.4 Network Configuration and Change Management-Education (ICT)-Rest of World, by Segments
8.6.4.1 NCCM Services-Rest of World-Education (ICT)
8.6.4.2 NCCM Software-Rest of World-Education (ICT)
8.7 Network Configuration and Change Management-Healthcare and Life Science (ICT)-Rest of World
8.7.1 Network Configuration and Change Management-Healthcare and Life Science (ICT)-Rest of World, by Deployments
8.7.1.1 Network Configuration and Change Management-On-Premise (ICT)-Healthcare and Life Science (ICT)-Rest of World
8.7.1.2 Network Configuration and Change Management-Hosted (ICT)-Healthcare and Life Science (ICT)-Rest of World
8.7.2 Network Configuration and Change Management-Healthcare and Life Science (ICT)-Rest of World, by Endusers
8.7.2.1 Network Configuration and Change Management-Enterprises-Healthcare and Life Science (ICT)-Rest of World
8.7.2.2 Network Configuration and Change Management-Small and Medium Business (SMB)-Healthcare and Life Science (ICT)-Rest of World
8.7.3 Network Configuration and Change Management-Healthcare and Life Science (ICT)-Rest of World, by Services
8.7.3.1 Network Configuration and Change Management-Support and Maintenance -Healthcare and Life Science (ICT)-Rest of World
8.7.3.2 Network Configuration and Change Management-Consulting-Healthcare and Life Science (ICT)-Rest of World
8.7.4 Network Configuration and Change Management-Healthcare and Life Science (ICT)-Rest of World, by Segments
8.7.4.1 NCCM Services-Rest of World-Healthcare and Life Science (ICT)
8.7.4.2 NCCM Software-Rest of World-Healthcare and Life Science (ICT)

9 Network Configuration and Change Management-Rest of World, by Companies
9.1 Network Configuration and Change Management-Rest of World-Riverbed Network Performance Management
9.2 Network Configuration and Change Management-Rest of World-CA Technologies
9.3 Network Configuration and Change Management-Rest of World-Juniper Product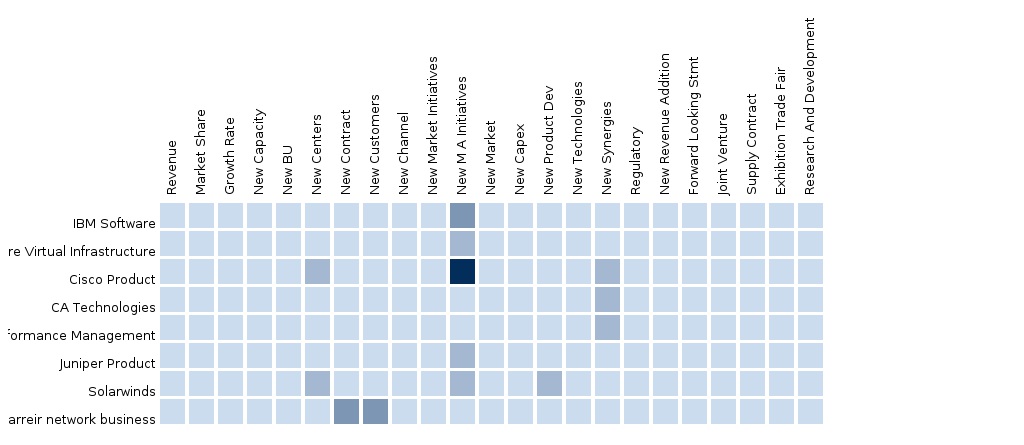 PRODUCT TITLE
PUBLISHED
PRICE
North America Network Management


Network Management-North America can be segmented by Hardwares, Endusers, Services, Softwares, Industries and MacroIndicators. Hardwares of Network Management-North America are Networking Hardware. Endusers of Network Management-North America are Small and Medium...



17 Feb 2015
$ 2500
Europe Network Management


Network Management-Europe can be segmented by Hardwares, Endusers, Services, Softwares, Industries and MacroIndicators. Hardwares of Network Management-Europe are Networking Hardware. Endusers of Network Management-Europe are Small and Medium Business (SMB) and...



17 Feb 2015
$ 2500
Asia-Pacific Network Management


Network Management-Asia-Pacific can be segmented by Hardwares, Endusers, Services, Softwares, Industries and MacroIndicators. Hardwares of Network Management-Asia-Pacific are Networking Hardware. Endusers of Network Management-Asia-Pacific are Small and Medium Business...



17 Feb 2015
$ 2500
Middle East and Africa Network Management


Network Management-Middle East and Africa can be segmented by Hardwares, Endusers, Services, Softwares, Industries and MacroIndicators. Hardwares of Network Management-Middle East and Africa are Networking Hardware. Endusers of Network Management-Middle East and Africa...



17 Feb 2015
$ 2500
Latin America Network Management


Network Management-Latin America can be segmented by Hardwares, Endusers, Services, Softwares, Industries and MacroIndicators. Hardwares of Network Management-Latin America are Networking Hardware. Endusers of Network Management-Latin America are Small and Medium...



17 Feb 2015
$ 2500
China Network Management


Network Management-China can be segmented by Hardwares, Endusers, Services, Softwares, Industries and MacroIndicators. Hardwares of this market are Networking...



17 Feb 2015
$ 3500
Germany Network Management


Network Management-Germany can be segmented by Hardwares, Endusers, Services, Softwares, Industries and MacroIndicators. Hardwares of this market are Networking...



17 Feb 2015
$ 3500
U.S. Network Management


Network Management-U.S. can be segmented by Hardwares, Endusers, Services, Softwares, Industries and MacroIndicators. Hardwares of this market are Networking...



17 Feb 2015
$ 3500
United Kingdom Network Management


Network Management-United Kingdom can be segmented by Hardwares, Endusers, Services, Softwares, Industries and MacroIndicators. Hardwares of this market are Networking...



17 Feb 2015
$ 3500
Australia Network Management


Network Management-Australia can be segmented by Hardwares, Endusers, Services, Softwares, Industries and MacroIndicators. Hardwares of this market are Networking...



17 Feb 2015
$ 3500
Rest of World Network Configuration and Change Management