North America System Integration and Design Market
Description
Table of Contents
Customer Intelligence
The North American system integration market is expected to grow from $98.96 billion in 2014 to $135.98 billion by 2019, at a CAGR of 6.6%.
The system integration market is segmented into infrastructure integration services, applications integration services, and consulting services. Infrastructure integration services include building management system (BMS), cloud integration (IaaS), C2/C4ISR, integrated communication, DCIM, and network integration among other applications. Application integration services include application integration, data integration, unified communication, integrated security software, and integrated social software. Lastly, consulting segment includes ALM, business transformation, and business process integration among other services.
North America has accounted for the largest market share of the overall system integration market, in 2013. The North American market witnessed an increase in spending by enterprises in the system integration market, which translated to higher sales, greater revenue, and even better profits.
In recent years, the North American government has invested to a considerable extent in IT sectors, which has led to enhancing IT infrastructural growth and adoption of highly innovative system integration solutions, thereby influencing the progression of this market. Other significant factors affecting the market demand of North American system integration and design market are rapid advancements made in the field of cloud technologies, cyber physical systems, and cloud brokerage services.
Companies such as Northrop Grumman, Lockheed Martin, Raytheon, and Harris are leading firms in this market, and a majority of their businesses are coming from the North American defense and government sectors.
Report Options
On the basis of infrastructure integration services: Building management system (BMS), cloud integration [infrastructure-as-a-service (IaaS)], command and control (C2)/command, control, communications, computers, intelligence, surveillance, and reconnaissance (C4ISR), integrated communication, data center infrastructure management (DCIM), and network integration
On the basis of applications integration services: Application integration, data integration, unified communication, integrated security software, and integrated social software
On the basis of consulting: Application lifecycle management, business transformation, and business process integration
On the basis of industry verticals: Banking, financial services, and insurance (BFSI), telecom and information technology (IT), oil & gas, healthcare, government and public, application lifecycle management, business transformation, and business process integration
Customization Options
Along with the MMM assessment, customize the report in alignment with your company's specific needs. The following customization options provide a comprehensive summary of the industry standards and a deep dive analysis of the market:
Solutions Matrix
Comprehensive analysis and benchmarking of service, solutions, user types, verticals, and regions
Competitive Benchmarking
Value chain evaluation using events, developments, market data for vendors in the market ecosystem, across various industrial verticals, market segmentation, and categorization
Uncovering hidden opportunities by connecting related markets, through the use of cascaded value chain analysis
Vendor Landscaping
Vendor market watch and predictions, vendor market shares and offerings, categorization of adoption trends, and market dominance (leaders, challengers, and followers)
Watch (Methods)
Vertical Integration
Star Integration
Horizontal Integration
Techniques
Computer networking
Enterprise application integration
Business process management
Manual programming
Data Tracker
Regional and country-specific market forecast and analysis
Identification of key end-user segments, by country
Market opportunity plotting and portfolio comparison
Application Technology Catalogue
Bus/Hub
Application connectivity
Data format and transformation
Integration modules
Support for transactions
1. Introduction
1.1. Objective of the study
1.2. Market Definition & Scope of the Study
1.3. Markets Covered
1.4. Stakeholders
2. Research Methodology
2.1. Integrated Ecosystem of System Integration and Design
2.2. Arriving at the System Integration and Design Market Size
2.2.1. Top-Down Approach
2.2.2. Bottom-up Approach
2.2.3. Demand Side Analysis
2.2.4. Macro Indicators
2.3. Assumptions
3. Executive Summary
4. Market Overview
4.1. Introduction
4.2. Comparison with Integration and Design (Parent) Market
4.3. Market Drivers and Inhibitors
4.4. Demand Side Analysis
4.5. Vendor Side Analysis
5. North America System Integration and Design: Market Size and Forecast, By Infrastructure Integration Services
5.1. Research Methodology
5.2. Introduction
5.3. Demand Side Analysis
5.4. Vendor Side Analysis
5.5. North America System Integration and Design : Building Management System Snapshot
5.5.1. North America System Integration and Design : Building Management System , By Geography
5.6. North America System Integration and Design :Cloud Integration (IaaS) Snapshot
5.6.1. North America System Integration and Design :Cloud Integration (IaaS), By Geography
5.7. North America System Integration and Design : C2/C4 ISR Snapshot
5.7.1. North America System Integration and Design: C2/C4 ISR ,By Geography
5.8. North America System Integration and Design :Integration Communication Snapshot
5.8.1. North America System Integration and Design : Integration Communication, By Geography
5.9. North America System Integration and Design : Data Center Infrastructure Management Snapshot
5.9.1. North America System Integration and Design : Data Center Infrastructure Management, By Geography
5.10. North America System Integration and Design: Network Integration Snapshot
5.10.1. North America System Integration and Design: Network Integration, By Geography
5.11. North America System Integration and Design: Other Infrastructure Integration Snapshot
5.11.1. North America System Integration and Design: Other Infrastructure Integration, By Geography
5.12. North America System Integration Market: Sneak View, By Infrastructure Integration Services
6. North America System Integration and Design: Market Size and Forecast, By Application Integration Services
6.1. Research Methodology
6.2. Introduction
6.3. Demand Side Analysis
6.4. Vendor Side Analysis
6.5. North America System Integration and Design : Application Integration Snapshot
6.5.1. North America System Integration and Design : Application Integration , By Geography
6.6. North America System Integration and Design :Data Integration Snapshot
6.6.1. North America System Integration and Design :Data Integration, By Geography
6.7. North America System Integration and Design : Unified Communication Snapshot
6.7.1. North America System Integration and Design: Unified Communication, By Geography
6.8. North America System Integration and Design :Security Software integration Snapshot
6.8.1. North America System Integration and Design : Security Software Integration, By Geography
6.9. North America System Integration and Design : Social Software Integration Snapshot
6.9.1. North America System Integration and Design : Social Software integration, By Geography
6.10. North America System Integration and Design : Other Application Integration Snapshot
6.10.1. North America System Integration and Design : Other Application Integration, By Geography
6.11. North America System Integration and Design Market: Sneak View, By Application Integration Services

7. North America System Integration and Design: Market Size and Forecast, By Consulting Services
7.1. Research Methodology
7.2. Introduction
7.3. Demand Side Analysis
7.4. Vendor Side Analysis
7.5. North America System Integration and Design : Application Lifecycle Management Snapshot
7.5.1. North America System Integration and Design : Application Lifecycle Management, By Geography
7.6. North America System Integration and Design :Business Transformation Snapshot
7.6.1. North America System Integration and Design :Business Transformation, By Geography
7.7. North America System Integration and Design : Business Process Integration Snapshot
7.7.1. North America System Integration and Design : Business Process Integration, By Geography
7.8. North America System Integration and Design :Other Consulting Services Snapshot
7.8.1. North America System Integration and Design : Other Consulting Services, By Geography
7.9. North America System Integration and Design Market: Sneak View, By Consulting Services
8. North America: System Integration and Design, By Industry Verticals
8.1 Research Methodology
8.2 Introduction
8.3 Demand Side Analysis
8.4 Vendor Side Analysis
8.5 North America System Integration and Design : Aviation and Marine System Snapshot
8.5.1. North America System Integration and Design : Aviation and Marine System, By Geography
8.6. North America System Integration and Design : Banking, Financial Services, And Insurance (BFSI)
Industry Snapshot
8.6.1. North America System Integration and Design : Banking, Financial Services, And Insurance (BFSI), By Geography
8.7. North America System Integration and Design : Consumer goods and Retail Industry Snapshot
8.7.1. North America System Integration and Design : Consumer Goods and Retail Industry, By Geography
8.8. North America System Integration and Design : Defense Industry Snapshot
8.8.1. North America System Integration and Design :Defense Industry , By Geography
8.9. North America System Integration and Design : Health Care Industry Snapshot
8.9.1. North America System Integration and Design : Health care Industry, By Geography
8.10. North America System Integration and Design : Manufacturing Industry Snapshot
8.10.1. North America System Integration and Design : Manufacturing Industry, By Geography
8.11. North America System Integration and Design :Oil, Gas, And Energy Industry Snapshot
8.11.1. North America System Integration and Design :Oil gas and energy Industry, By Geography
8.12. North America System Integration and Design : Telecommunication and IT Industry Snapshot
8.12.1. North America System Integration and Design : Telecommunication and IT, By Geography
8.13. North America System Integration and Design : Logistics And Transportation Industry Snapshot
8.13.1. North America System Integration and Design: Logistic And Transportation Industry , By Geography
8.14. North America System Integration and Design : Others Industry Snapshot
8.14.1. North America System Integration and Design : Others Industry, By Geography
8.15. North America Mobility Market and Design : Sneak View, By Industry Verticals
9. North America: System Integration and Design, By Geography
9.1. Research Methodology
9.2. Introduction
9.3. Vendor Side Analysis
9.4. U.S. System Integration
9.4.1. U.S. System Integration and Design : Market Snapshot , By Infrastructure Integration Services
9.4.2. U.S. System Integration and Design: Market, By Infrastructure Integration Services
9.4.3. U.S. System Integration and Design: Market Snapshot, By Application Integration Services
9.4.4. U.S. System Integration and Design : Market, By Application Integration Services
9.4.5. U.S. System Integration and Design: Market Snapshot , By Consulting Services
9.4.6. U.S. System Integration and Design : Market , By Consulting Services
9.4.7. U.S. System Integration and Design: Market Snapshot , By Industry Verticals
9.4.8. U.S. System Integration and Design : Market , By Industry Verticals
9.5. Canada System Integration
9.5.1. Canada System Integration and Design : Market Snapshot, Infrastructure Integration Services
9.5.2. Canada System Integration and Design: Market, By Infrastructure Integration Services
9.5.3. Canada System Integration and Design: Market Snapshot, By Application Integration Services
9.5.4. Canada System Integration and Design : Market, By Application Integration Services
9.5.5. Canada System Integration and Design: Market Snapshot, By Consulting Services
9.5.6. Canada System Integration and Design : Market, By Consulting Services
9.5.7. Canada System Integration and Design: Market Snapshot, By Industry Verticals
9.5.8. Canada System Integration and Design : Market, By Industry Verticals
10. North America: System Integration and Design, By Company
10.1. Competitive Landscape
10.1.1. Mergers and Acquisitions
10.1.2. Expansions
10.1.3. Investments
10.1.4. Joint Venture
10.2. Accenture
10.2.1. Overview
10.2.2. Historical Revenue Data
10.2.3. Product and Services
10.2.4. Key Development
10.2.5. MMM Analysis
10.3. IBM
10.3.1. Overview
10.3.2. Historical Revenue Data
10.3.3. Product and Services
10.3.4. Key Development
10.3.5. MMM Analysis
10.4. SAP
10.4.1. Overview
10.4.2. Historical Revenue Data
10.4.3. Product and Services
10.4.4. Key Development
10.4.5. MMM Analysis
10.5. Rockwell Automation
10.5.1. Overview
10.5.2. Historical Revenue Data
10.5.3. Product and Services
10.5.4. Key Development
10.5.5. MMM Analysis
10.6. MDS UAE
10.6.1. Overview
10.6.2. Historical Revenue Data
10.6.3. Product and Services
10.6.4. Key Development
10.6.5. MMM Analysis
11. Appendix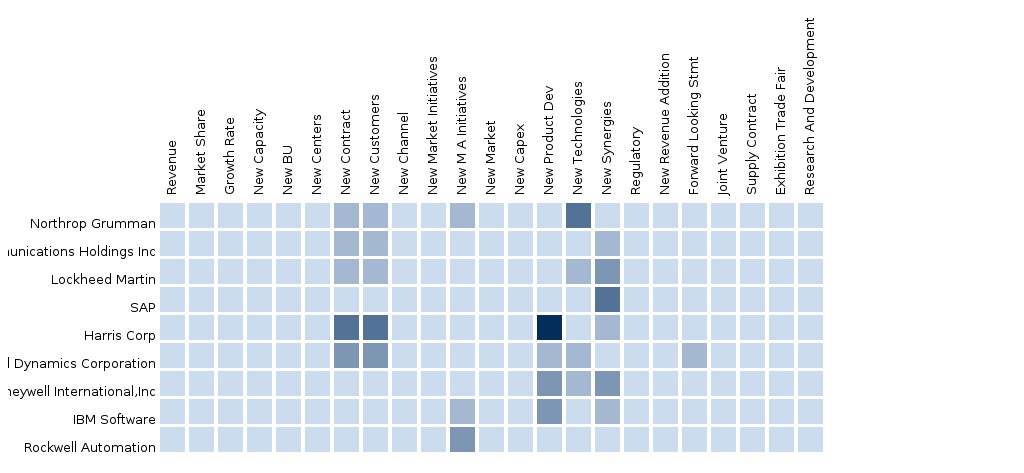 North America System Integration and Design