Recent conflicts across the globe have emphasized the need for precision attacks and stand-off surgical strikes. There is an imperative need to avoid collateral damage and at the same time to provide combatant commanders with a weapons capability that could create an immediate positive effect on the battlefield. These needs are met by smart weapons that are increasingly being inducted into the inventory of the armed forces.
The purpose of this report is to identify the various technologies involved, products and distribution channel of North America smart weapons market. It involves deep dive analysis of market segmentation which comprises of sub-sectors and countries. The segmentation on the basis of sub-sector includes anti-armor weapons, guided munitions, guided projectiles, standoff missiles, and guided rockets.
The North America smart weapons market has valued at $1664.30 million in 2013 and is estimated to reach a value of $1958.50 million by 2018; growing at a CAGR of approximately 3.3% from 2013 to 2018. Increased demand for precision munitions and paradigm shift in warfare technology are the major drivers for the smart weapons market. Industrial base sustainment is the major challenge for the market. Guided Munitions is expected to achieve higher growth as compared to other subsectors. U.S has the highest market value of smart weapons among the other countries. The Macro indicators which affect the industry are the integral part of the report.
Alliant Techsystems, BAE Systems, Boeing defense space and security, Denel dynamics, General dynamics are the key players in the smart weapons market. Tracking and analysis of competitive developments such as alliances, joint ventures, mergers & acquisitions are covered in the report. It also provides the restraints impacting the growth of the market and its industry. Brief information about industry trends, market trends, and technology trends that are currently prevailing in the market are provided in the smart weapons market report.
CUSTOMIZATION OFFERINGS FOR SMART WEAPONS:
1. HISTORICAL DATA for 5 years.
Financials
Macro indicator data
M&A data
Budget and defense program information
2. COMPANY PROFILES
In depth analysis of the company's product portfolio
Competitive landscape (revenue, operating margin, marginal cost, P/E ratio, EPS, Developments/Deals/Events)
Ratio analysis
3. REGION SPECIFIC INFORMATION (North America, EUROPE, APAC, MIDDLE EAST and ROW)
It covers market sizing/mapping, global footprint, operation and financials information, competitive landscape. MMM offering will cover detailed market study of below mentioned bullet points:
Country wise International Arms transfer, suppliers and recipients of conventional weapons
4. GLOBAL TRENDS / MARKET ENVIRONMENT
Product and technological advancements/latest innovation and development
Demand and supply analysis
Market consolidation (M&A, joint ventures, divestment and spin off)
Industrial Production and capacity optimization data
5. GLOBAL FORECAST NUMBERS/OUTLOOK - Historical and Forecasted by Years
Milicas (Military Aircraft) and Helicas (Military rotary Wing i.e. Helicopter)
6. Predictive Forecasting
Time series
Regression analysis
7. Defense Programs [by Names, Types, Users, Spending by years (in $Million), Prime Contractors, Program Status, etc.]
Programs covered are:
8. Defense Budget/Sequestration Impact
Impact of sequestration on defense programs
What all programs got impacted due to budget cuts
Impact on company's overall revenue, operation and profitability
9. OPPORTUNITY ANALYSIS
A comprehensive analysis to analyze the potential growth markets based on parameters like
GDP Percentage with respect to Military expenditure of particular country
Defense review of countries active in this market
10. PRODUCT ANALYSIS
Usage pattern (in-depth trend analysis) of products (Segment wise)
Product Matrix which gives a detailed comparison of product portfolio of each company mapped at country and sub segment level
Comprehensive coverage of Product approvals, Pipeline products and Product recalls
11. SUPPLY CHAIN/VENDOR ANALYSIS
Coverage - Vendor analysis, vendor financing, customers/self funding, and distribution network
1 Executive Summary
2 Introduction
2.1 Objective Of The Study
2.2 Market Definition
2.3 Market Coverage
2.4 Stakeholders
2.5 Research Methodology
2.5.1 Market Size
2.5.2 Key Secondary Sources
2.5.3 Key Primary Sources
2.5.4 Macro Indicators Affecting The Market
2.6 Assumptions
2.7 Acronyms
3 Market Dynamics
3.1 Drivers And Restrains For Well Intervention Market
3.1.1drivers
3.1.1.1 Need For Precision Munitions
3.1.1.2 Changes In Nature Of Warfare
3.1.1.5 Impact Analysis Of The Drivers
3.1.2 Restraints
3.1.2.1 Arms Transfer Regulation
3.1.2.3 Impact Analysis For The Restraints
3.2 Auxilary Factors
3.2.1 Ongoing Modernization And Replenishment Program
3.2.2 Gdp Growth
4 Smart Weapons Market -North America, By Sub-Sector
4.1 Anti-Armor Weapon Market Size
4.2 Guided Munitions Market Size
4.3 Guided Projectiles Market Size
4.4 Stand-Off Missiles Market Size
4.5 Guided Rockets Market Size
5 Smart Weapons Market North America, By Country
5.1 U.S. Market Size
5.2 Canada Market Size

6 Smart Weapon Market -North America: Competitive Landscape
7 Developments: By Companies
8 Smart Weapons Market -North America, By Companies
8.1 Alliant Techsystem, Inc.
8.1.1 Introduction
8.1.2 Product Portfolio
8.1.3 Financials
8.2 Bae Systems
8.2.1 Introduction
8.2.2 Product Portfolio
8.2.3 Financials
8.3 Boeing
8.3.1 Introduction
8.3.2 Product Portfolio
8.3.3 Financials
8.4 Denel Dynamics
8.4.1 Introduction
8.4.2 Product Portfolio
8.4.3 Financials
8.5 General Dynamics
8.5.1 Introduction
8.5.2 Product Portfolio
8.5.3 Financials
8.6 Israel Aerospace Industries
8.6.1 Introduction
8.6.2 Product Portfolio
8.6.3 Financials
8.7 Kongsberg Defense Systems
8.7.1 Introduction
8.7.2 Product Portfolio
8.7.3 Financials
8.8 L-3 Fuzing And Ordnance Systems, Inc.
8.8.1 Introduction
8.8.2product Portfolio
8.8.3 Financials
8.9 Lockheed Martin Corporation
8.9.1 Introduction
8.9.2 Product Portfolio
8.9.3 Financials
8.10 Mbda
8.10.1 Introduction
8.10.2 Product Portfolio
8.10.3 Financials
8.11 Nexter Group
8.11.1 Introduction
8.11.2 Product Portfolio
8.11.3 Financials
8.12 Oto Merala S.P.A.
8.12.1 Introduction
8.12.2 Product Portfolio
8.12.3 Financials
8.13 Qinetiq Group Plc
8.13.1 Introduction
8.13.2 Product Portfolio
8.13.3 Financials
8.14 Rafael Advanced Defense Systems
8.14.1 Introduction
8.14.2 Product Portfolio
8.14.3 Financials
8.15 Raytheon Company
8.15.1 Introduction
8.15.2 Product Portfolio
8.15.3 Financials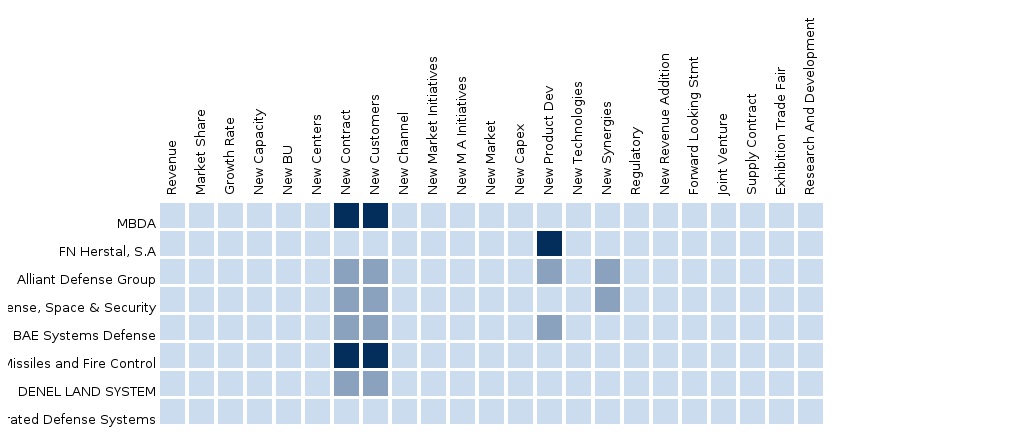 Please fill in the form below to receive a free copy of the Summary of this Report
Custom Market Research Services
We will customize the research for you, in case the report listed above does not meet with your exact requirements. Our custom research will comprehensively cover the business information you require to help you arrive at strategic and profitable business decisions.
Please visit
http://www.micromarketmonitor.com/custom-research-services.html
to specify your custom Research Requirement
North America Smart Weapons