The North America smart railways market is expected to grow from $3.58 billion in 2013 to $10.96 billion in 2018 at a CAGR of 25.1% in the forecast period 2013-2018. The market is primarily driven by increasing urbanization and freight and passenger traffic congestion.
The concept of smart railways provides sets of new generation solutions, services and modern transportation with the help of Information and Communication Technology (ICT). It combines software products to make more intelligent use of all rail assets, from tracks to trains, for the companies to meet the increasing consumer demand for more efficient and safer services. Trends in smart railways like regulation, sustainability, demographics, economics, mobility and Information Technology (IT) innovations are impacting the rail industry. As a result, every aspect of the value chain, from passenger service to the back-end organization, is changing.
North America shows a rapid growth rate in urbanization due to the increasing global immigration from Latin America and Asia. The largest metropolitans in this region are New York, Los Angeles, Chicago and Toronto with an estimated population of over 60 millions in 2012. The urban population is increasing rapidly due to evolving tourist destinations and global business and corporate hubs. The total rail passenger traffic in the region of 12.5 billion passenger-km accounts only 0.4% of the global traffic. But the growing congestions over the domestic and international air routes and inter-state highways have raised the demand for railways. The growing passenger traffic has created a need for the development of High-Speed Rail (HSR) networks.
The North America Smart Railways report further provides competitive benchmarking of leading players in the industry such as Alstom SA, Ansaldo STS, Bombardier Transportation, Siemens AG, GE Transportation and others, in terms of their product offerings, key strategies and operational parameters. The report provides market trends, overall adoption scenarios, competitive landscapes and key drivers, restraints and opportunities in the market. The North America Smart Railways report aims in estimating the current size and the future growth potential of the market across the different solutions, services, and countries.
North America Smart Railways Report Options:
We have the following market segmentation covered in the North America Smart Railways report:
North America Smart Railways by Solutions:

Passenger Information System, Freight Information System, Rail Traffic Management, Rail Operation Management, Advanced Security Monitoring, Rail Communication, Smart Ticketing, Rail Analytics
North America Smart Railways by Services:

Professional services, Integration services, Cloud services
North America Smart Railways by Devices and Components:
Video Surveillance, Rail Sensors, Networking and Connectivity Devices, Smart Cards, Displays
North America Smart Railways Customization Options:
With MMM assessment, meet your company's specific customization needs. Following customization options provide comprehensive industry standard and deep dive analysis:
North America Smart Railways Solutions Matrix

Comprehensive analysis and benchmarking of solutions, and services in the market.
North America Smart Railways Competitive Benchmarking

Value-chain evaluation using events, developments, market data for vendors in the market ecosystem, market segmentation and categorization.
Exploring opportunities by connecting related markets using cascaded value chain analysis.
North America Smart Railways Technology Watch

Update on the current technology trends in high-speed railway, passenger information systems, railway signaling and interlocking
Analysis of the Positive Train Control technology in smart railways
North America Smart Railways Vendor Landscaping
Vendor market watch and predictions, vendor market shares and offerings, analysis of adoption trends and market dominance (Leaders, Challengers, Followers, Nichers)
North America Smart Railways Regional Market Data Tracker
Regional and country specific market forecast and analysis
Identification of key market segments by country
1 Introduction
1.1 Objective of the study
1.2 Market Definitions
1.3 Market Segmentation & Aspects Covered
1.4 Research Methodology
1.4.1 Assumptions (Market Size, Forecast, etc)
2 Executive Summary
3 Market Overview
4 Smart Railways (ICT)-North America, By Geographies
4.1 Smart Railways (ICT)-U.S.
4.1.1 Smart Railways (ICT)-U.S., By Companies
4.1.1.1 Smart Railways (ICT)-U.S.-Alstom Transport
4.1.1.2 Smart Railways (ICT)-U.S.-GE Transportation
5 Smart Railways (ICT)-North America, By Companies
5.1 Split By Geography
5.1 Smart Railways (ICT)-U.S. by Companies
5.2 Smart Railways (ICT)-GE Transportation-North America
5.3 Smart Railways (ICT)-Alstom Transport-North America
5.4 Smart Railways (ICT)-North America-Bombardier Inc
5.5 Smart Railways (ICT)-North America-Cisco Product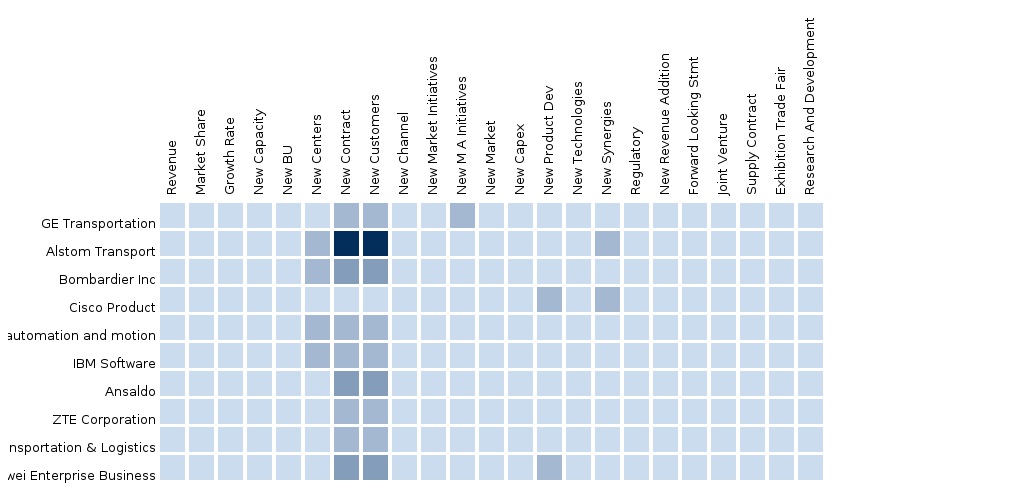 Please fill in the form below to receive a free copy of the Summary of this Report
Custom Market Research Services
We will customize the research for you, in case the report listed above does not meet with your exact requirements. Our custom research will comprehensively cover the business information you require to help you arrive at strategic and profitable business decisions.
Please visit
http://www.micromarketmonitor.com/custom-research-services.html
to specify your custom Research Requirement
North America Smart Railways (ICT)