North America Network Configuration and Change Management Market
Description
Table of Contents
Customer Intelligence
Network configuration and change management (NCCM) is the automated technology that provides protection against the interruption caused by changes in configuration. Today's network infrastructure is very difficult to manage, with numbers of devices attached to it. Managing such large complex network infrastructure is important for business units. NCCM helps to manage and improve system capability to manage the network, and also helps to manage critical data, save time, reduces costs, and eliminate manual tasks.
The North American NCCM market is estimated to grow from $351.5 million in 2013 to $439.8 million by 2019, at a CAGR of 3.9% from 2013 to 2019. The market is primarily driven by the changes in the traditional IT infrastructure to modern infrastructure, with deployment of the latest cloud and NCCM technology, for efficient management of network traffic and data.
Network configuration and change management is having high potential for growth because the enterprises have grown huge in size and have geographically extended assets, which are connected to the company's network infrastructure. This gives rise to a large and complex networking system with a host of heterogeneous devices on the same network. Configuring these devices is a repetitive and tedious task for the IT departments. NCCM solutions are ideally suited for performing such tasks at reduced costs and short time.
The report provides a competitive benchmarking of the leading players in this market. The key players are BMC, Solarwinds, Emc Corporation, IBM, and Hewlett Packard. Furthermore, the report gives the financial analysis, which includes CAGR and market share of the different region, vendors, overall adoption scenario, competitive landscape, key drivers, restraints, and opportunities in the market.
Report Options
The market segmentation detailed in the report is as given below:
By Components: Software, and services
By Deployment Mode: On-Premise and On-Demand
By End-User: Small and medium enterprises, and enterprises
By Verticals: Banking, financial services, and insurances, healthcare, education, government, IT & telecom, and energy
Customization Options
Along with the market data, you can also customize MMM assessments that meet your company's specific needs. Customize the report to get an insight into industry standards and deep-dive analysis of the following parameters:
Solutions Matrix
A comprehensive analysis and benchmarking based on components, deployments mode, end-users, and verticals in the market
Competitive Benchmarking
Value-chain evaluation using events, developments, market data for vendors in the market ecosystem, across various industrial verticals, market segmentation, and categorization
Vendor Landscaping
Vendor market watch and predictions, shares and offerings, categorization of adoption trends, and market dominance (leaders, challengers, and followers)
Data Tracker
Country-specific market forecast and analysis
The identification of key end-user segments, by country
Vertical Analysis
An analysis of different industrial verticals in terms of components, deployments mode, end-users, and verticals in the market
Emerging Vendor Landscape
Evaluating tier-2/3 vendors' market offerings using a 2X2 framework (realizing leaders, challengers, and followers)
Channel Analysis
Channel/distribution partners/alliances for tier-1 vendors and application-specific products being built towards the customer end of value-chain
1 Introduction
1.1 Key Take-aways
1.2 Report Description
1.3 Markets Covered
1.4 Stakeholders
1.5 Research Methodology
1.5.1 Key Data Points
1.5.2 Data Triangulation and Market Forecasting
1.6 Forecast Assumptions
2 Executive Summary
2.1 Abstract
2.2 Overall Market Size
3 Market Overview
3.1 Market Definition
3.1.1 Configuration Management
3.1.1.1 Multi-Vendor Device Support
3.1.1.2 Network Device Discovery and Inventory
3.1.1.3 Protocol Support
3.1.1.4 Secure Configuration Storage
3.1.1.5 Configuration Versioning and Comparison
3.1.1.6 Role-Based Access Control
3.1.1.7 Configuration Upload
3.1.2 Change Management
3.1.2.1 Real-Time Change Monitoring
3.1.2.2 Restoration and Backup
3.1.2.3 Change Management Policy and Notification
3.1.3 Network Security and Compliance Management
3.1.3.1 Government and Industry Regulations
3.1.3.2 Industry Best Practices and Standards
3.1.3.3 Configuration Syntax Checking
3.1.3.4 Compliance Reporting
3.1.4 Network Audit and Report
3.1.4.1 User Activity Monitoring and Tracking
3.1.4.2 Reporting
3.1.5 Automation and Tools
3.1.5.1 Automation
3.1.5.2 Device Upgrades
3.1.5.3 Robust Search Engine
3.1.5.4 Command Execution Utilities and Tools
3.2 Fcaps
3.2.1 Introduction
3.2.2 Components of Fcaps
3.3 Market Evolution
3.4 Market Segmentation
3.5 Market Dynamics
3.5.1 Drivers
3.5.2 Challenges
3.5.3 Opportunities
3.5.4 Impact Analysis of DRO
3.6 Value Chain
4 NA Network Configuration and Change Management (NCCM): Market Size and Forecast By Components
4.1 Introduction
4.2 Software
4.2.1 Overview
4.2.2 Market Size and Forecast
4.2.3 Market Size and Forecast By Verticals
4.2.4 Market Size and Forecast By End-Users
4.3 Services
4.3.1 Overview
4.3.2 Market Size and Forecast
4.3.3 Market Size and Forecast By Verticals
4.3.4 Market Size and Forecast By End-Users
4.3.5 Market Size and Forecast, By Type of Services
5 NCCM: Market Size and Forecast By Deployment Model
5.1 Introduction
5.2 On-Premise
5.2.1 Overview
5.2.2 Market Size and Forecast
5.2.3 Market Size and Forecast By Verticals
5.2.4 Market Size and Forecast By End-Users
5.3 On-Demand
5.3.1 Overview
5.3.2 Market Size and Forecast
5.3.3 Market Size and Forecast By Verticals
5.3.4 Market Size and Forecast By End-Users
6 NA Network Configuration and Change Management (NCCM): Market Size and Forecast By End-User
6.1 Introduction
6.2 SME
6.2.1 Overview
6.2.2 Market Size and Forecast
6.2.3 Market Size and Forecast By Verticals
6.2.4 Market Size and Forecast By Countries
6.3 Enterprise
6.3.1 Overview
6.3.2 Market Size and Forecast
6.3.3 Market Size and Forecast By Verticals
6.3.4 Market Size and Forecast By Countries
7 NA NCCM: Market Size and Forecast By Verticals
7.1 Introduction
7.2 BFSI
7.2.1 Overview
7.2.2 Market Size and Forecast
7.2.3 Market Size and Forecast By Deployment
7.2.4 Market Size and Forecast By Countries
7.3 Healthcare
7.3.1 Overview
7.3.2 Market Size and Forecast
7.3.3 Market Size and Forecast By Deployment
7.3.4 Market Size and Forecast By Countries
7.4 Education
7.4.1 Overview
7.4.2 Market Size and Forecast
7.4.3 Market Size and Forecast By Deployment
7.4.4 Market Size and Forecast By Countries
7.5 Government
7.5.1 Overview
7.5.2 Market Size and Forecast
7.5.3 Market Size and Forecast By Deployment
7.5.4 Market Size and Forecast By Countries
7.6 IT &Telecom
7.6.1 Overview
7.6.2 Market Size and Forecast
7.6.3 Market Size and Forecast By Deployment
7.6.4 Market Size and Forecast By Countries
7.7 Energy
7.7.1 Overview
7.7.2 Market Size and Forecast
7.7.3 Market Size and Forecast By Deployment
7.7.4 Market Size and Forecast By Countries
7.8 Others
7.8.1 Overview
7.8.2 Market Size and Forecast
7.8.3 Market Size and Forecast By Deployment
7.8.4 Market Size and Forecast By Countries
8 NA Network Configuration and Change Management (NCCM): Market Size and Forecast By Countries
8.1 Introduction
8.2 Parfait Chart
8.3 U.S.
8.3.1 Overview
8.3.2 Market Size and Forecast
8.3.3 Market Size and Forecast By Components
8.3.4 Market Size and Forecast By Deployment
8.4 Canada
8.4.1 Overview
8.4.2 Market Size and Forecast
8.4.3 Market Size and Forecast By Components
8.4.4 Market Size and Forecast By Deployment
8.5 Rest of NA
8.5.1 Overview
8.5.2 Market Size and Forecast
8.5.3 Market Size and Forecast By Components
8.5.4 Market Size and Forecast By Deployment

9 NA NCCM: Competitive Landscape
9.1 Competitive Landscape
9.1.1 Ecosystem and Roles
9.1.2 Portfolio Comparison
9.2 End-User Landscape
9.2.1 Market Opportunity Analysis
9.2.2 End-User Analysis
9.2.2.1 More Than 10 Billion Mobile-Connected Devices By 2018
9.2.2.2 Global Network Management System Market Will Surpass $6 Billion By 2019
10 Company Profiles (Introduction, Products & Services, Strategy & Analyst Insights, New Developments, MMM View)
10.1 Alterpoint
10.2 Bmc Software
10.3 Ca Technologies
10.4 Cisco
10.5 Dorado Software
10.6 Emc Corporation
10.7 Ibm
10.8 Hewlett Packard
10.9 Manageengine
10.10 Solarwinds
Appendix

List of Tables
Table 1 NA Network Configuration and Change Management (NCCM) Market, 2014-2019 ($Million)
Table 2 NA NCCM Market, By Components,2014-2019 ($Million)
Table 3 NA NCCM Market, By Components, 2014-2019 (Y-O-Y %)
Table 4 NA Network Configuration and Change Management (NCCM) Market, By Software, 2014-2019 ($Million)
Table 5 NA NCCM Market, Software, By Verticals, 2014-2019 ($Million)
Table 6 NA Market, Software, By Verticals, 2014-2019 (Y-O-Y %)
Table 7 NA Market, Software, By End-Users, 2014-2019 ($Million)
Table 8 NA Market, Software, By End-Users, 2014-2019 (Y-O-Y %)
Table 9 NA Network Configuration and Change Management Market, By Services, 2014-2019 ($Million)
Table 10 NA NCCM Market, Services, By Verticals, 2014-2019 ($Million)
Table 11 NA Market, Services, By Verticals, 2014-2019 (Y-O-Y%)
Table 12 NA Market, Services, By End-Users, 2014-2019 ($Million)
Table 13 NA Market, Services, By End-Users, 2014-2019 (Y-O-Y %)
Table 14 NA Services Market, By Type, 2014-2019 ($Million)
Table 15 NA Services Market, By Type, 2014-2019 (Y-O-Y %)
Table 16 NA Market, By Deployment Mode, 2014-2019 ($Million)
Table 17 NA Market, By Deployment Mode, 2014-2019 (Y-O-Y %)
Table 18 NA Network Configuration and Change Management (NCCM), On-Premise, 2014-2019 ($Million, Y-O-Y %)
Table 19 NA Market, On-Premise, By Verticals, 2014-2019 ($Million)
Table 20 NA Market, On-Premise, By Verticals, 2014-2019 (Y-O-Y %)
Table 21 NA Market, On-Premise, By End-Users, 2014-2019 ($Million)
Table 22 NA Market, On-Premise, By End-Users,2014-2019 (Y-O-Y %)
Table 23 NA NCCM Market, On-Demand, 2014-2019 ($ Million, Y-O-Y %)
Table 24 NA Market, On-Demand, By Verticals, 2014-2019 ($Million)
Table 25 NA Market, On-Demand, By Verticals, 2014-2019 (Y-O-Y %)
Table 26 NA Market, On-Demand, By End-Users 2014-2019 ($Million)
Table 27 NA Market, On-Demand, By End-Users 2014-2019 (Y-O-Y %)
Table 28 NA NCCM Market, By End-Users, 2014-2019 ($Million)
Table 29 NA Market, By End-Users, 2014-2019 (Y-O-Y %)
Table 30 NA Network Configuration and Change Management (NCCM) Market, SME, 2014-2019 ($Million, Y-O-Y %)
Table 31 NA Market, SME, By Verticals 2014-2019 ($Million)
Table 32 NA Market, SME, By Verticals 2014-2019 (Y-O-Y %)
Table 33 NA Market, SME, By Countries, 2014-2019 ($Million)
Table 34 NA Market, SME, By Countries, 2014-2019 (Y-O-Y)
Table 35 NA NCCM Market, Enterprise, 2014-2019 ($Million, Y-O-Y %)
Table 36 NA Market, Enterprise, By Verticals, 2014-2019 ($Million)
Table 37 NA Market, Enterprise, By Verticals, 2014-2019 (Y-O-Y %)
Table 38 NA Market, Enterprise, By Countries, 2014-2019 ($Million)
Table 39 NA Market, Enterprise, By Countries, 2014-2019 (Y-O-Y %)
Table 40 NA NCCM Market, By Verticals, 2014-2019 ($Million)
Table 41 NA Market, By Verticals, 2014-2019 (Y-O-Y %)
Table 42 NA Network Configuration and Change Management (NCCM) Market, BFSI, 2014-2019 ($Million, Y-O-Y %)
Table 43 NA Market, BFSI, By Deployment, 2014-2019 ($Million)
Table 44 NA Market, BFSI, By Deployment, 2014-2019 (Y-O-Y %)
Table 45 NA Market, BFSI, By Countries, 2014-2019 ($Million)
Table 46 NA Market, BFSI, By Countries, 2014-2019 (Y-O-Y %)
Table 47 NA NCCM Market, Healthcare, 2014-2019 ($Million, Y-O-Y %)
Table 48 NA Market, Healthcare, By Deployment, 2014-2019 ($Million)
Table 49 NA Market, Healthcare, By Deployment, 2014-2019 (Y-O-Y %)
Table 50 NA Market, Healthcare, By Countries, 2014-2019 ($Million)
Table 51 NA Market, Healthcare, By Countries, 2014-2019 (Y-O-Y %)
Table 52 NA Market, Education, 2014-2019 ($Million, Y-O-Y %)
Table 53 NA Network Configuration and Change Management (NCCM) Market, Education, By Deployment, 2014-2019 ($Million)
Table 54 NA Market, Education, By Deployment, 2014-2019 (Y-O-Y %)
Table 55 NA Market, Education, By Countries, 2014-2019 ($Million)
Table 56 NA Market, Education, By Countries, 2014-2019 (Y-O-Y %)
Table 57 NA Network Configuration and Change Management (NCCM) Market, Government, 2014-2019 ($Million, Y-O-Y %)
Table 58 NA Market, Government, By Deployment, 2014-2019 ($Million)
Table 59 NA Market, Government, By Deployment (Y-O-Y %)
Table 60 NA Market, Government, By Countries, 2014-2019 ($Million)
Table 61 NA Market, Government, By Countries, 2014-2019 (Y-O-Y %)
Table 62 NA Network Configuration and Change Management (NCCM) Market, IT and Telecom, By Deployment, 2014-2019 ($Million)
Table 63 NA Market, IT and Telecom, By Deployment, 2014-2019 ($Million)
Table 64 NA Market, IT and Telecom, By Deployment, 2014-2019 (Y-O-Y %)
Table 65 NA Market, IT and Telecom, By Countries, 2014-2019 ($Million)
Table 66 NA Market, IT & Telecom, By Countries, 2014-2019 (Y-O-Y %)
Table 67 NA Network Configuration and Change Management (NCCM) Market, Energy, 2014-2019 ($Million)
Table 68 NA Market, Energy, By Deployment, 2014-2019 ($Million)
Table 69 NA Market, Energy, By Deployment, 2014-2019 (Y-O-Y %)
Table 70 NA Market, Energy, By Countries, 2014-2019 ($Million)
Table 71 NA Market, Energy, By Countries, 2014-2019 (Y-O-Y %)
Table 72 NA Network Configuration and Change Management (NCCM) Market, Others, 2014-2019 ($Million)
Table 73 NA Market, Others, By Deployment, 2014-2019 ($Million)
Table 74 NA Market, Others, By Deployment, 2014-2019 (Y-O-Y %)
Table 75 NA Market, Others, By Countries, 2014-2019 ($Million)
Table 76 NA Market, Others, By Countries, 2014-2019 (Y-O-Y %)
Table 77 NA Network Configuration and Change Management (NCCM) Market, By Countries, 2014-2019 ($Million)
Table 78 NA Market, 2014-2019 (Y-O-Y %)
Table 79 North America, 2014-2019 ($Million, Y-O-Y %)
Table 80 North America, By Components, 2014-2019 ($Million)
Table 81 North America, By Components, 2014-2019 (Y-O-Y %)
Table 82 North America, By Deployment, 2014-2019 ($Million)
Table 83 North America, By Deployment, 2014-2019 (Y-O-Y %)
Table 84 NA NCCM Market: M&A

List of Figures
Figure 1 Stakeholders
Figure 2 Secondary and Primary Research
Figure 3 Data Triangulation and Market Forecasting
Figure 4 NA NCCM Market, 2014-2019 (Y-O-Y %)
Figure 5 Features
Figure 6 Fcaps: Components
Figure 7 NA Market Evolution
Figure 8 Market Segmentation
Figure 9 Time Impact Analysis
Figure 10 Value-Chain
Figure 11 NA Network Configuration and Change Management (NCCM) Market, By Components, 2014-2019 (Y-O-Y %)
Figure 12 NA Market, By Software, 2014-2019 (Y-O-Y %)
Figure 13 NA Market, By Services, 2014-2019 (Y-O-Y %)
Figure 14 NA Market, By Deployment Mode, 2014-2019 (Y-O-Y %)
Figure 15 NA Market, On-Premise, 2014-2019 ($Million, Y-O-Y %)
Figure 16 NA Market, On-Demand, 2014-2019 ($ Million, Y-O-Y %)
Figure 17 NA Network Configuration and Change Management (NCCM) Market, By End-Users, 2014-2019 (Y-O-Y %)
Figure 18 NA NCCM Market, SME, 2014-2019 ($Million, Y-O-Y %)
Figure 19 NA Market, Enterprise, 2014-2019 ($Million, Y-O-Y %)
Figure 20 NA Market, By Verticals, 2014-2019 (Y-O-Y %)
Figure 21 NA Market, BFSI, 2014-2019 ($Million, Y-O-Y %)
Figure 22 NA Market, Healthcare, 2014-2019 ($Million, Y-O-Y %)
Figure 23 NA Market, Education, 2014-2019 ($Million, Y-O-Y %)
Figure 24 NA Market, Government, 2014-2019 ($Million, Y-O-Y %)
Figure 25 NA Market, IT and Telecom, 2014-2019 ($Million)
Figure 26 NA Market, Energy, 2014-2019 ($Million)
Figure 27 NA Market, Others, 2014-2019 ($Million)
Figure 28 NA Market, By Countries, 2014-2019 (Y-O-Y %)
Figure 29 NA Parfait Chart
Figure 30 NA Market, North America, 2014-2019 ($Million, Y-O-Y %)
Figure 31 NA NCCM Market, Europe, 2014-2019 ($Million, Y-O-Y %)
Figure 32 NA Market, APAC, 2014-2019 ($Million, Y-O-Y %)
Figure 33 NA Market, MEA, 2014-2019 ($Million, Y-O-Y %)
Figure 34 NA Market, LA, By Components, 2014-2019 ($Million, Y-O-Y %)
Figure 35 NA Ecosystem and Roles
Figure 36 NA Product Portfolio Comparison
Figure 37 NA Market Opportunity Analysis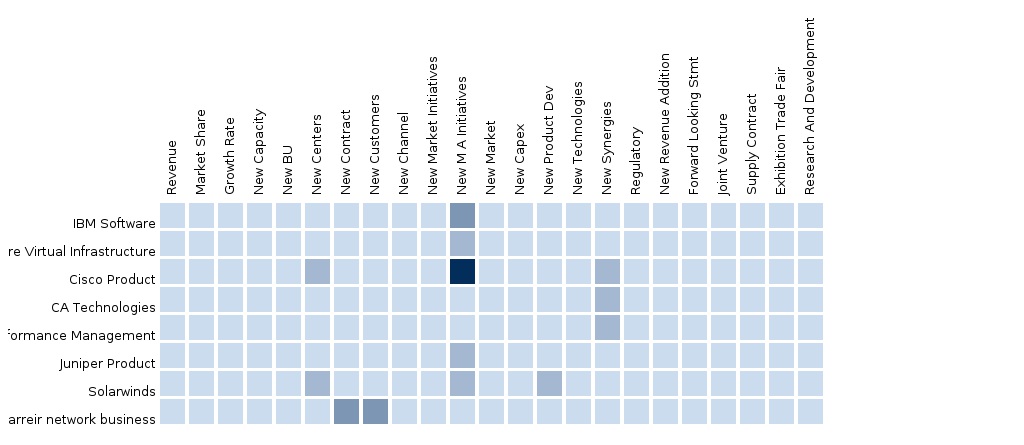 PRODUCT TITLE
PUBLISHED
PRICE
North America Network Management


Network Management-North America can be segmented by Hardwares, Endusers, Services, Softwares, Industries and MacroIndicators. Hardwares of Network Management-North America are Networking Hardware. Endusers of Network Management-North America are Small and Medium...



17 Feb 2015
$ 2500
Europe Network Management


Network Management-Europe can be segmented by Hardwares, Endusers, Services, Softwares, Industries and MacroIndicators. Hardwares of Network Management-Europe are Networking Hardware. Endusers of Network Management-Europe are Small and Medium Business (SMB) and...



17 Feb 2015
$ 2500
Asia-Pacific Network Management


Network Management-Asia-Pacific can be segmented by Hardwares, Endusers, Services, Softwares, Industries and MacroIndicators. Hardwares of Network Management-Asia-Pacific are Networking Hardware. Endusers of Network Management-Asia-Pacific are Small and Medium Business...



17 Feb 2015
$ 2500
Middle East and Africa Network Management


Network Management-Middle East and Africa can be segmented by Hardwares, Endusers, Services, Softwares, Industries and MacroIndicators. Hardwares of Network Management-Middle East and Africa are Networking Hardware. Endusers of Network Management-Middle East and Africa...



17 Feb 2015
$ 2500
Latin America Network Management


Network Management-Latin America can be segmented by Hardwares, Endusers, Services, Softwares, Industries and MacroIndicators. Hardwares of Network Management-Latin America are Networking Hardware. Endusers of Network Management-Latin America are Small and Medium...



17 Feb 2015
$ 2500
China Network Management


Network Management-China can be segmented by Hardwares, Endusers, Services, Softwares, Industries and MacroIndicators. Hardwares of this market are Networking...



17 Feb 2015
$ 3500
Germany Network Management


Network Management-Germany can be segmented by Hardwares, Endusers, Services, Softwares, Industries and MacroIndicators. Hardwares of this market are Networking...



17 Feb 2015
$ 3500
U.S. Network Management


Network Management-U.S. can be segmented by Hardwares, Endusers, Services, Softwares, Industries and MacroIndicators. Hardwares of this market are Networking...



17 Feb 2015
$ 3500
United Kingdom Network Management


Network Management-United Kingdom can be segmented by Hardwares, Endusers, Services, Softwares, Industries and MacroIndicators. Hardwares of this market are Networking...



17 Feb 2015
$ 3500
Australia Network Management


Network Management-Australia can be segmented by Hardwares, Endusers, Services, Softwares, Industries and MacroIndicators. Hardwares of this market are Networking...



17 Feb 2015
$ 3500
North America Network Configuration and Change Management