Aircraft Ground Handling System comprises of all services which are required by an aircraft between landing and take-off. The services include loading, unloading, refueling, baggage handling, passenger handling, aircraft maintenance, etc. The airlines may choose self-handling or may enter into contracts with other company.
The North America ground handling system market is estimated a value of $24.32 million in 2014 and is expected to reach a value of $29.33 million by 2019; growing at a CAGR of approximately 3.81% from 2014 to 2019. The cargo ground handling segment has the highest market value among the other segments. Increase in the number of airlines and technological advancements are the key market drivers which are impacting the market growth. The major challenges of ground handling system market are optimization of operations during peak time and constant security upgradation.
The purpose of this report is to identify the various technologies involved, products and distribution channel of North America ground handling system market. It involves deep dive analysis of market segmentation which comprises of applications, products and countries. The products are segmented into refuelers, tugs & tractors, ground power units, air starter, lavatory ground handling and anti-icing. Detailed classification is given in the report.
The major players in the market are Diehl Aerosystems Holding GMBH, SAIC, Weihai Guangtai Airports Equipment Co., Ltd, Aircraft Service International Group and Aurora Aviation. Region and country wise competitive developments such as alliances, joint ventures, mergers & acquisitions and contracts are enclosed in the report. Industry restraints and challenges impacting the growth of the market is an integral part of the report. Technology trends and market trends that are currently prevailing in the market are specified in the report.
CUSTOMIZATION OFFERINGS:
1. HISTORICAL DATA for 5 years.
Financials
Macro indicator data
M&A data
2. COMPANY PROFILES
In depth analysis of the company's product portfolio
Competitive landscape (revenue, operating margin, marginal cost, P/E ratio, EPS, Developments/Deals/Events)
Ratio analysis
3. REGION SPECIFIC INFORMATION (North America, EUROPE, APAC, MIDDLE EAST and ROW)
It covers market sizing/mapping, global footprint, operation and financials information, competitive landscape. MMM offering will cover detailed market study of below mentioned bullet points:
Passenger ground handling system
Cargo ground handling system
Aircraft ground handling system
4. GLOBAL TRENDS / MARKET ENVIRONMENT
Product and technological advancements/latest innovation and development
Demand and supply analysis
Market consolidation (M&A, joint ventures, divestment and spin off)
5. PREDICTIVE FORECASTING
Time series
Regression analysis
6. PRODUCT ANALYSIS
Usage pattern (in-depth trend analysis) of products (Segment wise)
Product Matrix which gives a detailed comparison of product portfolio of each company mapped at country and sub segment level
Comprehensive coverage of Product approvals, Pipeline products and Product recalls
7. SUPPLY CHAIN/VENDOR ANALYSIS
Coverage - Vendor analysis, vendor financing, customers/self funding, and distribution network
1 Introduction
1.1 Key Findings
1.2 Report Description
1.3 Markets Covered
1.4 Stakeholders
1.5 Research Methodology
2 Executive Summary
3 Market Overview
3.1 Market Definition
3.2 Market Segmentation
3.2.1 By Application
3.2.2 By Product
4 Market Dynamics
4.1 Drivers
4.1.1 Growing number of airlines
4.1.2 Technological advancements
4.1.3 Impact analysis of drivers
4.2 Restraints
4.2.1 Moderate travel growth
4.2.2 Already installed ground handling equipments
4.2.3 Impact analysis of restraints
4.3 Challenges
4.3.1 Optimization of operations
4.3.2 Constant security upgradation
4.3.3 Poor quality issues
5 Trend Analysis
5.1 Market Trends
5.2 Industry Trends
5.3 Technology Trends
6 Market Forecast
6.1 By Application
6.1.1 Passenger ground handling system
6.1.2 Cargo ground handling system
6.1.3 Aircraft ground handling system
6.2 By Product
6.2.1 Refuelers
6.2.2 Tugs & Tractors
6.2.3 Ground power unit
6.2.4 Air starter
6.2.5 Lavatory ground handling
6.2.6 Anti icing
6.2.7 Bag carts
6.2.8 Buses
6.2.9 Transporters
6.2.10 Catering vehicles
6.2.11 Container loader
6.2.12 Baggage
7 Competitive Landscape
7.1 Market share analysis, by company
7.2 Market share analysis, by geography
8 Company Profiles
8.1 Cavotec
8.2 JBT Aerotech
8.3 Weihai Guangtai Airports Equipment Co., Ltd.
8.4 Cargotec
8.5 SAAB AB
8.6 Bharat Earth Movers Limited
8.7 IMAI Aero-Equipment MFG Co., Ltd.
8.8 Bliss Fox Ground Support Equipment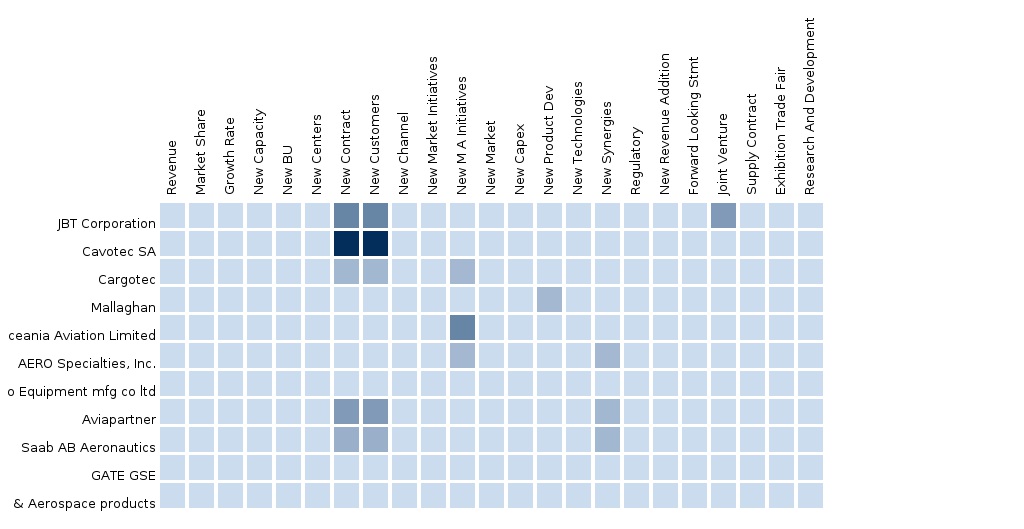 Please fill in the form below to receive a free copy of the Summary of this Report
Custom Market Research Services
We will customize the research for you, in case the report listed above does not meet with your exact requirements. Our custom research will comprehensively cover the business information you require to help you arrive at strategic and profitable business decisions.
Please visit
http://www.micromarketmonitor.com/custom-research-services.html
to specify your custom Research Requirement