North America Flight Management Systems Market
A flight management system (FMS) is the core of every aircraft today. Flight management systems control a majority of tasks that were performed manually earlier, such as navigation and managing flight plans. A flight management system has a navigation database which helps pilots by directing flights to their respective destinations.
The flight management systems market is expected to grow slowly within the study period (2013-2018). The market currently is pegged at $959.40 million and is expected to grow to $1,008.6 million by 2018. The market is expected to grow at a CAGR of 3.00% during this period. Though slow-growing, this market will expand greatly in the long run.
This report provides an in-depth analysis of the North American flight management systems market. It also provides an insight into the regional trends to analyze the market share.
The North American commercial aviation flight management systems market is segmented on the basis of aircraft types and geography. Aircraft types are categorized into Very Large Aircraft (VLA), Narrow Body Aircraft (NBA), Wide Body Aircraft (WBA), and Regional Transport Aircraft (RTA).
With the increase in global air travel, the major challenge for airlines is the increase in aircraft traffic and the rising fuel price. With the expected increase in the growth of air transportation, efforts are being taken by airlines to enhance safety operations. This will drive the growth of flight management systems in North America. Technological advancement in flight management systems will increase the efficiency and effectiveness of the equipment.
The major drivers of this market mainly include increase in air travel, increase in air traffic, increase in fleet renewal, and expansion and increase in safety operations. This market is restrained by airline order backlogs, increase in aviation fuel prices, economic downturn, and maintenance and repairs of airlines.
Companies operating in the European flight management systems market are Honeywell International, Inc., Rockwell Collins, Thales, Jeppesen, Esterline Corporation, United Arab Shipping Company, UASC, GE Aviation, and Lufthansa Systems.
CUSTOMIZATION OPTIONS
1. HISTORICAL DATA FOR 2-3 YEARS
Financials
Orders/Deliveries/Backlog data
Macro Indicator Data
M&A Data
Budget and Defense ProgramInformation
2. COMPANY PROFILES
In-depth analysis of the company's product portfolio
Competitive landscape(revenue, operating margin, marginal cost, P/E ratio, EPS)
Ratio analysis
3. REGIONAL-SPECIFIC INFORMATION (Europe, Asia-Pacific, South America)
This covers market sizing/mapping, global footprint, operation and financials information, and the competitive landscape. The MMM offering will cover a detailed market study of the points mentioned below:
Narrow Body Aircraft
Wide Body Aircraft
Very Large Aircraft
Regional Transport Aircraft
4. GLOBAL TRENDS/MARKET ENVIRONMENT
Product and technological advancements/Latest innovations and developments
Demand and supply analysis
Market consolidation (M&A, joint ventures, divestments, and spin-offs)
Air traffic data
Export/Import data (aerospace product and parts)
Industrial production and capacity optimization data
Deliveries and orders
5. GLOBAL FORECAST NUMBERS/OUTLOOK (Historical and Forecast by Year)
Aircraft delivery (NB,WB, VLA)
Orders & backlogs (NB, WB, VLA)
Comparative analysis (for example, Boeing Vs. Airbus)
Milicas (Military Aircraft) and Helicas (Military Rotary Wing i.e. Helicopter)
6. PREDICTIVE FORECASTING
Time Series
Regression Analysis
7. PROGRAM DETAILS (By Aircraft Type, Aircraft Model, Manufacturer Detail)
Narrow Body Aircraft
Wide Body Aircraft
Very Large Aircraft
Regional Transport Aircraft
8. OPPORTUNITY ANALYSIS
A comprehensive analysis to help understand the potential growth markets based on parameters such as:
GDP percentage with respect to military expenditure of a particular country
Contracts and modernization programs
9. PRODUCT ANALYSIS
Usage pattern (in-depth trend analysis) of products (segment wise)
Product matrix which gives a detailed comparison of the product portfolio of each company mapped at country and sub-segment level
End user adoption rate analysis of the products (segment wise and country wise)
Comprehensive coverage of product approvals, pipeline products, and product recalls
10. SUPPLY CHAIN/VENDOR ANALYSIS
Coverage - Vendor analysis, vendor financing, customer/self funding, and distribution network
11. ROUTE MAP ANALYSIS, LOAD FACTOR, RPK, ASK, and FLF
Airline/Operator route map analysis on a regional and global level
Passenger and freight load factor, revenue passenger kilometer, available seat kilometer analysis
1 Introduction
2.Executive Summary
3.Objective Of The Study
3.1 Market Definition
3.1.1 Areas Covered
3.1.2 Market Covered
3.1.2.1 On The Basis Of Aircraft Type:
3.1.2.2 On The Basis Of Geography:
3.2 Stakeholders
3.3 Research Methodology
3.3.1 Secondary Sources
3.3.1.1 Secondary Research Involves
3.3.1.2 Primary Sources & Data Triangulation
3.3.2 Market Estimation Methodology
3.3.3 Assumptions
4 Market Snapshot
4.1 Market Size
4.2 Market Size Forecast
4.3 By Aircraft Type
4.4 By Geography
5 Market Overview
5.1 Market Dynamics
5.2 Drivers And Restrains For Flight Management System
5.2.1 Drivers
5.2.1.1 Increase In Safety Operations
5.2.1.2 Nextgen Aircrafts
5.2.2 Restraints
5.2.2.1 Maintenance And Repair Of Airlines
5.2.2.2 Aircraft Backlogs
5.2.3 Opportunity
5.2.3.1 Increase In Air Traffic
3.3 North America Flight Management SystemsTrends
6 Technology Roadmaps
6.1 Introduction
6.2 Flight Management SystemWith 3d Trajectory
6.3 Introduction Of 4d Trajectory
6.4 Nextgen Flight Management System
7 North America Market ByAircraft Type
7.1 North America Commercial Aviation Flight Management System
8 North America Flight Management SystemMarket By Geography
8.1 North America Flight Management SystemMarket, By Geography
8.2 Scenario Analysis
8.2.1 Aircraft Backlogs
8.2.2 Inflation
8.2.3 Economic Recession
9 North America Commercial Aviation Flight Management System: Competitive Landscape
9.1 Global Flight Management System Market, Region Wise Concentration Of Fms Manufacturers, 2013
9.2 North America: Flight Management System Manufactures, 2013
9.3 Developments: North AmericaRegion, By Companies
10 North America Flight Management SystemMarket, By Companies
10.1 Thales
10.1.1 Introduction
10.1.2 Product Portfolio
10.1.3 Financials
10.2 Honeywell
10.2.1 Introduction
10.2.2 Product Portfolio
10.2.3 Financials
10.3 Rockwell Collin
10.3.1 Introduction
10.3.2 Product Portfolio
10.3.3 Financials
10.4 Universal Avionics
10.4.1 Introduction
10.4.2 Product Portfolio
10.4.3 Financials
10.5 General Electric
10.5.1 Introduction
10.5.2 Product Portfolio
10.5.3 Financials
10.6 Jeppesen
10.6.1 Introduction
10.6.2 Product Portfolio
10.6.3 Financials
10.7 Esterline
10.7.1 Introduction
10.7.2 Product Portfolio
10.7.3 Financials
10.8Lufthansa Systems
10.8.1 Introduction
10.8.2 Product Portfolio
10.8.3 Financials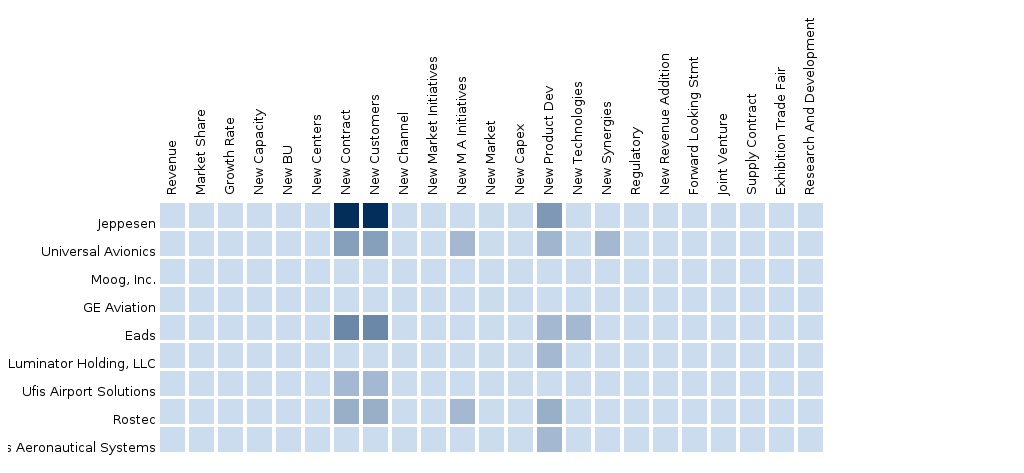 Please fill in the form below to receive a free copy of the Summary of this Report
Custom Market Research Services
We will customize the research for you, in case the report listed above does not meet with your exact requirements. Our custom research will comprehensively cover the business information you require to help you arrive at strategic and profitable business decisions.
Please visit
http://www.micromarketmonitor.com/custom-research-services.html
to specify your custom Research Requirement
North America Flight Management Systems