North American Enterprise Picture Archiving and Communication System (PACS) Market
An enterprise PACS solution allows integration of medical imaging data within different departments of a healthcare facility as well as enables seamless access to all patient information at a single point of interaction. Digitization of workflow across departments is the key to ensure the success of any enterprise-wide solution, in which PACS helps to a great extent.
The enterprise PACS is especially useful for a medium-sized hospital that cannot afford a VNA solution and whose image management requirement is low as compared to a large hospital.
The market for enterprise PACS in North America is segmented on the basis of types, deployment, component, key applications, end-users, and geography. The market is estimated to witness a CAGR of 9.5% between 2014 and 2019.

North America accounted for the largest share of around 48.3% of the Enterprise PACS Market globally, followed by Europe in 2013.
According to the American Society of Radiologic Technologists, around 600 million diagnostic imaging procedures are conducted per year in the U.S. The number of procedures is rising as a result of the aging population, increasing patient base, and the increasing demand for cardiovascular, oncological, and neurological diagnostic imaging.
Other significant driving factors for the market are raising need for automation of administrative services to curb increasing healthcare cost and favorable government initiatives for the implementation of healthcare IT systems.
The report provides an in-depth analysis of market landscape and current market trends. It studies the market on the basis of by applications-based segments, which include C-ARMs/Fluoroscopy, Computed Radiography (CR), Computed Tomography, Digital Radiography (DR), MRI, Nuclear Imaging, and Ultrasound.
The deployment-based segmentations of the market cover hospital information systems, web-based systems, on-premise systems, and cloud-based systems.
On the basis of components, the market is segmented into services, hardware, and software. Similarly, on the basis of products, the market is classified into integrated and standalone PACS.
In addition to this, the report also provides comprehensive information on the key trends influencing the market. A comprehensive competitive landscape of this market has also been illustrated.
The major companies profiled in this report are: Agfa-Gevaert (Belgium), BridgeHead Software Ltd. (U.K.), Fujifilm Holdings Corporation (Japan), General Electric Company (U.S.), McKesson Corporation (U.S.), Merge Healthcare Incorporated (U.S.), Philips Healthcare (Netherlands), Siemens AG - Healthcare (Germany), TeraMedica Inc. (U.S.)
1 Introduction
1.1 Objective of the study
1.2 Market Definitions
1.3 Market Segmentation & Aspects Covered
1.4 Research Methodology
1.4.1 Assumptions (Market Size, Forecast, etc)
2 Executive Summary
3 Market Overview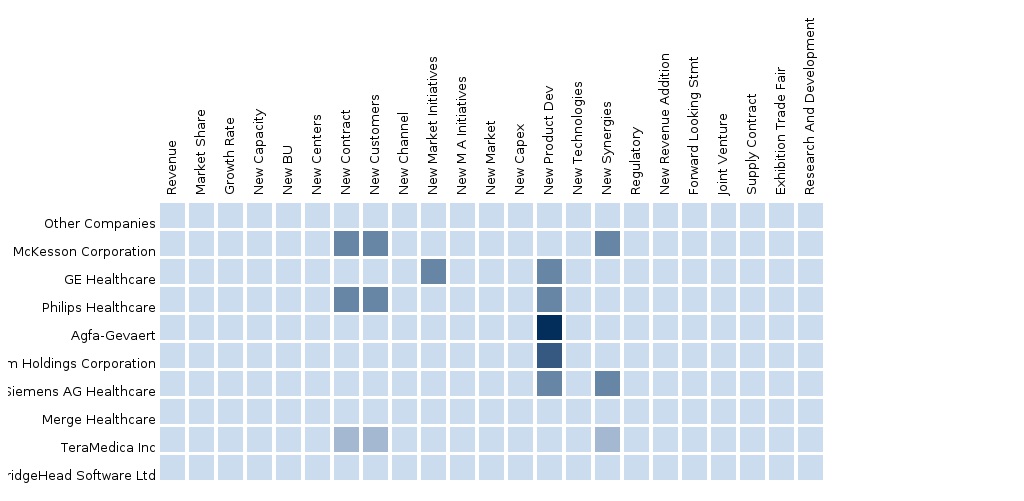 Please fill in the form below to receive a free copy of the Summary of this Report
Custom Market Research Services
We will customize the research for you, in case the report listed above does not meet with your exact requirements. Our custom research will comprehensively cover the business information you require to help you arrive at strategic and profitable business decisions.
Please visit
http://www.micromarketmonitor.com/custom-research-services.html
to specify your custom Research Requirement
PRODUCT TITLE
PUBLISHED
North American Picture Archiving and Communication System (PACS)


The North American Picture Archiving and Communication System (PACS) Market was pegged at $1492 million in 2012 and expected to be $1961 million by 2018, growing at a CAGR of 4.66%.Picture Archiving and Communication System (PACS) Market can be segmented by Geographies, Applications,Deployments,Endusers, Companies and MacroIndicators. Deep dive analysis of the top players of this market have been considered in this report.



Upcoming
Asian Picture Archiving and Communication System (PACS)


The Asian Picture Archiving and Communication System (PACS) Market was pegged at $456 million in 2012 and expected to be $675 million by 2018, growing at a CAGR of 6.74%.Picture Archiving and Communication System (PACS) Market can be segmented by Geographies, Applications, Deployments, Endusers, Companies and MacroIndicators. Deep dive analysis of the top players of this market have been considered in this report.



Upcoming
North American Enterprise Picture Archiving and Communication System (PACS)