The subsea BOP systems market in the Middle East, valued at $272 million in 2014, is projected to reach $402 million in 2019, at a CAGR of 8%. The Middle East segment has a share of 7% in the global market.
The market is segmented based on types, which include Annular type and RAM type.
The subsea BOP systems report consists of the profiles of some of the major players in the market, such as National Oilwell Varco (U.S.), Tenaris (Luxembourg), and Uztel (Romania), among others.
Customization Options:
Along with market data, customize the MMM assessment in alignment with your company's specific needs. Customize to get a comprehensive summary of the industry standards and a deep dive analysis of the following parameters:

Product Differentiation:
An in-depth analysis of the products of different companies and differentiating them based on specifications of blowout preventers

Market Inducing Data:
Subsea rig count
Information about upcoming rigs
Information about oil & gas companies' rigs
Expert Insights:
An in-depth Value chain analysis
Interrelation between the segments
Impact of segments on the market
Information and specifications of blowout control systems
Information about the types of rigs and the number of blowout preventers used in each type of rigs
1 Introduction
1.1 Objective of the study
1.2 Market Definitions
1.3 Market Segmentation & Aspects Covered
1.4 Research Methodology
1.4.1 Assumptions (Market Size, Forecast, etc)
2 Executive Summary

3 Market Overview

4 Subsea BOP-Middle East, By Technologies
4.1 Annular-Middle East
4.2 RAM Type-Middle East

5 Subsea BOP-Middle East, By Companies
5.1 Subsea BOP-Middle East-Other Companies
5.2 Subsea BOP-Middle East-National Oilwell Varco, Inc.
5.3 Subsea BOP-Middle East-UZTEL LTD.
5.4 Subsea BOP-Middle East-Tenaris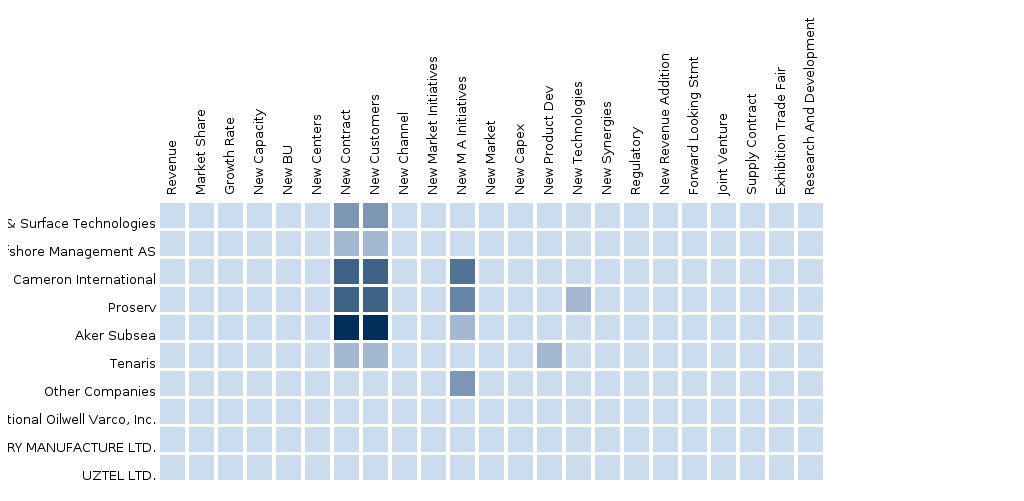 Please fill in the form below to receive a free copy of the Summary of this Report
Custom Market Research Services
We will customize the research for you, in case the report listed above does not meet with your exact requirements. Our custom research will comprehensively cover the business information you require to help you arrive at strategic and profitable business decisions.
Please visit
http://www.micromarketmonitor.com/custom-research-services.html
to specify your custom Research Requirement