Latin America Agricultural Adjuvants Market
Description
Table of Contents
Customer Intelligence
The market for agricultural adjuvants in Latin America had been valued at $333.8 million in 2013, estimated to grow at a rate of 5.7% annually. It is expected to reach $513.8 million by 2018. The market accounts 16.0% of the total share of global adjuvants market and its market share is estimated to be 17.2% by 2018.
The segmentation of the Latin American adjuvant market is based on regions, applications, and end-users. It has also been segmented into herbicides, insecticides, fungicides, and others with a share of 48.0%, 19.0%, 25.0%, and 8.0% respectively, of the global agricultural adjuvants market.
What makes our report unique?
You can request a 10% customization in the research that matches your requirement. For example, you could request a deep dive research in any specific region, technology, or application.
This report provides a competitive landscape of the top players in the Latin American agricultural adjuvants market. Under the strategic benchmarking section, we will provide you with their key developments along with the impacts that include new product developments, M&A, a strategic focus on any specific application, technology, and geography. Under the Financials section, we will provide you with details that span Capex (Investments), revenues, EBITDA, and so on. Under the operational insights section, we will provide you with the new capacities added, new centers, and new key employments. Under the sales and marketing section, we will provide you with insights on new contracts (available on the public domain), new distribution channels added, new marketing initiatives, and so on.
Key questions answered
What are the market estimates and forecasts based on which the markets are doing well, and which are not?
What is the competitive landscape; who are the main players in each segment; what are their strategic directives, operational strengths, key selling products, and product pipelines? Who is doing what?
Audience for this report
Latin American Agricultural Adjuvants Companies
Customization Options
Alon with the market data, you can also customize MMM assessments that meets your company's specific needs. Customize to get comprehensive industry standard and deep-dive analysis of the following parameters:
Technical Analysis
The expansion of the Latin American region has made the market very diverse and differential in terms of agricultural sector. The use and efficiency of adjuvants depend upon the type of plant and other geographical factors. Various types of agricultural adjuvants deliver different results for similar conditions.
A geographical analysis on basis of region and its suitability for particular type of agricultural adjuvants product will be done.
To increase the utility of fertilizers, it is necessary to understand the nature of the soil as the salinity of the soil will not support acidic fertilizer and vice-versa. This will help in deeper understanding of market size.
Regions with high precipitation tend to drain away the components of agricultural adjuvants. The analysis of climate of the Latin American and Pacific region will help to understand such pockets where adjuvants market will be affected due to climatic reasons.
Product Analysis
Deep-dive market intelligence for upstream and downstream adjuvants products
Product matrix which gives a detailed comparison of product portfolio of each company mapped at country and sub segment level
Application analysis of the adjuvants by formulation
Usage Pattern of Adjuvants
To study the usage pattern of agricultural adjuvants (crop protection from chemicals and fertilizers) which is often applied
To study the most suitable crops for various types of agricultural adjuvants applications
Low-cost Sourcing Locations
With the rising cost of raw material, prices have been increasing. Cost optimization is taking place at every value addition process. But a good percentage of reduction in cost can be achieved the input level itself.
Various raw material sourcing locations can be studied and a comparative analysis of low-cost raw material sourcing locations can be provided.
Locations with good logistics and connectivity, along with low cost of inputs can be provided
Competitive Intelligence
The advantage that the competitor is enjoying over others
The companies operating in the segment with a similar product portfolio or targeting the similar markets
Arriving at a competitive benchmarking by taking into account the top industry players in the same category
Regulatory Framework
To study if the regulatory issues in import policies of the countries are adversely affecting the business
To study whether the government is offering any agricultural subsidies or non-tariff barriers for agricultural inputs
1 Introduction
1.1 Objectives of the study
1.1.1 Overall goal of writing the report
1.2 Market Definition and Scope of the study
1.2.1 Market Definition
1.2.2 Areas covered
1.2.3 Markets Covered
1.3 Stakeholders
1.4 Research Methodology
1.4.1 Secondary sources
1.4.2 Primary Sources
1.4.3 Market estimation methodology (Top-down, bottom-up, data triangulation.)
1.4.4 Macro indicators for the study
1.5 Assumptions
1.6 List of Acronyms
2 Market Overview

3 Agricultural Adjuvants-Latin America, By Segments
3.1 Split By Geography
3.1 Agricultural Adjuvants-Argentina by Markets
3.1 Agricultural Adjuvants-Brazil by Markets
3.1 Agricultural Adjuvants-Latin America - Other Geographies by Markets
3.2 Activator Adjuvants-Latin America
3.2.1 Activator Adjuvants-Latin America, By Geographies
3.2.1.1 Activator Adjuvants-Brazil
3.2.1.2 Activator Adjuvants-Argentina
3.2.1.3 Activator Adjuvants-Latin America - Other Geographies
3.2.2 Activator Adjuvants-Latin America, By Segments
3.2.2.1 Surfactants-Latin America
3.2.2.2 Oil Adjuvants-Latin America
3.2.2.3 Ammonium Fertilizer-Latin America
3.3 Utility Adjuvants-Latin America
3.3.1 Utility Adjuvants-Latin America, By Geographies
3.3.1.1 Utility Adjuvants-Brazil
3.3.1.2 Utility Adjuvants-Argentina
3.3.1.3 Utility Adjuvants-Latin America - Other Geographies
3.3.2 Utility Adjuvants-Latin America, By Segments
3.3.2.1 Buffers (Adjuvants)-Latin America
3.3.2.2 Drift Control Agents-Latin America
3.3.2.3 Antifoam Agent-Latin America
3.3.2.4 Wetting Agents-Latin America
3.3.2.5 Stickers-Latin America
3.3.2.6 others (Utility Adjuvants)-Latin America
4 Agricultural Adjuvants-Latin America, By Applications
4.1 Split By Geography
4.2 Argentina by Applications
4.1 Brazil by Applications
4.1 Latin America - Other Geographies by Applications
4.2 Others (Application)-Latin America
4.2.1 Others (Application)-Latin America, By MacroIndicators
4.2.1.1 Others (Application)-Agricultural Land-Latin America
4.2.2 Others (Application)-Latin America, By Geographies
4.2.2.1 Others (Application)-Argentina
4.2.2.2 Others (Application)-Brazil
4.2.2.3 Others (Application)-Latin America - Other Geographies
4.3 Herbicides-Latin America
4.3.1 Herbicides-Latin America, By MacroIndicators
4.3.1.1 Herbicides-Agricultural Land-Latin America
4.3.2 Herbicides-Latin America, By Geographies
4.3.2.1 Herbicides-Argentina
4.3.2.2 Herbicides-Brazil
4.3.2.3 Herbicides-Latin America - Other Geographies
4.4 Fungicides-Latin America
4.4.1 Fungicides-Latin America, By MacroIndicators
4.4.1.1 Fungicides-Agricultural Land-Latin America
4.4.2 Fungicides-Latin America, By Geographies
4.4.2.1 Fungicides-Argentina
4.4.2.2 Fungicides-Brazil
4.4.2.3 Fungicides-Latin America - Other Geographies
4.5 Insecticides-Latin America
4.5.1 Insecticides-Latin America, By MacroIndicators
4.5.1.1 Insecticides-Agricultural Land-Latin America
4.5.2 Insecticides-Latin America, By Geographies
4.5.2.1 Insecticides-Argentina
4.5.2.2 Insecticides-Brazil
4.5.2.3 Insecticides-Latin America - Other Geographies
5 Agricultural Adjuvants-Latin America, By Endusers
5.1 Split By Geography
5.3 Argentina by Endusers
5.1 Brazil by Endusers
5.1 Latin America - Other Geographies by Endusers
5.2 Agricultural Adjuvants-Grains & Oilseeds-Latin America
5.2.1 Grains & Oilseeds-Latin America, By MacroIndicators
5.2.1.1 Grains & Oilseeds-Agricultural Land-Latin America
5.2.2 Grains & Oilseeds-Latin America, By Geographies
5.2.2.1 Grains & Oilseeds-Brazil
5.2.2.2 Grains & Oilseeds-Argentina
5.3 Agricultural Adjuvants-Rest (Crops)-Latin America
5.3.1 Rest (Crops)-Latin America, By MacroIndicators
5.3.1.1 Rest (Crops)-Agricultural Land-Latin America
5.3.2 Rest (Crops)-Latin America, By Geographies
5.3.2.1 Rest (Crops)-Argentina
5.3.2.2 Rest (Crops)-Brazil
5.4 Agricultural Adjuvants-Fruits & Vegetables-Latin America
5.4.1 Fruits & Vegetables-Latin America, By MacroIndicators
5.4.1.1 Fruits & Vegetables-Agricultural Land-Latin America
5.4.2 Fruits & Vegetables-Latin America, By Geographies
5.4.2.1 Fruits & Vegetables-Brazil
5.4.2.2 Fruits & Vegetables-Argentina
6 Agricultural Adjuvants-Latin America, By Geographies
6.1 Argentina
6.1.1 Argentina, By MacroIndicators
6.1.1.1 Agricultural Land-Argentina
6.1.2 Argentina, By Applications
6.1.2.1 Others (Application)-Argentina
6.1.3 Argentina, By Companies
6.1.3.1 Momentive Performance Materials Inc. -Argentina
6.1.4 Argentina, By Segments
6.1.4.1 Activator Adjuvants-Argentina
6.1.4.2 Utility Adjuvants-Argentina
6.2 Brazil
6.2.1 Brazil, By MacroIndicators
6.2.1.1 Agricultural Land-Brazil
6.2.2 Brazil, By Applications
6.2.2.1 Others (Application)-Brazil
6.2.3 Brazil, By Segments
6.2.3.1 Activator Adjuvants-Brazil
6.2.3.2 Utility Adjuvants-Brazil
6.3 Latin America - Other Geographies
6.3.1 Latin America - Other Geographies, By Applications
6.3.1.1 Herbicides-Latin America - Other Geographies
6.3.1.2 Fungicides-Latin America - Other Geographies
6.3.1.3 Others (Application)-Latin America - Other Geographies
6.3.1.4 Insecticides-Latin America - Other Geographies
6.3.2 Latin America - Other Geographies, By Endusers
6.3.2.1 Latin America - Other Geographies-Rest (Crops)
6.3.2.2 Latin America - Other Geographies-Grains & Oilseeds
6.3.2.3 Latin America - Other Geographies-Fruits & Vegetables
6.3.3 Latin America - Other Geographies, By Segments
6.3.3.1 Activator Adjuvants-Latin America - Other Geographies
6.3.3.2 Utility Adjuvants-Latin America - Other Geographies
7 Agricultural Adjuvants-Latin America, By Companies
7.1 Split By Geography
7.4 Argentina by Companies
7.1 Brazil by Companies
7.1 Latin America - Other Geographies by Companies
7.2 Huntsman Corporation-Latin America
7.3 Solvay S.A.-Latin America
7.4 Nufarm Crop protection-Latin America
7.5 Evonik Industries-Latin America
7.6 Croda International Plc-Latin America
7.7 Momentive Performance Materials Inc. -Latin America
7.7.1 Momentive Performance Materials Inc. -Latin America, By Geographies
7.7.1.1 Momentive Performance Materials Inc. -Argentina
7.8 AkzoNobel Specialty chemicals-Latin America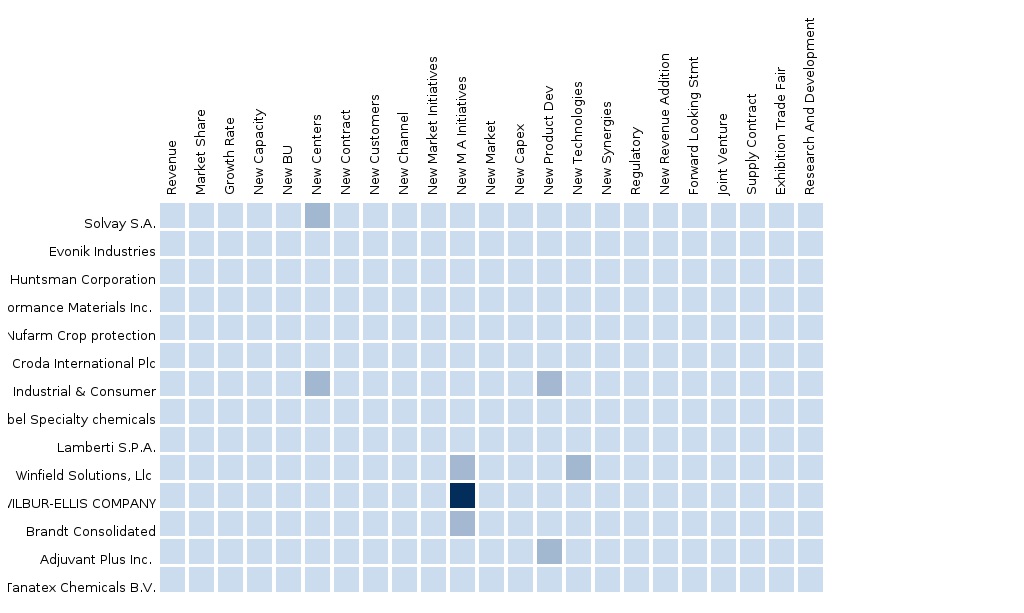 Latin America Agricultural Adjuvants