Europe System Integration and Design Market
Description
Table of Contents
Customer Intelligence
The European System Integration market is expected to grow from $48.1 billion in 2014 to $79.6 billion by 2018, at a CAGR of 10.6% during the forecast period.
The concept of system integration focuses on significant collaboration of sub-systems, with an aim of synchronizing varied functions involved in businesses. The role of system integration is becoming more evident with the increasing demand of building cutting-edge computing solutions. One of the major market drivers for the European system integration market is rise in number of investments made by enterprises operating in the field of system integration market. Several enterprises are utilizing system integration solutions in order to integrate their internal processes with external commercial organizations, for expanding business operations across various geographical regions.
Prominent companies operating in the system integration and design market includes Harris Corporation, Honeywell International, IBM, BAE System, and Accenture among others. The Harris Corporation and IBM have registered market shares of around 23.01% and 20.00%, respectively. These companies are heavily investing in system integration solutions in Europe, due to the ease in availability of these solutions, and cost effectiveness over cloud technologies.
Report Options
On the basis of infrastructure integration services: Building management system (BMS), cloud integration [infrastructure-as-a-service (IaaS)], command and control (C2)/command, control, communications, computers, intelligence, surveillance, and reconnaissance (C4ISR), integrated communication, data center infrastructure management (DCIM), and network integration
On the basis of applications integration services: Application integration, data integration, unified communication, integrated security software, and integrated social software
On the basis of consulting: Application lifecycle management, business transformation, and business process integration
On the basis of industry verticals: Banking, financial services, and insurance (BFSI), telecom and information technology (IT), oil & gas, healthcare, government and public, application lifecycle management, business transformation, and business process integration
Customization Options
Along with the MMM assessment, customize the report in alignment with your company's specific needs. The following customization options provide a comprehensive summary of the industry standards and deep dive analysis of the market:
Solutions Matrix
Comprehensive analysis and benchmarking of service, solutions, user types, verticals, and regions
Competitive Benchmarking
Value chain evaluation using events, developments, market data for vendors in the market ecosystem, across various industrial verticals, market segmentation, and categorization
Uncover hidden opportunities by connecting related markets, through the usage of cascaded value chain analysis
Vendor Landscaping
Vendor market watch and predictions, vendor market shares and offerings, categorization of adoption trends, and market dominance (leaders, challengers, and followers)
1. Introduction
1.1. Objective of the study
1.2. Market Definition & Scope of the Study
1.3. Markets Covered
1.4. Stakeholders
2. Research Methodology
2.1. Integrated Ecosystem of System Integration and Design Market
2.2. Arriving at the System Integration and Design Market Size
2.2.1. Top-Down Approach
2.2.2. Bottom-up Approach
2.2.3. Demand Side Analysis
2.2.4. Macro Indicators
2.3. Assumptions
3. Executive Summary
4. Market Overview
4.1. Introduction
4.2. Comparison with Integration and Design (Parent) Market
4.3. Market Drivers and Inhibitors
4.4. Demand Side Analysis
4.5. Vendor Side Analysis

5. Europe System Integration and Design: Market Size and Forecast, By Infrastructure Integration Services

5.1. Research Methodology
5.2. Introduction
5.3. Demand Side Analysis
5.4. Vendor Side Analysis
5.5. Europe System Integration and Design: Building Management System Snapshot
5.5.1. Europe System Integration and Design: Building Management System , By Geography
5.6. Europe System Integration and Design: Cloud Integration (IaaS) Snapshot
5.6.1. Europe System Integration and Design: Cloud Integration (IaaS), By Geography
5.7. Europe System Integration and Design: C2/C4 ISR Snapshot
5.7.1. Europe System Integration and Design: C2/C4 ISR , By Geography
5.8. Europe System Integration and Design: Integration Communication Snapshot
5.8.1. Europe System Integration and Design: Integration Communication, By Geography
5.9. Europe System Integration and Design: Data Center Infrastructure Management Snapshot
5.9.1. Europe System Integration and Design: Data Center Infrastructure Management, By Geography
5.10. Europe System Integration and Design: Network Integration Snapshot
5.10.1. Europe System Integration and Design: Network Integration, By Geography
5.11. Europe System Integration and Design: Other Infrastructure Integration Snapshot
5.11.1. Europe System Integration and Design: Other Infrastructure Integration, By Geography
5.12. Europe System Integration and Design Market: Sneak View, By Infrastructure Integration Services
6. Europe System Integration and Design: Market Size and Forecast, By Application Integration Services
6.1. Research Methodology
6.2. Introduction
6.3. Demand Side Analysis
6.4. Vendor Side Analysis
6.5. Europe System Integration and Design: Application Integration Snapshot
6.5.1. Europe System Integration and Design: Application Integration, By Geography
6.6. Europe System Integration and Design: Data Integration Snapshot
6.6.1. Europe System Integration and Design :Data Integration, By Geography
6.7. Europe System Integration and Design: Unified Communication Snapshot
6.7.1. Europe System Integration and Design: Unified Communication, By Geography
6.8. Europe System Integration and Design: Security Software integration Snapshot
6.8.1. Europe System Integration and Design: Security Software Integration, By Geography
6.9. Europe System Integration and Design: Social Software Integration Snapshot
6.9.1. Europe System Integration and Design: Social Software integration, By Geography
6.10. Europe System Integration and Design: Other Application Integration Snapshot
6.10.1. Europe System Integration and Design: Other Application Integration, By Geography
6.11. Europe System Integration and Design Market: Sneak View, By Application Integration Services

7. Europe System Integration and Design : Market Size and Forecast, By Consulting Services
7.1. Research Methodology
7.2. Introduction
7.3. Demand Side Analysis
7.4. Vendor Side Analysis
7.5. Europe System Integration and Design: Application Lifecycle Management Snapshot
7.5.1. Europe System Integration and Design: Application Lifecycle Management, By Geography
7.6. Europe System Integration and Design: Business Transformation Snapshot
7.6.1. Europe System Integration and Design :Business Transformation, By Geography
7.7. Europe System Integration and Design: Business Process Integration Snapshot
7.7.1. Europe System Integration and Design: Business Process Integration, By Geography
7.8. Europe System Integration and Design: Other Consulting Services Snapshot
7.8.1. Europe System Integration and Design: Other Consulting Services, By Geography
7.9. Europe System Integration and Design Market: Sneak View, By Consulting Services
8. Europe System Integration and Design, By Industry Verticals
8.1 Research Methodology
8.2 Introduction
8.3 Demand Side Analysis
8.4 Vendor Side Analysis
8.5 Europe System Integration and Design : Aviation and Marine System Snapshot
8.5.1. Europe System Integration and Design : Aviation and Marine System , By Geography
8.6. Europe System Integration and Design : Banking, Financial Services, And Insurance (BFSI)
Industry Snapshot
8.6.1. Europe System Integration and Design : Banking, Financial Services, And Insurance (BFSI), By Geography
8.7. Europe System Integration and Design: Consumer goods and Retail Industry Snapshot
8.7.1. Europe System Integration and Design : Consumer Goods and Retail Industry, By Geography
8.8. Europe System Integration and Design : Defense Industry Snapshot
8.8.1. Europe System Integration and Design :Defense Industry, By Geography
8.9. Europe System Integration and Design : Health Care Industry Snapshot
8.9.1. Europe System Integration and Design : Health Care Industry, By Geography
8.10. Europe System Integration and Design : Manufacturing Industry Snapshot
8.10.1. Europe System Integration and Design : Manufacturing Industry, By Geography
8.11. Europe System Integration and Design :Oil, Gas, and Energy Industry Snapshot
8.11.1. Europe System Integration and Design : Oil, Gas, and Energy Industry, By Geography
8.12. Europe System Integration and Design: Telecommunication and IT Industry Snapshot
8.12.1. Europe System Integration and Design :Telecommunication and IT, By Geography
8.13. Europe System Integration and Design : Logistics And Transportation Industry Snapshot
8.13.1. Europe System Integration and Design : Logistic And Transportation Industry, By Geography
8.14. Europe System Integration and Design : Others Industry Snapshot
8.14.1. Europe System Integration and Design :Others Industry, By Geography
8.15. Europe System Integration and Design Market: Sneak View, By Industry Verticals
9. Europe System Integration and Design, By Geography
9.1. Research Methodology
9.2. Introduction
9.3. Vendor Side Analysis
9.4. U.K. System Integration
9.4.1. U.K. System Integration and Design : Market Snapshot, By Infrastructure Integration Services
9.4.2. U.K. System Integration and Design: Market, By Infrastructure Integration Services
9.4.3. U.K. System Integration and Design: Market Snapshot, By Application Integration Services
9.4.4. U.K. System Integration and Design : Market, By Application Integration Services
9.4.5. U.K. System Integration and Design: Market Snapshot , By Consulting Services
9.4.6. U.K. System Integration and Design: Market , By Consulting Services
9.4.7. U.K. System Integration and Design: Market Snapshot , By Industry Verticals
9.4.8. U.K. System Integration and Design : Market , By Industry Verticals
9.5. Rest of Asia- Pacific System Integration and Design
9.5.1. Rest of Asia- Pacific System Integration and Design : Market Snapshot , Infrastructure Integration Services
9.5.2. Rest of Asia- Pacific System Integration and Design: Market, By Infrastructure Integration Services
9.5.3. Rest of Asia- Pacific System Integration and Design: Market Snapshot, By Application Integration Services
9.5.4. Rest of Asia- Pacific System Integration and Design : Market, By Application Integration Services
9.5.5. Rest of Asia- Pacific System Integration and Design: Market Snapshot, By Consulting Services
9.5.6. Rest of Asia- Pacific System Integration and Design : Market, By Consulting Services
9.5.7. Rest of Asia- Pacific System Integration and Design : Market Snapshot, By Industry Verticals
9.5.8. Rest of Asia- Pacific System Integration and Design : Market, By Industry Verticals
10. Europe System Integration and Design, By Company
10.1. Competitive Landscape
10.1.1. Mergers and Acquisitions
10.1.2. Expansions
10.1.3. Investments
10.1.4. Joint Venture
10.2. Harris Corporation
10.2.1. Overview
10.2.2. Historical Revenue Data
10.2.3. Product and Services
10.2.4. Key Development
10.2.5. MMM Analysis
10.3. Honeywell International
10.3.1. Overview
10.3.2. Historical Revenue Data
10.3.3. Product and Services
10.3.4. Key Development
10.3.5. MMM Analysis
10.4. IBM
10.4.1. Overview
10.4.2. Historical Revenue Data
10.4.3. Product and Services
10.4.4. Key Development
10.4.5. MMM Analysis
10.5. BAE Systems
10.5.1. Overview
10.5.2. Historical Revenue Data
10.5.3. Product and Services
10.5.4. Key Development
10.5.5. MMM Analysis
10.6. Accenture
10.6.1. Overview
10.6.2. Historical Revenue Data
10.6.3. Product and Services
10.6.4. Key Development
10.6.5. MMM Analysis
11 Appendix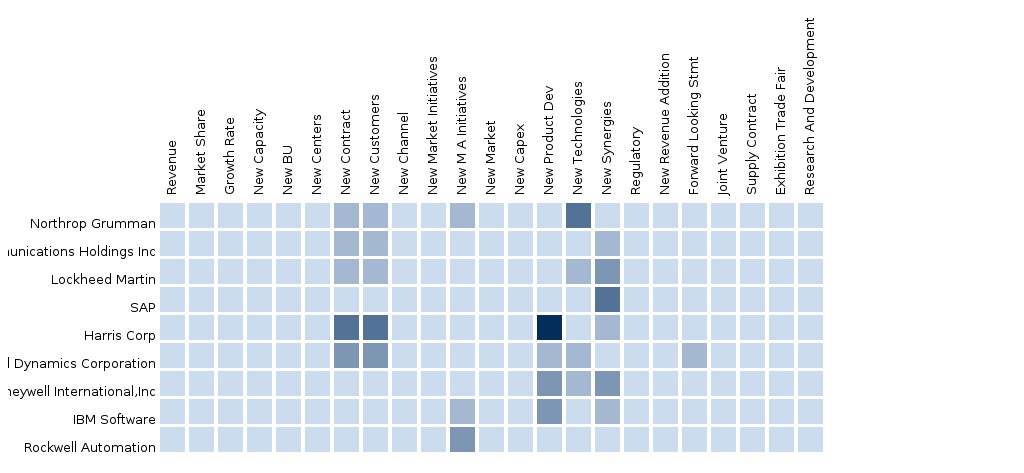 Europe System Integration and Design