The Subsea Well Access System market in Europe was valued at $1213 million in the year 2013, and is forecasted to reach $1526.43 million by the end of 2019. It is expected to grow at a CAGR of 4.8% from 2014 to 2019.
The 'Subsea Well Access System Market in Europe- forecast, 2012-2019' report analyzes the subsea well access system market by technology. The subsea well access system market by technology covers riserless light well intervention (RLWI) and rig based well access system.
The subsea well access market is growing in Europe due to increased safety regulation, offshore drilling activities, and the rising need of production efficiency. With the increasing demand of energy, the offshore exploration activities are emerging as a new avenue of investment, thus escalating the number of well interventions, which in turn will lead to higher demand of well access systems. The new riserless intervention technology can provide significant cost savings up to 40-60% and time saving in the intervention compared to the rig based structures, significantly driving the RLWI market.
The report also provides an extensive competitive landscaping of companies operating in the subsea well access system market which includes Fmc Technologies, Weatherford International ltd., Cameron International Corporation, and Aker Solutions. The report also provides regional market shares, new product or service launches, M&A, and the product portfolio of the key market players.
Customization Options
Along with the market data, you can also customize MMM assessments that meet your company's specific needs. Customize to get comprehensive industry standard and deep dive analysis of the following parameters:
Key competitors/consumers product benchmarking
Limited addition of market segment assessment by geography/application
Additional company profiles and landscape
Product Analysis
Comparison of product portfolio of each company mapped at regional level
Well access systems specifications
Direct Vertical Access (DVA), Completion Work Over Riser (CWOR), Riserless Light Well Intervention Intervention Systems
Subsea tree installations by region
Number of offshore subsea/deepwater subsea projects
Subsea equipment capex by region
Driving Factors
The region wise and global exploration and production spending
Number of subsea wells brought on-stream by region 2004-2014
Number of subsea wells brought on-stream by water depth 2004-2014
The number of wells drilled in a particular region
Expert forum
Qualitative inputs on offshore drilling activities
1 Introduction
1.1 Objective of the study
1.2 Market Definitions
1.3 Market Segmentation & Aspects Covered
1.4 Research Methodology
1.4.1 Assumptions (Market Size, Forecast, etc)
2 Executive Summary
3 Market Overview
4 Well Access System (WAS)-Europe, By Technologies
4.1 Split By Geography
4.1 Europe - Norway by Technologies
4.1 United Kingdom by Technologies
4.2 Riserless Light Well Intervention (RLWI)-Europe
4.3 Rig Based Well Access System-Europe
4.3.1 Rig Based Well Access System-Europe, By Types
4.3.1.1 Completion Workover Riser System-Europe
4.3.1.2 Landing String System-Europe
4.3.1.3 Other WAS-Europe
5 Well Access System (WAS)-Europe, By Geographies
5.1 Europe - Norway
5.1.1 Europe - Norway, By Companies
5.1.1.1 Europe - Norway-Aker Subsea
5.1.1.2 Europe - Norway-Proserv
5.2 United Kingdom
5.2.1 United Kingdom, By Companies
5.2.1.1 United Kingdom-Proserv
5.2.1.2 United Kingdom-UZTEL LTD.
6 Well Access System (WAS)-Europe, By Companies
6.1 Split By Geography
6.2 Europe - Norway by Companies
6.1 United Kingdom by Companies
6.2 Europe-Other Companies
6.3 Aker Subsea-Europe
6.4 Europe-FMC Subsea & Surface Technologies
6.5 Europe-Weatherford Drilling Services
6.6 Europe-Cameron International
6.7 Proserv-Europe
6.8 UZTEL LTD.-Europe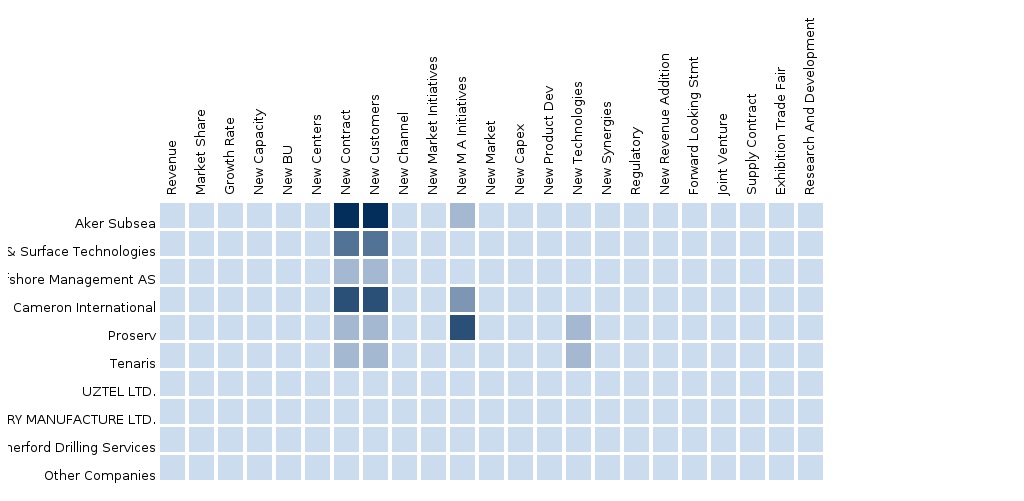 Please fill in the form below to receive a free copy of the Summary of this Report
Custom Market Research Services
We will customize the research for you, in case the report listed above does not meet with your exact requirements. Our custom research will comprehensively cover the business information you require to help you arrive at strategic and profitable business decisions.
Please visit
http://www.micromarketmonitor.com/custom-research-services.html
to specify your custom Research Requirement
Europe Subsea Well Access System (WAS)