Europe Solar Photovoltaic (PV) Market
Description
Table of Contents
Customer Intelligence
Solar PV Market By Geography–Europe Trends and Forecasts To 2018.
Solar PV is used to convert solar energy into usable electrical energy. Solar PV market is growing due to initiatives to move from fossil fuels towards renewable sources of energy. Many governments have set clean energy targets, and are trying to achieve them by switching over to renewable energies such as solar. The solar PV market in Europe is estimated to grow approximately $63886 million in 2018 at a CAGR of almost 11% from 2013 to 2018.
The report covers major countries within Europe with respect to the solar PV marketviz, Germany, Italy, and others.
Europe is the largestgrowing markets in solar PV which will grow further in the coming years.
Market share analysis of top companies is validated based on key facts, annual financial information, and interviews with key experts such as CEO's, directors, and marketing executives.
In order to present an in depth understanding of the competitive landscape, thesolar PV report consists of profiles of some major participants in the market which combines manufactures as well as service providers, such as Yingli, Canadian Solar,Trina solar,and others.
Scope of the report
On the basis of geography (includes countries)
1 Introduction
1.1 Objective of the study
1.2 Market Definitions
1.3 Market Segmentation & Aspects Covered
1.4 Research Methodology
1.4.1 Assumptions (Market Size, Forecast, etc)
2 Executive Summary
3 Market Overview
4 -Europe, By Segments
4.1 Split By Geography
4.1 Germany by Markets
4.1 Italy by Markets
4.1 Spain by Markets
4.1 Czech Republic by Markets
4.1 Other Geographies by Markets
4.1 France by Markets
4.1 United Kingdom by Markets
4.1 Netherlands by Markets
4.1 Switzerland by Markets
4.1 Portugal by Markets
4.2 Europe
4.2.1 By MacroIndicators
4.2.1.1 E&P Spending-Europe
4.2.2 By Companies
4.2.2.1Other Companies
4.2.2.2 Magpower-Europe
4.2.2.3 Soitec-Europe
4.2.2.4 Europe-Amonix Inc.
4.2.2.5 Ravano Green Powers-Europe
4.2.2.6 SunPower corporation-Europe
4.2.2.7 Solar Junction-Europe
4.2.3 Europe, By Geographies
4.2.3.1 France
4.2.3.2 United Kingdom
4.2.3.3 Italy
4.2.3.4 Europe - Switzerland
4.2.3.5 Spain
4.2.3.6 Europe - Europe - Other Geographies
4.2.3.7 Europe - Portugal
4.2.4 Europe, By Segments
4.2.4.1 High Concentration CPV -Europe
4.2.4.2 Low Concentration CPV-Europe
4.2.5 Europe, By Technologies
4.2.5.1 LENS REFRACTOR CPV TECHNOLOGY-Europe
4.2.5.2 MIRROR REFLECTOR CPV TECHNOLOGY-Europe
4.2.6 Europe, By Applications
4.2.6.1 Utility - CPV-Europe
4.2.6.2 Commercial - CPV-Europe
4.2.6.3 Others - CPV-Europe
5 Europe, By Geographies
5.1 Germany
5.1.1 Germany, By Companies
5.1.1.1 Germany-Canadian Solar Inc.
5.1.1.2 Germany-Evergreen Solar Inc.
5.1.1.3 Germany-FIRST SOLAR, INC.
5.2 Italy
5.2.1 Italy, By Companies
5.2.1.1 Italy-Canadian Solar Inc.
5.2.1.2 Italy-Evergreen Solar Inc.
5.2.2 Italy, By Segments
5.2.2.1 Italy
5.3 Spain
5.3.1 Spain, By Companies
5.3.1.1 Spain-Abengoa Solar SA
5.3.1.2 Spain-ACCIONA energy
5.3.1.3 Spain-Evergreen Solar Inc.
5.3.1.4 -Spain-Gintech Energy Corporation
5.3.2 Spain, By Segments
5.3.2.1 Spain
5.4 Czech Republic
5.5 Europe - Europe - Other Geographies
5.5.1 Europe - Europe - Other Geographies, By Segments
5.5.1.1 Europe - Europe - Other Geographies
5.6 France
5.6.1 France, By Companies
5.6.1.1 France-ACCIONA energy
5.6.1.2 France-Areva Renewable Energy
5.6.1.3 France-Evergreen Solar Inc.
5.6.1.4 France-FIRST SOLAR, INC.
5.6.2 France, By Segments
5.6.2.1 France
5.7 United Kingdom
5.7.1 United Kingdom, By Companies
5.7.1.1 United Kingdom-ACCIONA energy
5.7.2 United Kingdom, By Segments
5.7.2.1 United Kingdom
5.8 Europe - Netherlands
5.8.1 Europe - Netherlands, By Companies
5.8.1.1 Europe - Netherlands-Canadian Solar Inc.
5.8.1.2 Europe - Netherlands-Kyocera Solar Inc.
5.9 Europe - Switzerland
5.9.1 Europe - Switzerland, By Segments
5.9.1.1 Europe - Switzerland
5.10 Europe - Portugal
5.10.1 Europe - Portugal, By Segments
5.10.1.1 Europe - Portugal
6 Europe, By Companies
6.1 Split By Geography
6.2 Germany by Companies
6.1 Italy by Companies
6.1 Spain by Companies
6.1 Czech Republic by Companies
6.1 Europe - Europe - Other Geographies by Companies
6.1 France by Companies
6.1 United Kingdom by Companies
6.1 Europe - Netherlands by Companies
6.1 Europe - Switzerland by Companies
6.1 Europe - Portugal by Companies
6.2 Europe-Canadian Solar Inc.
6.2.1 Europe-Canadian Solar Inc., By Geographies
6.2.1.1 Europe - Netherlands-Canadian Solar Inc.
6.2.1.2 Italy-Canadian Solar Inc.
6.2.1.3 Germany-Canadian Solar Inc.
6.3 Europe-FIRST SOLAR, INC.
6.3.1 Europe-FIRST SOLAR, INC., By Geographies
6.3.1.1 Germany-FIRST SOLAR, INC.
6.3.1.2 France-FIRST SOLAR, INC.
6.4 Europe-SHARP Corporation
6.5 Europe-Yingli Green Energy Holding Co. Ltd.
6.6 Europe-Trina Solar
6.7 Europe-Jinko Solar
6.8 Europe-Other Companies
6.8.1 Europe-Other Companies, By Segments
6.8.1.1 Europe-Other Companies
6.9 Abengoa Solar SA-Europe
6.10 ACCIONA energy-Europe
6.11 Areva Renewable Energy-Europe
6.12 Evergreen Solar Inc.-Europe
6.13 Gintech Energy Corporation-Europe
6.14 -Kyocera Solar Inc.-Europe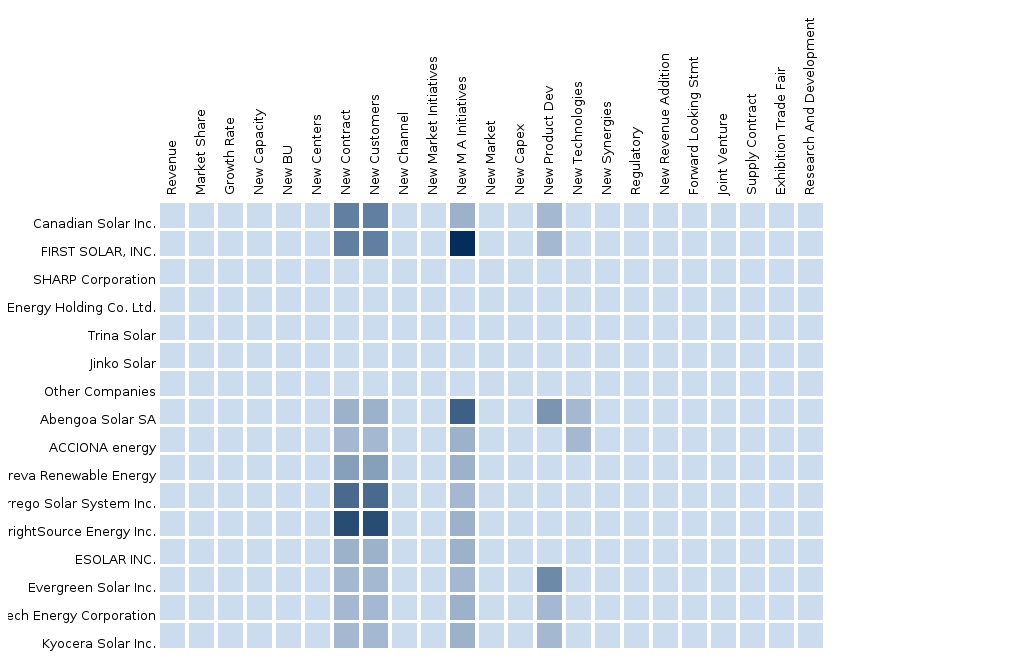 Europe Solar Photovoltaic (PV)