The European Solar Photovoltaic Market (SPV) was estimated to be $38.3 billion by 2014 and is forecasted to reach $63.8 billion by 2019, growing at a CAGR of 10.7% from 2014 to 2019. Germany market in solar photovoltaic accounted for $21.209.57 billion in 2014.
The report "Europe Solar Photovoltaic Market forecast, 2014-2019" analyses the solar photovoltaic by technology, application, and geography. In terms of geography, the report is segmented into countries such as Germany, Italy, Czech Republic, Spain and Others. Solar PV technology can be used for residential, commercial, industrial, and utility-scale operations
Solar PV technologies can be classified under crystalline or thin film technologies. Crystalline technologies can be further classified into single crystal silicon, polycrystalline silicon, and gallium arsenide. Thin film technologies also have three sub-types, viz. cadmium telluride, copper indium diselenide, and amorphous silicon.
The market in Europe accounted for the highest share in the solar PV market, with large number of installations in pipe line and the efforts taken by the government to meet their clean energy targets. Major installations were observed in Germany, Italy, and Czech Republic. The increase in the solar PV market in Europe was dominated by both small and large scale installations where countries such as Spain and Czech Republic observed more of commercial and industrial installations. In case of Germany, growth was mainly driven by the residential market. Another reform was observed in case of France and Italy where the building-integrated photovoltaic (BIPV) systems has received support from the government. Europe has the largest share, which accounted for 82% of the total solar PV market.
The report also provides an extensive competitive landscaping of companies operating in the concentrated photovoltaic. Some of the key players operating in the market are Yingli, Trina Solar, Canadian Solar, Sharp, Jinko Solar and many more. Regional market shares, new product/service launches, M&A, product portfolio of key market players have been detailed in the report.
Additional Offer / Customization Options:
This report is designed to estimate, analyze, and forecast market revenue of solar photovoltaic across the European market. With Market data, we also provide customized MMM assessments that meet your Company's specific needs. Customize to get comprehensive industry standard and deep dive analysis of the following parameters:

Product benchmarking outlook
Covers qualitative and quantitative data of different technology of solar photovoltaic
Key Competitors/Consumers Product Benchmarking
Different technology drivers with their service providers
Comparison of solar photovoltaic market portfolio of each company mapped at country level by technology
Customer Segment Outlook
Additional company profiles and landscape
Addition of market segment assessment by geography/application
Additional information regarding prevailing projects and detailed analysis, historical data and statistically refined forecast
Macro data
Total solar PV installations(Regional level data)
Total solar PV installations (Companies level data)
Total solar technology types whether Crystalline or Thin Film (regional level data)
Technology used in application areas whether Utility-scale, Commercial or Others (country level data)
Total estimated power capacity of SPV in MW (country level)
Additional information on alternative equipments
Key upcoming projects coverage
Expert forum
Qualitative inputs on Solar Photovoltaic activities-Trends in different countries in the European region
Comparison of various growth strategy implied by various sectors whether industrial or commercial
Opportunities available and options for new contenders in the market
Comprehensive assessment of the stakeholder strategies
Market attractiveness analysis with latest developments
Analysis on customized SPV projects
Future prospects
Quick turn around on key upcoming SPV projects driving the demand the market
Analysis and impacts of local and regional environmental regulations by country
Market Capital Outlook
Current Industry Challenges
Concentrated Photovoltaic in depth Value chain analysis
Challenges faced in SPV industry
• Technological
• Project execution
• Supply chain complexity
• Financing Constrictions
1 Introduction
1.1 Objective of the study
1.2 Market Definitions
1.3 Market Segmentation & Aspects Covered
1.4 Research Methodology
1.4.1 Assumptions (Market Size, Forecast, etc)
2 Executive Summary
3 Market Overview
4 -Europe, By Segments
4.1 Split By Geography
4.1 Germany by Markets
4.1 Italy by Markets
4.1 Spain by Markets
4.1 Czech Republic by Markets
4.1 Other Geographies by Markets
4.1 France by Markets
4.1 United Kingdom by Markets
4.1 Netherlands by Markets
4.1 Switzerland by Markets
4.1 Portugal by Markets
4.2 Europe
4.2.1 By MacroIndicators
4.2.1.1 E&P Spending-Europe
4.2.2 By Companies
4.2.2.1Other Companies
4.2.2.2 Magpower-Europe
4.2.2.3 Soitec-Europe
4.2.2.4 Europe-Amonix Inc.
4.2.2.5 Ravano Green Powers-Europe
4.2.2.6 SunPower corporation-Europe
4.2.2.7 Solar Junction-Europe
4.2.3 Europe, By Geographies
4.2.3.1 France
4.2.3.2 United Kingdom
4.2.3.3 Italy
4.2.3.4 Europe - Switzerland
4.2.3.5 Spain
4.2.3.6 Europe - Europe - Other Geographies
4.2.3.7 Europe - Portugal
4.2.4 Europe, By Segments
4.2.4.1 High Concentration CPV -Europe
4.2.4.2 Low Concentration CPV-Europe
4.2.5 Europe, By Technologies
4.2.5.1 LENS REFRACTOR CPV TECHNOLOGY-Europe
4.2.5.2 MIRROR REFLECTOR CPV TECHNOLOGY-Europe
4.2.6 Europe, By Applications
4.2.6.1 Utility - CPV-Europe
4.2.6.2 Commercial - CPV-Europe
4.2.6.3 Others - CPV-Europe
5 Europe, By Geographies
5.1 Germany
5.1.1 Germany, By Companies
5.1.1.1 Germany-Canadian Solar Inc.
5.1.1.2 Germany-Evergreen Solar Inc.
5.1.1.3 Germany-FIRST SOLAR, INC.
5.2 Italy
5.2.1 Italy, By Companies
5.2.1.1 Italy-Canadian Solar Inc.
5.2.1.2 Italy-Evergreen Solar Inc.
5.2.2 Italy, By Segments
5.2.2.1 Italy
5.3 Spain
5.3.1 Spain, By Companies
5.3.1.1 Spain-Abengoa Solar SA
5.3.1.2 Spain-ACCIONA energy
5.3.1.3 Spain-Evergreen Solar Inc.
5.3.1.4 -Spain-Gintech Energy Corporation
5.3.2 Spain, By Segments
5.3.2.1 Spain
5.4 Czech Republic
5.5 Europe - Europe - Other Geographies
5.5.1 Europe - Europe - Other Geographies, By Segments
5.5.1.1 Europe - Europe - Other Geographies
5.6 France
5.6.1 France, By Companies
5.6.1.1 France-ACCIONA energy
5.6.1.2 France-Areva Renewable Energy
5.6.1.3 France-Evergreen Solar Inc.
5.6.1.4 France-FIRST SOLAR, INC.
5.6.2 France, By Segments
5.6.2.1 France
5.7 United Kingdom
5.7.1 United Kingdom, By Companies
5.7.1.1 United Kingdom-ACCIONA energy
5.7.2 United Kingdom, By Segments
5.7.2.1 United Kingdom
5.8 Europe - Netherlands
5.8.1 Europe - Netherlands, By Companies
5.8.1.1 Europe - Netherlands-Canadian Solar Inc.
5.8.1.2 Europe - Netherlands-Kyocera Solar Inc.
5.9 Europe - Switzerland
5.9.1 Europe - Switzerland, By Segments
5.9.1.1 Europe - Switzerland
5.10 Europe - Portugal
5.10.1 Europe - Portugal, By Segments
5.10.1.1 Europe - Portugal
6 Europe, By Companies
6.1 Split By Geography
6.2 Germany by Companies
6.1 Italy by Companies
6.1 Spain by Companies
6.1 Czech Republic by Companies
6.1 Europe - Europe - Other Geographies by Companies
6.1 France by Companies
6.1 United Kingdom by Companies
6.1 Europe - Netherlands by Companies
6.1 Europe - Switzerland by Companies
6.1 Europe - Portugal by Companies
6.2 Europe-Canadian Solar Inc.
6.2.1 Europe-Canadian Solar Inc., By Geographies
6.2.1.1 Europe - Netherlands-Canadian Solar Inc.
6.2.1.2 Italy-Canadian Solar Inc.
6.2.1.3 Germany-Canadian Solar Inc.
6.3 Europe-FIRST SOLAR, INC.
6.3.1 Europe-FIRST SOLAR, INC., By Geographies
6.3.1.1 Germany-FIRST SOLAR, INC.
6.3.1.2 France-FIRST SOLAR, INC.
6.4 Europe-SHARP Corporation
6.5 Europe-Yingli Green Energy Holding Co. Ltd.
6.6 Europe-Trina Solar
6.7 Europe-Jinko Solar
6.8 Europe-Other Companies
6.8.1 Europe-Other Companies, By Segments
6.8.1.1 Europe-Other Companies
6.9 Abengoa Solar SA-Europe
6.10 ACCIONA energy-Europe
6.11 Areva Renewable Energy-Europe
6.12 Evergreen Solar Inc.-Europe
6.13 Gintech Energy Corporation-Europe
6.14 -Kyocera Solar Inc.-Europe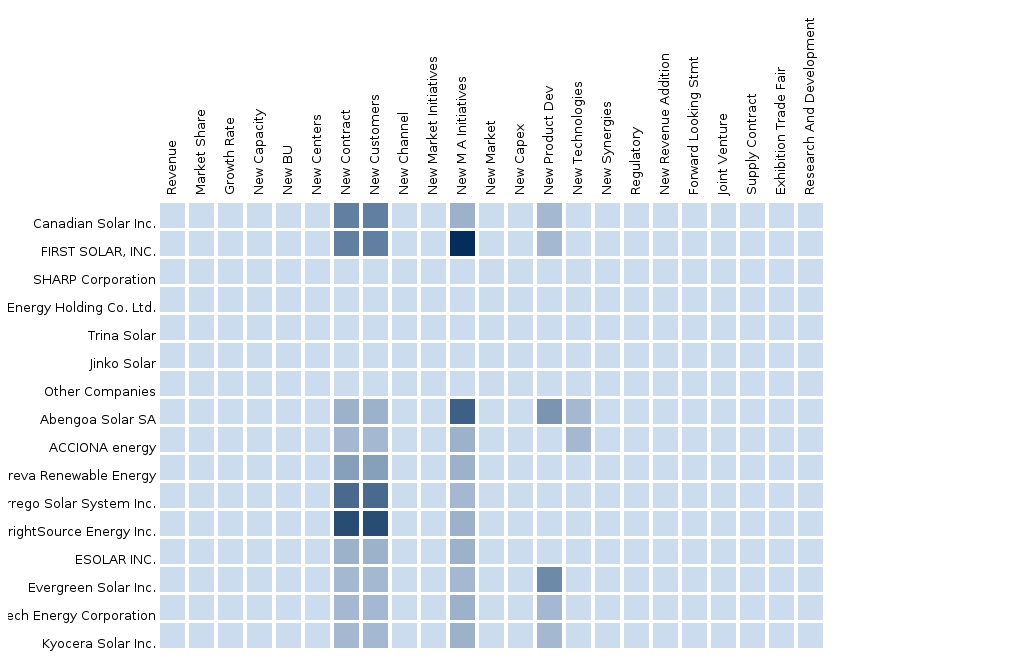 Please fill in the form below to receive a free copy of the Summary of this Report
Custom Market Research Services
We will customize the research for you, in case the report listed above does not meet with your exact requirements. Our custom research will comprehensively cover the business information you require to help you arrive at strategic and profitable business decisions.
Please visit
http://www.micromarketmonitor.com/custom-research-services.html
to specify your custom Research Requirement