Europe Software Defined Networking (SDN) Market
Description
Table of Contents
Customer Intelligence
The European software defined networking market is estimated to grow from $39.4 million in 2013 to $742.4 million by 2019, at a CAGR of 64.6%, for the given period. The market is primarily driven by the need of the data centers to resolve traffic patterns, and for the enterprise software market to grow.
Software defined networking is an advanced way of networking in which the de-couple action takes place between network and physical hardware, and later, network is handled by a software application called 'Controller'. This way, it is easy to remove the limitation of networks due to infrastructure. SDN improves the network in terms of programmability of networks, improves agility of network, organizes and manages the network centrally. Software defined networking proposes cost-effective approach to lower down the operation costs, thereby reducing the latency and efficient performance of network traffic management.
Software defined networking in Europe is growing because of growth in LTE/4G networks by telecom operators, such as Spirent, and the plan to implement 4G services throughout the region in 2014. SDN is seen as an option to change network infrastructure within a short time span to support the high bandwidth requirements of the network. Telecom operators are eyeing SDN solutions to increase the deployment options for LTE/4G networks.
The report provides a competitive benchmarking of the leading players in this market such as Cisco Systems, Inc., Hewlett-Packard, Juniper Networks, Plexxi, and Alcatel-Lucent. The report gives the financial analysis, which includes CAGR and market share of the different regions, vendors, overall adoption scenario, competitive landscape, key drivers, restraints, and opportunities in the market.
Report Options:
The market segmentation covered in this report is as given below:
By Solution: SDN switching, SDN controllers, cloud virtualization applications, and network virtualization security
By End-Users: Telecommunications providers, cloud service providers, and enterprises
Customization Options:
Along with the MMM assessment, customize the report in alignment with your company's specific needs. The following customization options provide a comprehensive summary of the industry standards and deep dive analysis:
Software Defined Networking Market Solutions Matrix
A comprehensive analysis and benchmarking by solutions, by end-users, and by regions in the market
Software Defined Networking Market Competitive Benchmarking
Value-chain evaluation using events, developments, market data for vendors in the market ecosystem, across various end users, market segmentation and categorization
To uncover hidden opportunities by connecting related markets using cascaded value chain analysis
Software Defined Networking Market Vendor Landscaping
Vendor market watch and predictions, vendor market shares and offerings, categorization of adoption trends and market dominance (leaders, challengers, and followers)
Software Defined Networking Market Data Tracker
Country-specific market forecast and analysis
The identification of key end-user segments, by country
Software Defined Networking Market Emerging Vendor Landscape
Evaluate Tier-2/3 vendors' market offerings using a 2X2 framework (realizing leaders, challengers, and followers)
Software Defined Networking Market Channel Analysis
Channel/distribution partners/alliances for tier-1 vendors and application-specific products being build towards the customer end of the value chain
1 Introduction
1.1 Key Take-aways
1.2 Report Description
1.3 Markets Covered
1.4 Stakeholders
1.5 Research Methodology
1.5.1 Key Data Points
1.5.2 Data Triangulation and Market Forecasting
1.6 Forecast Assumptions
2 Executive Summary
2.1 Abstract
2.2 Overall Market Size
3 Market Overview
3.1 Market Definition
3.2 Market Evolution
3.3 Business/Application/Cloud Orchestration
3.4 Path Computation Element (PCE)
3.5 Openflow
3.6 Market Segmentation
3.7 Market Dynamics
3.7.1 Drivers
3.7.2 Restraints
3.7.3 Opportunities
3.8 Impact Analysis of DRO
3.9 Value Chain
3.10 SDN Ecosystem
4 EUROPE Software Defined Networking (SDN): Technology Trends, Standards, Business Model and Adoption Factors
4.1 Introduction
4.2 Technologies and Platforms
4.2.1 Recent Trends
4.2.2 Deep Packet Inspection (DPI)
4.2.3 Geographic Load Balancing
4.2.4 Power Management
4.2.5 Cloud Management
4.2.6 Software Applications
4.3 Standards
4.3.1 Data Center Bridging (DCB)
4.3.1.1 Priority Flow Control (PFC) 802.1qbb
4.3.1.2 Congestion Management (802.1qau)
4.3.1.3 Bandwidth Management (802.1qaz)
4.3.1.4 Data Center Bridging Exchange (CBX)
4.3.2 Fiber Channel Over Ethernet (FCOE)
4.3.3 Network Virtualization Using Generic Routing Encapsulation (NVGRE)
4.3.4 Shortest Path Bridging (Spb)
4.3.5 Transparent Interconnection of Lots of Links (TRILL)
4.3.6 Virtual Ethernet Port Aggregator (VEPA)
4.3.7 Multiprotocol Label Switching (MPLS)
4.3.8 Virtual Extensible Local Area Network (VXLAN)
4.4 Business Model
4.4.1 Business Model: Now
4.4.1.1 Manual Process-Driven Approach
4.4.1.2 Network Functionality At A Virtual Layer
4.4.1.3 Device Centricity
4.4.1.4 Openflow-Driven Approach
4.4.1.5 Critical Success Factors
4.4.2 Business Model: in The Future
4.4.2.1 Enterprise Data Center Networks Approach
4.4.2.2 Hyper-Scale Cloud Networking
4.4.2.3 SDN: A Function of Software Development
4.4.2.4 Collaboration With Virtual Networking Frameworks
4.4.2.5 Virtual Networking Leadership
4.5 SDN-Adoption Factors
4.5.1 Academia and Open Source Communities
4.5.1.1 Opendaylight
4.5.1.2 Opencontrail
4.5.1.3 Open Network Operating System (ONOS)
4.5.1.4 Floodlight
4.5.1.5 Nodeflow
4.5.1.6 Mininet
4.5.1.7 Snabb Switch
4.5.1.8 Openvswitch
4.5.1.9 Pantou
4.5.1.10 Nox
4.5.1.11 Pox
4.5.1.12 Jaxon
4.5.1.13 Routeflow
4.5.1.14 Flowvisor
4.5.1.15 Flowscale
4.5.2 Early Standardization
4.5.3 SDN Is A Solution Sell, Not A Box Sell
4.5.4 SDN Overcomes The "Rip and Replace" Strategy
4.5.5 Role of Var
4.6 Technology and Market Roadmap
4.6.1 SDN Inevitable
4.6.2 Functionality To Openflow Controllers
4.6.3 Revolutionizing Network Utilization
4.6.4 Transitioning For Competitive Advantage
4.6.5 Enterprise Commercialization
5 EUROPE SDN Market Size, Analysis and Forecast By Solution
5.1 Introduction
5.2 SDN Switching
5.2.1 Overview
5.2.2 Markets Size and Forecast
5.2.3 Market Size & Forecast By Countries
5.3 SDN Controllers
5.3.1 Overview
5.3.2 Market Size & Forecast
5.3.3 Market Size and Forecast By Countries
5.4 Cloud Virtualization Applications
5.4.1 Overview
5.4.2 Market Size and Forecast
5.4.3 Market Size & Forecast By Countries
5.5 Network Virtualization Security
5.5.1 Overview
5.5.2 Market Size and Forecast
5.5.3 Market Size & Forecast By Countries

6 EUROPE SDN: Market Analysis and Forecast By End Users
6.1 Introduction
6.2 Telecommunications Providers
6.2.1 Overview
6.2.2 Market Size and Forecast
6.2.3 Market Size & Forecast By Countries
6.3 Cloud Service Providers
6.3.1 Overview
6.3.2 Market Size and Forecast
6.3.3 Market Size & Forecast By Countries
6.4 Enterprises
6.4.1 Overview
6.4.2 Market Size and Forecast
6.4.3 Market Size & Forecast By Countries
7 EUROPE SDN: Market Analysis and Forecast By Countries
7.1 Introduction
7.2 Parfait Chart
7.3 U.K.
7.3.1 Overview
7.3.2 Market Size and Forecast
7.3.3 Market Size & Forecast By End-User
7.3.4 Market Size and Forecast By Solutions
7.4 Germany
7.4.1 Overview
7.4.2 Market Size and Forecast
7.4.3 Market Size and Forecast By End-Users
7.4.4 Market Size and Forecast By Solutions
7.5 Rest of Europe
7.5.1 Overview
7.5.2 Market Size and Forecast
7.5.3 Market Size & Forecast By End-Users
7.5.4 Market Size and Forecast By Solutions

8 EUROPE SDN: Competitive Landscape
8.1 Competitive Landscape
8.2 Ecosystem and Roles
8.2.1 Portfolio Comparison
8.3 End-User Landscape
8.3.1 Market Opportunity Analysis
8.3.2 End-User Analysis
8.3.2.1 The Global Networking Is Expected to Reach $50 Billion By 2019
8.3.2.2 The Smartphone Market Will Experience Immense Growth By 2019 and Is Expected to Reach $9.3 Billion Driven By Byod Trend
8.3.2.3 Cloud Computing Market Is Expected to Reach $480 Billion By 2019 Driving The Demand For SDN Solutions
9 Company Profiles
9.1 AT&T Inc.
9.1.1 Introduction
9.1.2 Products & Services
9.1.3 Strategies & Insights
9.1.4 New Developments
9.1.5 MMM View
9.2 Cisco Systems, Inc.
9.2.1 Introduction
9.2.2 Products & Services
9.2.3 Strategies & Insights
9.2.4 New Developments
9.2.5 MMM View
9.3 Dell Inc.
9.3.1 Introduction
9.3.2 Products & Services
9.3.3 Strategies & Insights
9.3.4 New Developments
9.3.5 MMM View
9.4 Hewlett-Packard Company
9.4.1 Introduction
9.4.2 Products & Services
9.4.3 Strategies & Insights
9.4.4 New Developments
9.4.5 MMM View
9.5 Ibm
9.5.1 Introduction
9.5.2 Products & Services
9.5.3 Strategies & Insights
9.5.4 New Developments
9.5.5 MMM View
9.6 Intel Corporation
9.6.1 Introduction
9.6.2 Products & Services
9.6.3 Strategies & Insights
9.6.4 New Developments
9.6.5 MMM View
9.7 Juniper Networks
9.7.1 Introduction
9.7.2 Products & Services
9.7.3 Strategies & Insights
9.7.4 New Developments
9.7.5 MMM View
9.8 Nec Corporation
9.8.1 Introduction
9.8.2 Products & Services
9.8.3 Strategies & Insights
9.8.4 New Developments
9.8.5 MMM View
9.9 Pica8 Inc.
9.9.1 Introduction
9.9.2 Products & Services
9.9.3 Strategies & Insights
9.9.4 New Developments
9.9.5 MMM View
9.10 Plexxi, Inc.
9.10.1 Introduction
9.10.2 Products & Services
9.10.3 Strategies & Insights
9.10.4 New Developments
9.10.5 MMM View
9.11 Alcatel-Lucent
9.11.1 Introduction
9.11.2 Products & Services
9.11.3 Strategies & Insights
9.11.4 New Developments
9.11.5 MMM View
10 Appendix
10.1 Venture Capital (VC) Funding
10.2 Merger & Acquisitions (M&A)

List of Tables
Table 1 Forecast Assumptions
Table 2 Global SDN Market Size, 2014-2019 ($Million)
Table 3 Europe SDN Market, By Solutions, 2014 – 2019 ($Million)
Table 4 Europe SDN Market, By Solutions, 2014 – 2019 (Y-O-Y %)
Table 5 Europe SDN: Switching Market, 2014-2019 ($Million, Y-O-Y %)
Table 6 Europe SDN: Switching Market, By Countries, 2014 – 2019 ($Million)
Table 7 Europe SDN: Switching Market, By Countries, 2014 – 2019 (Y-O-Y %)
Table 8 Europe SDN: Controllers Market, 2014-2019 ($Million, Y-O-Y %)
Table 9 Europe SDN: Controllers Market, By Countries, 2014 – 2019 ($Million)
Table 10 Europe SDN: Controllers Market, By Countries, 2014 – 2019 (Y-O-Y %)
Table 11 Europe SDN: Cloud Virtualization Application Market, 2014-2019 ($Million, Y-O-Y %)
Table 12 Europe SDN: Cloud Virtualization Applications Market, By Countries, 2014 – 2019 ($Million)
Table 13 Europe SDN: Cloud Virtualization Applications Market, By Countries, 2014 – 2019 (Y-O-Y %)
Table 14 Europe SDN: Network Virtualization Security Market, 2014-2019 ($Million, Y-O-Y %)
Table 15 Europe SDN: Network Virtualization Security Market, By Countries, 2014 – 2019 ($Million)
Table 16 Europe SDN: Network Virtualization Security Market, By Countries, 2014 – 2019 (Y-O-Y %)
Table 17 Europe SDN Market, By End-Users, 2014 – 2019 ($Million)
Table 18 Europe SDN Market, By End-Users, 2014 – 2019 (Y-O-Y %)
Table 19 Europe SDN: Telecommunications Provider Market, 2014-2019 ($ Million, Y-O-Y %)
Table 20 Europe SDN: Telecom Providers Market, By Countries, 2014 – 2019 ($Million)
Table 21 Europe SDN: Telecom Providers Market, By Countries, 2014 – 2019 (Y-O-Y %)
Table 22 Europe SDN: Cloud Service Providers Market, 2014-2019 ($ Million, Y-O-Y %)
Table 23 Europe SDN: Cloud Service Providers Market, By Countries, 2014 – 2019 ($Million)
Table 24 Europe SDN: Cloud Service Providers Market, By Countries, 2014 – 2019 (Y-O-Y %)
Table 25 Europe SDN: Enterprise Data Center Market, 2014-2019 ($ Million, Y-O-Y %)
Table 26 Europe SDN: Enterprise Data Centers Market, By Countries, 2014 – 2019 ($Million)
Table 27 Europe SDN: Enterprise Data Centers Market, By Countries, 2014 – 2019 (Y-O-Y %)
Table 28 Europe SDN Market Revenue By Countries, 2014 – 2019 ($Million)
Table 29 Europe SDN Market, By Countries, 2014 – 2019 (Y-O-Y %)
Table 30 Europe SDN: North America Market, 2014-2019 ($Million, Y-O-Y %)
Table 31 Europe SDN: North America Market, By End-Users, 2014 – 2019 ($Million)
Table 32 Europe SDN: North America Market, By End-Users, 2014 – 2019 (Y-O-Y %)
Table 33 Europe SDN: North America Market, By Solutions, 2014 – 2019 ($Million)
Table 34 Europe SDN: North America Market, By Solutions, 2014 – 2019 (Y-O-Y %)

Table 35 Europe SDN Competitive Ecosystem
Table 36 Europe SDN: Venture Capital (Vc) Funding
Table 37 Europe SDN: Mergers And Acquisitions (M&A)

List Of Figures
Figure 1 Secondary And Primary Research
Figure 2 Data Triangulation And Market Forecasting
Figure 3 Global SDN Market Size, 2014-2019 ($Million)
Figure 4 Europe SDN Market Evolution
Figure 5 SDN Market Segmentation
Figure 6 Impact Analysis Of Dro On Europe SDN Market
Figure 7 Europe SDN: Value Chain
Figure 8 Aster*X Controller Design For The Main Control Logic
Figure 9 Google SDN Wan History
Figure 10 Europe SDN Market, By Solutions, 2014 – 2019 (Y-O-Y %)
Figure 11 Europe SDN: Switching Market, 2014-2019 ($Million, Y-O-Y %)
Figure 12 Europe SDN: Switching Market, By Countries, 2014 – 2019 (Y-O-Y %)
Figure 13 Europe SDN: Controllers Market, 2014-2019 ($Million, Y-O-Y %)
Figure 14 Europe SDN: Controllers Market, By Countries, 2014 – 2019 (Y-O-Y %)
Figure 15 Europe SDN: Cloud Virtualization Application Market, 2014-2019 ($Million, Y-O-Y %)
Figure 16 Europe SDN: Cloud Virtualization Applications Market, By Countries, 2014 – 2019 (Y-O-Y %)
Figure 17 Europe SDN: Network Virtualization Security Market, 2014-2019 ($Million, Y-O-Y %)
Figure 18 Europe SDN: Network Virtualization Security Market, By Countries, 2014 – 2019 (Y-O-Y %)
Figure 19 Europe SDN Market, By End-Users, 2014 – 2019 (Y-O-Y %)
Figure 20 Europe SDN: Telecommunications Provider Market, 2014-2019 ($Million, Y-O-Y %)
Figure 21 Europe SDN: Telecom Providers Market, By Countries, 2014 – 2019 (Y-O-Y %)
Figure 22 Europe SDN: Cloud Service Providers Market, 2014-2019 ($Million, Y-O-Y %)
Figure 23 Europe SDN: Cloud Service Providers Market, By Countries, 2014 – 2019 (Y-O-Y %)
Figure 24 Europe SDN: Enterprise Data Center Market, 2014-2019 ($Million, Y-O-Y %)
Figure 25 Europe SDN: Enterprise Data Centers Market, By Countries, 2014 – 2019 (Y-O-Y %)
Figure 26 Europe SDN Market, By Countries, 2014 – 2019 (Y-O-Y %)
Figure 27 Europe SDN Market: Parfait Chart
Figure 28 Europe SDN: North America Market, 2014-2019 ($Million, Y-O-Y %)
Figure 29 Europe SDN: North America Market, By End-Users, 2014 – 2019 (Y-O-Y %)
Figure 30 Europe SDN: North America Market, By Solutions, 2014 – 2019 (Y-O-Y %)
Figure 31 Europe SDN: Portfolio Comparison
Figure 32 Europe SDN: Market Opportunity Plot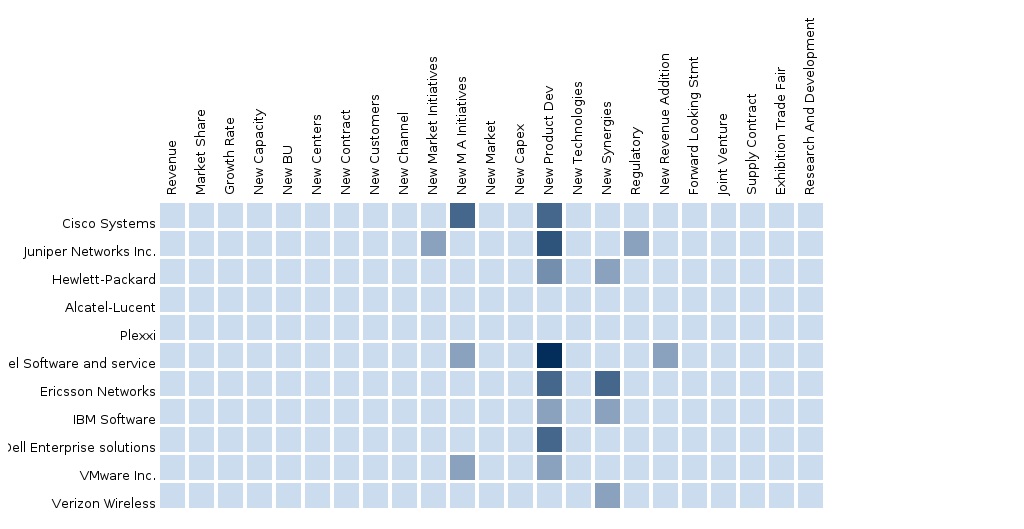 Europe Software Defined Networking (SDN)