Europe Shoulder Fired Anti-Tank, Anti-Aircraft Short Range Missiles and RPG Market
The Shoulder Fired anti-aircraft or anti-tank missiles are guided/unguided weapons which are used to fire at a target with a projectile and it is a threat to armored vehicles, low-flying aircraft, and field fortifications. These are shoulder carried and can be operated by a single person. These missiles have different guidance systems which helps them to reach their target.
The purpose of this report is to identify the various technologies involved, products and distribution channel of Europe shoulder fired market. It involves deep dive analysis of market segmentation which comprises of components, applications and geography. The segmentation on the basis of applications includes wire guided missile, heat seeking missile, laser guided missile and beam guided missile.
The Europe shoulder fired market has valued at $512 million in 2014 and is estimated to reach a value of $778.85 million by 2020; growing at a CAGR of approximately 7.24% from 2014 to 2020. War head capability and self reliance are the major drivers for the shoulder fired market. Seekers and sensors are the major challenges. Laser guided segment has the highest market value compared to other technologies. The macro indicators which affect the industry are the integral part of the shoulder fired report.
BAE Systems, Bharat Dynamics Limited, Lockheed Martin, MBDA, Raytheon Company, SAAB AB and Thales Group are the key players in the shoulder fired market. Region and country wise competitive developments such as alliances, joint ventures, mergers & acquisitions and contracts are enclosed in the report. Industry restraints and challenges impacting the growth of the shoulder fired market is an integral part of the report. Technology trends and market trends that are currently prevailing in the market are specified in the shoulder fired report.
CUSTOMIZATION OFFERINGS:
1. HISTORICAL DATA for 5 years.
Financials
Macro indicator data
M&A data
Budget and defense program information
2. COMPANY PROFILES
In depth analysis of the company's product portfolio
Competitive landscape (revenue, operating margin, marginal cost, P/E ratio, EPS, Developments/Deals/Events)
Ratio analysis
3. REGION SPECIFIC INFORMATION (North America, EUROPE, APAC, MIDDLE EAST and ROW)
It covers market sizing/mapping, global footprint, operation and financials information, competitive landscape. MMM offering will cover detailed market study of below mentioned bullet points:
Wire guided missile
Heat seeking missile
Laser guided missile
4. GLOBAL TRENDS / MARKET ENVIRONMENT
Product and technological advancements/latest innovation and development
Market consolidation (M&A, joint ventures, divestment and spin off)
Industrial Production and capacity optimization data
Deliveries and order
5. GLOBAL FORECAST NUMBERS/OUTLOOK - Historical and Forecasted by Years
Milicas (Military Aircraft) and Helicas (Military rotary Wing i.e. Helicopter)
6. PREDICTIVE FORECASTING
Time series
Regression analysis
7. DEFENSE PROGRAMS [by Names, Types, Users, Spending by years (in $Million), Prime Contractors, Program Status, etc.]
Programs covered are:
8. DEFENSE BUDGET/SEQUESTRATION IMPACT
Impact of sequestration on defense programs
What all programs got impacted due to budget cuts
Impact on company's overall revenue, operation and profitability
9. OPPORTUNITY ANALYSIS
A comprehensive analysis to analyze the potential growth markets based on parameters like
GDP Percentage with respect to Military expenditure of particular country
Defense review of countries active in this market
10. PRODUCT ANALYSIS
Product Matrix which gives a detailed comparison of product portfolio of each company mapped at country and sub segment level
Comprehensive coverage of Product approvals, Pipeline products and Product recalls
11. SUPPLY CHAIN/VENDOR ANALYSIS
Coverage - Vendor analysis, vendor financing, customers/self funding, and distribution network
1 Introduction
1.1 Key Findings
1.2 Report Description
1.3 Markets Covered
1.4 Stakeholders
1.5 Research Methodology
2 Executive Summary
3 Market Overview
3.1 Market Definition
3.2 Market Segmentation
3.2.1 By Types
3.2.2 By Application
4 Market Dynamics
4.1 Drivers
4.1.1 Warhead Capability
4.1.2 Self Reliance
4.1.3 Impact analysis of drivers
4.2 Restraints
4.2.1 Defense Budget Cut
4.2.2 System Requirements and Design Constraints
4.2.3 Impact analysis of restraints
4.3 Challenges
4.3.1 Seekers and Sensors
5 Trend Analysis
5.1 Market Trends
5.2 Industry Trends
5.3 Technology Trends
6 Market Forecast
6.1 By Types
6.1.1 Surface to Surface Missiles
6.1.2 Surface to Air Missiles
6.2 By Application
6.2.1 Wire Guided Missile
6.2.2 Beam Guided Missile
6.2.3 Laser Guided Missile
6.2.4 Heat Seeking Missile
7 Competitive Landscape
7.1 Market share analysis, by company
7.2 Market share analysis, by geography
8 Company Profiles
8.1 BAE Systems
8.2 Bharat Dynamics Limited
8.3 Lockheed Martin Corporation
8.4 MBDA Inc.
8.5 Raytheon Company
8.6 SAAB AB
8.7 Thales Group
8.8 Rafael Advanced Defense System
8.9 GenCorp Inc.
8.10 General Dynamics Corporation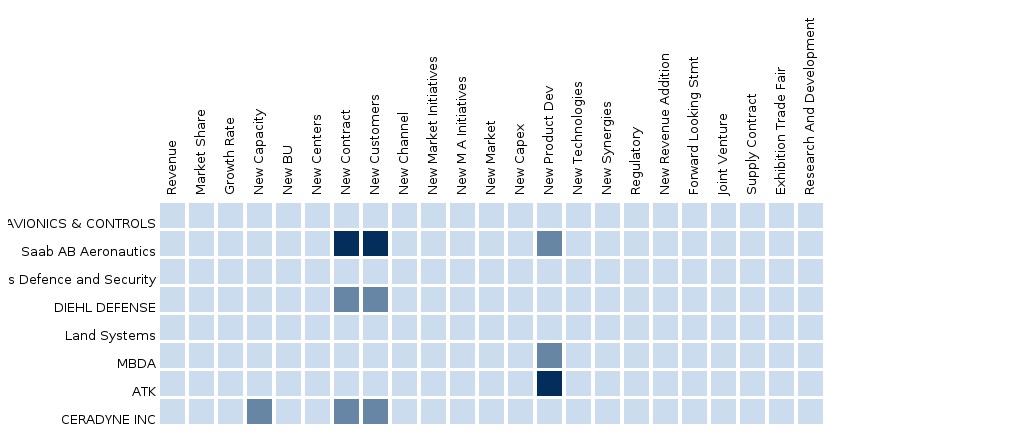 Please fill in the form below to receive a free copy of the Summary of this Report
Custom Market Research Services
We will customize the research for you, in case the report listed above does not meet with your exact requirements. Our custom research will comprehensively cover the business information you require to help you arrive at strategic and profitable business decisions.
Please visit
http://www.micromarketmonitor.com/custom-research-services.html
to specify your custom Research Requirement