European Revenue Cycle Management System (RCM) Market
Description
Table of Contents
Customer Intelligence
Revenue cycle management system (RCM) for healthcare providers enables healthcare organizations of all sizes to accelerate their revenue cycles. This is achieved by reducing the number of denied insurance claims, speeding explanation of benefits (EOB) reconciliation, improving the quality of information, streamlining denial management, and automating processes. The RCM solution starts when a patient enters the hospital. It automates business process leading to speedy patient and payer follow-up.
Globally, Europe is the second-largest revenue cycle management market, and is expected to reach a value of $1,198.6 million by 2018. It is projected to grow at a CAGR of 6.3%, from 2013 to 2018. This growth is attributed to the rise in the adoption of new and updated versions of RCM solutions. New projects have been initiated to meet the huge demand of the new versions of RCM solutions. Healthcare providers in Europe are now undergoing consolidation to improve purchasing capacity of RCM solutions.
The key players in the market include, Quest diagnostics (U.S.), Cerner Corporation (U.S.), McKesson Corporation (U.S.), Athenahealth, Inc. (U.S.), Allscripts (U.S.), GE Healthcare (U.K.), eClinicalWorks (U.S.), CareCloud Corporation (U.S.), The SSI Group, Inc. (U.S.), Kareo (U.S.)
What makes our report unique?
You can request a 10% customization in the research that matches your requirement. For example, you could request a deep dive research in any specific region, technology, or application.
This report provides a competitive landscape of the top players. Under the strategic benchmarking section, we will provide you with their key developments along with the impacts that include new product developments, M&A, a strategic focus on any specific application, technology, and geography. Under the financials section, we will provide you with details that span capex (Investments), revenues, and EBITDA. Under the operational insights section, we will provide you with the new capacities added, new centers, and new key employments. Under the sales and marketing section, we will provide you with insights on new contracts (available on the public domain), new distribution channels added, and new marketing initiatives.
Key questions answered
What are the market estimates and forecasts based on which the markets are doing well, and which are not?
What is the competitive landscape; who are the main players in each segment; what are their strategic directives, operational strengths, key selling products, and product pipelines? Who is doing what?
Audience for This Report
Healthcare Provider IT Companies
Hospital & Emergency Care Units
Market that Influence the Growth of this Market
U.K. Non-Clinical Information System Market
Germany Non-Clinical Information System Market
France Non-Clinical Information System Market
Italy Non-Clinical Information System Market
Spain Non-Clinical Information System Market
1 Introduction
1.1 Introduce the Market
1.2 Objective of the study
1.3 Market Definition and Scope of the study
1.3.1 Market Definition
1.3.2 Areas covered
1.3.3 Markets Covered
1.4 Stakeholders
1.5 Research Methodology
1.5.1 Secondary sources
1.5.2 Primary Sources
1.5.3 Market estimation methodology (Top-down, bottom-up, data triangulation.)
1.5.4 Macro indicators for the study
1.6 Assumptions
1.7 List of Acronyms
2 Market Overview
3 Revenue Cycle Management System (RCM)-Europe, By Deployments
3.1 Web-based-Europe
3.2 On-premise-Europe
3.3 Cloud-based-Europe
4 Revenue Cycle Management System (RCM)-Europe, By Components
4.1 Services (Healthcare IT)-Europe
4.2 Software (Healthcare IT)-Europe
4.3 Hardware (Healthcare IT)-Europe
5 Revenue Cycle Management System (RCM)-Europe, By Products
5.1 Standalone RCM System-Europe
5.2 Integrated RCM System-Europe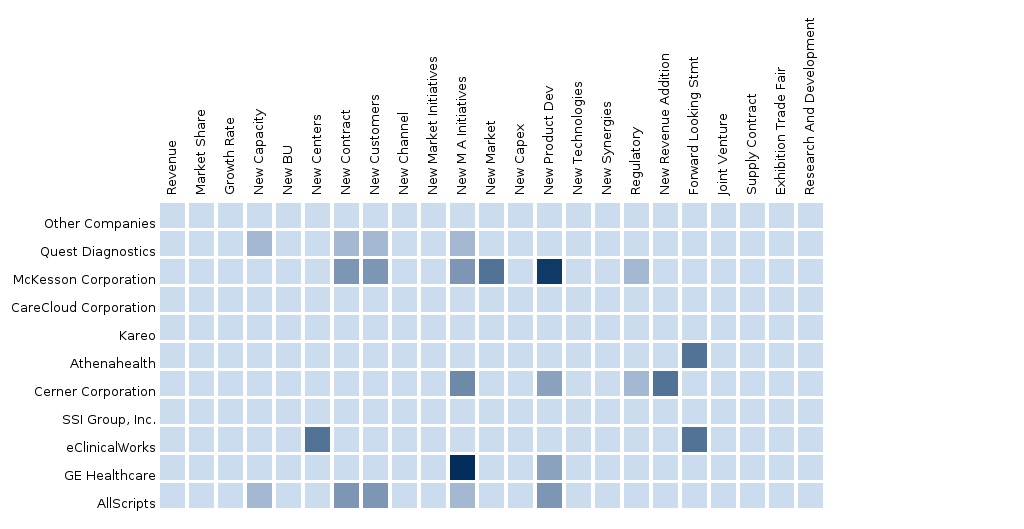 PRODUCT TITLE
PUBISHED
PRICE
North American Non-Clinical Information Systems Market


North America is the largest market for non-clinical information systems globally, and is expected to grow at a CAGR of 7.2% from 2013 to 2018, to reach a value of $8905.5 million. This market is segmented into sub segments, components, deployments, end users, applications, and geographies.



17 Nov 2014
$ 3500
European Non-Clinical Information Systems Market


European non-clinical information systems (NCIS) market is segmented by types, deployment, components, end-users, applications, and geographies. Globally, this is the second-largest NCIS market, and is expected to reach a value of $3,376.25 million by 2018.



17 Nov 2014
$ 3500
Asia Non-Clinical Information Systems Market


Asia is the fastest-growing market for non-clinical information systems, and is estimated at $1336.4 million in 2013. It is expected to grow at a CAGR of 7.2%, from 2013 to 2018, to reach a value of $1892.2 million. This market can be segmented by companies, deployments, components, end-users, and macro-indicators.



17 Nov 2014
$ 3500
Non-Clinical Information Systems