European Revenue Cycle Management System (RCM) Market
Description
Table of Contents
Customer Intelligence
European revenue cycle management (RCM) market is witnessing growth on account of various factors. The market is marked with the presence of several companies; each offering a distinctive set of products and services to meet the varied demands of the endusers.
Revenue cycle management, in simple terms, refers to the whole process of managing claims, revenues, and payments in a healthcare facility. Thus, an RCM system is one that is used for the aforesaid operations. This system streamlines the process and offers several advantages to the healthcare service providers, insurance companies, and the patients as well.
The work of an RCM system begins right from the moment when a patient is logged into the system or at the time when the appointment is fixed with the physician. RCM systems are designed specifically keeping in the mind the routine and ad-hoc operations of a healthcare unit. The functions of such a system can also be altered as and when needed.
Advantages of an RCM system are plenty. As it is an automated system, it reduces the processing time and efforts to a great extent. It also helps in reducing the paperwork as most of the data is stored in the system and can be retrieved and shared whenever needed. With low-processing time, the productivity of a facility is bound to increase, while reducing the work induced stress on the administrative staff.
A significant advantage of using RCM systems is that it drastically reduces the error and instances of fraudulent claims.
The European revenue cycle management system market is segmented on the basis of companies, deployments, components, endusers, and macroindicators.
Companies operational in this market are SSI Group, Inc., CareCloud Corporation, eClinicalWorks, GE Healthcare, McKesson Corporation, Cerner Corporation, Allscripts, Quest Diagnostics, Kareo, Athenahealth, and other companies. Deployments of this market include on-premise, web-based, and cloud-based. Components of this market are hardware-healthcare IT, software-healthcare IT, and services-healthcare IT. Endusers of this market are hospitals, office-based physicians, ambulatory care solutions, and medical & diagnostic laboratories. Macroindicator of this market is healthcare expenditure.
The report is based on an extensive study through primary and secondary resources. It includes competitive landscape of the market along with the details related to new product developments and other strategies undertaken to increase foothold in the market.
Details related to the investments on R&D as well as capacity expansion are also included in the report. The report highlights the market size, in terms of value and volume, in the region and countries.
1 Introduction
1.1 Introduce the Market
1.2 Objective of the study
1.3 Market Definition and Scope of the study
1.3.1 Market Definition
1.3.2 Areas covered
1.3.3 Markets Covered
1.4 Stakeholders
1.5 Research Methodology
1.5.1 Secondary sources
1.5.2 Primary Sources
1.5.3 Market estimation methodology (Top-down, bottom-up, data triangulation.)
1.5.4 Macro indicators for the study
1.6 Assumptions
1.7 List of Acronyms
2 Market Overview
3 Revenue Cycle Management System (RCM)-Europe, By Deployments
3.1 Web-based-Europe
3.2 On-premise-Europe
3.3 Cloud-based-Europe
4 Revenue Cycle Management System (RCM)-Europe, By Components
4.1 Services (Healthcare IT)-Europe
4.2 Software (Healthcare IT)-Europe
4.3 Hardware (Healthcare IT)-Europe
5 Revenue Cycle Management System (RCM)-Europe, By Products
5.1 Standalone RCM System-Europe
5.2 Integrated RCM System-Europe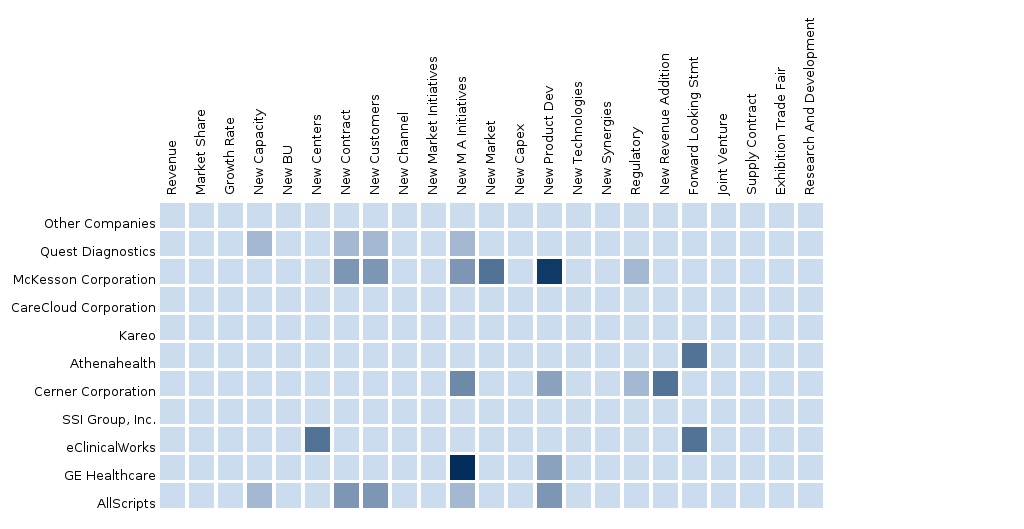 PRODUCT TITLE
PUBISHED
PRICE
North American Non-Clinical Information Systems Market


North America is the largest market for non-clinical information systems globally, and is expected to grow at a CAGR of 7.2% from 2013 to 2018, to reach a value of $8905.5 million. This market is segmented into sub segments, components, deployments, end users, applications, and geographies.



28 Nov 2014
$ 3500
European Non-Clinical Information Systems Market


European non-clinical information systems (NCIS) market is segmented by types, deployment, components, end-users, applications, and geographies. Globally, this is the second-largest NCIS market, and is expected to reach a value of $3,376.25 million by 2018.



28 Nov 2014
$ 3500
Asian Non-Clinical Information Systems Market


Asia is the fastest-growing market for non-clinical information systems, and is estimated at $1336.4 million in 2013. It is expected to grow at a CAGR of 7.2%, from 2013 to 2018, to reach a value of $1892.2 million. This market can be segmented by companies, deployments, components, end-users, and macro-indicators.



28 Nov 2014
$ 3500
Non-Clinical Information Systems