European Revenue Cycle Management System (RCM) Market
Description
Table of Contents
Customer Intelligence
The purpose of this report is to cover the definition, description, and forecast of the European revenue cycle management market. It involves deep dive analysis of market segmentation which comprises submarkets, products and end users. The report provides strategic analysis of key players in the market. In this report, the revenue cycle management market is segmented on the basis of type, deployment, component, application, and end-user.
The revenue cycle management market, by type is segmented into integrated RCM systems and standalone RCM systems, while the market by deployment is categorized as on-premises, web-premises, and cloud-premises. The revenue cycle management market by component comprises hardware, software, and services. The applications are biller's dashboard, claims attachment rules, claims remittance updates, direct payer claims, EMR documentation for claims, eligibility transaction with payer, medical necessity alert at registration, and others. The end-users are academics, ambulatory care solutions, hospitals, medical and diagnostic laboratories, and office based physicians.
Globally, Europe is the second largest revenue cycle management (RCM) market growing at a CAGR of 6.3% for the forecast period 2014-2019. The large share is attributed to the rise in adoption of new and updated versions of RCM solutions. There is a huge unmet demand for new versions of RCM solutions, and to meet these demands new projects have been initiated. After the Europe zone crisis of 2008, the European RCM market is gradually moving towards the recovery path. During the crisis the market was affected by low fund allocation to hospitals, slow rate of RCM solution adoption. Furthermore, limited support from government bodies adversely affected the European RCM market during 2008-2009. Healthcare providers in Europe are now undergoing consolidation and improving purchasing capacity of RCM solutions.
Emergency healthcare service providers, hospitals, nurse, and office based physicians are the major end-users of revenue cycle management solutions. Increased investments from private players, reduction in the number of denied insurance claims, speedy explanation of benefits (EOB) reconciliation, improved quality of information, streamlined denial management, and automation of processes are key factors propelling the growth of the revenue cycle management market.
The report provides a detailed competitive landscape of companies operating in this market. Segment and country specific company shares, news & deals, M&A, segment specific pipeline products, product approvals and product recalls of the major companies are detailed. The main companies operating in the European market are Quest Diagnostics (U.S.), Cerner Corporation (U.S.), McKesson Corporation (U.S.), athenahealth, Inc. (U.S.), Allscripts Healthcare Solutions, Inc. (U.S.), eClinicalWorks, Inc. (U.S.), CareCloud Corporation (U.S.), The SSI Groups, Inc. (U.S.), GE Healthcare (U.K.), Epic Systems (U.S.), Siemens Healthcare (Germany), Kareo, Inc. (U.S.)
1 Introduction
1.1 Introduce the Market
1.2 Objective of the study
1.3 Market Definition and Scope of the study
1.3.1 Market Definition
1.3.2 Areas covered
1.3.3 Markets Covered
1.4 Stakeholders
1.5 Research Methodology
1.5.1 Secondary sources
1.5.2 Primary Sources
1.5.3 Market estimation methodology (Top-down, bottom-up, data triangulation.)
1.5.4 Macro indicators for the study
1.6 Assumptions
1.7 List of Acronyms
2 Market Overview
3 Revenue Cycle Management System (RCM)-Europe, By Deployments
3.1 Web-based-Europe
3.2 On-premise-Europe
3.3 Cloud-based-Europe
4 Revenue Cycle Management System (RCM)-Europe, By Components
4.1 Services (Healthcare IT)-Europe
4.2 Software (Healthcare IT)-Europe
4.3 Hardware (Healthcare IT)-Europe
5 Revenue Cycle Management System (RCM)-Europe, By Products
5.1 Standalone RCM System-Europe
5.2 Integrated RCM System-Europe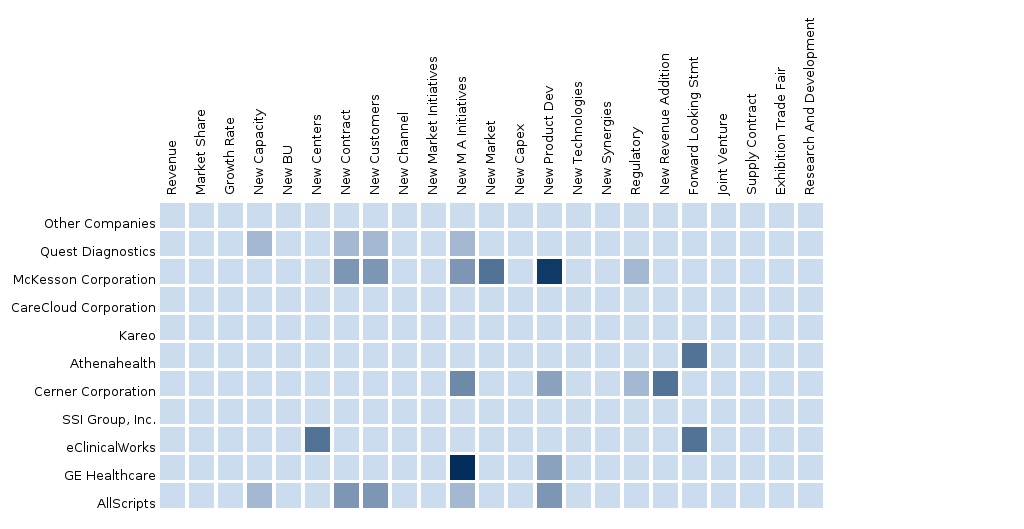 PRODUCT TITLE
PUBLISHED
PRICE
North American Non-Clinical Information Systems Market


North America is the largest market for non-clinical information systems globally, and is expected to grow at a CAGR of 7.2% from 2013 to 2018, to reach a value of $8,905.5 million in 2018. This market is segmented into sub-segments, components, deployments, end users, applications, and geographies.



07 Jan 2015
$ 3500
European Non-Clinical Information Systems Market


The European non-clinical information systems (NCIS) market has been segmented by types, deployment, components, end users, applications, and geographies. Globally, this is the second-largest NCIS market, and is expected to reach a value of $3,376.2 million by 2018.



07 Jan 2015
$ 3500
Asian Non-Clinical Information Systems Market


Asia is the fastest-growing market for non-clinical information systems, and was valued at $1,336.4 million in 2013. It is expected to grow at a CAGR of 7.2%, from 2013 to 2018, to reach a value of $1,892.2 million in 2018. This market can be segmented by companies, deployments, components, end users, and macro indicators.



07 Jan 2015
$ 3500
Non-Clinical Information Systems