The polyurethane industry is witnessing a high growth because of the emerging applications. The report estimates the size of the European polyurethane market in terms of both volume and value. The report provides a comprehensive overview of the key market drivers, challenges, and issues. The market is projected to reach $ 19,493.8 by 2018, and is expected to grow at a CAGR of 6.3%, from 2013 to 2018. The key driver of the market is the growing end-user segments, such as bedding & furniture, building & construction, electronics, and automotive that have a significant impact on the demand of polyurethane foams.
The report 'Europe Polyurethane Foams Market' defines and segments the polyurethane market in the region with analyses and projections of the size of the polyurethane market with respect to volume (KT) and value ($Million).
Polyurethane foams are commercially available in various forms ranging from low to high density with varying rigidity and tensile strength, and are classified as flexible (lightweight) foams & rigid (tough, stiff, and strong) foams.
The European polyurethane foams market is segmented on the basis of the major polyurethane foam types i.e. rigid foam and flexible foam. Each type is further described in detail with a forecast of its volume and revenue.
The report covers the European polyurethane foams market and its trends concerning with the key countries Germany, France, Italy, and the U.K. The report also provides an extensive competitive landscape of the companies operating in this market. It also includes the company profiles and competitive strategies adopted by various market players such as Bayar MaterialScience AG (Germany), British Vita Foams plc (U.K.), and Recticel S.A. (Belgium).
Customization Options
We can provide customize data for the points mentioned below:
Estimated plant capacities of the major players for polyurethane foams manufacturing of different geographic regions
Analysis of the raw material (Methylene Diphenyl Diisocyanate (MDI), Polyols, Toluene diisocyanate (TDI) used in PU Foam manufacturing ($/KT and feasibility)
Technology trends in the PU foams market, including new product launch analysis by geography and the end-use sector that the products target
A further segmentation of the PU foams on the basis of its types and the consumption trend of the types i.e. PU flexible foam and PU rigid foam (application-wise and country-wise)
Government regulations for the PU foams market
1 Introduction
1.1 Objective of the study
1.2 Market Definitions
1.3 Market Segmentation & Aspects Covered
1.4 Research Methodology
1.4.1 Assumptions (Market Size, Forecast, etc)
2 Executive Summary
3 Market Overview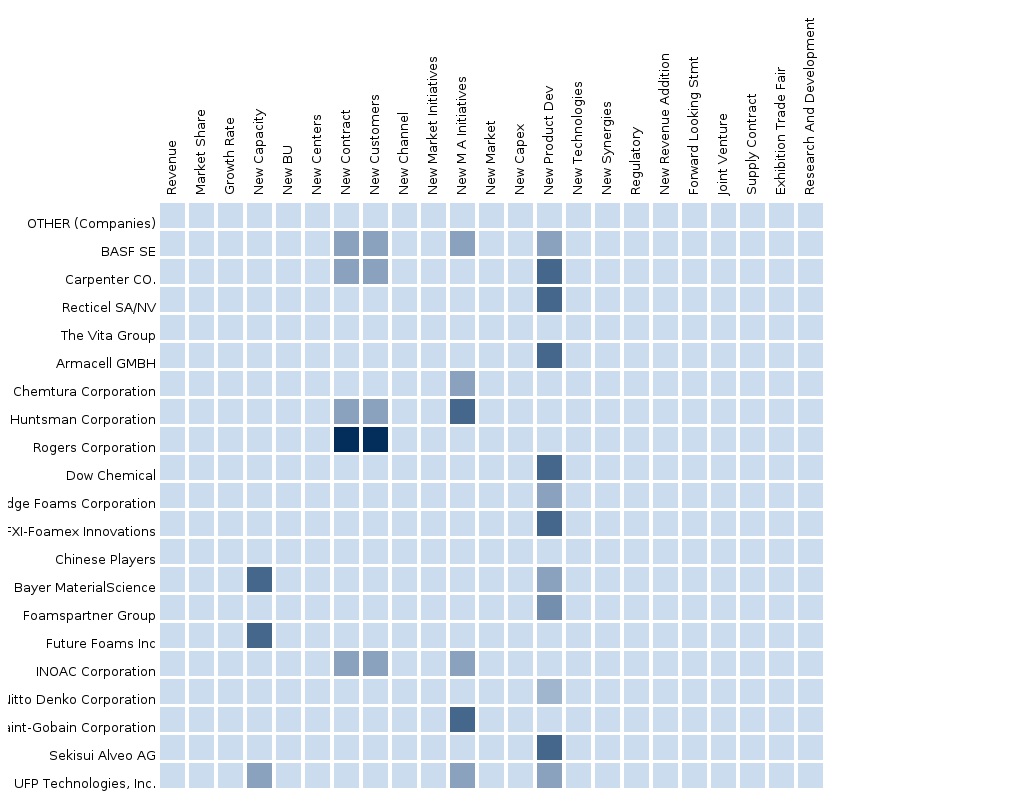 Please fill in the form below to receive a free copy of the Summary of this Report
Custom Market Research Services
We will customize the research for you, in case the report listed above does not meet with your exact requirements. Our custom research will comprehensively cover the business information you require to help you arrive at strategic and profitable business decisions.
Please visit
http://www.micromarketmonitor.com/custom-research-services.html
to specify your custom Research Requirement
PRODUCT TITLE
PUBLISHED
Asia-Pacific Polyurethane


Polyurethane-Asia-Pacific can be segmented by Companies, Applications, Ingredients, Submarkets and Groups. Companies of this market are BASF SE (Parent), Huntsman Corporation, Mitsui Chemicals Inc., Dow Chemical, Nippon Polyurethane Industry Co. Ltd, Yantai Wanhua...



Upcoming
North America Polyurethane


Polyurethane-North America can be segmented by Companies, Applications, Ingredients, Submarkets and Groups. Companies of this market are BASF SE (Parent), Huntsman Corporation, Mitsui Chemicals Inc., Dow Chemical, Nippon Polyurethane Industry Co. Ltd, Yantai Wanhua...



Upcoming
Europe Polyurethane


Polyurethane-Europe can be segmented by Companies, Applications, Ingredients, Submarkets and Groups. Companies of this market are BASF SE (Parent), Huntsman Corporation, Mitsui Chemicals Inc., Dow Chemical, Nippon Polyurethane Industry Co. Ltd, Yantai Wanhua...



Upcoming
Europe Polyurethane Foams