Europe Learning Management System Market
Description
Table of Contents
Customer Intelligence
The European learning management systems (LMS) market is expected to grow from $486.4 million in 2014 to $665.8 million in 2019, at an estimated CAGR of 23.3%, during the period 2014-2019. The market is primarily driven by the need to improve student experience and learning environment.
The European learning management systems (LMS) cater to the need of comprehensive learning module that allows experts to create customized content for the courses and to design unique lesson delivery structure. Thus, the European learning management systems help in creating a holistic and dynamic learning environment. The solutions offered by the European learning management systems are flexible and scalable that best suit the specific organizational requirements. The European learning management systems applications help in creating a more interactive and personalized learning environment in a digitized format. Moreover, it supports enterprises to address the skill imbalance challenge by managing capabilities effectively. Blending traditional learning management solutions with cloud technology, the SaaS delivery of the European learning management systems applications have been designed so that organizations can focus on the delivery of effective training and development practices, and outsource the burden of LMS maintenance to the vendors.
Some of the world-class varsities are situated in Europe, which are a very lucrative destinations to students for their higher studies. During the past decade, the migration of the students to Europe from all over the world has increased significantly. As the number of students increase exponentially, it fuels the need to improve the student experience by facilitating the learning environment. Apart from academia, the organizations in this region are also adopting learning management systems to boost their training and development program. Thus, Europe is showing enormous potential for the LMS market.
The report provides a competitive benchmarking of leading players in this market such as Automatic Data Processing, Inc., Blackboard Inc., Cornerstone Ondemand, Inc., Desire2learn Incorporated, and IBM Corporation in terms of their product offerings, key strategies, and operational parameters. The report further provides Europe market trend, overall adoption scenario, competitive landscape and key drivers, restraints, and opportunities. The report aims at estimating the current market size and the future growth potential of the different LMS offerings across different products, end-users, and deployment models.
Report Options
Market segmentations covered in this report are:
By Products: Content management, student management, performance management, collaboration, and administration
By Users: Academic and corporate
By Deployment Models: On-Premise and software as a service (SAAS)
By Verticals: Banking, financial services and insurance (BFSI), consulting services, government, healthcare, manufacturing, retail, telecom, information technology (IT), and media
Customization Options
Along with the market data, you can also customize MMM assessment that meets your company's specific needs. Following customization options provide comprehensive industry standard and deep dive analysis:
Solutions Watch
Comprehensive analysis and benchmarking of different solutions by specific countries in Europe. Coverage includes Tier-1 and Tier 2/3 firms
Analysis based on evaluation parameters like technology, service offerings, and pricing
Service Adoption and Application
Detailed analysis of adoption of LMS in different industry verticals
Regional and Country Level Tracker
Country-specific LMS market forecast and analysis
Identification of key end-user segments with respect to the countries in Europe
Client Tracker
Listing and analysis of deals and projects, case studies, promotions, R&D investments, events, discussion forums, alliances, and partners of Tier-1 and Tier-2/3 vendors operating in Europe for the last 3 years
Emerging Vendor Landscape
Evaluate Tier-2/3 vendors' market offerings using a 2X2 framework (identifying leaders, challengers, followers, and nichers)
Technology Watch
Update on the current technology trends across different industry verticals in the European learning management systems market
Product Analysis
Detailed Analysis of various products and services offered by the leading market players in Europe
1 Introduction
1.1 Objective of the study
1.2 Market Definitions
1.3 Market Segmentation & Aspects Covered
1.4 Research Methodology
1.4.1 Assumptions (Market Size, Forecast, etc)
2 Executive Summary

3 Market Overview

4 Learning Management System-Europe, by Industries
4.1 Split by Geography
4.1 Learning Management System-United Kingdom by Industries
4.2 Learning Management System-Europe-Banking,Financial Services and Insurance (BFSI) (ICT)
4.2.1 Learning Management System-Europe-Banking,Financial Services and Insurance (BFSI) (ICT), by Deployments
4.2.1.1 Learning Management System-Europe-On-Premise (ICT)-Banking,Financial Services and Insurance (BFSI) (ICT)
4.2.1.2 Learning Management System-Europe-Hosted (ICT)-Banking,Financial Services and Insurance (BFSI) (ICT)
4.2.2 Learning Management System-Europe-Banking,Financial Services and Insurance (BFSI) (ICT), by Geographies
4.2.2.1 Learning Management System-United Kingdom-Banking,Financial Services and Insurance (BFSI) (ICT)
4.3 Learning Management System-Europe-Consulting
4.3.1 Learning Management System-Europe-Consulting, by Deployments
4.3.1.1 Learning Management System-Europe-On-Premise (ICT)-Consulting
4.3.1.2 Learning Management System-Europe-Hosted (ICT)-Consulting
4.3.2 Learning Management System-Europe-Consulting, by Geographies
4.3.2.1 Learning Management System-United Kingdom-Consulting
4.4 Learning Management System-Europe-Government (ICT)
4.4.1 Learning Management System-Europe-Government (ICT), by Deployments
4.4.1.1 Learning Management System-Europe-On-Premise (ICT)-Government (ICT)
4.4.1.2 Learning Management System-Europe-Hosted (ICT)-Government (ICT)
4.4.2 Learning Management System-Europe-Government (ICT), by Geographies
4.4.2.1 Learning Management System-United Kingdom-Government (ICT)
4.5 Learning Management System-Europe-Healthcare and Life Science (ICT)
4.5.1 Learning Management System-Europe-Healthcare and Life Science (ICT), by Deployments
4.5.1.1 Learning Management System-Europe-On-Premise (ICT)-Healthcare and Life Science (ICT)
4.5.1.2 Learning Management System-Europe-Hosted (ICT)-Healthcare and Life Science (ICT)
4.5.2 Learning Management System-Europe-Healthcare and Life Science (ICT), by Geographies
4.5.2.1 Learning Management System-United Kingdom-Healthcare and Life Science (ICT)
4.6 Learning Management System-Europe-Manufacturing (ICT)
4.6.1 Learning Management System-Europe-Manufacturing (ICT), by Deployments
4.6.1.1 Learning Management System-Europe-On-Premise (ICT)-Manufacturing (ICT)
4.6.1.2 Learning Management System-Europe-Hosted (ICT)-Manufacturing (ICT)
4.6.2 Learning Management System-Europe-Manufacturing (ICT), by Geographies
4.6.2.1 Learning Management System-United Kingdom-Manufacturing (ICT)
4.7 Learning Management System-Europe-Retail and Wholesale Distribution (ICT)
4.7.1 Learning Management System-Europe-Retail and Wholesale Distribution (ICT), by Deployments
4.7.1.1 Learning Management System-Europe-On-Premise (ICT)-Retail and Wholesale Distribution (ICT)
4.7.1.2 Learning Management System-Europe-Hosted (ICT)-Retail and Wholesale Distribution (ICT)
4.7.2 Learning Management System-Europe-Retail and Wholesale Distribution (ICT), by Geographies
4.7.2.1 Learning Management System-United Kingdom-Retail and Wholesale Distribution (ICT)
4.8 Learning Management System-Europe-Telecommunication (ICT)
4.8.1 Learning Management System-Europe-Telecommunication (ICT), by Deployments
4.8.1.1 Learning Management System-Europe-On-Premise (ICT)-Telecommunication (ICT)
4.8.1.2 Learning Management System-Europe-Hosted (ICT)-Telecommunication (ICT)
4.8.2 Learning Management System-Europe-Telecommunication (ICT), by Geographies
4.8.2.1 Learning Management System-United Kingdom-Telecommunication (ICT)
4.9 Learning Management System-Europe-Others
4.9.1 Learning Management System-Europe-Others, by Deployments
4.9.1.1 Learning Management System-Europe-On-Premise (ICT)-Others
4.9.1.2 Learning Management System-Europe-Hosted (ICT)-Others
4.9.2 Learning Management System-Europe-Others, by Geographies
4.9.2.1 Learning Management System-United Kingdom-Others

5 Learning Management System-Europe, by Endusers
5.1 Split by Geography
5.2 Learning Management System-United Kingdom by Endusers
5.2 Learning Management System-Europe-Small and Medium Business (SMB)
5.2.1 Learning Management System-Europe-Small and Medium Business (SMB), by Deployments
5.2.1.1 Learning Management System-Europe-Small and Medium Business (SMB)-On-Premise (ICT)
5.2.1.2 Learning Management System-Europe-Small and Medium Business (SMB)-Hosted (ICT)
5.2.2 Learning Management System-Europe-Small and Medium Business (SMB), by Products
5.2.2.1 Performance Management-Small and Medium Business (SMB)-Europe
5.3 Learning Management System-Europe-Enterprises
5.3.1 Learning Management System-Europe-Enterprises, by Deployments
5.3.1.1 Learning Management System-Europe-Enterprises-On-Premise (ICT)
5.3.1.2 Learning Management System-Europe-Enterprises-Hosted (ICT)
5.3.2 Learning Management System-Europe-Enterprises, by Products
5.3.2.1 Performance Management-Enterprises-Europe
5.4 Learning Management System-Europe-Enterprises
5.4.1 Learning Management System-Europe-Enterprises, by Deployments
5.4.1.1 Learning Management System-Europe-Enterprises-On-Premise (ICT)
5.4.1.2 Learning Management System-Europe-Enterprises-Hosted (ICT)
5.4.2 Learning Management System-Europe-Enterprises, by Products
5.4.2.1 Performance Management-Enterprises-Europe
5.5 Learning Management System-Europe-Small and Medium Business (SMB)
5.5.1 Learning Management System-Europe-Small and Medium Business (SMB), by Deployments
5.5.1.1 Learning Management System-Europe-Small and Medium Business (SMB)-On-Premise (ICT)
5.5.1.2 Learning Management System-Europe-Small and Medium Business (SMB)-Hosted (ICT)
5.5.2 Learning Management System-Europe-Small and Medium Business (SMB), by Products
5.5.2.1 Performance Management-Small and Medium Business (SMB)-Europe
5.6 Learning Management System-Europe-Small and Medium Business (SMB)
5.6.1 Learning Management System-Europe-Small and Medium Business (SMB), by Deployments
5.6.1.1 Learning Management System-Europe-Small and Medium Business (SMB)-On-Premise (ICT)
5.6.1.2 Learning Management System-Europe-Small and Medium Business (SMB)-Hosted (ICT)
5.6.2 Learning Management System-Europe-Small and Medium Business (SMB), by Products
5.6.2.1 Performance Management-Small and Medium Business (SMB)-Europe

6 Learning Management System-Europe, by Customers
6.1 Split by Geography
6.3 Learning Management System-United Kingdom by Customers
6.2 Learning Management System-Europe-Academic
6.2.1 Learning Management System-Europe-Academic, by Deployments
6.2.1.1 Learning Management System-Europe-On-Premise (ICT)-Academic
6.2.1.2 Learning Management System-Europe-Hosted (ICT)-Academic
6.2.2 Learning Management System-Europe-Academic, by Geographies
6.2.2.1 Learning Management System-United Kingdom-Academic
6.2.3 Learning Management System-Europe-Academic, by Products
6.2.3.1 Content Management-Europe-Academic
6.2.3.2 Student Management-Europe-Academic
6.2.3.3 Performance Management-Europe-Academic
6.2.3.4 Collaboration (LMS)-Europe-Academic
6.2.3.5 Administration-Europe-Academic
6.2.3.6 Others (LMS)-Europe-Academic
6.3 Learning Management System-Europe-Corporate
6.3.1 Learning Management System-Europe-Corporate, by Deployments
6.3.1.1 Learning Management System-Europe-On-Premise (ICT)-Corporate
6.3.1.2 Learning Management System-Europe-Hosted (ICT)-Corporate
6.3.2 Learning Management System-Europe-Corporate, by Geographies
6.3.2.1 Learning Management System-United Kingdom-Corporate
6.3.3 Learning Management System-Europe-Corporate, by Products
6.3.3.1 Content Management-Europe-Corporate
6.3.3.2 Student Management-Europe-Corporate
6.3.3.3 Performance Management-Europe-Corporate
6.3.3.4 Collaboration (LMS)-Europe-Corporate
6.3.3.5 Administration-Europe-Corporate
6.3.3.6 Others (LMS)-Europe-Corporate

7 Learning Management System-Europe, by Deployments
7.1 Split by Geography
7.4 Learning Management System-United Kingdom by Deployments
7.2
7.2.1 , by Endusers
7.2.1.1 Learning Management System-Europe-Small and Medium Business (SMB)-On-Premise (ICT)
7.2.1.2 Learning Management System-Europe-Enterprises-On-Premise (ICT)
7.2.2 , by Industries
7.2.2.1 Learning Management System-Europe-On-Premise (ICT)-Banking,Financial Services and Insurance (BFSI) (ICT)
7.2.2.2 Learning Management System-Europe-On-Premise (ICT)-Consulting
7.2.2.3 Learning Management System-Europe-On-Premise (ICT)-Government (ICT)
7.2.2.4 Learning Management System-Europe-On-Premise (ICT)-Healthcare and Life Science (ICT)
7.2.2.5 Learning Management System-Europe-On-Premise (ICT)-Manufacturing (ICT)
7.2.2.6 Learning Management System-Europe-On-Premise (ICT)-Retail and Wholesale Distribution (ICT)
7.2.2.7 Learning Management System-Europe-On-Premise (ICT)-Telecommunication (ICT)
7.2.2.8 Learning Management System-Europe-On-Premise (ICT)-Others
7.2.3 , by Customers
7.2.3.1 Learning Management System-Europe-On-Premise (ICT)-Academic
7.2.3.2 Learning Management System-Europe-On-Premise (ICT)-Corporate
7.2.4 , by Products
7.2.4.1 Performance Management-On-Premise (ICT)-Europe
7.3 Learning Management System-Europe-On-Premise (ICT)
7.3.1 Learning Management System-Europe-On-Premise (ICT), by Endusers
7.3.1.1 Learning Management System-Europe-Small and Medium Business (SMB)-On-Premise (ICT)
7.3.1.2 Learning Management System-Europe-Enterprises-On-Premise (ICT)
7.3.2 Learning Management System-Europe-On-Premise (ICT), by Industries
7.3.2.1 Learning Management System-Europe-On-Premise (ICT)-Banking,Financial Services and Insurance (BFSI) (ICT)
7.3.2.2 Learning Management System-Europe-On-Premise (ICT)-Consulting
7.3.2.3 Learning Management System-Europe-On-Premise (ICT)-Government (ICT)
7.3.2.4 Learning Management System-Europe-On-Premise (ICT)-Healthcare and Life Science (ICT)
7.3.2.5 Learning Management System-Europe-On-Premise (ICT)-Manufacturing (ICT)
7.3.2.6 Learning Management System-Europe-On-Premise (ICT)-Retail and Wholesale Distribution (ICT)
7.3.2.7 Learning Management System-Europe-On-Premise (ICT)-Telecommunication (ICT)
7.3.2.8 Learning Management System-Europe-On-Premise (ICT)-Others
7.3.3 Learning Management System-Europe-On-Premise (ICT), by Customers
7.3.3.1 Learning Management System-Europe-On-Premise (ICT)-Academic
7.3.3.2 Learning Management System-Europe-On-Premise (ICT)-Corporate
7.3.4 Learning Management System-Europe-On-Premise (ICT), by Geographies
7.3.4.1 Learning Management System-United Kingdom-On-Premise (ICT)
7.3.4.2 Learning Management System-United Kingdom-On-Premise (ICT)
7.3.4.3 Learning Management System-United Kingdom-On-Premise (ICT)
7.3.5 Learning Management System-Europe-On-Premise (ICT), by Products
7.3.5.1 Performance Management-On-Premise (ICT)-Europe
7.4 Learning Management System-Europe-Hosted (ICT)
7.4.1 Learning Management System-Europe-Hosted (ICT), by Endusers
7.4.1.1 Learning Management System-Europe-Small and Medium Business (SMB)-Hosted (ICT)
7.4.1.2 Learning Management System-Europe-Enterprises-Hosted (ICT)
7.4.2 Learning Management System-Europe-Hosted (ICT), by Industries
7.4.2.1 Learning Management System-Europe-Hosted (ICT)-Banking,Financial Services and Insurance (BFSI) (ICT)
7.4.2.2 Learning Management System-Europe-Hosted (ICT)-Consulting
7.4.2.3 Learning Management System-Europe-Hosted (ICT)-Government (ICT)
7.4.2.4 Learning Management System-Europe-Hosted (ICT)-Healthcare and Life Science (ICT)
7.4.2.5 Learning Management System-Europe-Hosted (ICT)-Manufacturing (ICT)
7.4.2.6 Learning Management System-Europe-Hosted (ICT)-Retail and Wholesale Distribution (ICT)
7.4.2.7 Learning Management System-Europe-Hosted (ICT)-Telecommunication (ICT)
7.4.2.8 Learning Management System-Europe-Hosted (ICT)-Others
7.4.3 Learning Management System-Europe-Hosted (ICT), by Customers
7.4.3.1 Learning Management System-Europe-Hosted (ICT)-Academic
7.4.3.2 Learning Management System-Europe-Hosted (ICT)-Corporate
7.4.4 Learning Management System-Europe-Hosted (ICT), by Geographies
7.4.4.1 Learning Management System-United Kingdom-Hosted (ICT)
7.4.4.2 Learning Management System-United Kingdom-Hosted (ICT)
7.4.4.3 Learning Management System-United Kingdom-Hosted (ICT)
7.4.5 Learning Management System-Europe-Hosted (ICT), by Products
7.4.5.1 Performance Management-Hosted (ICT)-Europe

8 Learning Management System-Europe, by Products
8.1 Split by Geography
8.5 Learning Management System-United Kingdom by Products
8.2 Performance Management-Europe
8.2.1 Performance Management-Europe, by Customers
8.2.1.1 Performance Management-Europe-Academic
8.2.1.2 Performance Management-Europe-Corporate
8.2.2 Performance Management-Europe, by Endusers
8.2.2.1 Performance Management-Enterprises-Europe
8.2.2.2 Performance Management-Small and Medium Business (SMB)-Europe
8.2.3 Performance Management-Europe, by Deployments
8.2.3.1 Performance Management-Hosted (ICT)-Europe
8.2.3.2 Performance Management-On-Premise (ICT)-Europe
8.2.4 Performance Management-Europe, by Geographies
8.2.4.1 Performance Management-United Kingdom
8.3 Others (LMS)-Europe
8.3.1 Others (LMS)-Europe, by Customers
8.3.1.1 Others (LMS)-Europe-Academic
8.3.1.2 Others (LMS)-Europe-Corporate
8.3.2 Others (LMS)-Europe, by Geographies
8.3.2.1 Others (LMS)-United Kingdom
8.4 Content Management-Europe
8.4.1 Content Management-Europe, by Customers
8.4.1.1 Content Management-Europe-Academic
8.4.1.2 Content Management-Europe-Corporate
8.4.2 Content Management-Europe, by Geographies
8.4.2.1 Content Management-United Kingdom
8.5 Student Management-Europe
8.5.1 Student Management-Europe, by Customers
8.5.1.1 Student Management-Europe-Academic
8.5.1.2 Student Management-Europe-Corporate
8.5.2 Student Management-Europe, by Geographies
8.5.2.1 Student Management-United Kingdom
8.6 Administration-Europe
8.6.1 Administration-Europe, by Customers
8.6.1.1 Administration-Europe-Academic
8.6.1.2 Administration-Europe-Corporate
8.6.2 Administration-Europe, by Geographies
8.6.2.1 Administration-United Kingdom
8.7 Collaboration (LMS)-Europe
8.7.1 Collaboration (LMS)-Europe, by Customers
8.7.1.1 Collaboration (LMS)-Europe-Academic
8.7.1.2 Collaboration (LMS)-Europe-Corporate
8.7.2 Collaboration (LMS)-Europe, by Geographies
8.7.2.1 Collaboration (LMS)-United Kingdom

9 Learning Management System-Europe, by Geographies
9.1 Learning Management System-United Kingdom
9.1.1 Learning Management System-United Kingdom, by Industries
9.1.1.1 Learning Management System-United Kingdom-Banking,Financial Services and Insurance (BFSI) (ICT)
9.1.1.2 Learning Management System-United Kingdom-Consulting
9.1.1.3 Learning Management System-United Kingdom-Government (ICT)
9.1.1.4 Learning Management System-United Kingdom-Healthcare and Life Science (ICT)
9.1.1.5 Learning Management System-United Kingdom-Manufacturing (ICT)
9.1.1.6 Learning Management System-United Kingdom-Retail and Wholesale Distribution (ICT)
9.1.1.7 Learning Management System-United Kingdom-Telecommunication (ICT)
9.1.1.8 Learning Management System-United Kingdom-Others
9.1.2 Learning Management System-United Kingdom, by Deployments
9.1.2.1 Learning Management System-United Kingdom-On-Premise (ICT)
9.1.2.2 Learning Management System-United Kingdom-Hosted (ICT)
9.1.2.3 Learning Management System-United Kingdom-On-Premise (ICT)
9.1.2.4 Learning Management System-United Kingdom-Hosted (ICT)
9.1.2.5 Learning Management System-United Kingdom-On-Premise (ICT)
9.1.2.6 Learning Management System-United Kingdom-Hosted (ICT)
9.1.3 Learning Management System-United Kingdom, by Customers
9.1.3.1 Learning Management System-United Kingdom-Academic
9.1.3.2 Learning Management System-United Kingdom-Corporate
9.1.4 Learning Management System-United Kingdom, by Products
9.1.4.1 Performance Management-United Kingdom
9.1.4.2 Others (LMS)-United Kingdom
9.1.4.3 Content Management-United Kingdom
9.1.4.4 Student Management-United Kingdom
9.1.4.5 Administration-United Kingdom
9.1.4.6 Collaboration (LMS)-United Kingdom

10 Learning Management System-Europe, by Companies
10.1 Split by Geography
10.6 Learning Management System-United Kingdom by Companies
10.2 Learning Management System-Europe-McGraw-Hill
10.3 Learning Management System-Europe-Oracle Corporation
10.4 Learning Management System-Europe-Pearson
10.5 Learning Management System-Europe-SAP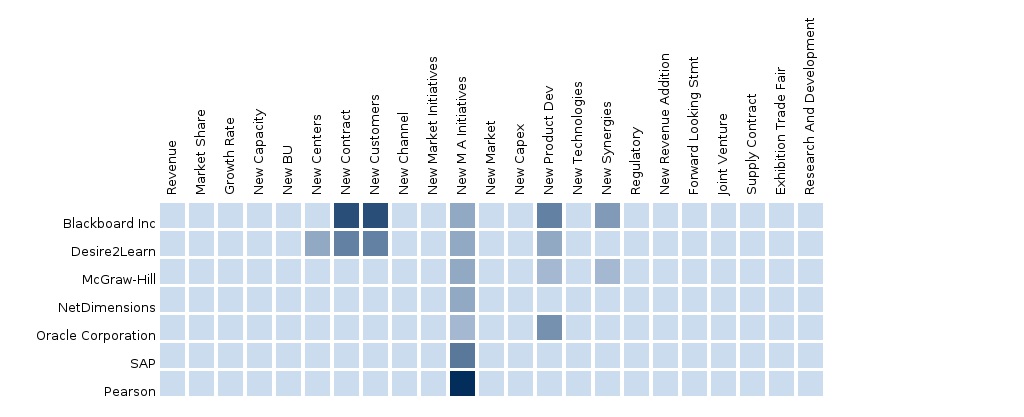 Europe Learning Management System