Europe IFEC System (In Flight Entertainment & Communications ) Market
The In flight entertainment & communications market is expected to grow at a CAGR of 9.20%, during the forecast period of 2014 to 2019. The IFEC market is segmented by aircraft type, out of which very large aircraft and wide body aircraft are 100% line fit. The narrow body aircrafts are 60% line fit and 40% retrofit.
The In flight entertainment & communications market covers video entertainment, audio entertainment, Wi-Fi, and mobile telephony. Audio and video entertainment provides passengers with a music library, besides a wide collection of movies and videos. The communication entertainment system comprises of Wi-Fi and mobile telephony, which helps the passenger keep in constant touch with people on the ground. This way, In flight entertainment & communicationss system enhances passenger experience.
The CAGR for very large aircrafts is 14.19%, with a market size of 0.03 billion. The market size of wide body aircraft is 0.39 billion, and is expected to grow with a CAGR of 9.20%. The CAGR of narrow body aircraft for 2014 to 2019 is 8.71%, with a projected market share of $0.35 billion.
The European IFEC market report provides an in-depth analysis of the Europe IFEC systems market for the next five years. It includes the market segmentation analysis, usage pattern, regional trends ,and distribution channels within the market.
The report also provides the leading players in the Europe IFEC market. Apart from the general overview of the companies, it provides the financial analysis, products, services, and their key developments. All percentage shares, splits, and breakdowns are determined using secondary sources and verified through primary sources.
This report analyzes the In flight entertainment & communications (IFEC) market for the commercial aviation sector. It focuses on IFE systems, connectivity, services offered for communication, and the content provided for the passengers.
The IFEC market is driven by the dynamics of passenger experience. Consumer demand and intense competition between airlines to enhance customer experience is a major factor which drives IFEC market. There is a huge demand for IFEC system both for very large aircrafts and wide body aircrafts.
In flight entertainment & communications is a revolving trend, and there is a fast-growing market demand in the aircraft manufacturing companies. This emerging trend has catalyzed the line fit segment, which was previously dominated by retrofit. As technology improves, more advanced device can be used to enhance components being used, such as increasing network bandwidth, lighter components, and wireless devices.
Panasonic is a leading player in the IFEC market with a share of 45%, and is followed by Thales with 40% of share. The rest 5% share include new entrants like Lumexis, Zodiac Aerospace, and other players.
CUSTOMIZATION OFFERINGS
1. HISTORICAL DATA FOR 5 YEARS
Financials
Orders/Deliveries/Backlog Data
Macro indicator data
M&A data
Budget and defense program information
2. COMPANY PROFILES
In-depth analysis of the company's product portfolio
Competitive landscape (revenue, operating margin, marginal cost, P/E ratio, EPS, Developments/Deals/Events)
Ratio analysis
3. REGION-SPECIFIC INFORMATION (NORTH AMERICA, EUROPE, APAC, MIDDLE EAST and RoW)
This covers market sizing/mapping, global footprint, operation and financials information, and the competitive landscape. The MMM offering will cover a detailed market study of the points mentioned below:
Seat Market
Cabin Lighting Market
Windows Market
In-Flight Entertainment & Communication
Galleys and Lavatories
4. GLOBAL TRENDS/MARKET ENVIRONMENT
Product and technological advancements/latest innovations and development
Demand and supply analysis
Market consolidation (M&A, joint ventures, divestment and spin-off)
Air traffic data
Export/Import data (aerospace product and parts)
Industrial production and capacity optimization data
Deliveries and orders
5. GLOBAL FORECAST NUMBERS/OUTLOOK (Historical and Forecast by Year)
Aircraft delivery (NB,WB, VLA, BGA)
Orders & backlogs (NB, WB, VLA, BGA)
Comparative analysis (for example, Boeing vs. Airbus)
Milicas (Military Aircraft) and Helicas (Military Rotary Wing, i.e., Helicopter)
6. Predictive Forecasting
Time series
Regression analysis
7. PROGRAM DETAILS (By aircraft type, aircraft model, manufacturer detail)
Narrow Body
Wide Body
Very Large Aircraft
8. PRODUCT ANALYSIS
Usage pattern (in-depth trend analysis) of products (segment wise)
Product matrix which gives a detailed comparison of product portfolio of each company, mapped at country and sub segment level
End-user adoption rate analysis of the products (segment wise and country wise)
Comprehensive coverage of product approvals, pipeline products, and product recalls
9. SUPPLY CHAIN/VENDOR ANALYSIS
Coverage - Vendor analysis, vendor financing, customers/self funding, and distribution network
10. ROUTE MAP ANALYSIS, LOAD FACTOR, RPK,ASK, AND FLF
Airline/Operator route map analysis on a regional and global level
Passenger and freight load factor, revenue passenger kilometer, available seat kilometer analysis
1 Introduction
1.1 Key Take-Aways
1.2 Report Description
1.3 Market Covered
1.4 Stake Holders
1.5 Research Methodology

2 Executive Summary

3 In-Flight Entertainment & Communications, Europe Market Overview
3.1 Video Entertainment
3.2 Audio Entertainment
3.3 Wi-Fi
3.4 Mobile Telephony
3.5 Europe Market Overview
3.5.1 Europe Markets Segmentation
3.5.1.1 Europe Market Segmentation By Aircraft Type
3.5.2 Europe Ife Systems
3.5.3 Europe Airlines
3.5.4 Europe Content Service Providers
3.5.5 Europe Network Service Providers
3.6 Europe List Of Companies, Services, Airlines
3.7 Europe Market Trends
3.8 Europe Market Share

4 Market Dynamics
4.1 Introduction
4.2 Europe - Drivers
4.2.1 Dynamics Of Passenger Experience
4.2.2 Aircraft Demand
4.2.3 Revenue Generation
4.2.4 Online Purchases
4.3 Europe - Restraints
4.3.1 Government Regulation
4.3.2 Content Scrapping
4.3.3 Compatibility
4.3.4 Personal Electronic Devices (Peds)
4.4 Europe - Challenges
4.4.1 Wireless
4.4.2 3d
4.4.3 Weight Of System
4.4.4 Acquiring Content
4.4.5 Drop In Airline Profits
4.5 Europe - Impact Analysis

5 IFEC System Europe Market, By Technology
5.1 Overview
5.2 In-Flight Entertainment & Communications System

6 Europe Market Analysis & Forecast
6.1 In Flight Entertainment And Communications, By Aircraft Type & Delivery
6.2 IFEC System, By Aircraft Type, Revenue
6.3 IFEC System Europe Market Analysis, By Delivery
6.4 IFEC System Europe Market Revenue Analysis
6.5 IFEC System, By Aircraft Type, By Geography
6.5.1 Europe
6.6 IFEC System Europe Market, Delivery By Narrow Body, (Line Fit And Retrofit)
6.7 IFEC System Europe Market Delivery Forecast
6.8 IFEC System Europe Market Revenue Analysis

7 Company Profiles
7.1 Panasonic Avionics
7.1.1 Overview
7.1.2 Products & Services
7.1.3 Strategy
7.1.4 Analyst Insight
7.2 Thales
7.2.1 Overview
7.2.2 Products & Services
7.2.3 Strategy
7.2.4 Analyst Insight
7.3 Lumexis
7.3.1 Overview
7.3.2 Products & Services
7.3.3 Strategy
7.3.4 Analyst Insight
7.4 Ims
7.4.1 Overview
7.4.2 Products & Services
7.4.3 Strategy
7.4.4 Analyst Insight
7.5 Onair
7.5.1 Overview
7.5.2 Products & Services
7.5.3 Strategy
7.5.4 Analyst Insight
7.6 Interact
7.6.1 Overview
7.6.2 Products & Services
7.6.3 Strategy
7.6.4 Analyst Insight
7.7 Dmd Phantom
7.7.1 Overview
7.7.2 Products & Services
7.7.3 Strategy
7.7.4 Analyst Insight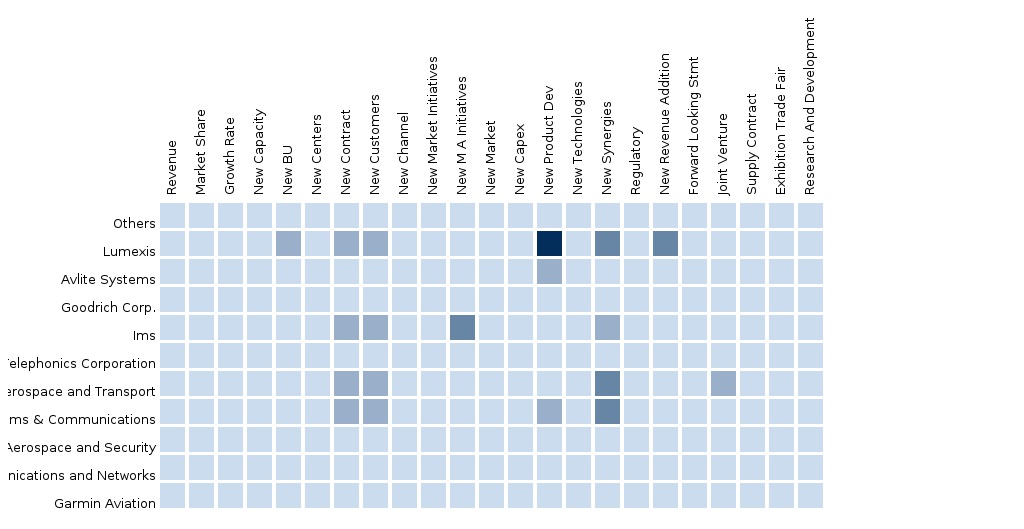 Please fill in the form below to receive a free copy of the Summary of this Report
Custom Market Research Services
We will customize the research for you, in case the report listed above does not meet with your exact requirements. Our custom research will comprehensively cover the business information you require to help you arrive at strategic and profitable business decisions.
Please visit
http://www.micromarketmonitor.com/custom-research-services.html
to specify your custom Research Requirement