This report provides an in-depth analysis of the Europe hydrographic equipment market for the next seven years. It also provides an insight into the regional trends to analyze the market share. The Europe hydrographic equipment market is segmented on the basis of products, applications, geographies, and countries. Companies operating in the hydrographic equipment market in this region are Kongsberg Maritime AS, Fugro, Raytheon, Thales , Teledyne Reson A/S, Atlas Elektronik Gmbh, Ohmex, Seafloor systems Inc. , IIC Technologies, and Teledyne Odom Hydrographic, Inc. The market is segmented into sonar, GPS/DGPS, echosounder, profiler, and tide gauges by product type. The types of application covered in this report are hydrographic charting, offshore oil and gas, coastal engineering, and port and harbor management.
The increase in global seaborne trade is growing to drive this market. Commercial ship industry is the largest consumer of hydrographic equipment. It is anticipated that growth rate of world seaborne trade is estimated at 3.1 per cent and is expected to increase by 44 per cent by 2020. Accurate and up-to-date hydrographic services such as nautical charts and notice to mariners are paramount for navigation safety. The major challenge for this region is that shipping industry is facing a downturn. Increase in the fuel prices leading to exploration of offshore oil and gas reserves and rising demand for up-to-date nautical charts by the seafarers worldwide will drive this market in the future. This region is a major hub for research and development in ocean; also countries such as Norway, Denmark and France are focusing on exploring their own oil reserves in ocean rather than depending on OPEC.
CUSTOMIZATION OFFERINGS:
1. HISTORICAL DATA FOR 5 YEARS.
Financials
Macro indicator data
M&A data
Budget and defense program information
2. COMPANY PROFILES
In depth analysis of the company's product portfolio
Competitive landscape (revenue, operating margin, marginal cost, P/E ratio, EPS, Developments/Deals/Events)
Ratio analysis
3. REGION SPECIFIC INFORMATION (North America, EUROPE, APAC, MIDDLE EAST and ROW)
It covers market sizing/mapping, global footprint, operation and financials information, competitive landscape. MMM offering will cover detailed market study of below mentioned bullet points:
Sonar
GPS/DGPS
Echo Sounder
Profiler
Tide Guages
4. GLOBAL TRENDS / MARKET ENVIRONMENT
Product and technological advancements/latest innovation and development
Demand and supply analysis
Market consolidation (M&A, joint ventures, divestment and spin off)
Industrial Production and capacity optimization data
5. PREDICTIVE FORECASTING
Time series
Regression analysis
6. DEFENSE PROGRAMS [by Names, Types, Users, Spending by years (in $Million), Prime Contractors, Program Status, etc.]
Programs covered are:
7. DEFENSE BUDGET/SEQUESTRATION IMPACT
Impact of sequestration on defense programs
Impact on company's overall revenue, operation and profitability
8. OPPORTUNITY ANALYSIS
A comprehensive analysis to analyze the potential growth markets based on parameters like
GDP Percentage with respect to Military expenditure of particular country
Contracts & modernization programs
Defense review of countries active in this market
9. PRODUCT ANALYSIS
Product Matrix which gives a detailed comparison of product portfolio of each company mapped at country and sub segment level
Comprehensive coverage of Product approvals, Pipeline products and Product recalls
10. SUPPLY CHAIN/VENDOR ANALYSIS
Coverage - Vendor analysis, vendor financing, customers/self funding, and distribution network

1 INTRODUCTION
1.1 OBJECTIVES
1.2 REPORT DESCRIPTION
1.3 MARKETS COVERED
1.4 STAKEHOLDERS
1.5 RESEARCH METHODOLOGY
2 EXECUTIVE SUMMARY
3 MARKET OVERVIEW
3.1 MARKET DEFINITION
3.2 OVERVIEW
3.3 MARKET DYNAMICS
3.3.1 DRIVERS
3.3.1.1 EXPLORATION OF NEW AREAS FOR OIL AND GAS RESERVES
3.3.1.2 RAMP-UP FOR THE REPLACEMENT EQUIPMENT MARKET
3.3.1.3 DEMAND FOR ACCURATE AND PRECISE NAUTICAL CHARTS
3.3.1.4 BOOST IN MARITIME COMMERCE
3.3.1.5 COASTAL ZONE MANAGEMENT AND DEVELOPMENT
3.3.2 RESTRAINTS
3.3.2.1 INTERNATIONAL REGULATIONS
3.3.3 CHALLENGES
3.3.3.1 UPDATED INFORMATION OF NAVIGATIONAL AREAS
3.3.4 OPPORTUNITIES
3.3.4.1 GLOBAL FOCUS ON DEVELOPMENT OF BLUE ECONOMY
3.3.4.2 UNCONTESTED SECTORS
4 TECHNOLOGY TRENDS
4.1 MEMS-BASED INERTIAL SYSTEMS FOR HYDROGRAPHY
4.2 USV: A NEW TOOL IN THE HYDROGRAPHIC EQUIPMENT MARKET
4.3 SYNTHETIC APERTURE SONAR
5 GLOBAL HYDROGRAPHIC EQUIPMENT MARKET
5.1 GLOBAL HYDROGRAPHIC EQUIPMENT MARKET
5.1.1 REVENUE ANALYSIS
5.1.2 REVENUE ANALYSIS, BY APPLICATION
6 REGIONAL ANALYSIS
6.1 EUROPE: REVENUE FORECAST (2014-2020)
7 COUNTRY ANALYSIS
7.1.1 U.K.:REVENUE FORECAST (2014-2020)
7.1.2 DENMARK–REVENUE FORECAST
7.1.3 THE NETHERLANDS–REVENUE FORECAST
7.1.4 NORWAY–REVENUE FORECAST
7.1.5 RUSSIA–REVENUE FORECAST
8 COMPETITIVE LANDSCAPE
8.1 MARKET SHARE ANALYSIS, BY COMPANY
9 COMPANY PROFILES
9.1 KONGSBERG MARITIME AS
9.1.1 OVERVIEW
9.1.2 PRODUCTS& SERVICES
9.1.3 STRATEGY & INSIGHTS
9.1.4 DEVELOPMENTS
9.1.5 MNM VIEW
9.2 FUGRO
9.2.1 OVERVIEW
9.2.2 PRODUCTS AND SERVICES
9.2.3 STRATEGY & INSIGHTS
9.2.4 DEVELOPMENTS
9.2.5 MNM VIEW
9.3 RAYTHEON COMPANY
9.3.1 OVERVIEW
9.3.2 PRODUCTS & SERVICES
9.3.3 STRATEGY & INSIGHTS
9.3.4 DEVELOPMENTS
9.3.5 MNM VIEW
9.4 THALES
9.4.1 OVERVIEW
9.4.2 PRODUCTS & SERVICES
9.4.3 STRATEGIES & INSIGHTS
9.4.4 DEVELOPMENTS
9.4.5 MNM VIEW
9.5 TELEDYNE RESON A/S
9.5.1 OVERVIEW
9.5.2 PRODUCTS & SERVICES
9.5.3 STRATEGIES & INSIGHTS
9.5.4 DEVELOPMENTS
9.5.5 MNM VIEW
9.6 ATLAS ELEKTRONIK GMBH
9.6.1 OVERVIEW
9.6.2 PRODUCTS& SERVICES
9.6.3 STRATEGY& INSIGHTS
9.6.4 DEVELOPMENTS
9.7 OHMEX
9.7.1 OVERVIEW
9.7.2 PRODUCTS & SERVICES
9.7.3 STRATEGIES & INSIGHTS
9.7.4 DEVELOPMENTS
9.8 SEAFLOOR SYSTEMS, INC.
9.8.1 OVERVIEW
9.8.2 PRODUCTS & SERVICES
9.8.3 STRATEGIES& INSIGHT
9.8.4 DEVELOPMENTS
9.9 IIC TECHNOLOGIES
9.9.1 OVERVIEW
9.9.2 PRODUCTS & SERVICES
9.9.3 STRATEGY & INSIGHTS
9.9.4 DEVELOPMENTS
9.10 TELEDYNE ODOM HYDROGRAPHIC, INC.
9.10.1 OVERVIEW
9.10.2 PRODUCTS & SERVICES
9.10.3 STARTEGY & INSIGHTS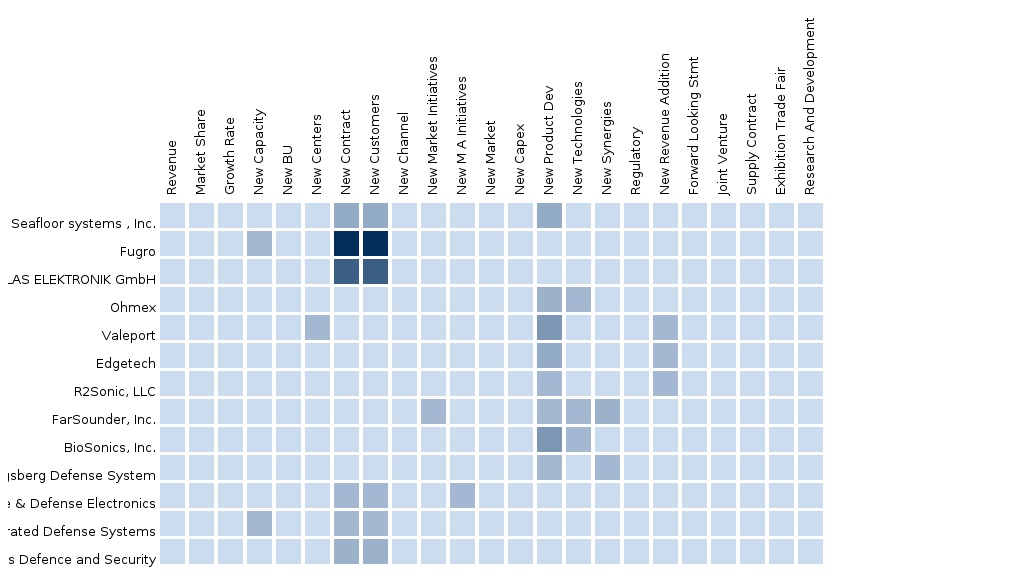 Please fill in the form below to receive a free copy of the Summary of this Report
Custom Market Research Services
We will customize the research for you, in case the report listed above does not meet with your exact requirements. Our custom research will comprehensively cover the business information you require to help you arrive at strategic and profitable business decisions.
Please visit
http://www.micromarketmonitor.com/custom-research-services.html
to specify your custom Research Requirement