European Enterprise Picture Archiving and Communication System (PACS) Market Research Report
PACS represents a highly mature market and is a widely implemented technology. Although it is a mature technology, PACS is still undergoing evolution. It forms a significant market segment of the Hospital Information System (HIS). PACS is the second-largest segment of the hospital information system (HIS) market.
The next-generation PACS can interact with multiple PACS from multiple vendors, just as vendor neutral archives. The new generation PACS is expected to ensure interoperability with multiple vendor neutral archives and extend support to new stakeholders requiring analytical data, such as government agencies and third-party payers.
Increased operational efficiency and reduction in errors achieved through the use of enterprise PACS are the key driving factors for the European enterprise PACS market. The increasing demand of integrated solutions involving PACS, growing volume of imaging procedures, and reduction in healthcare costs are the other factors influencing the growth of the concerned market positively.
The enterprise PACS strategy is especially useful for a medium-sized hospital that cannot afford a VNA solution and whose image management requirement is less when compared to large hospitals. Most healthcare providers that consider deploying an enterprise PACS strategy depend on their departmental PACS vendor. Thus, hospital's reliance on a single PACS vendor and hospital flexibility issues related to departments are some of the concerns for the adoption of enterprise PACS solutions.
The market segmentation in this report is done in various segments, such as on the basis of types, deployment, component, key applications and end-users, and by geography (major countries of the region). The European Enterprise PACS Market is estimated to register a CAGR of 10.8% between 2014 and 2019.
The key players in this market are GE healthcare (U.S.), Siemens (Germany), Agfa-Gevaert (Belgium), McKesson Corporation (U.S.), and Philips Healthcare (Netherlands).
The report segments the end-user segment of the market as Hospitals, Medical & Diagnostic Laboratories and Office-based Physicians, among other end-users. The major application areas of Enterprise PACS in European region are C-ARMs/Fluoroscopy, Computed Radiography (CR), Computed Tomography, Digital Radiography (DR), MRI, Nuclear Imaging, and Ultrasound.
The European Enterprise PACS market report is segmented into major countries, such as Germany, France, the U.K., Italy, and Spain, among others.
The report includes the in-depth market share analysis, by revenue, of the top companies. These numbers have been obtained and verified to present an accurate scenario of the market with respect to the leading market players and segments.
1 Introduction
1.1 Objective of the study
1.2 Market Definitions
1.3 Market Segmentation & Aspects Covered
1.4 Research Methodology
1.4.1 Assumptions (Market Size, Forecast, etc)
2 Executive Summary
3 Market Overview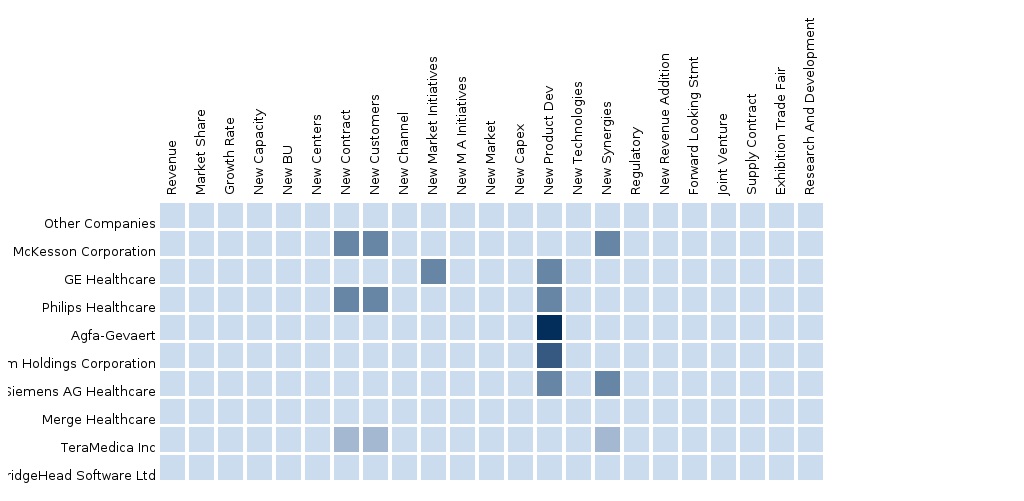 Please fill in the form below to receive a free copy of the Summary of this Report
Custom Market Research Services
We will customize the research for you, in case the report listed above does not meet with your exact requirements. Our custom research will comprehensively cover the business information you require to help you arrive at strategic and profitable business decisions.
Please visit
http://www.micromarketmonitor.com/custom-research-services.html
to specify your custom Research Requirement
PRODUCT TITLE
PUBLISHED
North American Picture Archiving and Communication System (PACS)


The North American Picture Archiving and Communication System (PACS) Market was pegged at $1492 million in 2012 and expected to be $1961 million by 2018, growing at a CAGR of 4.66%.Picture Archiving and Communication System (PACS) Market can be segmented by Geographies, Applications,Deployments,Endusers, Companies and MacroIndicators. Deep dive analysis of the top players of this market have been considered in this report.



Upcoming
Asian Picture Archiving and Communication System (PACS)


The Asian Picture Archiving and Communication System (PACS) Market was pegged at $456 million in 2012 and expected to be $675 million by 2018, growing at a CAGR of 6.74%.Picture Archiving and Communication System (PACS) Market can be segmented by Geographies, Applications, Deployments, Endusers, Companies and MacroIndicators. Deep dive analysis of the top players of this market have been considered in this report.



Upcoming
European Enterprise Picture Archiving and Communication System (PACS)