Europe Directed Energy Weapon Market
Description
Table of Contents
Customer Intelligence
Directed energy weapons are electromagnetic weapons operating at the speed of light to reach a long distance in spilt seconds. Directed energy systems convert electrical or chemical energy into a beam or pulse effect, which can be regulated to achieve specific results. The intensity, duration, focus of the beam, and wavelength can be manipulated to achieve precise results.
This report presents a complete analysis of the DEW market in Europe from 2013 to 2018. It analyses the directed energy weapons market by technology, application areas, products, and country. The technology segment is further segmented into high-energy laser, high-power microwave, and particle beam. It provides an insights into regional trends on spending, analyzes market size of Europe, and also provides data on spending pattern by the sub-sector.
The Europe's DEW market was estimated at $1238.82 million in 2013, and expected to reach $2994.48 million by 2018. It is projected to grow at a CAGR of 19.3% from 2013 to 2018. The European directed energy weapons market constituted 24.80% of the global directed energy weapon market in 2013. Around 73.60% of the total DEW market of Europe was accounted for by defense applications and the remaining 26.40% was under homeland security in 2013. Changing nature of warfare and innovation and replenishment programs are the factors are driving the growth of the market. It is observed that the high energy laser has the highest market size among the other technologies.
The key players in the directed energy weapon market are Raytheon, Boeing, Northrop Grumman, Lockheed Martin and Moog. Tracking and analysis of competitive developments such as alliances, joint ventures, mergers and acquisitions are enclosed in the report. It also provides the restraints impacting the growth of the market and its industry. Macro indicators which are affecting the market are covered in the report. Apart from the projected market values, auxiliary factors such as military expenditure and military strength, which acts as a recipe to the market are also provided.
CUSTOMIZATION OFFERINGS
1.HISTORICAL DATA FOR 5 YEARS
Financials
Macro Indicator Data
M&A Data
Budget and Defense Program Information
2.COMPANY PROFILES
In-depth analysis of the company's product portfolio
Competitive landscape (revenue, operating margin, marginal cost, P/E ratio, EPS, Developments/Deals/Events)
Ratio analysis
3.REGION-SPECIFIC INFORMATION (North America, EUROPE, APAC, MIDDLE EAST and ROW)
This covers market sizing/mapping, global footprint, operation and financials information, and the competitive landscape. The MMM offering will cover a detailed market study of the points mentioned below:
Country wise International Arms transfer, suppliers and recipients of conventional weapons
4.GLOBAL TRENDS/MARKET ENVIRONMENT
Product and technological advancements/Latest innovations and development
Demand and supply analysis
Market consolidation (M&A, joint ventures, divestments and spin-offs)
Export/Import data
Industrial production and capacity optimization data
5.GLOBAL FORECAST NUMBERS/OUTLOOK (Historical and Forecast by Year)
Milicas (Military Aircraft) and Helicas (Military Rotary Wing i.e. Helicopter)
6.Predictive Forecasting
Time series
Regression analysis
7.Defense Programs (By Names, Types, Users, Spending by years (in $Million), Prime Contractors, and Program Status)
Programs covered are:
Aircraft Programs
Ground Vehicle Programs
Missile Programs
Naval Programs
Vehicle Programs
8.Defense Budget/Sequestration Impact
Impact of sequestration on defense programs
Programs impacted due to budget cuts
Impact on company's overall revenue, operation and profitability
9.OPPORTUNITY ANALYSIS
A comprehensive analysis to help understand the potential growth markets based on parameters like:
GDP percentage with respect to military expenditure of a particular country
Defense review of countries active in this market
10.PRODUCT ANALYSIS
Usage pattern (in-depth trend analysis) of products (segment wise)
Product matrix which gives a detailed comparison of product portfolio of each company, mapped at country and sub segment level
End-user adoption rate analysis of the products (segment wise and country wise)
Comprehensive coverage of product approvals, pipeline products and product recalls
11.SUPPLY CHAIN/VENDOR ANALYSIS
Coverage - Vendor analysis, vendor financing, customers/self funding, and distribution network
1 Executive Summary
1.1 Market Size
1.2 Market Segmentation
2 Introduction
2.1 Objective Of The Study
2.2 Market Definition
2.3 Market Coverage
2.4 Stakeholders
2.5 Research Methodology
2.5.1 Market Size
2.5.2 Key Secondary Sources
2.5.3 Key Primary Sources
2.5.4 Macro Indicators Affecting The Market
2.6 Assumptions
2.7 Acronyms
3 Market Dynamics
3.1 Drivers And Restrains For Dew Market
3.1.1 Drivers
3.1.1.1 Changed Nature Of Warfare
3.1.1.2 Innovation And Replenishment Programs
3.1.1.3 Protests, Political Disputes, Conflicts And Turmoil
3.1.2 Restraints
3.1.2.1 Arms Transfer Regulation
3.1.2.2 High Development Cost
3.1.2.3 Weapons Integration
3.2 Auxilary Factors
3.2.1 Military Expenditure ($ Billion)
3.2.2 Country-Wise Military Expenditure ($ Million)
3.2.3 Country-Wise Military Strength (Million)
3.2.4 Development Levels Of Countries In Dew
4 Europe Directed Energy Weapon Market, By Technology, 2013-2018
4.1 Market Split
4.1.1 High Energy Laser- Europe
4.1.1.1 High Energy Laser Market, By Application-Europe
4.1.1.2 High Energy Laser Market, By Country-Europe
4.1.2 High Power Microwave- Europe
4.1.2.1 High Power Microwave Market, By Application-Europe
4.1.2.2 High Power Microwave Market, By Country-Europe
4.1.3 Particle Beam
4.1.3.1 Particle Beam Market, By Application-Europe
4.1.3.2 Particle Beam Market, By Country-Europe
5 Europe Directed Energy Weapon Market, By Product, 2013-2018
5.1 Market Split
5.1.1 Lethal Weapons Market- Europe
5.1.1.1 Lethal Weapons Market, By Application-Europe
5.1.1.2 Lethal Weapons Market, By Country-Europe
5.1.2 Non-Lethal Weapons Market- Europe
5.1.2.1 Non-Lethal Weapons Market, By Application-Europe
5.1.2.2 Non-Lethal Weapons Market, By Country-Europe
6 Europe Directed Energy Weapon Market, By Application, 2013-2018
6.1 Market Split
6.1.1 Dew Market, By Defense Application- Europe
6.1.1.1 Dew Market, By Airborne Application- Europe
6.1.1.2 Dew Market, By Naval Application- Europe
6.1.1.3 Dew Market, By Ground Application- Europe
6.1.2 Dew Market, By Homeland Security Application- Europe
7 Europe Directed Energy Weapon Market, By Country, 2013-2018
7.1 Market Split
7.1.1 Dew Market, By Country- Europe
7.1.1.1 U.K.-Dew Market
7.1.1.1.1 U.K.-Dew Market, By Application
7.1.1.1.2 U.K.-Dew Market, By Technology
7.1.1.1.3 U.K.-Dew Market, By Product
7.1.1.2 Germany-Dew Market
7.1.1.2.1 Germany -Dew Market, By Application
7.1.1.2.2 Germany -Dew Market, By Technology
7.1.1.2.3 Germany -Dew Market, By Product
7.1.1.3 France-Dew Market
7.1.1.3.1 France Dew Market, By Application
7.1.1.3.2 France -Dew Market, By Technology
7.1.1.3.3 France -Dew Market, By Product
7.1.1.4 Italy-Dew Market
7.1.1.4.1 Italy -Dew Market, By Application
7.1.1.4.2 Italy-Dew Market, By Technology
7.1.1.4.3 Italy -Dew Market, By Product
7.1.1.4 Russia-Dew Market
7.1.1.4.1 Russia-Dew Market, By Application
7.1.1.4.2 Russia-Dew Market, By Technology
7.1.1.4.3 Russia-Dew Market, By Product
8 Directed Energy Weapon Market: Competitive Landscape
9 Developments: Europe Region, By Companies
10 Directed Energy Weapon Market-Europe, By Companies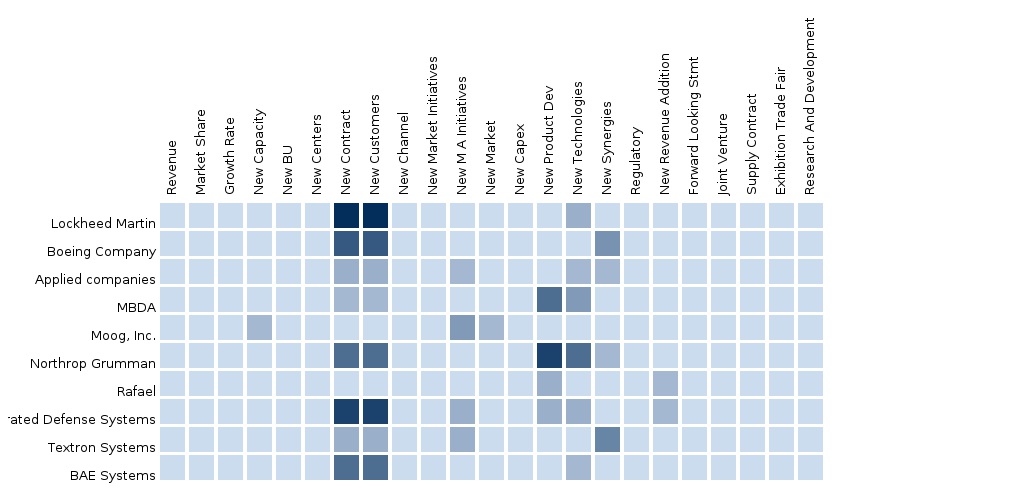 Europe Directed Energy Weapon