The report provides an in-depth analysis of the European battlefield management systems(BMS) market. It provides information about the current trends in the market with respect toplatforms, andthe application market scenario.It throws light on current market trends, drivers, and restraints in the market, and the challenges faced in the market that will impact the growth of this market in the region.
It analyzes the Battlefield Management System applications namely, Commander Systems, Dismounted soldier systems, tracked, and armored vehicles, communication network systems, and BMS software. The report provides information about trends of these five applications across countries in the region, and also provides information about the top companies in the European Europe Battlefield Management System market.
The report also provides information about the battlefield management systems programs implemented, and the ongoing programs implemented across various countries in the region.It also highlights the programs that are due for future developments in the field. It provides information about the product life cycle, and the BMS opportunities existing across various European regions. The platform splits for airborne, naval, and land-based BMS systems are also provided.
The Europe Battlefield Management System market in the region will see tremendous growth in BMS applications; force modernization, and armored vehicles procurements will see a high-rise with major developments.
The report also provides a brief description about the European Battlefield Management System market competitive landscape.The countries covered in this report arethe U.K, France, Germany, Italy, and Russia.
1 EXECUTIVE SUMMARY
2 INTRODUCTION
2.1 OBJECTIVE OF THE STUDY
2.2 MARKET DEFINITION
2.3 MARKET COVERAGE
2.4 STAKEHOLDERS
2.5 RESEARCH METHODOLOGY
2.5.1 KEY SECONDARY SOURCES
2.5.2 KEY PRIMARY SOURCES
2.6 ASSUMPTIONS
2.7 ACRONYMS
3 MARKET DYNAMICS
3.1 DRIVERS, RESTRAINTS & CHALLENGES FOR THE BATTLEFIELD MANAGEMENT SYSTEMS MARKET
3.1.1 DRIVERS
3.1.1.1 CHANGE IN WARFARE
3.1.1.2 INTEROPERABILITY
3.1.2 RESTRAINTS
3.1.2.1 DEFENSE BUDGET CUTS
3.1.3 CHALLENGES
3.1.3.1 DATA PROTECTION
3.1.3.2 SYSTEM INTEGRATION
3.2 PRODUCT LIFECYCLE
4 EUROPE BATTLEFIELD MANAGEMENT SYSTEMS, BY PLATFORMS, BY APPLICATIONS, 2014 – 2019
4.1 EUROPE: MAJOR BATTLEFIELD MANAGEMENT SYSTEMS PROGRAMS & CONTRACTS
4.2 COUNTRY ANALYSIS
4.2.1 U.K.
4.2.2 FRANCE
4.2.3 GERMANY
4.2.4 RUSSIA
4.2.5 ITALY
5 EUROPE BATTLEFIELD MANAGEMENT SYSTEMS MARKET: COMPETITIVE LANDSCAPE
6 DEVELOPMENTS: EUROPEAN REGION, BY COMPANIES
7 BATTLEFIELD MANAGEMENT SYSTEMS MARKET-EUROPE,BY COMPANIES
7.1 ROCKWELL COLLINS
7.1.1 INTRODUCTION
7.1.2 PRODUCT PORTFOLIO
7.2 LOCKHEED MARTIN
7.1.1 INTRODUCTION
7.1.2 PRODUCT PORTFOLIO
7.3 NORTHROP GRUMMAN CORPORATION
7.3.1 INTRODUCTION
7.3.2 PRODUCT PORTFOLIO
7.4 THALES
7.4.1 INTRODUCTION
7.4.2 PRODUCT PORTFOLIO
7.5 L-3 COMMUNICATIONS CORPORATION
7.5.1 INTRODUCTION
7.5.2 PRODUCT PORTFOLIO
7.6 HARRIS CORPORATION
7.6.1 INTRODUCTION
7.6.2 PRODUCT PORTFOLIO
7.7 BAE SYSTEMS
7.7.1 INTRODUCTION
7.7.2 PRODUCT PORTFOLIO
7.8 SAAB AB
7.8.1 INTRODUCTION
7.8.2 PRODUCT PORTFOLIO
7.9 COBHAM PLC
7.9.1 INTRODUCTION
7.9.2 PRODUCT PORTFOLIO
7.10 GENERAL DYNAMICS
7.10.1 INTRODUCTION
7.10.2 PRODUCT PORTFOLIO
7.11 FINMECCANICA
7.11.1 INTRODUCTION
7.11.2 PRODUCT PORTFOLIO
7.12 RAYTHEON
7.12.1 INTRODUCTION
7.12.2 PRODUCT PORTFOLIO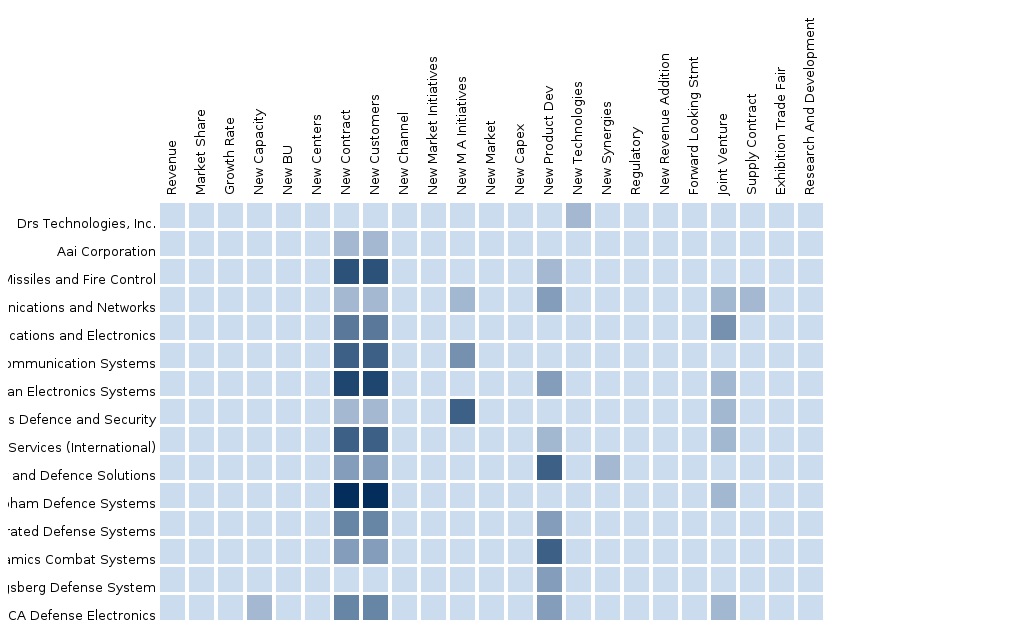 Please fill in the form below to receive a free copy of the Summary of this Report
Custom Market Research Services
We will customize the research for you, in case the report listed above does not meet with your exact requirements. Our custom research will comprehensively cover the business information you require to help you arrive at strategic and profitable business decisions.
Please visit
http://www.micromarketmonitor.com/custom-research-services.html
to specify your custom Research Requirement
Europe Battlefield Management System