The Brazilian content delivery network market is estimated to grow from $88.25 million in 2013 to $192.4 million by 2019, at a CAGR of 13.9% during the forecast period. The rapid growth of Internet-enabled devices such as smart phones and tablets are the major factors driving the Brazilian content delivery network market.
The content delivery network market is growing as there are limitations regarding perceived quality service when accessing content over web. Content delivery networks allow access to various servers that provide web data and web content. These networks replicate contents, which are scattered across the globe, from source server to end-user in reliable and timely manner. The content delivery network market report covers exclusively the latest trends, forecasts, driving forces, and application segments.
The demand in the content delivery market in Brazil is growing rapidly because of the increased internet consumption in the country. The increasing trend of utilizing internet in almost every walk of life has been on a steep rise in the Brazil market due to which the internet traffic has been continuously increasing, thus increasing the need for an effective CDN solutions market.
The report provides a competitive benchmarking of the leading players in this market such as Akamai, Level 3, Lime light, CDNetworks, and Edgecast. The report gives the detail financial analysis, which includes CAGR and market share of the different region, vendors, current market trend, overall adoption scenario, competitive landscape, key drivers, restraints, and opportunities.
Report Options:
The market segmentation detailed in the report is as given below:
By Types
By Solutions: CDN delivery, CDN analytics and monitoring, encoding and digital rights management (DRM), transparent caching, and video content management systems (VCMS)
By Service Provider Types- Commercial P2P CDN, free CDN, telco CDN, and traditional commercial CDN
By Organization Size- Small and medium businesses (SMBs), and large enterprises
By Vertical Segment- Advertising, media and entertainment, gaming, e-commerce, internet service providers, mobile operators, consumer electronics, online music retailers, healthcare, and government
Customization Options:
Along with the MMM assessment, customize the report in alignment with your company's specific needs. The following customization options provide a comprehensive summary of the industry standards and a deep dive analysis:
Content Delivery Network market Solutions Matrix:
A comprehensive analysis and benchmarking by types, by solutions, by service provider types, by organization size, and by vertical segment in the market
Content Delivery Network market Competitive Benchmarking:
Value-chain evaluation using events, developments, market data for vendors in the market ecosystem, across various industrial verticals, market segmentation and categorization
To uncover hidden opportunities by connecting related markets using cascaded value chain analysis
Content Delivery Network market Vendor Landscaping:
Vendor market watch and predictions, vendor market shares and offerings, categorization of adoption trends and market dominance (leaders, challengers, and followers)
Content delivery network service providers
Content Delivery Network Market Data Tracker:
Country-specific market forecast and analysis
The identification of key end-user segments, by country
Content Delivery Network market Vertical Analysis:
An analysis of different industrial verticals by types, by solutions, by service provider types, by organization size, and by vertical segment
Commercial CDNs using P2P for delivery
Content Delivery Network market Emerging Vendor Landscape:
To evaluate Tier-2/3 vendors' market offerings using a 2X2 framework (realizing leaders, challengers, and followers)
Content Delivery Network market Channel Analysis:
Channel/distribution partners/alliances for tier-1 vendors and application-specific products being build towards the customer end of the value chain
Content Delivery Network market Client Tracker:
The listing and analysis of deals, case studies, R&D investments, events, discussion forums, campaigns, alliances and partners of tier-1 and tier-2/3 vendors for the last 3 years
1 Introduction
1.1 Objective of the study
1.2 Market Definitions
1.3 Market Segmentation & Aspects Covered
1.4 Research Methodology
1.4.1 Assumptions (Market Size, Forecast, etc)
2 Executive Summary

3 Market Overview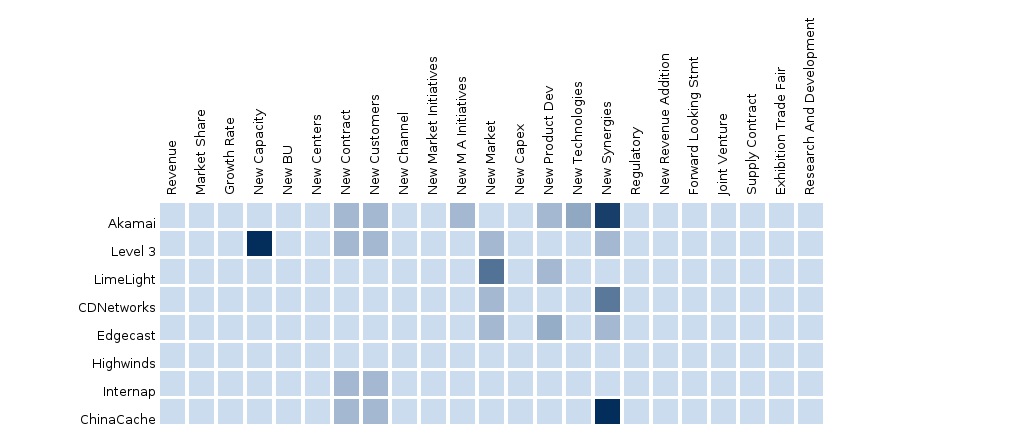 Please fill in the form below to receive a free copy of the Summary of this Report
Custom Market Research Services
We will customize the research for you, in case the report listed above does not meet with your exact requirements. Our custom research will comprehensively cover the business information you require to help you arrive at strategic and profitable business decisions.
Please visit
http://www.micromarketmonitor.com/custom-research-services.html
to specify your custom Research Requirement
Brazil Content Delivery Network (CDN)