Asia Pacific System Integration and Design Market
Description
Table of Contents
Customer Intelligence
The Asia-Pacific system integration market is expected to grow from $45 billion in 2013 to $106.7 billion by 2019, at a CAGR of 14.6%, during the forecast period.
The market is categorized on the basis of infrastructure integration services, applications integration services, consulting, verticals, and countries. It also forecasts volumes, revenues, and analyzes trends in each of the submarkets. The verticals included in this reports are BFSI, academia & education, healthcare, manufacturing, government, defense, oil & gas, transportation & logistics, media & advertising, and retail.
The system integration market is driven by factors, such as technological advancements observed in the IT sector, expansion of industries operating in the system integration market segment, and rise in investments made by governmental bodies. System integration is the design or process, wherein all the sub-segments are bought into one system, thereby ensuring that functions are running in synchronization.
In today's business environment, system integration plays an important role to maintain and enhance the efficiency of business processes. Companies in the Asia-Pacific region view the concept of system integration as a strategic approach, and its adoption across organizations in the IT sector is projected to rise further in the coming years. With increase in business process complexities and management of large amounts of data, vendors are forced to adopt the latest system integration technology. This growth in demand of system integration solutions is mainly attributed to the fierce competition among vendors offering cost-effective system integration solutions to their prospective clients. The rising demand for synergy is considered as another driving factor influencing the growth of system integration and design market. The main drawback of the system integration market in the Asia-Pacific region is the lack of skilled labor and operational expertise among IT professionals.
1 Introduction
1.1 Objective of the study
1.2 Market Definitions
1.3 Market Segmentation & Aspects Covered
1.4 Research Methodology
1.4.1 Assumptions (Market Size, Forecast, etc)
2 Executive Summary

3 Market Overview

4 System Integration and Design-Asia Pacific and Japan (APAC), By Segments
4.1 Split By Geography
4.1 System Integration and Design-Australia by Markets
4.2 Infrastructure Integration-Asia Pacific and Japan (APAC)
4.2.1 Infrastructure Integration-Asia Pacific and Japan (APAC), By Industries
4.2.1.1 Infrastructure Integration-Asia Pacific and Japan (APAC)-Retail and Wholesale Distribution (ICT)
4.2.1.2 Infrastructure Integration-Asia Pacific and Japan (APAC)-Others (ICT)
4.2.1.3 Infrastructure Integration-Asia Pacific and Japan (APAC)-Healthcare and Life Science (ICT)
4.2.1.4 Infrastructure Integration-Asia Pacific and Japan (APAC)-Manufacturing (ICT)
4.2.1.5 Infrastructure Integration-Asia Pacific and Japan (APAC)-Aviation and Marine System (ICT)
4.2.1.6 Infrastructure Integration-Asia Pacific and Japan (APAC)-Aerospace and Defense (ICT)
4.2.1.7 Infrastructure Integration-Asia Pacific and Japan (APAC)-Transportation and Logistics (ICT)
4.2.1.8 Infrastructure Integration-Asia Pacific and Japan (APAC)-Banking,Financial Services and Insurance (BFSI) (ICT)
4.2.1.9 Infrastructure Integration-Asia Pacific and Japan (APAC)-Telecommunication (ICT)
4.2.1.10 Infrastructure Integration-Asia Pacific and Japan (APAC)-Energy and Utilities (ICT)
4.2.2 Infrastructure Integration-Asia Pacific and Japan (APAC), By Geographies
4.2.2.1 Infrastructure Integration-Australia
4.2.3 Infrastructure Integration-Asia Pacific and Japan (APAC), By Segments
4.2.3.1 Infrastructure Integration Management system-Asia Pacific and Japan (APAC)
4.2.3.2 Cloud Integration-Asia Pacific and Japan (APAC)
4.2.3.3 C2/C4ISR Integration-Asia Pacific and Japan (APAC)
4.2.3.4 Integrated Communication-Asia Pacific and Japan (APAC)
4.2.3.5 Data Center Infrastructure Management-Asia Pacific and Japan (APAC)
4.2.3.6 Network Integration-Asia Pacific and Japan (APAC)
4.2.3.7 Other Infrastructure Integration-Asia Pacific and Japan (APAC)
4.3 Application Integration services-Asia Pacific and Japan (APAC)
4.3.1 Application Integration services-Asia Pacific and Japan (APAC), By Industries
4.3.1.1 Application Integration services-Asia Pacific and Japan (APAC)-Retail and Wholesale Distribution (ICT)
4.3.1.2 Application Integration services-Asia Pacific and Japan (APAC)-Others (ICT)
4.3.1.3 Application Integration services-Asia Pacific and Japan (APAC)-Healthcare and Life Science (ICT)
4.3.1.4 Application Integration services-Asia Pacific and Japan (APAC)-Manufacturing (ICT)
4.3.1.5 Application Integration services-Asia Pacific and Japan (APAC)-Aviation and Marine System (ICT)
4.3.1.6 Application Integration services-Asia Pacific and Japan (APAC)-Aerospace and Defense (ICT)
4.3.1.7 Application Integration services-Asia Pacific and Japan (APAC)-Transportation and Logistics (ICT)
4.3.1.8 Application Integration services-Asia Pacific and Japan (APAC)-Banking,Financial Services and Insurance (BFSI) (ICT)
4.3.1.9 Application Integration services-Asia Pacific and Japan (APAC)-Telecommunication (ICT)
4.3.1.10 Application Integration services-Asia Pacific and Japan (APAC)-Energy and Utilities (ICT)
4.3.2 Application Integration services-Asia Pacific and Japan (APAC), By Geographies
4.3.2.1 Application Integration services-Australia
4.3.3 Application Integration services-Asia Pacific and Japan (APAC), By Segments
4.3.3.1 Social Software Integration-Asia Pacific and Japan (APAC)
4.3.3.2 Other Applications Integration-Asia Pacific and Japan (APAC)
4.3.3.3 Application Integration-Asia Pacific and Japan (APAC)
4.3.3.4 Data Integration-Asia Pacific and Japan (APAC)
4.3.3.5 Unified Communication Integration-Asia Pacific and Japan (APAC)
4.3.3.6 Security Software Integration-Asia Pacific and Japan (APAC)
4.4 Consulting Integration-Asia Pacific and Japan (APAC)
4.4.1 Consulting Integration-Asia Pacific and Japan (APAC), By Industries
4.4.1.1 Consulting Integration-Asia Pacific and Japan (APAC)-Retail and Wholesale Distribution (ICT)
4.4.1.2 Consulting Integration-Asia Pacific and Japan (APAC)-Others (ICT)
4.4.1.3 Consulting Integration-Asia Pacific and Japan (APAC)-Healthcare and Life Science (ICT)
4.4.1.4 Consulting Integration-Asia Pacific and Japan (APAC)-Manufacturing (ICT)
4.4.1.5 Consulting Integration-Asia Pacific and Japan (APAC)-Aviation and Marine System (ICT)
4.4.1.6 Consulting Integration-Asia Pacific and Japan (APAC)-Aerospace and Defense (ICT)
4.4.1.7 Consulting Integration-Asia Pacific and Japan (APAC)-Transportation and Logistics (ICT)
4.4.1.8 Consulting Integration-Asia Pacific and Japan (APAC)-Banking,Financial Services and Insurance (BFSI) (ICT)
4.4.1.9 Consulting Integration-Asia Pacific and Japan (APAC)-Telecommunication (ICT)
4.4.1.10 Consulting Integration-Asia Pacific and Japan (APAC)-Energy and Utilities (ICT)
4.4.2 Consulting Integration-Asia Pacific and Japan (APAC), By Geographies
4.4.2.1 Consulting Integration-Australia
4.4.3 Consulting Integration-Asia Pacific and Japan (APAC), By Segments
4.4.3.1 Business Transformation consultant-Asia Pacific and Japan (APAC)
4.4.3.2 Application Life cycle consult-Asia Pacific and Japan (APAC)
4.4.3.3 Other Consulting Services-Asia Pacific and Japan (APAC)
4.4.3.4 Business Process Integration consultant-Asia Pacific and Japan (APAC)
5 System Integration and Design-Asia Pacific and Japan (APAC), By Industries
5.1 Split By Geography
5.2 System Integration and Design-Australia by Industries
5.2 System Integration and Design-Asia Pacific and Japan (APAC)-Aerospace and Defense (ICT)
5.2.1 System Integration and Design-Asia Pacific and Japan (APAC)-Aerospace and Defense (ICT), By Geographies
5.2.1.1 System Integration and Design-Australia-Aerospace and Defense (ICT)
5.2.2 System Integration and Design-Asia Pacific and Japan (APAC)-Aerospace and Defense (ICT), By Industries
5.2.2.1 System Integration and Design-Asia Pacific and Japan (APAC)-Aviation and Marine System (ICT)
5.2.3 System Integration and Design-Asia Pacific and Japan (APAC)-Aerospace and Defense (ICT), By Segments
5.2.3.1 Infrastructure Integration-Asia Pacific and Japan (APAC)-Aerospace and Defense (ICT)
5.2.3.2 Application Integration services-Asia Pacific and Japan (APAC)-Aerospace and Defense (ICT)
5.2.3.3 Consulting Integration-Asia Pacific and Japan (APAC)-Aerospace and Defense (ICT)
5.3 System Integration and Design-Asia Pacific and Japan (APAC)-Transportation and Logistics (ICT)
5.3.1 System Integration and Design-Asia Pacific and Japan (APAC)-Transportation and Logistics (ICT), By Geographies
5.3.1.1 System Integration and Design-Australia-Transportation and Logistics (ICT)
5.3.2 System Integration and Design-Asia Pacific and Japan (APAC)-Transportation and Logistics (ICT), By Segments
5.3.2.1 Infrastructure Integration-Asia Pacific and Japan (APAC)-Transportation and Logistics (ICT)
5.3.2.2 Application Integration services-Asia Pacific and Japan (APAC)-Transportation and Logistics (ICT)
5.3.2.3 Consulting Integration-Asia Pacific and Japan (APAC)-Transportation and Logistics (ICT)
5.4 System Integration and Design-Asia Pacific and Japan (APAC)-Banking,Financial Services and Insurance (BFSI) (ICT)
5.4.1 System Integration and Design-Asia Pacific and Japan (APAC)-Banking,Financial Services and Insurance (BFSI) (ICT), By Geographies
5.4.1.1 System Integration and Design-Australia-Banking,Financial Services and Insurance (BFSI) (ICT)
5.4.2 System Integration and Design-Asia Pacific and Japan (APAC)-Banking,Financial Services and Insurance (BFSI) (ICT), By Segments
5.4.2.1 Infrastructure Integration-Asia Pacific and Japan (APAC)-Banking,Financial Services and Insurance (BFSI) (ICT)
5.4.2.2 Application Integration services-Asia Pacific and Japan (APAC)-Banking,Financial Services and Insurance (BFSI) (ICT)
5.4.2.3 Consulting Integration-Asia Pacific and Japan (APAC)-Banking,Financial Services and Insurance (BFSI) (ICT)
5.5 System Integration and Design-Asia Pacific and Japan (APAC)-Telecommunication (ICT)
5.5.1 System Integration and Design-Asia Pacific and Japan (APAC)-Telecommunication (ICT), By Geographies
5.5.1.1 System Integration and Design-Australia-Telecommunication (ICT)
5.5.2 System Integration and Design-Asia Pacific and Japan (APAC)-Telecommunication (ICT), By Segments
5.5.2.1 Infrastructure Integration-Asia Pacific and Japan (APAC)-Telecommunication (ICT)
5.5.2.2 Application Integration services-Asia Pacific and Japan (APAC)-Telecommunication (ICT)
5.5.2.3 Consulting Integration-Asia Pacific and Japan (APAC)-Telecommunication (ICT)
5.6 System Integration and Design-Asia Pacific and Japan (APAC)-Energy and Utilities (ICT)
5.6.1 System Integration and Design-Asia Pacific and Japan (APAC)-Energy and Utilities (ICT), By Geographies
5.6.1.1 System Integration and Design-Australia-Energy and Utilities (ICT)
5.6.2 System Integration and Design-Asia Pacific and Japan (APAC)-Energy and Utilities (ICT), By Segments
5.6.2.1 Infrastructure Integration-Asia Pacific and Japan (APAC)-Energy and Utilities (ICT)
5.6.2.2 Application Integration services-Asia Pacific and Japan (APAC)-Energy and Utilities (ICT)
5.6.2.3 Consulting Integration-Asia Pacific and Japan (APAC)-Energy and Utilities (ICT)
5.7 System Integration and Design-Asia Pacific and Japan (APAC)-Retail and Wholesale Distribution (ICT)
5.7.1 System Integration and Design-Asia Pacific and Japan (APAC)-Retail and Wholesale Distribution (ICT), By Geographies
5.7.1.1 System Integration and Design-Australia-Retail and Wholesale Distribution (ICT)
5.7.2 System Integration and Design-Asia Pacific and Japan (APAC)-Retail and Wholesale Distribution (ICT), By Segments
5.7.2.1 Infrastructure Integration-Asia Pacific and Japan (APAC)-Retail and Wholesale Distribution (ICT)
5.7.2.2 Application Integration services-Asia Pacific and Japan (APAC)-Retail and Wholesale Distribution (ICT)
5.7.2.3 Consulting Integration-Asia Pacific and Japan (APAC)-Retail and Wholesale Distribution (ICT)
5.8 System Integration and Design-Asia Pacific and Japan (APAC)-Others (ICT)
5.8.1 System Integration and Design-Asia Pacific and Japan (APAC)-Others (ICT), By Geographies
5.8.1.1 System Integration and Design-Australia-Others (ICT)
5.8.2 System Integration and Design-Asia Pacific and Japan (APAC)-Others (ICT), By Segments
5.8.2.1 Infrastructure Integration-Asia Pacific and Japan (APAC)-Others (ICT)
5.8.2.2 Application Integration services-Asia Pacific and Japan (APAC)-Others (ICT)
5.8.2.3 Consulting Integration-Asia Pacific and Japan (APAC)-Others (ICT)
5.9 System Integration and Design-Asia Pacific and Japan (APAC)-Healthcare and Life Science (ICT)
5.9.1 System Integration and Design-Asia Pacific and Japan (APAC)-Healthcare and Life Science (ICT), By Geographies
5.9.1.1 System Integration and Design-Australia-Healthcare and Life Science (ICT)
5.9.2 System Integration and Design-Asia Pacific and Japan (APAC)-Healthcare and Life Science (ICT), By Segments
5.9.2.1 Infrastructure Integration-Asia Pacific and Japan (APAC)-Healthcare and Life Science (ICT)
5.9.2.2 Application Integration services-Asia Pacific and Japan (APAC)-Healthcare and Life Science (ICT)
5.9.2.3 Consulting Integration-Asia Pacific and Japan (APAC)-Healthcare and Life Science (ICT)
5.10 System Integration and Design-Asia Pacific and Japan (APAC)-Manufacturing (ICT)
5.10.1 System Integration and Design-Asia Pacific and Japan (APAC)-Manufacturing (ICT), By Geographies
5.10.1.1 System Integration and Design-Australia-Manufacturing (ICT)
5.10.2 System Integration and Design-Asia Pacific and Japan (APAC)-Manufacturing (ICT), By Segments
5.10.2.1 Infrastructure Integration-Asia Pacific and Japan (APAC)-Manufacturing (ICT)
5.10.2.2 Application Integration services-Asia Pacific and Japan (APAC)-Manufacturing (ICT)
5.10.2.3 Consulting Integration-Asia Pacific and Japan (APAC)-Manufacturing (ICT)
5.11 System Integration and Design-Asia Pacific and Japan (APAC)-Aviation and Marine System (ICT)
5.11.1 System Integration and Design-Asia Pacific and Japan (APAC)-Aviation and Marine System (ICT), By Geographies
5.11.1.1 System Integration and Design-Australia-Aviation and Marine System (ICT)
5.11.2 System Integration and Design-Asia Pacific and Japan (APAC)-Aviation and Marine System (ICT), By Segments
5.11.2.1 Infrastructure Integration-Asia Pacific and Japan (APAC)-Aviation and Marine System (ICT)
5.11.2.2 Application Integration services-Asia Pacific and Japan (APAC)-Aviation and Marine System (ICT)
5.11.2.3 Consulting Integration-Asia Pacific and Japan (APAC)-Aviation and Marine System (ICT)
6 System Integration and Design-Asia Pacific and Japan (APAC), By Geographies
6.1 System Integration and Design-Australia
6.1.1 System Integration and Design-Australia, By Companies
6.1.1.1 System Integration and Design-Australia-Harris Corp
6.1.2 System Integration and Design-Australia, By Industries
6.1.2.1 System Integration and Design-Australia-Aerospace and Defense (ICT)
6.1.2.2 System Integration and Design-Australia-Transportation and Logistics (ICT)
6.1.2.3 System Integration and Design-Australia-Banking,Financial Services and Insurance (BFSI) (ICT)
6.1.2.4 System Integration and Design-Australia-Telecommunication (ICT)
6.1.2.5 System Integration and Design-Australia-Energy and Utilities (ICT)
6.1.2.6 System Integration and Design-Australia-Retail and Wholesale Distribution (ICT)
6.1.2.7 System Integration and Design-Australia-Others (ICT)
6.1.2.8 System Integration and Design-Australia-Healthcare and Life Science (ICT)
6.1.2.9 System Integration and Design-Australia-Manufacturing (ICT)
6.1.2.10 System Integration and Design-Australia-Aviation and Marine System (ICT)
6.1.3 System Integration and Design-Australia, By Segments
6.1.3.1 Infrastructure Integration-Australia
6.1.3.2 Application Integration services-Australia
6.1.3.3 Consulting Integration-Australia
7 System Integration and Design-Asia Pacific and Japan (APAC), By Companies
7.1 Competitive landscape
7.2 Split By Geography
7.3 System Integration and Design-Australia by Companies
7.3 System Integration and Design-Asia Pacific and Japan (APAC)-Northrop Grumman
7.4 System Integration and Design-SAP-Asia Pacific and Japan (APAC)
7.5 System Integration and Design-Harris Corp-Asia Pacific and Japan (APAC)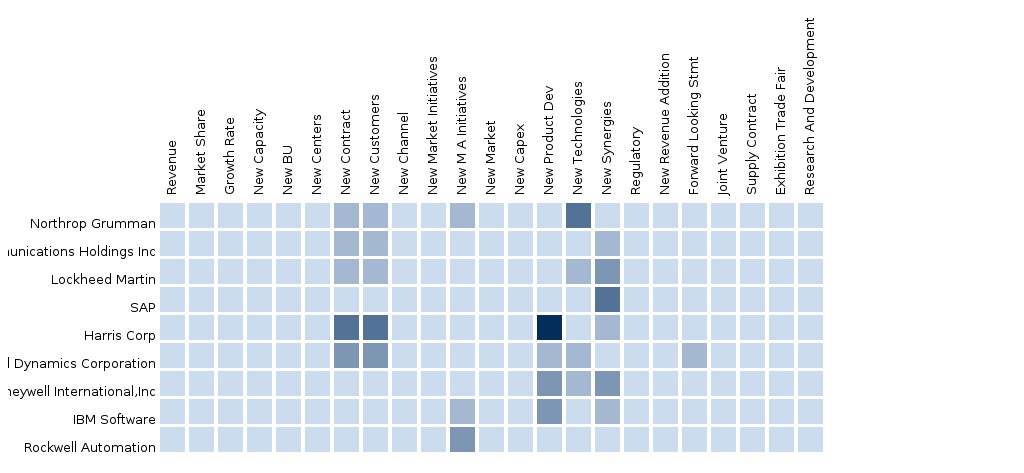 Asia Pacific System Integration and Design