Asia-Pacific Super Plasticizers Market
Description
Table of Contents
Customer Intelligence
The capability of superplasticizers to reduce water requirements by 12-25% without affecting the workability leads to production of high-strength concrete and lower permeability. High range water reducers (HRWR), commonly known as superplasticizers, are a specialty construction chemical admixtures used in specific and customized construction applications.
The Asia-Pacific Superplasticizers market was valued at $1,765.1 million and is expected to reach $2,591.9 million by 2018, at a CAGR of 6.2%, for the period 2013-18. The main drivers for the Asia-Pacific Superplasticizers market are the growing infrastructure requirements in developing economies, funds for construction, and shifting preferences of population towards urbanization.
Superplasticizers are sulfonic compounds having the capability of reducing water requirement to cement ratio by 30.0% to 40.0%. Superplasticizers were formerly considered as an approach to create high strength concretes. However, technological enhancement has enabled the performance of superplasticizers in all concrete applications. Superplasticizers are added just before the concrete placement on the surface. This is a sophisticated chemical for several applications without the use of huge amount of water and to reduce slump loss.
Asia-Pacific Superplasticizers Market has always been a growing market for construction industry and it has appeared as a giant market in last decade. It dominates both, production and consumption markets of superplasticizers. China is anticipated to be the largest consumer of superplasticizer, not only in Asia-Pacific but globally. It would consume 46.9% (694.8 KT) of the total superplasticizer consumed in Asia-Pacific followed by India.
The key countries covered in Asia-Pacific Superplasticizers Market are China, Japan, India, Singapore, South Korea and others. The various applications include ready-mix concrete, precast concrete, high performance concrete, shotcrete concrete, self compacting concrete, fly ash, light weight and others. The various types studied include sulfonated melamine formaldehydes (SMF), sulfonated naphthalene formaldehydes (SNF), modified lignosulfonates (MLS), and polycarboxylates (PC). Further, as part of qualitative analysis, the Asia-Pacific Superplasticizers Market research report provides a comprehensive review of the important drivers, restraints, opportunities, and issues in the Superplasticizers market.
The Asia-Pacific Superplasticizers Market report also provides an extensive competitive landscape of the companies operating in this market. It also includes the company profiles and competitive strategies adopted by various market players, such as Arkema, BASF SE, Enaspol A.S, Fritz Corporation, KAO Corporation, Sakshi Chem Sciences PVT. Ltd, MUHU (China) Construction Materials Ltd., HANGZHOU LANS Concrets Admixture, Fuclear Technologies and shading Wanshan Chemical Co. Ltd
Customization Options:
Along with the market data, you can also customize MMM assessments that meet your company's specific needs. Customize to get comprehensive industry standards and deep dive analysis of the following parameters:
Competitive landscape with a detailed comparison of portfolio of each company mapped at the regional and country-level
Comprehensive Production data of Superplasticizers with analysis of Raw material suppliers and producers
Comprehensive data showing Superplasticizers plant capacities, production, including capacity utilization for each region in Asia-Pacific Superplasticizers Market
Trade analysis to identify potential business sites in Asia-Pacific Superplasticizers Market
Analysis of Forward chain integration as well as backward chain integration to understand the approach of business prevailing in the Asia-Pacific Superplasticizers market
Detailed analysis of Competitive Strategies especially new technology trends adopted by various companies and their impact on Asia-Pacific Superplasticizers Market
Issues, Opportunities and information on the market under consideration
Comparison with Global Superplasticizers Market
1 Introduction
1.1 Objective of the study
1.2 Market Definitions
1.3 Market Segmentation & Aspects Covered
1.4 Research Methodology
1.4.1 Assumptions (Market Size, Forecast, etc)
2 Executive Summary

3 Market Overview

4 Super Plasticizers-Asia-Pacific, by Applications
4.1 Split by Geography
4.1 Super Plasticizers-India by Applications
4.1 Super Plasticizers-China by Applications
4.1 Super Plasticizers-Japan by Applications
4.1 Super Plasticizers-South Korea by Applications
4.1 Super Plasticizers-Singapore by Applications
4.2 Super Plasticizers-Ready-Mix Concrete-Asia-Pacific
4.3 Super Plasticizers-Precast Concrete-Asia-Pacific
4.4 Super Plasticizers-Shotcrete-Asia-Pacific
4.5 Super Plasticizers-High Performance Concrete-Asia-Pacific
4.6 Super Plasticizers-Self Compacting Concrete-Asia-Pacific
4.7 Super Plasticizers-Fly Ash Concrete-Asia-Pacific

5 Super Plasticizers-Asia-Pacific, by Types
5.1 Split by Geography
5.2 Super Plasticizers-India by Types
5.1 Super Plasticizers-China by Types
5.1 Super Plasticizers-Japan by Types
5.1 Super Plasticizers-South Korea by Types
5.1 Super Plasticizers-Singapore by Types
5.2 Super Plasticizers-Sulfonated Naphthalene Formaldehyde (SNF)-Asia-Pacific
5.2.1 Super Plasticizers-Sulfonated Naphthalene Formaldehyde (SNF)-Asia-Pacific, by Geographies
5.2.1.1 Super Plasticizers-Sulfonated Naphthalene Formaldehyde (SNF)-China
5.2.1.2 Super Plasticizers-Sulfonated Naphthalene Formaldehyde (SNF)-India
5.2.1.3 Super Plasticizers-Sulfonated Naphthalene Formaldehyde (SNF)-Japan
5.2.1.4 Super Plasticizers-Sulfonated Naphthalene Formaldehyde (SNF)-South Korea
5.2.1.5 Super Plasticizers-Sulfonated Naphthalene Formaldehyde (SNF)-Singapore
5.3 Super Plasticizers-Polycarboxylic Acid-Asia-Pacific
5.3.1 Super Plasticizers-Polycarboxylic Acid-Asia-Pacific, by Geographies
5.3.1.1 Super Plasticizers-Polycarboxylic Acid-China
5.3.1.2 Super Plasticizers-Polycarboxylic Acid-India
5.3.1.3 Super Plasticizers-Polycarboxylic Acid-Japan
5.3.1.4 Super Plasticizers-Polycarboxylic Acid-South Korea
5.3.1.5 Super Plasticizers-Polycarboxylic Acid-Singapore
5.4 Super Plasticizers-Sulfonated Melamine Formaldehyde (SMF)-Asia-Pacific
5.4.1 Super Plasticizers-Sulfonated Melamine Formaldehyde (SMF)-Asia-Pacific, by Geographies
5.4.1.1 Super Plasticizers-Sulfonated Melamine Formaldehyde (SMF)-China
5.4.1.2 Super Plasticizers-Sulfonated Melamine Formaldehyde (SMF)-India
5.4.1.3 Super Plasticizers-Sulfonated Melamine Formaldehyde (SMF)-Japan
5.4.1.4 Super Plasticizers-Sulfonated Melamine Formaldehyde (SMF)-South Korea
5.4.1.5 Super Plasticizers-Sulfonated Melamine Formaldehyde (SMF)-Singapore
5.5 Super Plasticizers-Modified LignoSulfonates (MLS)-Asia-Pacific
5.5.1 Super Plasticizers-Modified LignoSulfonates (MLS)-Asia-Pacific, by Geographies
5.5.1.1 Super Plasticizers-Modified LignoSulfonates (MLS)-China
5.5.1.2 Super Plasticizers-Modified LignoSulfonates (MLS)-India
5.5.1.3 Super Plasticizers-Modified LignoSulfonates (MLS)-Japan
5.5.1.4 Super Plasticizers-Modified LignoSulfonates (MLS)-South Korea
5.5.1.5 Super Plasticizers-Modified LignoSulfonates (MLS)-Singapore

6 Super Plasticizers-Asia-Pacific, by Forms
6.1 Split by Geography
6.3 Super Plasticizers-India by Forms
6.1 Super Plasticizers-China by Forms
6.1 Super Plasticizers-Japan by Forms
6.1 Super Plasticizers-South Korea by Forms
6.1 Super Plasticizers-Singapore by Forms
6.2 Superplasticizer Liquid-Asia-Pacific
6.3 Superplasticizer Powder-Asia-Pacific

7 Super Plasticizers-Asia-Pacific, by Geographies
7.1 Super Plasticizers-India
7.1.1 Super Plasticizers-India, by Types
7.1.1.1 Super Plasticizers-Sulfonated Naphthalene Formaldehyde (SNF)-India
7.1.1.2 Super Plasticizers-Polycarboxylic Acid-India
7.1.1.3 Super Plasticizers-Sulfonated Melamine Formaldehyde (SMF)-India
7.1.1.4 Super Plasticizers-Modified LignoSulfonates (MLS)-India
7.2 Super Plasticizers-China
7.2.1 Super Plasticizers-China, by Types
7.2.1.1 Super Plasticizers-Sulfonated Naphthalene Formaldehyde (SNF)-China
7.2.1.2 Super Plasticizers-Polycarboxylic Acid-China
7.2.1.3 Super Plasticizers-Sulfonated Melamine Formaldehyde (SMF)-China
7.2.1.4 Super Plasticizers-Modified LignoSulfonates (MLS)-China
7.3 Super Plasticizers-Japan
7.3.1 Super Plasticizers-Japan, by Types
7.3.1.1 Super Plasticizers-Sulfonated Naphthalene Formaldehyde (SNF)-Japan
7.3.1.2 Super Plasticizers-Polycarboxylic Acid-Japan
7.3.1.3 Super Plasticizers-Sulfonated Melamine Formaldehyde (SMF)-Japan
7.3.1.4 Super Plasticizers-Modified LignoSulfonates (MLS)-Japan
7.4 Super Plasticizers-South Korea
7.4.1 Super Plasticizers-South Korea, by Types
7.4.1.1 Super Plasticizers-Sulfonated Naphthalene Formaldehyde (SNF)-South Korea
7.4.1.2 Super Plasticizers-Polycarboxylic Acid-South Korea
7.4.1.3 Super Plasticizers-Sulfonated Melamine Formaldehyde (SMF)-South Korea
7.4.1.4 Super Plasticizers-Modified LignoSulfonates (MLS)-South Korea
7.5 Super Plasticizers-Singapore
7.5.1 Super Plasticizers-Singapore, by Types
7.5.1.1 Super Plasticizers-Sulfonated Naphthalene Formaldehyde (SNF)-Singapore
7.5.1.2 Super Plasticizers-Polycarboxylic Acid-Singapore
7.5.1.3 Super Plasticizers-Sulfonated Melamine Formaldehyde (SMF)-Singapore
7.5.1.4 Super Plasticizers-Modified LignoSulfonates (MLS)-Singapore
8 Super Plasticizers-Asia-Pacific, by Companies
8.1 Competitive landscape
8.2 Split by Geography
8.4 Super Plasticizers-India by Companies
8.1 Super Plasticizers-China by Companies
8.1 Super Plasticizers-Japan by Companies
8.1 Super Plasticizers-South Korea by Companies
8.1 Super Plasticizers-Singapore by Companies
8.3 Super Plasticizers-Asia-Pacific-BASF SE
8.4 Super Plasticizers-Asia-Pacific-Sika AG
8.5 Super Plasticizers-Asia-Pacific-Mapei Corporation
8.6 Super Plasticizers-Asia-Pacific-Kao Corporation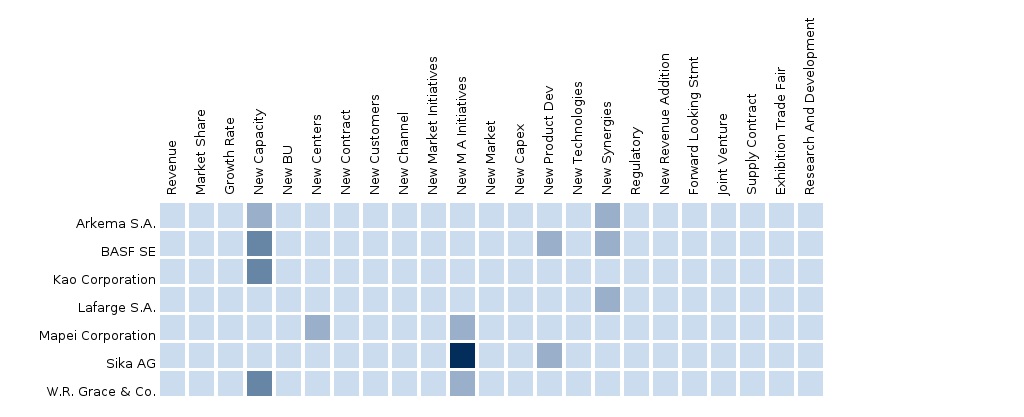 Asia-Pacific Super Plasticizers