Shale gas is an unconventional natural gas explored from shale rocks or placed beneath earth, through multistage hydraulic fracturing and horizontal drilling. Potential shale gas reserves exist across the globe and the governments of various countries are taking interest in shale gas exploration and advancement. China has been identified with high volume of technically recoverable reserves in the Asian region. Shale gas market in Asia Pacific is projected to grow approximately $2356 million by 2021, at a CAGR of approximately 6.2% from 2016 to 2021.
Shale gas market in Asia Pacific is split by geography including China and Australia.
Shale gas market in Asia Pacific is one of the growing markets and it will grow more in forthcoming years.
Market share analysis of the top companies is validated based on key facts, annual financial information, and interviews with key experts such as CEOs, Directors, and marketing executives.
To present an in-depth understanding of the competitive landscape, the shale gas report consists of profiles of some of the major participants in the market, such as Petro China (China), China National Offshore Oil Corporation (China), and others.
Scope of the report:
On the basis of geography:
1 Introduction
1.1 Objective of the study
1.2 Market Definitions
1.3 Market Segmentation & Aspects Covered
1.4 Research Methodology
1.4.1 Assumptions (Market Size, Forecast, etc)

2 Executive Summary

3 Market Overview

4 Shale Gas-Asia-Pacific, By Geographies
4.1 Asia-Pacific - Other Geographies
4.2 China
4.2.1 China, By Companies
4.2.1.1 ConocoPhillips
4.2.1.2 Royal Dutch Shell plc
4.3 Shale Gas-Australia
4.3.1 By Companies
4.3.1.1 BEACH ENERGY LTD
4.3.1.2 Devon Energy Corporation
4.3.1.3CHESAPEAKE ENERGY CORPORATION
4.4 Myanmar
4.4.1 Myanmar, By Companies
4.4.1.1Chevron Upstream
4.5 Malaysia
4.5.1 Malaysia, By Companies
4.5.1.1 Baker Hughes Incorporated
4.6 Indonesia
4.6.1 Indonesia, By Companies
4.6.1.1 ConocoPhillips

5 Shale Gas-Asia-Pacific, By Companies
5.1 Split By Geography
5.1 Other Geographies by Companies
5.1 China by Companies
5.1 Australia by Companies
5.1 Myanmar by Companies
5.1 Malaysia by Companies
5.1 Indonesia by Companies
5.2 ConocoPhillips-Asia-Pacific
5.3 BEACH ENERGY LTD-Asia-Pacific
5.4 Royal Dutch Shell plc
5.4.1 Royal Dutch Shell plc, By Geographies
5.4.1.1 Royal Dutch Shell plc
5.5 Devon Energy Corporation-Asia-Pacific
5.6 Petro China
5.7 China National Offshore Oil Corp.
5.8 Other Companies
5.9 CHESAPEAKE ENERGY CORPORATION-Asia-Pacific
5.10 Chevron Upstream-Asia-Pacific
5.11 Baker Hughes Incorporated-Asia-Pacific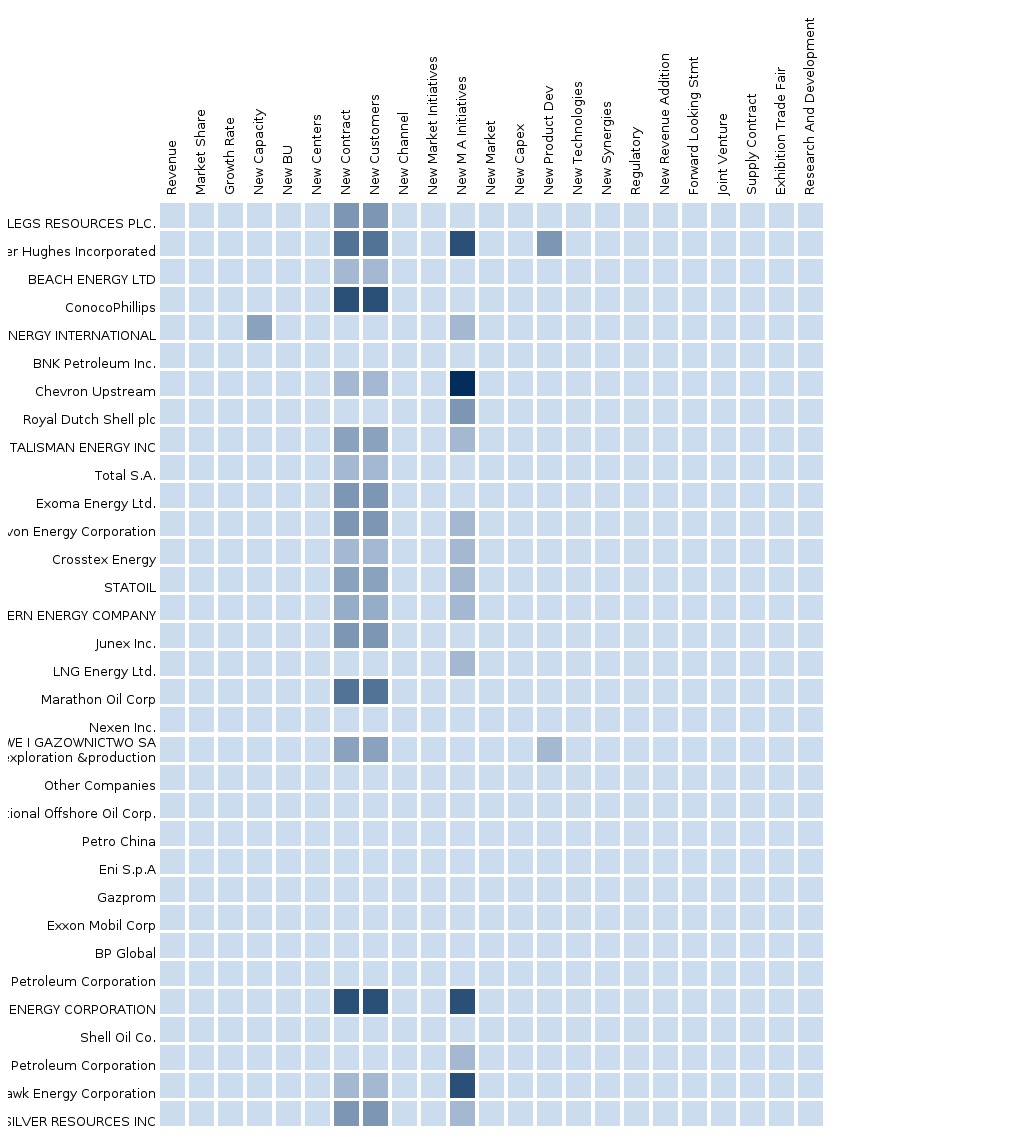 Please fill in the form below to receive a free copy of the Summary of this Report
Custom Market Research Services
We will customize the research for you, in case the report listed above does not meet with your exact requirements. Our custom research will comprehensively cover the business information you require to help you arrive at strategic and profitable business decisions.
Please visit
http://www.micromarketmonitor.com/custom-research-services.html
to specify your custom Research Requirement