Asia-Pacific Concrete Admixtures Market
Description
Table of Contents
Customer Intelligence
Concrete Admixtures-Asia-Pacific and Super Plasticizers, Plasticizers, Accelerating Agents, Retarding Agents, Air Entertaining Agents, Waterproofing Agents, Accelerating Agents, Retarding Agents, Air Entertaining Agents and Waterproofing Agents adds up to total Concrete Admixtures market.
Concrete Admixtures-Asia-Pacific can be segmented by Ingredients, Companies, Types and Applications. Ingredients of Concrete Admixtures-Asia-Pacific are Specialty Chemicals, Styrene Butadiene Rubber (SBR) and Ethylcellulose. Companies of Concrete Admixtures-Asia-Pacific are 3M (Minnesota Mining and Manufacturing Company) , ADCO Global Inc., AkzoNobel N.V., Arkema S.A., Ashland Inc, BASF SE , Bolton Group B.V, Bostik SA, E.I. du Pont de Nemours and Company (DuPont), Rpm International Inc, Sika AG, Dow Chemical, Albemarle Corporation, Cementaid (N.S.W.) Pty. Limited, Chryso S.A.S., Cico Technologies Limited, Conmix Limited, Fosroc International Limited, Lafarge S.A., Mapei South Africa (Pty) Limited, Muhu (China) Construction Materials Co. Limited, Pidilite Industries Limited, Selena FM S.A., Terraco Holdings Limited, W.R. Grace & Co., CEMEX S.A.B. de C.V. and Mapei Corporation. Types of Concrete Admixtures-Asia-Pacific are Super Plasticizers, Plasticizers, Accelerating Agents, Retarding Agents, Air Entertaining Agents and Waterproofing Agents. Applications of Concrete Admixtures-Asia-Pacific are Residential Construction, Commercial Construction, Industrial Buildings (Manufacturing) and Infrastructure Construction.

Key Questions Answered
What are market estimates and forecasts; which of Concrete Admixtures-Asia-Pacific markets are doing well and which are not?
What is the competitive landscape; How companies like 3M (Minnesota Mining and Manufacturing Company) , ADCO Global Inc. and AkzoNobel N.V. doing in Concrete Admixtures-Asia-Pacific?

What makes our report unique?

It will provide you market insights into Residential Construction, Commercial Construction, Industrial Buildings (Manufacturing) and Infrastructure Construction.
This report provides market sizing and forecast for the Concrete Admixtures-Asia-Pacific market. It also provides market sizing and forecast along with the drivers/inhibitors/opportunity analysis for each of the micro markets.
The report provides deep dive competitive landscape covering the top players such as 3M (Minnesota Mining and Manufacturing Company) , ADCO Global Inc., AkzoNobel N.V. and Arkema S.A..
The reports provides benchmarking insight on the top players 3M (Minnesota Mining and Manufacturing Company) , ADCO Global Inc., AkzoNobel N.V. and Arkema S.A..
The report provide competitive intelligence on 3M (Minnesota Mining and Manufacturing Company) , ADCO Global Inc., AkzoNobel N.V. and Arkema S.A..

Audience for this report

Global Concrete Admixtures-Asia-Pacific companies
Concrete Admixtures-Asia-Pacific manufacturers
Concrete Admixtures-Asia-Pacific traders, distributors, and suppliers
Governmental and research organizations
Associations and industry bodies
Technology providers to Concrete Admixtures-Asia-Pacific companies



1 Introduction
1.1 Objective of the study
1.2 Market Definitions
1.3 Market Segmentation & Aspects Covered
1.4 Research Methodology
1.4.1 Assumptions (Market Size, Forecast, etc)
2 Executive Summary
3 Market Overview
4 Concrete Admixtures-Asia-Pacific, By Applications
4.1 Split By Geography
4.1 Concrete Admixtures-India by Applications
4.1 Concrete Admixtures-China by Applications
4.1 Concrete Admixtures-Japan by Applications
4.2 Concrete Admixtures-Asia-Pacific-Residential Construction
4.2.1 Concrete Admixtures-Asia-Pacific-Residential Construction, By Geographies
4.2.1.1 Concrete Admixtures-India-Residential Construction
4.2.1.2 Concrete Admixtures-China-Residential Construction
4.2.1.3 Concrete Admixtures-Japan-Residential Construction
4.3 Concrete Admixtures-Asia-Pacific-Infrastructure Construction
4.3.1 Concrete Admixtures-Asia-Pacific-Infrastructure Construction, By Geographies
4.3.1.1 Concrete Admixtures-India-Infrastructure Construction
4.3.1.2 Concrete Admixtures-China-Infrastructure Construction
4.3.1.3 Concrete Admixtures-Japan-Infrastructure Construction
4.4 Concrete Admixtures-Asia-Pacific-Commercial Construction
4.4.1 Concrete Admixtures-Asia-Pacific-Commercial Construction, By Geographies
4.4.1.1 Concrete Admixtures-India-Commercial Construction
4.4.1.2 Concrete Admixtures-China-Commercial Construction
4.4.1.3 Concrete Admixtures-Japan-Commercial Construction
4.5 Concrete Admixtures-Asia-Pacific-Industrial Buildings (Manufacturing)
4.5.1 Concrete Admixtures-Asia-Pacific-Industrial Buildings (Manufacturing), By Geographies
4.5.1.1 Concrete Admixtures-India-Industrial Buildings (Manufacturing)
4.5.1.2 Concrete Admixtures-China-Industrial Buildings (Manufacturing)
4.5.1.3 Concrete Admixtures-Japan-Industrial Buildings (Manufacturing)
5 Concrete Admixtures-Asia-Pacific, By Types
5.1 Split By Geography
5.2 Concrete Admixtures-India by Types
5.1 Concrete Admixtures-China by Types
5.1 Concrete Admixtures-Japan by Types
5.2 Concrete Admixtures-Asia-Pacific-Super Plasticizers
5.2.1 Concrete Admixtures-Asia-Pacific-Super Plasticizers, By Geographies
5.2.1.1 Concrete Admixtures-India-Super Plasticizers
5.2.1.2 Concrete Admixtures-China-Super Plasticizers
5.2.1.3 Concrete Admixtures-Japan-Super Plasticizers
5.3 Concrete Admixtures-Asia-Pacific-Plasticizers
5.3.1 Concrete Admixtures-Asia-Pacific-Plasticizers, By Geographies
5.3.1.1 Concrete Admixtures-India-Plasticizers
5.3.1.2 Concrete Admixtures-China-Plasticizers
5.3.1.3 Concrete Admixtures-Japan-Plasticizers
5.3.2 Concrete Admixtures-Asia-Pacific-Plasticizers, By Types
5.3.2.1 Concrete Admixtures-Asia-Pacific-Super Plasticizers
5.4 Concrete Admixtures-Asia-Pacific-Accelerating Agents
5.4.1 Concrete Admixtures-Asia-Pacific-Accelerating Agents, By Geographies
5.4.1.1 Concrete Admixtures-India-Accelerating Agents
5.4.1.2 Concrete Admixtures-China-Accelerating Agents
5.4.1.3 Concrete Admixtures-Japan-Accelerating Agents
5.5 Concrete Admixtures-Asia-Pacific-Retarding Agents
5.5.1 Concrete Admixtures-Asia-Pacific-Retarding Agents, By Geographies
5.5.1.1 Concrete Admixtures-India-Retarding Agents
5.5.1.2 Concrete Admixtures-China-Retarding Agents
5.5.1.3 Concrete Admixtures-Japan-Retarding Agents
5.6 Concrete Admixtures-Asia-Pacific-Waterproofing Agents
5.6.1 Concrete Admixtures-Asia-Pacific-Waterproofing Agents, By Geographies
5.6.1.1 Concrete Admixtures-India-Waterproofing Agents
5.6.1.2 Concrete Admixtures-China-Waterproofing Agents
5.6.1.3 Concrete Admixtures-Japan-Waterproofing Agents
5.7 Concrete Admixtures-Asia-Pacific-Air Entertaining Agents
5.7.1 Concrete Admixtures-Asia-Pacific-Air Entertaining Agents, By Geographies
5.7.1.1 Concrete Admixtures-India-Air Entertaining Agents
5.7.1.2 Concrete Admixtures-China-Air Entertaining Agents
5.7.1.3 Concrete Admixtures-Japan-Air Entertaining Agents
6 Concrete Admixtures-Asia-Pacific, By Geographies
6.1 Concrete Admixtures-India
6.1.1 Concrete Admixtures-India, By Applications
6.1.1.1 Concrete Admixtures-India-Residential Construction
6.1.1.2 Concrete Admixtures-India-Commercial Construction
6.1.1.3 Concrete Admixtures-India-Infrastructure Construction
6.1.1.4 Concrete Admixtures-India-Industrial Buildings (Manufacturing)
6.1.2 Concrete Admixtures-India, By Types
6.1.2.1 Concrete Admixtures-India-Super Plasticizers
6.1.2.2 Concrete Admixtures-India-Plasticizers
6.1.2.3 Concrete Admixtures-India-Accelerating Agents
6.1.2.4 Concrete Admixtures-India-Retarding Agents
6.1.2.5 Concrete Admixtures-India-Waterproofing Agents
6.1.2.6 Concrete Admixtures-India-Air Entertaining Agents
6.2 Concrete Admixtures-China
6.2.1 Concrete Admixtures-China, By Applications
6.2.1.1 Concrete Admixtures-China-Residential Construction
6.2.1.2 Concrete Admixtures-China-Infrastructure Construction
6.2.1.3 Concrete Admixtures-China-Commercial Construction
6.2.1.4 Concrete Admixtures-China-Industrial Buildings (Manufacturing)
6.2.2 Concrete Admixtures-China, By Types
6.2.2.1 Concrete Admixtures-China-Super Plasticizers
6.2.2.2 Concrete Admixtures-China-Plasticizers
6.2.2.3 Concrete Admixtures-China-Accelerating Agents
6.2.2.4 Concrete Admixtures-China-Retarding Agents
6.2.2.5 Concrete Admixtures-China-Waterproofing Agents
6.2.2.6 Concrete Admixtures-China-Air Entertaining Agents
6.3 Concrete Admixtures-Japan
6.3.1 Concrete Admixtures-Japan, By Applications
6.3.1.1 Concrete Admixtures-Japan-Residential Construction
6.3.1.2 Concrete Admixtures-Japan-Commercial Construction
6.3.1.3 Concrete Admixtures-Japan-Industrial Buildings (Manufacturing)
6.3.1.4 Concrete Admixtures-Japan-Infrastructure Construction
6.3.2 Concrete Admixtures-Japan, By Types
6.3.2.1 Concrete Admixtures-Japan-Super Plasticizers
6.3.2.2 Concrete Admixtures-Japan-Plasticizers
6.3.2.3 Concrete Admixtures-Japan-Accelerating Agents
6.3.2.4 Concrete Admixtures-Japan-Retarding Agents
6.3.2.5 Concrete Admixtures-Japan-Waterproofing Agents
6.3.2.6 Concrete Admixtures-Japan-Air Entertaining Agents
7 Concrete Admixtures-Asia-Pacific, By Companies
7.1 Competitive landscape
7.2 Split By Geography
7.3 Concrete Admixtures-India by Companies
7.1 Concrete Admixtures-China by Companies
7.1 Concrete Admixtures-Japan by Companies
7.3 Concrete Admixtures-Asia-Pacific-BASF SE
7.4 Concrete Admixtures-Asia-Pacific-Sika AG
7.5 Concrete Admixtures-Asia-Pacific-Mapei Corporation
7.6 Concrete Admixtures-Asia-Pacific-Fosroc International Limited
7.7 Concrete Admixtures-Asia-Pacific-3M (Minnesota Mining and Manufacturing Company)
7.8 Concrete Admixtures-Asia-Pacific-ADCO Global Inc.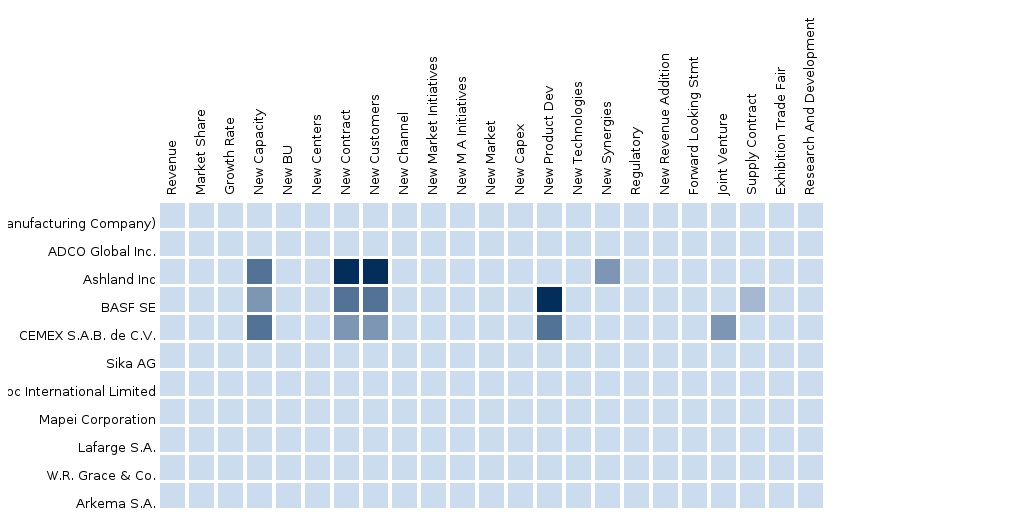 Custom Market Research Services
We will customize the research for you, in case the report listed above does not meet with your exact requirements. Our custom research will comprehensively cover the business information you require to help you arrive at strategic and profitable business decisions.
Please visit
http://www.micromarketmonitor.com/custom-research-services.html
to specify your custom Research Requirement
Asia-Pacific Concrete Admixtures