Coal bed methane (CBM) is an exceptional natural gas found engrossed in coal seams. It is mainly extracted from bituminous and sub-bituminous coals. The gas is stored in the coal matrix with the help of absorption. Coal seam methane can be taken out before, during, and after coal mining operation is done; based on which it can be classified as coal bed methane (CBM), coal mine methane (CMM) or abandoned mine methane (AMM). Coal bed methane market in Asia Pacific is projected to grow approximately $11856 million by 2021, at a CAGR of approximately 10% from 2016 to 2021.
Asia Pacific market is split by geography including China, India, Indonesia, and Australia.
Asia Pacific is one of the major markets in the coal bed methane market which will grow more in forthcoming years.
Market share analysis of the top companies is validated based on key facts, annual financial information, andinterviews with key experts such as CEOs, Directors, and marketing executives.
To present an in-depth understanding of the competitive landscape, the Coal bed methane report consists of profiles of some of the major participants in the market, such as Petro China (China), China National Offshore Oil Corporation (China), and others.
Scope of the report:
On the basis of geography:
China
India
Indonesia
Australia
1 Introduction
1.1 Objective of the study
1.2 Market Definitions
1.3 Market Segmentation & Aspects Covered
1.4 Research Methodology
1.4.1 Assumptions (Market Size, Forecast, etc)
2 Executive Summary

3 Market Overview

4 Coal Bed Methane-Asia-Pacific, By Segments
4.1 Split By Geography
4.1 Other Geographies by Markets
4.1 India by Markets
4.1 China by Markets
4.1 Australia by Markets
4.1 Asia-Pacific - Indonesia by Markets
4.1 Japan by Markets
4.2 Power Generation-Asia-Pacific
4.3 Industrial-Asia-Pacific
4.4 Residential-Asia-Pacific
4.5 Commercial-Asia-Pacific
4.6 Transportation-Asia-Pacific
5 Coal Bed Methane-Asia-Pacific, By Geographies
5.1 Asia-Pacific - Other Geographies
5.2 India
5.3 China
5.3.1 China, By Companies
5.3.1.1 Far East Energy Corporation
5.3.1.2 Fortune Oil PLC.
5.3.1.3 Petronas Gas and Power
5.4 Australia
5.4.1 Australia, By Companies
5.4.1.1 Arrow Energy Inc.coal seam gas
5.4.1.2 Fortune Oil PLC.
5.4.1.3 Metgasco Ltd.
5.4.1.4 Origin Energy Ltd.
5.4.1.5 Petronas Gas and Power
5.4.1.6 Santos Ltd.
5.5 Indonesia
5.6 CJapan
5.6.1 Japan, By Companies
5.6.1.1 BG Group PLC

6 Coal Bed Methane-Asia-Pacific, By Companies
6.1 Split By Geography
6.2 Other Geographies by Companies
6.1 India
6.1 China
6.1 Australia
6.1 Indonesia
6.1 Japan by Companies
6.2 Arrow Energy Inc.coal seam gas
6.2.1 Arrow Energy Inc.coal seam gas, By Geographies
6.2.1.1 Australia-Arrow Energy Inc.coal seam gas
6.3 Petro China
6.4 China National Offshore Oil Corp.
6.5 Other Companies
6.6 BG Group PLC
6.6.1 BG Group PLC, By Geographies
6.6.1.1 Japan-BG Group PLC
6.7 Asia-Pacific-Blue Energy Ltd.
6.8 Far East Energy Corporation-Asia-Pacific
6.9 Fortune Oil PLC.-Asia-Pacific
6.10 BP Exploration and Production
6.11 Conocophilips Exploration & Production
6.12 China United Coalbed Methane Co.(CUCBM)
6.13 Origin Energy Ltd.-Asia-Pacific
6.14 Petronas Gas and Power-Asia-Pacific
6.15 Santos Ltd.-Asia-Pacific
6.16 Metgasco Ltd.-Asia-Pacific
6.17 Dart Energy Ltd.
6.18 EPHINDO (PT ENERGI PASIR HITAM INDONESIA)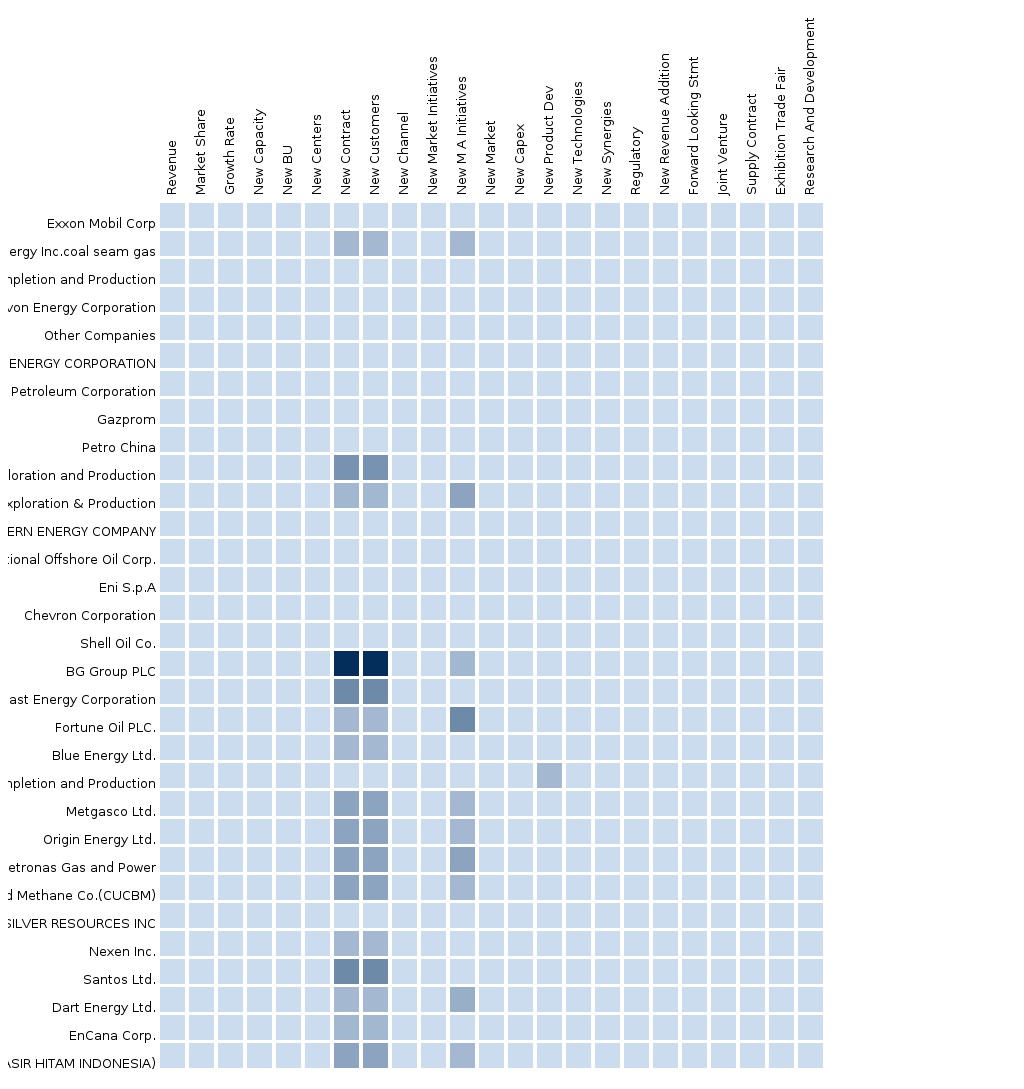 Please fill in the form below to receive a free copy of the Summary of this Report
Custom Market Research Services
We will customize the research for you, in case the report listed above does not meet with your exact requirements. Our custom research will comprehensively cover the business information you require to help you arrive at strategic and profitable business decisions.
Please visit
http://www.micromarketmonitor.com/custom-research-services.html
to specify your custom Research Requirement
Asia-Pacific Coal Bed Methane