Asia-Pacific Carbon capture & Sequestration Market
Description
Table of Contents
Customer Intelligence
The Asia Pacific, Carbon capture & Sequestration market is the new emerging market and it is forecasted to reach $914.9 million by 2019. The pre-combustion technology, the largest technology in this region, will account for $460.0 million in 2019.
The report "Asia-Pacific Carbon Capture & Sequestration Market forecast, 2014-2019" analyses by the types of technology and geography. In term of geography, this region is segmented into Australia, China, Korea and others. The technologies include industrial separation, oxy- fuel combustion capture, post combustion capture and pre-combustion capture.
Industrial separation stands second followed by oxy-fuel combustion and post-combustion technology respectively. China is a key market for carbon capture and sequestration in this region. Growing climatic concerns and strict government policy are driving the growth of carbon capture and sequestration market in this region.
The report in addition provides an extensive competitive landscaping of key companies operating in the carbon capture and sequestration market which include Mitsubishi, Hitachi, Schlumberger, and others. The report also provides an extensive competitive landscaping of companies operating in this market, country wise market share, new product and services launches, M&A, product portfolio of key market players.
Additional Offer/Customization Option:
With Market data, you can also customize MMM assessments that meet your Company's specific needs. Customize to get comprehensive industry standard and deep dive analysis of the following parameters:
Product benchmarking outlook
 Information about the captured carbon in different industries
 Information about technologies used by different companies
 Improve understanding of storage processes and confirm their efficiency and effectiveness

Customer Segment Outlook
 Key upcoming project analyses includes
o Project Name
o Developing company
o Feedstock
o Size (in MW)
o Capture process
o CO2 Fate
o Status
 Cancelled and inactive projects with reasons
 Marginal cost analysis of potential power plant deployment
 Additional information on Enhance Oil Recovery (EOR) types includes
• Water flooding or water injection
• Gas injection
• Thermal recovery
• Chemical Injection
• Industry potential

Future prospects
 Quick turn around on key upcoming CCS projects driving the demand
 Analysis and impacts of local and regional environmental regulations by country

Market Capital Outlook
 Capex information
• Historical and forecasted Capex information for each project
• Cost of CCS Components

Current Industry Challenges
 Challenges faced in CCS industry
• Managing environmental and human safety risks associated with geologic storage of CO2
o Onshore
o Offshore
 Risk management plans generally include
• Programmatic risks (including resource and management risks) that may inhibit project progress or costs
 Role of CCS as a Mitigation Technology and Challenges to its Commercialization
1 Introduction
1.1 Objectives of the study
1.2 Market Definitions
1.3 Market Segmentation & Aspects Covered
1.4 Research Methodology
1.4.1 Assumptions (Market Size, Forecast, etc)
2 Executive Summary
3 Market Overview
4
Carbon capture and sequestration,
Asia-Pacific, By Technologies
4.1 by Geography
4.1 South Korea by Technologies
4.1 China by Technologies
4.1 Australia by Technologies
4.2 Oxy-Fuel Combustion Capture-Asia-Pacific
4.2.1 Oxy-Fuel Combustion Capture-Asia-Pacific, By Geographies
4.2.1.1 Oxy-Fuel Combustion Capture-China
4.3 Post Combustion Capture-Asia-Pacific
4.3.1 Post Combustion Capture-Asia-Pacific, By Geographies
4.3.1.1 Post Combustion Capture-China
4.3.1.2 Post Combustion Capture-South Korea
4.4 Pre Combustion Capture-Asia-Pacific
4.4.1 Pre Combustion Capture-Asia-Pacific, By Geographies
4.4.1.1 Pre Combustion Capture-Australia
4.4.1.2 Pre Combustion Capture-China
4.5 Industrial Separation-Asia-Pacific
4.5.1 Industrial Separation-Asia-Pacific, By Geographies
4.5.1.1 Industrial Separation-Australia
4.5.1.2 Industrial Separation-China
5
Carbon capture and sequestration,
Asia-Pacific, By Geographies
5.1 South Korea
5.1.1 South Korea, By Technologies
5.1.1.1 Post Combustion Capture-South Korea
5.2 China
5.2.1 China, By Technologies
5.2.1.1 Oxy-Fuel Combustion Capture-China
5.2.1.2 Post Combustion Capture-China
5.2.1.3 Pre Combustion Capture-China
5.2.1.4 Industrial Separation-China
5.3 Carbon capture & Sequestration-Australia
5.3.1 Australia, By Technologies
5.3.1.1 Pre Combustion Capture-Australia
5.3.1.2 Industrial Separation-Australia
6
Carbon capture and sequestration
, Asia-Pacific, By Companies
6.1 By Geography
6.2 South Korea by Companies
6.1 China by Companies
6.1 Australia by Companies
6.2 Asia-Pacific-Schlumberger Limited
6.3 Asia-Pacific-Hitachi
6.4 Asia-Pacific-Mitsubishi Heavy Industries Ltd (MHI)
6.5 Asia-Pacific-Other Companies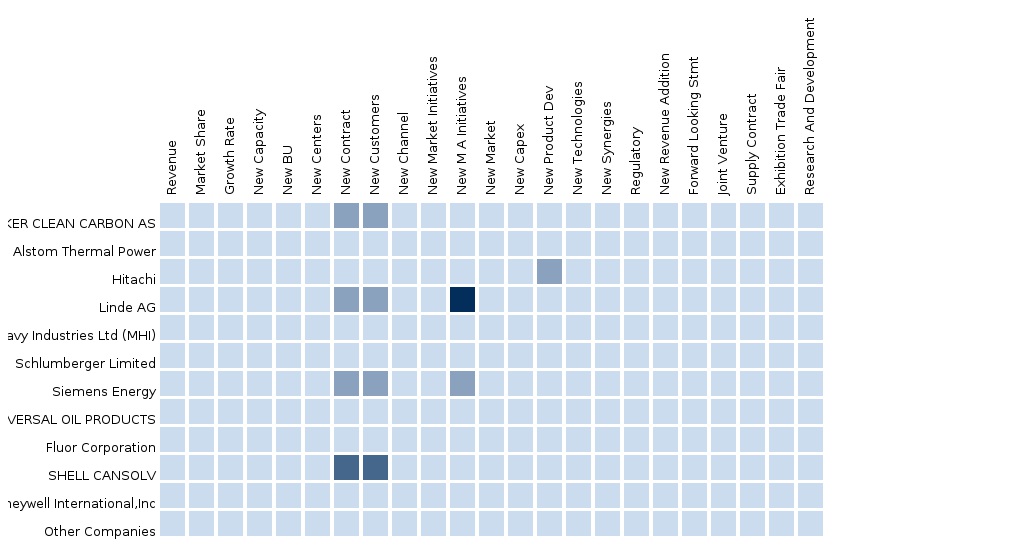 Asia-Pacific Carbon capture & Sequestration