Non-lethal weapons are specially designed and employed to incapacitate an individual or a vehicle while reducing injury to personnel and damage to property and surrounding. They act as options between verbal warnings or psychological operations and using lethal force. Non-lethal weapons are broadly classified into counter-personnel and counter-material capabilities which are used to control crowds and stop vehicles respectively.
The Asia-Pacific non-lethal weapons market was valued at $169.2 million in the year 2013, and is expected to grow at a CAGR of 5.78% during the period 2013-2018. It is projected to reach $224.1 million by the end of 2018. It has been observed that disperse non lethal weapons have the highest market value compared to the other non-lethal weapons. China has the highest market value of non lethal weapons among the other countries. Political dissent and separatist movements, and preventing escalation in high-risk situations are the major drivers which are impacting the growth of the market.
Key players in the market are BAE Systems, Boeing Defense, Space & Security, Brügger & Thomet, Condor Non-Lethal technologies, DRS Technologies, and General Dynamics.
The purpose of the Asia-Pacific non-lethal weapons market report is to identify the various products and distribution channels of the Asia-Pacific non-lethal weapons market. It contains a deep dive analysis of market segmentation, which comprises sub-sectors and countries. This market is segmented on the basis of sub-sectors, namely non-lethal electrical devices, directed-energy, blunt impact, disperse, and anti-vehicle non-lethal weapons.
The report tracks, analyses, and lays out the market size of the major players spending in the Asia-Pacific defense sector. The impact analysis of dynamic forces that are currently driving and restraining the growth of the market are covered in the report. Brief information about industry, market, and technology trends that are currently prevailing in the market are also included.
CUSTOMIZATION OFFERINGS
1.HISTORICAL DATA FOR 5 YEARS
Financials
Macro Indicator Data
M&A data
Budget and Defense Program Information
2.COMPANY PROFILES
In-depth analysis of the company's product portfolio
Competitive landscape (revenue, operating margin, marginal cost, P/E ratio, EPS, developments/deals/events)
Ratio analysis
3.REGION-SPECIFIC INFORMATION (North America, Europe, APAC, Middle East and RoW)
This covers market sizing/mapping, global footprint, operation and financials information, and the competitive landscape. The MMM offering will cover a detailed market study of the point(s) mentioned below:
Country wise international arms transfer, suppliers, and recipients of conventional weapons
4.GLOBAL TRENDS/MARKET ENVIRONMENT
Product and technological advancements/Latest innovation and development
Demand and supply analysis
Market consolidation (M&A, joint ventures, divestment, and spin off)
Export/Import data
Industrial production and capacity optimization data
5.GLOBAL FORECAST NUMBERS/OUTLOOK (Historical and Forecast by Year)
Milicas (Military Aircraft) and Helicas (Military Rotary Wing, i.e., Helicopter)
6.PREDICTIVE FORECASTING
Time Series
Regression Analysis
7.DEFENSE PROGRAMS (By Name, Type, User, Spending by year in $ million, Prime contractor, Program status)
Programs Covered
Aircraft Programs
Ground Vehicle Programs
Missile Programs
Naval Programs
Vehicle Programs
8.DEFENSE BUDGET/SEQUESTRATION IMPACT
Impact of sequestration on defense programs
Programs impacted due to budget cuts
Impact on company's overall revenue, operations, and profitability
9.OPPORTUNITY ANALYSIS
A comprehensive analysis to help understand potential growth markets based on parameters like:
GDP percentage with respect to military expenditure of particular country
Defense review of countries active in this market
10.PRODUCT ANALYSIS
Usage pattern (in-depth trend analysis) of products (segment wise)
Product matrix which gives a detailed comparison of the product portfolio of each company mapped at country and sub-segment level
End-user adoption rate analysis of the products (segment wise and country wise)
Comprehensive coverage of product approvals, pipeline products, and product recalls
11.SUPPLY CHAIN/VENDOR ANALYSIS
Coverage - Vendor analysis, vendor financing, self/customer funding, and distribution network
1 Introduction
1.1 Introduction
1.2 Objective of the study
1.3 Market Definition
1.4 Areas covered: Non-lethal weapon market
1.4.1 Market Covered
1.4.1.1 On the basis of sub-sector
1.4.1.2 On the basis of major countries
1.5 Stakeholders
1.6 Research Methodology
1.6.1 Secondary sources
1.6.1.1 Secondary Research involves
1.6.1.2 Primary Sources & Data Triangulation
1.6.2 Market estimation methodology
1.7 Assumptions
2 Market snapshot
2.1 Market size
2.2 Market size forecast
2.3 By Sub-sector
2.4 By countries
3 Asia Non-Lethal Weapons Market Overview
3.1 Market dynamics
3.2 Drivers and Restraints for Non-lethal weapon market
3.2.1 Drivers
3.2.1.1 Political dissent and separatist movements
3.2.1.2 Preventing escalation in high risk situations
3.2.2 Restraints
3.2.2.1 Lack of clarity in requirements
3.2.3 Opportunity
3.2.3.1 Increase Spending on homeland security
3.3 Military expenditure by countries as % of GDP (2008-13)
3.4 Financials of major countries in APAC region
3.5 Manpower of major countries in APAC region
3.6 Non-lethal market size: APAC region
3.7 APAC aviation security market
3.8 APAC border security market
3.9 APAC CBRN Security Market Size
3.10 APAC Counter Terror Intelligence Market Size
3.11 APAC Critical Infrastructure Security Market Size
3.12 APAC Cyber Security Market Size
3.13 APAC First Responders Market Size
3.14 APAC IT&C3I Market Size
3.15 APAC Maritime Security Market Size
3.16 APAC Mass transit security market size
4 Asia Non-Lethal Weapons: by sub-sector
4.1 APAC non-lethal weapon market
4.1.1 Anti-Vehicle NLW Market Size
4.1.2 Blunt Impact NLW Market Size
5 APAC non-lethal weapon market, by country
5.1 APAC non-lethal weapon market, by country
5.1.1 China non-lethal weapon market size
5.1.2 India non-lethal weapon market size
5.1.3 Japan non-lethal weapon market size
5.1.4 South Korea non-lethal weapon market size
5.1.5 Indonesia non lethal weapon market size
5.1.6 Australia non-lethal weapon market size
6 APAC non-lethal weapon market: Competitive landscape
6.1 Developments: By Companies
7 Asia Non-Lethal Weapons Market, By Companies
7.1 Bae Systems
7.1.1 Introduction
7.1.2 Products and services
7.1.3 Financials
7.2 Boeing defense space and security
7.2.1 Introduction
7.2.2 Products & Services
7.2.3 Financials
7.3 Brugger & Thomet
7.3.1 Introduction
7.3.2 Product Portfolio
7.4 Condor Non-lethal technologies
7.4.1 Introduction
7.4.2 Products
7.5 DRS technologies
7.5.1 Introduction
7.5.2 Product Portfolio
7.6 Fiocchi
7.6.1 Introduction
7.6.2 Product Portfolio
7.7 General Dynamics
7.7.1 Introduction
7.7.2 Product Portfolio
7.7.3 Financials
7.8 Intelligent optical systems, Inc.
7.8.1 Introduction
7.8.2 Products
7.9 Lamperd Less Lethal, Inc.
7.9.1 Introduction
7.9.2 Products
7.10 Metal Strom ltd
7.10.1 Introduction
7.10.2 Products s and Services
7.11 Moog
7.11.1 Introduction
7.11.2 Products and services
7.11.3 Financials
7.12 NON-lethal technologies, Inc.
7.12.1 Introduction
7.12.2 Products and services
7.13 Qinetiq Group plc
7.13.1 Introduction
7.13.2 Products and services
7.13.3 Financials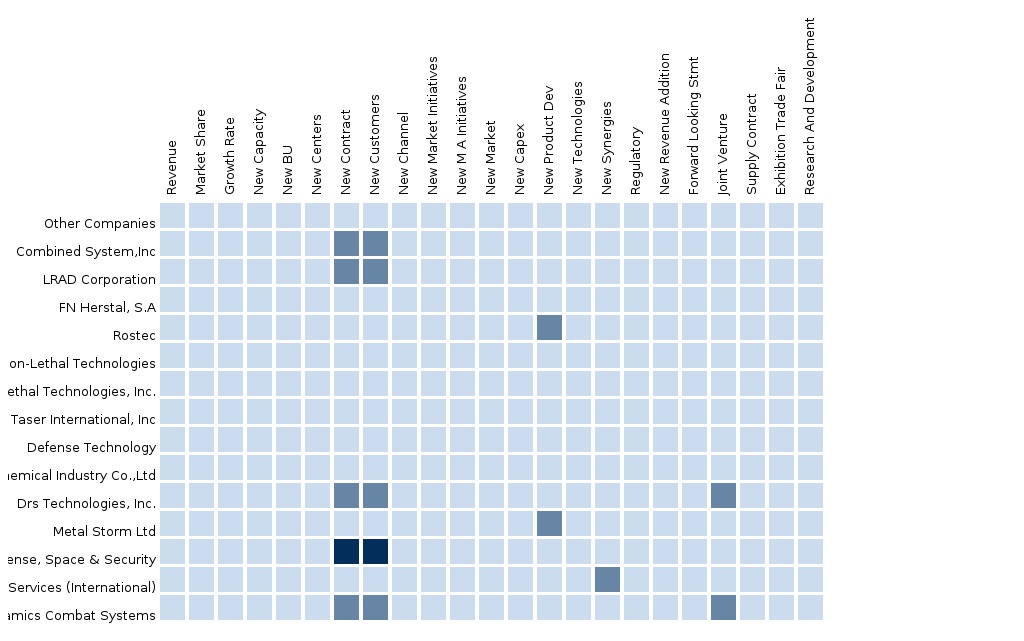 Please fill in the form below to receive a free copy of the Summary of this Report
Custom Market Research Services
We will customize the research for you, in case the report listed above does not meet with your exact requirements. Our custom research will comprehensively cover the business information you require to help you arrive at strategic and profitable business decisions.
Please visit
http://www.micromarketmonitor.com/custom-research-services.html
to specify your custom Research Requirement