The Asian Automatic Patient Billing System market is diverse. With mid-sized to large countries with varying population levels, there is a large scope for further growth of this market.
An automatic patient billing system comprises of a system or set of systems and/or applications that help streamline the billing and claims settlement process. The use of these systems supports back-office processes.
In this region, healthcare facilities are adopting digitization to ensure that healthcare services are delivered on time with an emphasis on quality. Factors that boost the growth of automatic billing systems in this market are the increasing demand for efficient and sophisticated healthcare services, increasing pressure to curb healthcare costs, and government initiatives.
The automatic patient billing systems are a part of the healthcare IT market. In India, this market is in a growing phase. On the other hand, countries including China, Japan, and South Korea are promising markets for companies. One of the significant growth factors of this market is medical tourism, where people from other parts of the world travel specifically to get treated for various ailments.
The automatic patient billing system has a number of advantages. The main advantage of this system is that it is both time-saving and cost-efficient for all the stakeholders. Healthcare units are benefited with the swift and accurate processing of data and claims. Customers can get their claims settled without having to spend much time and money for the same. These systems save a lot of paperwork and redundancy, as well as store large amounts of databases that can be easily integrated across various applications and accessed by other departments at the click of a button.
In this market, there are a number of companies present with a wide range of products and services. These companies are Allscripts, CareCloud Corporation, GE Healthcare, Kareo, McKesson Corporation, Quest Diagnostics, Cerner Corporation, SSI Group, Inc., Athenahealth, eClinicalWorks, and other companies.
The end-users of this market are hospitals, office-based physicians, ambulatory care solutions, and medical & diagnostic laboratories. A macro-indicator of this market is healthcare expenditure. Deployments of this market are on-premise systems, cloud-based systems, and web-based systems.
This report on the Asian Automatic Patient Billing Systems market highlights the current and projected market scenario with equal emphasis on the country-wise market. Market figures, both in terms of value and volume have also been provided. The growth rate, describing how and where the growth is headed, has been included in the report.
This report covers the competitive scenario in the market, highlighting the leading companies with their market share. Product and service offerings of these companies as well as their growth strategies have been described, extensively.
1 Introduction
1.1 Objective of the study
1.2 Market Definition and Scope of the study
1.3 Markets Covered
1.4 Stakeholders
2 Research Methodology
2.1 INTEGRATED ECOSYSTEM OF NITROGENOUS FERTILIZERS
2.2 ARRIVING AT NITROGENOUS FERTILIZERS MARKET SIZE
2.3 TOP DOWN APPROACH
2.4 BOTTOM-UP APPROACH
2.5 DEMAND (CONSUMPTION) SIDE ANALYSIS
2.6 Macro indicators
2.7 Assumptions
3 EXECUTIVE SUMMARY
4 MARKET OVERVIEW
4.1 INTRODUCTION
4.2 PARENT MARKET COMPARISON
4.3 DRIVERS AND INHIBITORS FOR NITROGENOUS FERTILIZERS MARKET
4.4 DEMAND SIDE ANALYSIS
4.5 VENDOR SIDE ANALYSIS
5 Macro Indicator
6 Global Sub Markets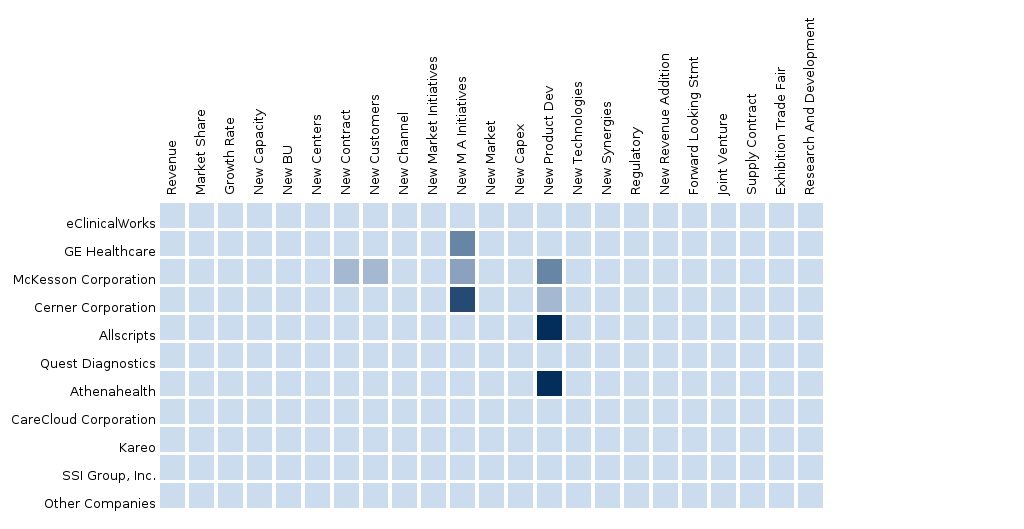 Please fill in the form below to receive a free copy of the Summary of this Report
Custom Market Research Services
We will customize the research for you, in case the report listed above does not meet with your exact requirements. Our custom research will comprehensively cover the business information you require to help you arrive at strategic and profitable business decisions.
Please visit
http://www.micromarketmonitor.com/custom-research-services.html
to specify your custom Research Requirement
PRODUCT TITLE
PUBLISHED
North American Non-Clinical Information System Market


North America is the largest market for non-clinical information systems globally, and is expected to grow at a CAGR of 8.1% from 2013 to 2018, to reach a value of $8,905.5 million in 2018. This market is segmented into sub-segments, components, deployments, end users, applications, and geographies.



Upcoming
European Non-Clinical Information Systems Market


The European non-clinical information systems (NCIS) market has been segmented by types, deployment, components, end users, applications, and geographies. Globally, this is the second-largest NCIS market, and is expected to grow at a CAGR of 6.3% from 2014 to 2019.



Upcoming
Asian Non-Clinical Information Systems Market


Asia is the fastest-growing market for non-clinical information systems, and was valued at $1,336.4 million in 2013. It is expected to grow at a CAGR of 7.2%, from 2013 to 2018, to reach a value of $1,892.2 million in 2018. This market can be segmented by companies, deployments, components, end users, and macro indicators.



Upcoming
Non-Clinical Information Systems