The airport information consists of traffic and resource planning system for airports, information planning, aircraft turnaround management, arrival and departure monitoring, and statistical analysis. Currently, the Africa Airport Information System market is valued at $1.47 million and is expected to reach $1.89 million at a CAGR of 5% by 2018.
The report provides an in-depth analysis of Africa Airport Information System for the next five years. It includes the market segmentation analysis, usage pattern, regional trends and distribution channels within the market.Anchor
The report also provides the leading players in the Africa Airport Information System market. Apart from the general overview of the companies, it also provides the financial analysis, products, services, and their key developments. All percentage shares, splits, and breakdowns are determined using secondary sources, which are then verified by the primary sources.
This report categorizes the entire market on the basis of type, passenger traffic, airports, and airlines. In this report each of these segments is analyzed in detail, along with their upcoming trends. The Airport Information System market can be categorized into check in systems, air traffic control (ATC), airport operation and control centre (AOCC), and cargo management on the basis of types. The check in systems can be classified into CASS and KIOSK. The ATC can be segmented into navigation and allocation. The AOCC can be categorized into hardware and software and the cargo management system can be segmented into planning and operations.
It is estimated that the market shall be dominated by the ATC segment, as this market is presumed to grow at a very fast rate during the forecast period.
The technological advancement and the increasing passenger traffic in the African region shall be the key drivers for this market. The report provides a brief analysis about the emerging products in this market, trending technologies, and highlights of the key drivers, restraints, and challenges for this market.
This report covers the competitive analysis of the Airport Information System market based on the major airports and airlines in the African region. It also provides the scenario analysis of the various factors influencing the Airport Information System market based on their present status in the market.
The major companies involved in this market are Siemens, Ikusi, UFIS, Gentrack, and IBM. These companies are expected to grow their revenue for Airport Information Systems in the coming years.
CUSTOMIZATION OPTIONS
1.HISTORICAL DATA for 5 years
Financials
Macro indicator data
M&A data
2.COMPANY PROFILES
In depth analysis of the company's product portfolio
Competitive landscape(revenue, operating margin, marginal cost, P/E ratio, EPS, Developments/Deals/Events)
Ratio analysis
3.REGION-SPECIFIC INFORMATION (NORTH AMERICA, EUROPE, APAC, MIDDLE EAST and ROW)
It covers market sizing/mapping, global footprint, operation and financials information, competitive landscape. MMM offering will cover detailed market study of below mentioned bullet points:
Check-In System
ATC
AOCC
CASS
KIOSK

4.GLOBAL TRENDS / MARKET ENVIRONMENT
Product and technological advancements/latest innovation and development
Demand and supply analysis
Market consolidation (M&A, joint ventures, divestment and spin off)
Air traffic data
Export/Import data (Aerospace product and parts)
Industrial Production and capacity optimization data

5.PREDICTIVE FORECASTING
Time series
Regression analysis
6.OPPORTUNITY ANALYSIS
A comprehensive analysis to analyze the potential growth markets based on parameters like
GDP Percentage with respect to military expenditure of particular country
Contracts & modernization programs
Defense review of countries active in this market

7.PRODUCT ANALYSIS
Usage pattern (in-depth trend analysis) of products (Segment wise)
Product Matrix which gives a detailed comparison of product portfolio of each company mapped at country and sub segment level
End-user Adoption rate analysis of the products (Segment wise and Country wise)
Comprehensive coverage of Product approvals, Pipeline products and Product recalls
8.SUPPLY CHAIN/VENDOR ANALYSIS
Coverage - Vendor analysis, vendor financing, customers/self funding, and distribution network
9.ROUTE MAP Analysis, LOAD FACTOR, RPK,ASK, and FLF
Airline/Operator route map analysis on a regional and global level
Passenger and freight Load factor, Revenue Passenger Kilometer, Available Seat Kilometer analysis
1 Introduction
1.1 Objective Of The Study
1.2 Area Of Study
1.3 Stakeholders
1.4 Research Methodology
1.5 Market Estimation Methodology (Top-Down, Bottom-Up, Data Triangulation)
1.6 Assumptions
1.7 Macro Indicators
2 Market Snapshot
2.1 Market Size
2.2 Market Size Forecast
2.3 Usage
2.4 Type
3 Market Overview
3.1 Executive Summary
3.2 Market Dynamics
3.3 Drivers,Restrains And Challenges For Airport Information System Market
3.3.1 Drivers
3.3.1.1 Optimal Asset Usage
3.3.1.2 Increasing In Safety Operations In Airports
3.3.2 Restraints
3.3.2.1 Slow Economic Growth
3.3.3 Challenges
3.3.3.1 Capacity Drops At Airports
4 Market Overview
4.1 Market Definition
4.2 Africa Airport Information Systems
4.3 A-Cdm (Airport Operation Decision Making)
4.4 Airport Operation Control Centre- Aocc
4.5 Function Of Aocc
4.6 Structure Of Aocc
4.7 Rules And Standards For Africa Airport Information Systems
5 Technological Trends
5.1 Integration Of Ais (A-Cdm Approach And Setting Up Of Aocc)
5.2 Decentralization Of Ais
6 Scenario Analysis
6.1 Factors Considered For Scenario Analysis
6.2 Change In The Passenger Traffic Ratio
6.3 Inflation
6.4 Economic Recession
7 African Airport Information System Market Analysis
7.1 Market Analysis By Types
7.2 Market Analysis By Airports
7.3 Market Analysis By Airlines
7.4 Market Analysis By Passenger Traffic
8 Africian Airport Information System: Competitive Landscape
8.1 Developments Africa Airport Information Systems: By Companies
9 Africa Airport Information System Market, By Companies
9.1 Ibm
9.1.1 Introduction
9.1.2 Product Portfolio
9.1.3 Financials
9.2 Aeronautical Radio, Incorporated (Arinc)
9.2.1 Introduction
9.2.2 Product Portfolio
9.2.3 Financials
9.3 Gentrack
9.3.1 Introduction
9.3.2 Product Portfolio
9.3.3 Financials
9.4 Neuropie Solutions Ag
9.4.1 Introduction
9.4.2 Product Portfolio
9.4.3 Financials
9.5 Inform Gmbh
9.5.1 Introduction
9.5.2 Product Portfolio
9.5.3 Financials
9.6 Siemens Ag
9.6.1 Introduction
9.6.2 Product Portfolio
9.6.3 Financials
9.7 Ufis Airport Solutions Gmbh
9.7.1 Introduction
9.7.2 Product Portfolio
9.7.3 Financials
9.8 Ikusi
9.8.1 Introduction
9.8.2 Product Portfolio
9.8.3 Financials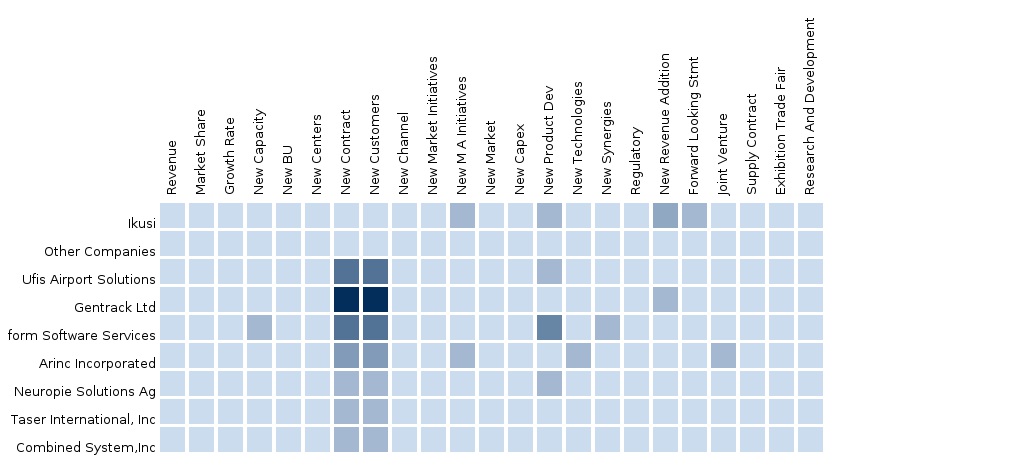 Please fill in the form below to receive a free copy of the Summary of this Report
Custom Market Research Services
We will customize the research for you, in case the report listed above does not meet with your exact requirements. Our custom research will comprehensively cover the business information you require to help you arrive at strategic and profitable business decisions.
Please visit
http://www.micromarketmonitor.com/custom-research-services.html
to specify your custom Research Requirement
Airport Operations Control Center