Turbine Rotor Blade and Wind Generator and Gear Box adds up to total Wind Turbine market.

Turbine Rotor Blade can be segmented by Applications, Geographies, Companies, Materials and Submarkets. Applications of this market are Gear-less - Wind Turbine and Geared - Wind Turbine. Geographies of this market are Americas, Asia-Pacific, Europe and Rest of World. Companies of this market are ACCIONA energy, AEROBLADE, DEWIND CO, ENERCON GMBH, EUROS ENTWICKLUNGSGESELLSCHAFT FÜR WINDKRAFTANLAGEN mb, FLEXSYS INC, GAMESA CORPORACION Generation, GUODIAN UNITED POWER TECHNOLOGY CO. LTD, INOX WIND LTD, KM CO. LTD, LM WIND POWER HOLDING A/S, NORDEX S.E., POWERBLADES GMBH, SGL ROTEC CARBON FIBERS & COMPOSITES (CFC), Siemens AG Renewable Energy, SINOI GMBH, SUZLON ENERGY WTG, TECNOLOGIA E SISTEMAS AVANCADOS LTDA (TECSIS), TPI COMPOSITES INC, VESTAS WIND SYSTEMS Wind turbines and wind power systems, WUXI TURBINE BLADE CO. LTD and ZHONG HANG HUITENG WIND POWER EQUIPMENT CO. LTD. Materials of this market are Rotor Blade Fiber, Rotor Blade Resin, Core Materials and Metal fittings. Submarkets of this market are Blade Length (<27), Blade Length (27-36), Blade Length (38-50) and Blade Length (>50).

Key Questions Answered
What are market estimates and forecasts; which of Turbine Rotor Blade markets are doing well and which are not?
What is the competitive landscape; How companies like ACCIONA energy, AEROBLADE and DEWIND CO doing in Turbine Rotor Blade?

What makes our report unique?

This reports provides most granular segmentation on Blade Length (<27), Blade Length (27-36), Blade Length (38-50) and Blade Length (>50).
It will provide you market insights into Gear-less - Wind Turbine and Geared - Wind Turbine.
This report provides market sizing and forecast for the Turbine Rotor Blade market. It also provides market sizing and forecast along with the drivers/inhibitors/opportunity analysis for each of the micro markets.
The report provides deep dive competitive landscape covering the top players such as ACCIONA energy, AEROBLADE, DEWIND CO and ENERCON GMBH.
The reports provides benchmarking insight on the top players ACCIONA energy, AEROBLADE, DEWIND CO and ENERCON GMBH.
The report provide competitive intelligence on ACCIONA energy, AEROBLADE, DEWIND CO and ENERCON GMBH.
Many times, customers do not get specific intelligence they are looking for in multi-client syndicated studies. So we offer 10% customization which will ensure you get the desired market intelligence, may it be specific to Gear-less - Wind Turbine and Geared - Wind Turbine applications or Turbine Rotor Blade market in Americas, Asia-Pacific, Europe and Rest of World.

Audience for this report

Global Turbine Rotor Blade companies
Manufacturing Companies
Traders, distributors, and suppliers
Governmental and research organizations
Associations and industry bodies
Technology providers

Top developments

EUROS received the design assessment certificate according the the GL2010 guideline by the Germanischer Lloyd.
TPI Composites signs a long-term agreement with Gamesa
TPI Composites, signs a multiyear supply agreement with Acciona Windpower SA
TPI Composites is reopening its plant in Ciudad Juarez, Mexico
SGL Group signed a contract with a strategic investor
Vestas commits to investing EUR 10 million to launch V112-3.0 MW blade production at its Taranto, Italy, blades factory
Vestas produces the first prototype 80 meter blade for the V164-8.0 MW
LM Wind Power signed a cooperation agreement with Industrial Development Corporation
The Nordex Group signed agreement with US supplier TPI Composites
TPI Composites signs a multiyear supply agreement with Nordex SE




1 Introduction
1.1 Analyst Insights
1.2 Market Definitions
1.3 Market Segmentation & Aspects Covered
1.4 Research Methodology
2 Executive Summary
3 Market Overview
4 By Submarkets
4.1 Blade Length (<27)
4.2 Blade Length (27-36)
4.3 Blade Length (38-50)
4.4 Blade Length (>50)
5 By Applications
5.1 Gear-less - Wind Turbine
5.2 Geared - Wind Turbine
6 By Materials
6.1 Rotor Blade Fiber
6.2 Rotor Blade Resin
6.3 Core Materials
6.4 Metal fittings
7 By Geographies
7.1 Americas
7.2 Asia-Pacific
7.3 Europe
7.4 Rest of World
8 By Companies
8.1 ACCIONA energy
8.2 AEROBLADE
8.3 DEWIND CO
8.4 ENERCON GMBH
8.5 EUROS ENTWICKLUNGSGESELLSCHAFT FÜR WINDKRAFTANLAGEN mb
8.6 FLEXSYS INC
8.7 GAMESA CORPORACION Generation
8.8 GUODIAN UNITED POWER TECHNOLOGY CO. LTD
8.9 INOX WIND LTD
8.10 KM CO. LTD
8.11 LM WIND POWER HOLDING A/S
8.12 NORDEX S.E.
8.13 POWERBLADES GMBH
8.14 SGL ROTEC CARBON FIBERS & COMPOSITES (CFC)
8.15 Siemens AG Renewable Energy
8.16 SINOI GMBH
8.17 SUZLON ENERGY WTG
8.18 TECNOLOGIA E SISTEMAS AVANCADOS LTDA (TECSIS)
8.19 TPI COMPOSITES INC
8.20 VESTAS WIND SYSTEMS Wind turbines and wind power systems
8.21 WUXI TURBINE BLADE CO. LTD
8.22 ZHONG HANG HUITENG WIND POWER EQUIPMENT CO. LTD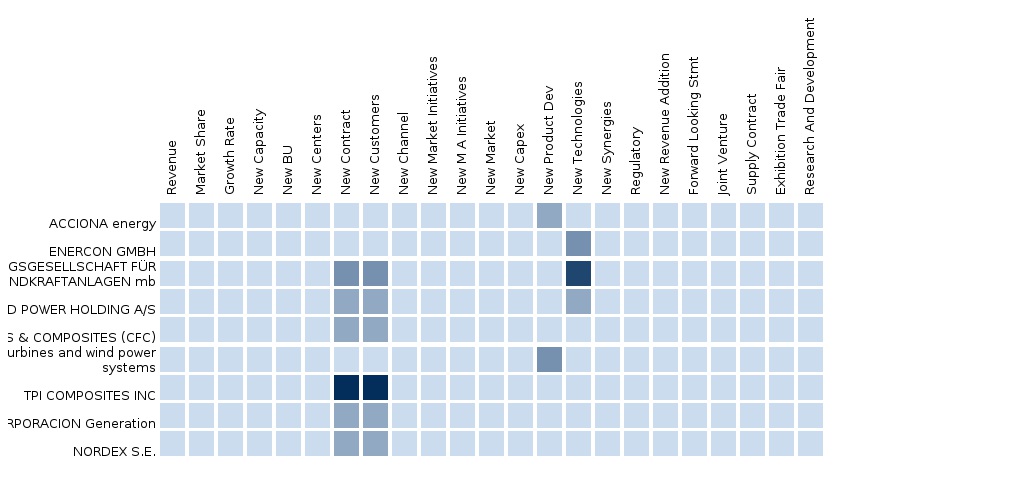 Please fill in the form below to receive a free copy of the Summary of this Report
Custom Market Research Services
We will customize the research for you, in case the report listed above does not meet with your exact requirements. Our custom research will comprehensively cover the business information you require to help you arrive at strategic and profitable business decisions.
Please visit
http://www.micromarketmonitor.com/custom-research-services.html
to specify your custom Research Requirement
10 of 10 items
10 reports | Show