Transmission System can be segmented by Applications, Companies, Geographies, MacroIndicators, Components and Types. Applications of this market are Passenger Cars and Commercial Vehicles. Companies of this market are Aisin Aw Co. Ltd, BorgWarner, Fiat Powertrain, Fuji Heavy Industries (FHI), Getrag Corporate Group, Hilite International, Hofer Powertrain Gmbh, IAV Automotive Engineering, Jatco Ltd, Luk Gmbh & Co. KG, Magna International INC., Miba Ag, Ntc Powertrain, Oerlikon Graziano SPA, Ricardo Plc, Sulzer Ltd, Tremec, Valeo S.A., ZF Friedrichshafen AG, GKN Plc, Avl List Gmbh, General Motors Company, Honda Motor Co. Ltd., Byd Company Ltd, Volkswagen, Metaldyne Llc, Other Companies, Toyota Motor Corporation, Renault S.A and Hyundai Motor Co. Ltd.. Geographies of this market are Europe, Asia-Pacific, North America and Rest of World. MacroIndicators of this market are Production Statistics. Components of this market are Shift Lever, Shift Fork, Transmission Case, Transmission Shaft, Transmission Gear, Transmission Rear Cover, Synchronizer Hub, Synchronizer Ring, Sleeve, Transmission Drive Chain and Clutch. Types of this market are Automatic Transmission, Dual Clutch Transmission ( DCT ), Continuously Variable Transmission ( CVT ), Differential, 4WD Transfer and Power Take Off.

Key Questions Answered
What are market estimates and forecasts; which of Transmission System markets are doing well and which are not?
What is the competitive landscape; How companies like Aisin Aw Co. Ltd, BorgWarner and Fiat Powertrain doing in Transmission System?

What makes our report unique?

It will provide you market insights into Passenger Cars and Commercial Vehicles.
This report provides market sizing and forecast for the Transmission System market. It also provides market sizing and forecast along with the drivers/inhibitors/opportunity analysis for each of the micro markets.
The report provides deep dive competitive landscape covering the top players such as Aisin Aw Co. Ltd, BorgWarner, Fiat Powertrain and Fuji Heavy Industries (FHI).
The reports provides benchmarking insight on the top players Aisin Aw Co. Ltd, BorgWarner, Fiat Powertrain and Fuji Heavy Industries (FHI).
The report provide competitive intelligence on Aisin Aw Co. Ltd, BorgWarner, Fiat Powertrain and Fuji Heavy Industries (FHI).
Many times, customers do not get specific intelligence they are looking for in multi-client syndicated studies. So we offer 10% customization which will ensure you get the desired market intelligence, may it be specific to Passenger Cars and Commercial Vehicles applications or Transmission System market in Europe, Asia-Pacific, North America and Rest of World.

Audience for this report

Global Transmission System companies
Manufacturing Companies
Traders, distributors, and suppliers
Governmental and research organizations
Associations and industry bodies
Technology providers

Top developments

Oerlikon Graziano launches 4 Speed Electric Drive
JATCO Ltd, recently established a new office in Moscow
Koepfer takes over Getrag's timing gear production in Ludwigsburg
Magna and bio-on Enter Cooperation
Hofer powertrain sets up a new operations site in UK
JATCO Ltd has announced that it will start providing a tool sharpening service in Mexico.
ZF Equips 172 City Buses in Hungary
TREMEC Launched New 900Nm Dual Clutch Transmission
FPT INDUSTRIAL TO SUPPLY ENGINES FOR NEW IVECO EUROCARGO
BORGWARNER LAUNCED ITS FIRST-TO-MARKET ELECTRONIC FRONT-WHEEL DRIVE TECHNOLOGY ON THE VOLKSWAGEN GOLF GTI




1 Introduction
1.1 Analyst Insights
1.2 Market Definitions
1.3 Market Segmentation & Aspects Covered
1.4 Research Methodology
2 Executive Summary
3 Market Overview
4 By Applications
4.1 Passenger Cars
4.2 Commercial Vehicles
5 By Components
5.1 Shift Lever
5.2 Shift Fork
5.3 Transmission Case
5.4 Transmission Shaft
5.5 Transmission Gear
5.6 Transmission Rear Cover
5.7 Synchronizer Hub
5.8 Synchronizer Ring
5.9 Sleeve
5.10 Transmission Drive Chain
5.11 Clutch
6 By Types
6.1 Automatic Transmission
6.2 Dual Clutch Transmission ( DCT )
6.3 Continuously Variable Transmission ( CVT )
6.4 Differential
6.5 4WD Transfer
6.6 Power Take Off
7 By Geographies
7.1 Europe
7.2 Asia-Pacific
7.3 North America
7.4 Rest of World
8 By Companies
8.1 Aisin Aw Co. Ltd
8.2 BorgWarner
8.3 Fiat Powertrain
8.4 Fuji Heavy Industries (FHI)
8.5 Getrag Corporate Group
8.6 Hilite International
8.7 Hofer Powertrain Gmbh
8.8 IAV Automotive Engineering
8.9 Jatco Ltd
8.10 Luk Gmbh & Co. KG
8.11 Magna International INC.
8.12 Miba Ag
8.13 Ntc Powertrain
8.14 Oerlikon Graziano SPA
8.15 Ricardo Plc
8.16 Sulzer Ltd
8.17 Tremec
8.18 Valeo S.A.
8.19 ZF Friedrichshafen AG
8.20 GKN Plc
8.21 Avl List Gmbh
8.22 General Motors Company
8.23 Honda Motor Co. Ltd.
8.24 Byd Company Ltd
8.25 Volkswagen
8.26 Metaldyne Llc
8.27 Other Companies
8.28 Toyota Motor Corporation
8.29 Renault S.A
8.30 Hyundai Motor Co. Ltd.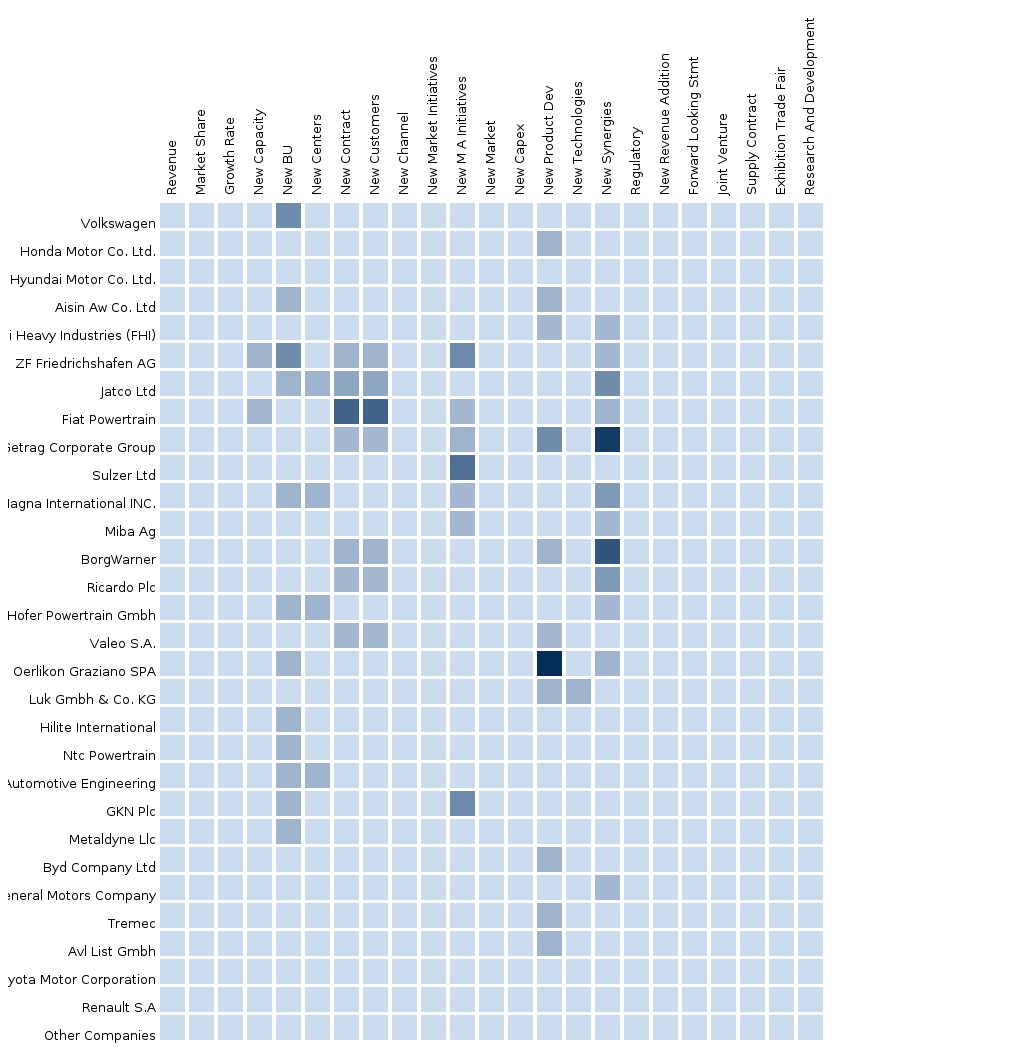 Please fill in the form below to receive a free copy of the Summary of this Report
Custom Market Research Services
We will customize the research for you, in case the report listed above does not meet with your exact requirements. Our custom research will comprehensively cover the business information you require to help you arrive at strategic and profitable business decisions.
Please visit
http://www.micromarketmonitor.com/custom-research-services.html
to specify your custom Research Requirement
PRODUCT TITLE
PUBLISHED
Differential


Differential and Automatic Transmission, Dual...



Upcoming
Multiple LSD


Multiple LSD and Viscous LSD and Torque Sensing LSDs adds up to...



Upcoming
Viscous LSD


Viscous LSD and Multiple LSD and Torque Sensing LSDs adds up to...



Upcoming
Torque Sensing LSDs


Torque Sensing LSDs and Multiple LSD and Viscous LSD adds up to total LSD...



Upcoming
4 of 4 items
4 reports | Show