Synthetic Fiber and Natural Fiber adds up to total Fiber market.

Synthetic Fiber can be segmented by Companies and Submarkets. Companies of this market are Cytec Industries Inc., E.I. DU Pont DE Nemours, Honeywell International,Inc, Jushi Group, Mitsubishi Rayon Co., Limited, Owens Corning, ROYAL DSM N.V, Teijin Limited, Toho Tenax Co. Ltd., Toray Industries, Inc, Toyobo Co. Ltd, Zoltek Company INC., AGY Holding Corp, 3B Fiberglass and PBI Performance Products, Inc. Submarkets of this market are Preimpregnated Fiber.

Key Questions Answered
What are market estimates and forecasts; which of Synthetic Fiber markets are doing well and which are not?
What is the competitive landscape; How companies like Cytec Industries Inc., E.I. DU Pont DE Nemours and Honeywell International,Inc doing in Synthetic Fiber?

What makes our report unique?

This reports provides most granular segmentation on Preimpregnated Fiber.
This report provides market sizing and forecast for the Synthetic Fiber market. It also provides market sizing and forecast along with the drivers/inhibitors/opportunity analysis for each of the micro markets.
The report provides deep dive competitive landscape covering the top players such as Cytec Industries Inc., E.I. DU Pont DE Nemours, Honeywell International,Inc and Jushi Group.
The reports provides benchmarking insight on the top players Cytec Industries Inc., E.I. DU Pont DE Nemours, Honeywell International,Inc and Jushi Group.
The report provide competitive intelligence on Cytec Industries Inc., E.I. DU Pont DE Nemours, Honeywell International,Inc and Jushi Group.

Audience for this report

Global Synthetic Fiber companies
Manufacturing Companies
Traders, distributors, and suppliers
Governmental and research organizations
Associations and industry bodies
Technology providers

Top developments

Cytec Industries inked partnership agreement with Mubadala Development Company
Jushi Group started construction of new fiberglass production facility in an industrial zone near Port in Egypt.
Teijin Aramid introduced new Twaron Unidirectional Laminate UD22
AGY Holding sold its Huntingdon business unit to the U.S. based private equity group Stonewood Capital Management, Inc.
DSM Dyneema unveiled new Dyneema Force Multiplier Technology
DSM introduced Dyneema Purity(R), new ultra-high-molecular-weight polyethylene (UHMWPE)
Zoltek launched Surface RTM, new carbon fiber automotive body panel
DuPont introduced Nomex XF
DSM Dyneema teamed up with the U.S. based Levi's 501 jeans
Teijin Limited opened a new company Teijin Rus, LLC in Moscow




1 Introduction
1.1 Analyst Insights
1.2 Market Definitions
1.3 Market Segmentation & Aspects Covered
1.4 Research Methodology
2 Executive Summary
3 Market Overview
4 By Submarkets
4.1 Preimpregnated Fiber
5 By Companies
5.1 Cytec Industries Inc.
5.2 E.I. DU Pont DE Nemours
5.3 Honeywell International,Inc
5.4 Jushi Group
5.5 Mitsubishi Rayon Co., Limited
5.6 Owens Corning
5.7 ROYAL DSM N.V
5.8 Teijin Limited
5.9 Toho Tenax Co. Ltd.
5.10 Toray Industries, Inc
5.11 Toyobo Co. Ltd
5.12 Zoltek Company INC.
5.13 AGY Holding Corp
5.14 3B Fiberglass
5.15 PBI Performance Products, Inc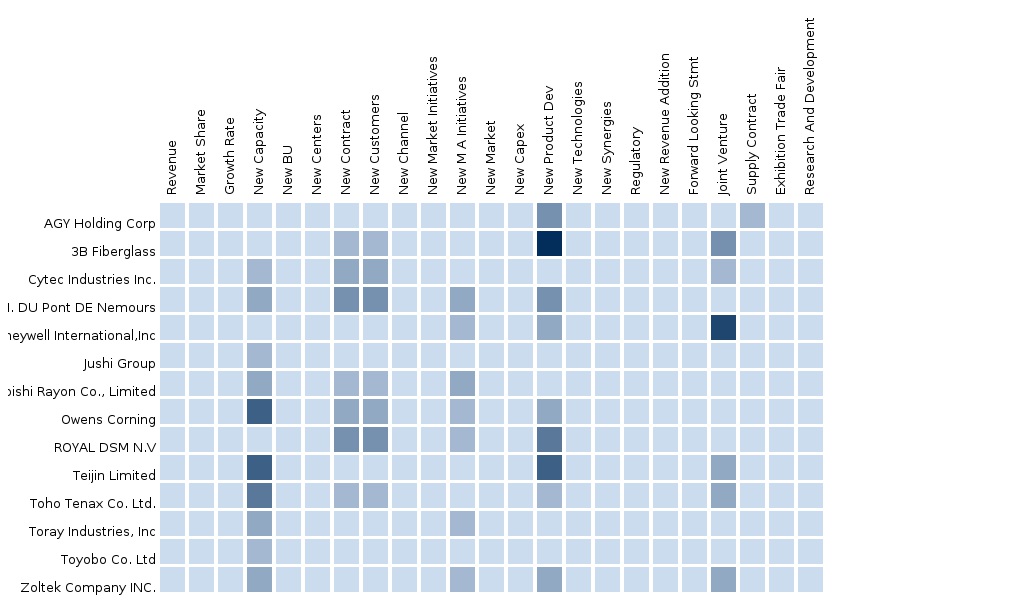 Please fill in the form below to receive a free copy of the Summary of this Report
Custom Market Research Services
We will customize the research for you, in case the report listed above does not meet with your exact requirements. Our custom research will comprehensively cover the business information you require to help you arrive at strategic and profitable business decisions.
Please visit
http://www.micromarketmonitor.com/custom-research-services.html
to specify your custom Research Requirement
PRODUCT TITLE
PUBLISHED
Preimpregnated Fiber


Companies of this market are Cytec Industries Inc., E.I. DU Pont DE Nemours, Honeywell International,Inc, Jushi Group, Mitsubishi Rayon Co., Limited, Owens Corning, ROYAL DSM N.V, Teijin Limited, Toho Tenax Co. Ltd., Toray Industries, Inc, Toyobo Co. Ltd, Zoltek Company...



Upcoming
Spandex


Textile industry is the largest application segment for the Spandex market. However, its competitor natural latex which is a naturally occurring fiber may inhibit the growth of this market over the coming years.



Upcoming
2 of 2 items
2 reports | Show