Silicone and Silicon Rubber OR Silicon Elastomer, Silicone Oil and Silicone Fluids adds up to total Silicones market.

Silicone can be segmented by Ingredients, Applications, Geographies, Companies and Submarkets. Ingredients of this market are Silicon and Methanol. Applications of this market are Building & Construction, Chemical Manufacturing & Processing, Transportation (I), Biomaterials, Plastic, Electrical & Electronics and Textiles. Geographies of this market are Asia-Pacific, Rest of World, Europe and North America. Companies of this market are IMC Products Inc., BASF Chemicals, Bluestar Silicone, Bostik SA, Emerald Seed Company , Evonik Industries, Gelest Inc., Kaneka Corporation, KCC Corporation, Momentive Performance Materials Holdings LLC, Momentive Specialty Chemicals Inc, Momentive Performance Materials Inc. , Nusil Technology LLC, Rogers Corporation and Shin-Etsu Chemical Co., Ltd.. Submarkets of this market are Structural silicone Glazing.

Key Questions Answered
What are market estimates and forecasts; which of Silicone markets are doing well and which are not?
What is the competitive landscape; How companies like IMC Products Inc., BASF Chemicals and Bluestar Silicone doing in Silicone?

What makes our report unique?

This reports provides most granular segmentation on Structural silicone Glazing.
It will provide you market insights into Building & Construction, Chemical Manufacturing & Processing, Transportation (I) and Biomaterials.
This report provides market sizing and forecast for the Silicone market. It also provides market sizing and forecast along with the drivers/inhibitors/opportunity analysis for each of the micro markets.
The report provides deep dive competitive landscape covering the top players such as IMC Products Inc., BASF Chemicals, Bluestar Silicone and Bostik SA.
The reports provides benchmarking insight on the top players IMC Products Inc., BASF Chemicals, Bluestar Silicone and Bostik SA.
The report provide competitive intelligence on IMC Products Inc., BASF Chemicals, Bluestar Silicone and Bostik SA.
Many times, customers do not get specific intelligence they are looking for in multi-client syndicated studies. So we offer 10% customization which will ensure you get the desired market intelligence, may it be specific to Building & Construction, Chemical Manufacturing & Processing, Transportation (I) and Biomaterials applications or Silicone market in Asia-Pacific, Rest of World, Europe and North America.

Audience for this report

Global Silicone companies
Manufacturing Companies
Traders, distributors, and suppliers
Governmental and research organizations
Associations and industry bodies
Technology providers

Top developments

Kaneka Corporation acquired BASF's Acrylic based Modifier Business
Amber Chemical Company Ltd was acquired by ICM Products Inc.
Bluestar Silicone launched a new product for haircare application in Hamburg
Evonik Industries expanded the capacity for it's precipitated silica plant in Rayong, Thailand
Gelest Inc appointed Kelly Chemical Corporation as the distributor for Gelest's complete line of silicone
BlueStar Silicone launched it's Bluesil range
Momentive opened a new facility to supply resin coated proppants
Nusil introduced it's new range of "Protective Silicone Coatings"
Momentive acquired a resin coated proppants manufacturing plant in Shreveport
BASF started construction of it's new compounding plant in Yesan, South Korea




1 Introduction
1.1 Analyst Insights
1.2 Market Definitions
1.3 Market Segmentation & Aspects Covered
1.4 Research Methodology
2 Executive Summary
3 Market Overview
4 By Submarkets
4.1 Structural silicone Glazing
5 By Applications
5.1 Building & Construction
5.2 Chemical Manufacturing & Processing
5.3 Transportation (I)
5.4 Biomaterials
5.5 Plastic
5.6 Electrical & Electronics
5.7 Textiles
6 By Ingredients
6.1 Silicon
6.2 Methanol
7 By Geographies
7.1 Asia-Pacific
7.2 Rest of World
7.3 Europe
7.4 North America
8 By Companies
8.1 IMC Products Inc.
8.2 BASF Chemicals
8.3 Bluestar Silicone
8.4 Bostik SA
8.5 Emerald Seed Company 
8.6 Evonik Industries
8.7 Gelest Inc.
8.8 Kaneka Corporation
8.9 KCC Corporation
8.10 Momentive Performance Materials Holdings LLC
8.11 Momentive Specialty Chemicals Inc
8.12 Momentive Performance Materials Inc. 
8.13 Nusil Technology LLC
8.14 Rogers Corporation
8.15 Shin-Etsu Chemical Co., Ltd.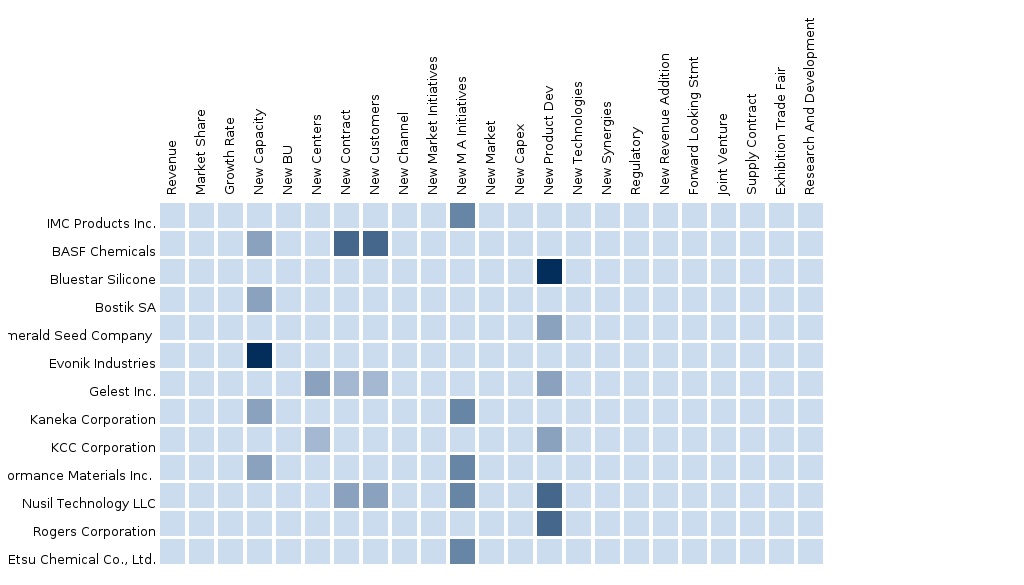 Please fill in the form below to receive a free copy of the Summary of this Report
Custom Market Research Services
We will customize the research for you, in case the report listed above does not meet with your exact requirements. Our custom research will comprehensively cover the business information you require to help you arrive at strategic and profitable business decisions.
Please visit
http://www.micromarketmonitor.com/custom-research-services.html
to specify your custom Research Requirement
PRODUCT TITLE
PUBLISHED
Structural silicone Glazing


Structural silicone Glazing can be segmented by Ingredients, Applications, Geographies and Companies. Ingredients of this market are Silicon and



Upcoming
Automotive Silicone


Automotive Silicone can be segmented by Ingredients, Companies, Applications and Geographies. Ingredients of this market are Silicon and



Upcoming
2 of 2 items
2 reports | Show