The Global Phosphorus Chemical Market is witnessing a high growth due to the economic growth within the emerging markets causing the rising demand in various applications. The report estimates the size of the Global Phosphorus Chemical Market both in terms of volume and value. The report provides a comprehensive overview of the key market drivers, challenges and issues. Global Phosphorus Chemical Market is estimated to reach $73,217.55 million by 2019, growing at a CAGR of 3.44% from 2014 to 2019. The key driver of the market is the growing needs of crops to meet the food requirements of the increasing population, rising demand for water treatment, and a shift from halogenated to non- halogenated flame retardants such as organophoshorus flame retardants.
The report "Global Phosphorus Chemical Market" defines and segments the market by analyzing and forecasting the phosphorus chemical market size with respect to volume (KT) and value ($Million).
Phosphorus being a naturally occurring resource is available in limited quantities. Extensive usage and wastage of phosphorous could lead to a scenario with no phosphorus available. Hence, it should be used in a sustained manner to last for a longer time. The governments of various countries are taking an initiative to streamline the use of resources.
There are numerous derivatives of phosphorus, where each derivative applies to a number of applications. The major derivatives are ammonium phosphate, industrial phosphate (calcium, potassium and other metallic salts of phosphorus), phosphoric acid, phosphorus chlorides, phosphorus oxides and phosphorus pentasulfide, which cover most of the phosphorus and its derivatives market. Ammonium phosphates hold a major market share among all derivatives, due to extensive demand in the fertilizer industry.
The market study segments the Global Phosphorus Chemical Market with respect to major regions including Americas, Europe, Asia-Pacific, Oceania region and Middle East & Africa. The report also covers the key trends concerning with the mentioned regions and the major countries in those regions.
The major applications covered in the Global Phosphorus Chemical Market are fertilizers, detergents, food industry, water treatment chemicals, metal finishing and flame retardants.
Further, as a part of qualitative analysis, this report provides a comprehensive review of important drivers, restraints, opportunities, and key burning issues in the Global Phosphorus Chemical Market.
The Global Phosphorus Chemical Market report also provides an extensive competitive landscape of the companies operating in this market. It also includes the company profiles and competitive strategies adopted by various market players such OCP SA (Morocco), The Mosaic Company (U.S.) Prayon S.A. (Belgium), Kazphosphate LLC (Kazakhstan) and Innophos Holdings Inc. (U.S.) and other market players in the Global Phosphorus Chemical Market.
Customization Options:
Market share analysis of the Global Phosphorus Chemical Market can be provided (Company-wise)
Raw Material analysis of Rock Phosphate and Yellow Phosphorus in terms of prices
A detailed analysis on the various derivatives of Global Phosphorus Chemical Market such as Phosphoric acid, ammonium phosphate, phosphorus chloride, industrial phosphates, phosphorus pentasulfide, phosphorus pentoxide, and such other products in terms of applications, price analysis and additional information on each of the derivatives can be provided
In-depth detailed analysis on Yellow Phosphorus i.e. manufacturing process, global production capacity and analysis of the countries producing yellow phosphorus
Patent Analysis in terms of the number of patents registered during the forecasted period and company-wise and region-wise analysis
1 Introduction
1.1 Analyst Insights
1.2 Market Definitions
1.3 Market Segmentation & Aspects Covered
1.4 Research Methodology
2 Executive Summary
3 Market Overview
4 By Submarkets
4.1 Other Markets
4.2 Other Markets
4.3 Phosphorus Sulphate
4.4 Organophosphorus
4.5 Phosphorous Chlorides
4.6 Phosphorous Pentasulphide
4.7 Phosphorous Pentoxide
4.8 Ammonium Phosphates
4.9 Phosphates, Industrial
4.10 Phosphoric Acid
4.11 Superphosphate, Normal
4.12 Superphosphate, Triple
4.13 Phosphates, Others
5 By Applications
5.1 Fertilizers
5.2 Flame Retrardents
5.3 Water Treatment Chemicals
5.4 Detergent & Soaps
5.5 Metal Finishing Chemicals
5.6 Food & Beverage Ingredients
5.7 Other Applications
5.8 Other Applications
6 By Ingredients
6.1 Phosphorous Ore
6.2 Sodium
6.3 Potassium
6.4 Ingredients (Others)
6.5 Ammonia
7 By Geographies
7.1 Europe
7.2 Asia
7.3 Americas
7.4 Oceania Region
7.5 Middle East and Africa
8 By Companies
8.1 Agrium Inc.
8.2 Israel Chemicals Ltd. (ICL)
8.3 Lanxess AG
8.4 Potash Corp. of Saskatchewan Inc.
8.5 The Mosaic Co.
8.6 United Phosphorus Limited
8.7 Yara International ASA
8.8 Italmatch Chemicals S.p.A.
8.9 PhosAgro
8.10 Kazphosphate LLC
8.11 Innophos Holdings Inc
8.12 Acron
8.13 EuroChem
8.14 Solvay Rhodia Sector
8.15 Vale S.A.
8.16 WengFu Group
8.17 Hubei Xingfa Chemicals Group Co., Ltd.
8.18 Yuntianhua Group Company Limited
8.19 Chemische Fabrik Budenheim KG
8.20 Jordan Phosphate Mines Company
8.21 Yidu Xingfa Chemicals Company Limited
8.22 Prayon SA
8.23 OCP SA
8.24 Maaden - Saudi Arabian Mining Company
8.25 CF Industries Holdings, Inc.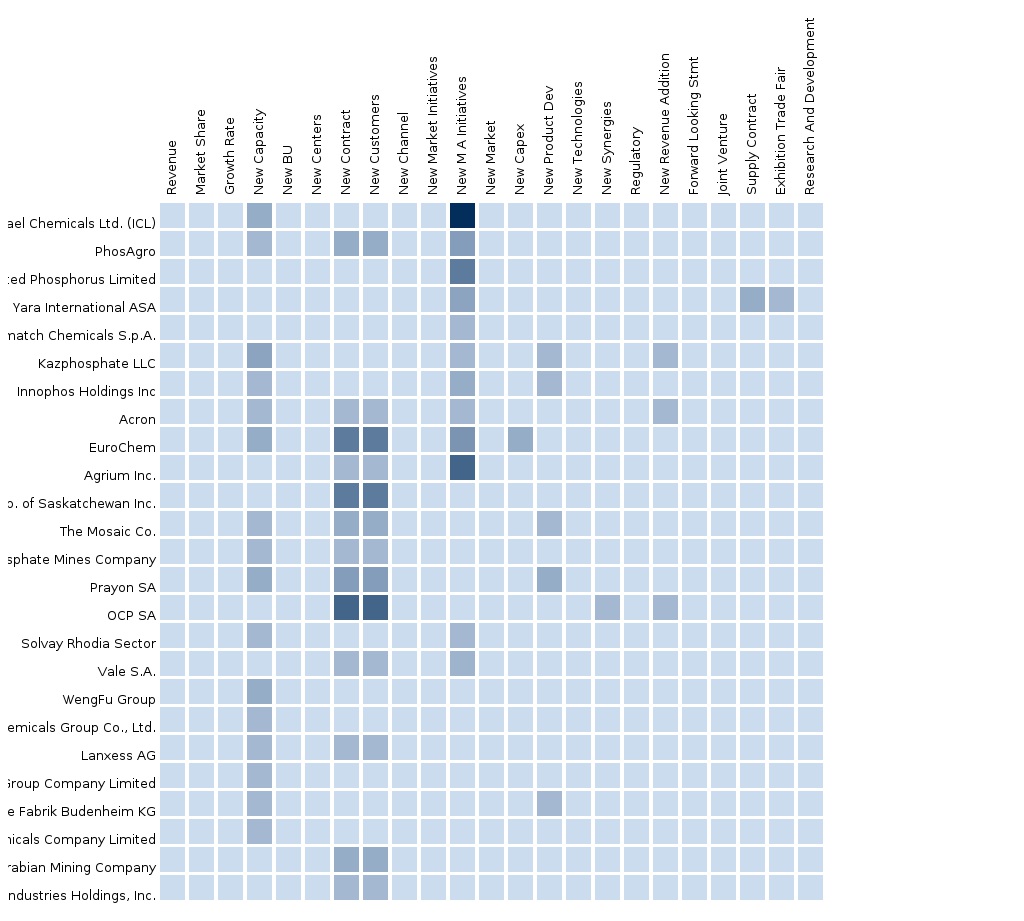 Please fill in the form below to receive a free copy of the Summary of this Report
Custom Market Research Services
We will customize the research for you, in case the report listed above does not meet with your exact requirements. Our custom research will comprehensively cover the business information you require to help you arrive at strategic and profitable business decisions.
Please visit
http://www.micromarketmonitor.com/custom-research-services.html
to specify your custom Research Requirement
PRODUCT TITLE
PUBLISHED
Superphosphate, Triple


Superphosphate, Triple and its peer markets - Organophosphorus,



Upcoming
Phosphatidylcholine


Phosphatidylcholine is used in a broad spectrum of industries such as healthcare, cosmetics, dietary supplement and others.



Upcoming
Triphenylphosphate


Triphenylphosphate and Flame Retrardents,



Upcoming
Cyclophosphamide


Cyclophosphamide and Flame Retrardents, Phosphatidylcholine,...



Upcoming
Parathion


Parathion and Flame Retrardents, Phosphatidylcholine,



Upcoming
Zinc Dithiophosphate


Zinc Dithiophosphate and Flame Retrardents,



Upcoming
Phosphorus Sulphate


Phosphorus Sulphate and its peer markets - Phosphorous Chlorides,



Upcoming
Organophosphorus


Organophosphorus and its peer markets - Superphosphate, Normal,



Upcoming
Phosphorous Chlorides


Phosphorous Chlorides and its peer markets - Superphosphate, Triple,



Upcoming
Phosphorous Pentasulphide


Phosphorous Pentasulphide and its peer markets - Phosphorous Chlorides,



Upcoming
Phosphorous Pentoxide


Phosphorous Pentoxide and its peer markets - Phosphoric Acid,



Upcoming
Ammonium Phosphates


Ammonium Phosphates and its peer markets - Phosphates, Others, Other Markets,



Upcoming
Phosphates, Industrial


Phosphates, Industrial and its peer markets - Other Markets, Ammonium Phosphates,



Upcoming
Phosphoric Acid


Phosphoric Acid and its peer markets - Organophosphorus,



Upcoming
Superphosphate, Normal


Superphosphate, Normal and its peer markets - Organophosphorus, Other Markets,



Upcoming
Americas Phosphorus Chemicals


Phosphorus Chemicals-Americas and its peer markets - Organophosphorus,



Upcoming
Asia-Pacific Phosphorus Chemicals


Phosphorus Chemicals-Asia and its peer markets - Phosphates, Industrial,



Upcoming
Europe Phosphorus Chemicals


Phosphorus Chemicals-Europe and its peer markets - Phosphoric Acid,



Upcoming
Ammonium Phosphate


Ammonium Phosphate and its peer markets - Phosphorous Chlorides,



Upcoming
19 of 19 items
19 reports | Show