Linear alpha-Olefins and Branched alpha-Olefins adds up to total Alpha Olefins market.

Linear alpha-Olefins can be segmented by Geographies, Applications, Companies, Ingredients and Submarkets. Geographies of this market are North America, Europe, Middle East, Rest of World and Asia-Pacific. Applications of this market are Oilfield Chemicals, Detergent Alcohols, Alkylbenzenes, Linear & Branched, Polybutylene, Alpha Olefin Sulfonates (AOS), Plasticizer Alcohols (C4-C13), Low Density Polyethylene (LDPE), High Density Polyethylene (HDPE), Surfactants, Pulp & Papers, Plasticizers, Polybutene, Aroma chemicals, Butylenes and Lubricant. Companies of this market are Chevron Chemicals, Evonik Industries, Exxon Mobil Corp, Dow Chemical, SABIC, Sasol Limited, Godrej Industries Ltd, Idemitsu Kosan Co.,Ltd., INEOS Oligomers, Linde AG, Mitsubishi Chemical Corporation, NizhnekamskNeftekhim Inc, Qatar Chemical Company Ltd (Q-Chem) and Royal Dutch Shell plc. Ingredients of this market are Ethylene and Coal. Submarkets of this market are 1-butene, 1-hexene, 1-octene, 1-decene, 1-dodecene, 1-tetradecene, 1-hexadecene and 1-octadecene.

Key Questions Answered
What are market estimates and forecasts; which of Linear alpha-Olefins markets are doing well and which are not?
What is the competitive landscape; How companies like Chevron Chemicals, Evonik Industries and Exxon Mobil Corp doing in Linear alpha-Olefins?

What makes our report unique?

This reports provides most granular segmentation on 1-butene, 1-hexene, 1-octene and 1-decene.
It will provide you market insights into Oilfield Chemicals, Detergent Alcohols, Alkylbenzenes, Linear & Branched and Polybutylene.
This report provides market sizing and forecast for the Linear alpha-Olefins market. It also provides market sizing and forecast along with the drivers/inhibitors/opportunity analysis for each of the micro markets.
The report provides deep dive competitive landscape covering the top players such as Chevron Chemicals, Evonik Industries, Exxon Mobil Corp and Dow Chemical.
The reports provides benchmarking insight on the top players Chevron Chemicals, Evonik Industries, Exxon Mobil Corp and Dow Chemical.
The report provide competitive intelligence on Chevron Chemicals, Evonik Industries, Exxon Mobil Corp and Dow Chemical.
Many times, customers do not get specific intelligence they are looking for in multi-client syndicated studies. So we offer 10% customization which will ensure you get the desired market intelligence, may it be specific to Oilfield Chemicals, Detergent Alcohols, Alkylbenzenes, Linear & Branched and Polybutylene applications or Linear alpha-Olefins market in North America, Europe, Middle East and Rest of World.

Audience for this report

Global Linear alpha-Olefins companies
Manufacturing Companies
Traders, distributors, and suppliers
Governmental and research organizations
Associations and industry bodies
Technology providers

Top developments

Idemitsu and Mitsui (Japan) have signed an agreement to start a unit for the production of a Linear Alpha Olefins
Germains Seed Technology had collaborated with Chemtura Agro Solutions
Sasol has obtained the consent for use of ALCAT TEAL purified tri-ethyl aluminum product
Sasol has obtained the consent for use of ALCAT TEAL purified tri-ethyl aluminum product (TEAL)
INEOS plans to set up a new linear alpha olefin (LAO) facility in the U.S.
INEOS plans to set up a new linear alpha olefin (LAO) facility in the U.S.
Dow chemicals are going for joint venture with idemitsu kosan.co and mitsui co.ltd
Mitsubishi Chemical Corporation inked mutual contract with the Shell Chemicals (U.K.) and Qatar Petroleum
Dow Chemical Company signed supply agreement with Idemitsu Kosan Co., Ltd and Mitsui & Co., Ltd.
Evonik industries inked a letter of intent with Petronas (Malaysia) to develop a production plant for specialty chemicals




1 Introduction
1.1 Analyst Insights
1.2 Market Definitions
1.3 Market Segmentation & Aspects Covered
1.4 Research Methodology
2 Executive Summary
3 Market Overview
4 By Submarkets
4.1 1-butene
4.2 1-hexene
4.3 1-octene
4.4 1-decene
4.5 1-dodecene
4.6 1-tetradecene
4.7 1-hexadecene
4.8 1-octadecene
5 By Applications
5.1 Oilfield Chemicals
5.2 Detergent Alcohols
5.3 Alkylbenzenes, Linear & Branched
5.4 Polybutylene
5.5 Alpha Olefin Sulfonates (AOS)
5.6 Plasticizer Alcohols (C4-C13)
5.7 Low Density Polyethylene (LDPE)
5.8 High Density Polyethylene (HDPE)
5.9 Surfactants
5.10 Pulp & Papers
5.11 Plasticizers
5.12 Polybutene
5.13 Aroma chemicals
5.14 Butylenes
5.15 Lubricant
6 By Ingredients
6.1 Ethylene
6.2 Coal
7 By Geographies
7.1 North America
7.2 Europe
7.3 Middle East
7.4 Rest of World
7.5 Asia-Pacific
8 By Companies
8.1 Chevron Chemicals
8.2 Evonik Industries
8.3 Exxon Mobil Corp
8.4 Dow Chemical
8.5 SABIC
8.6 Sasol Limited
8.7 Godrej Industries Ltd
8.8 Idemitsu Kosan Co.,Ltd.
8.9 INEOS Oligomers
8.10 Linde AG
8.11 Mitsubishi Chemical Corporation
8.12 NizhnekamskNeftekhim Inc
8.13 Qatar Chemical Company Ltd (Q-Chem)
8.14 Royal Dutch Shell plc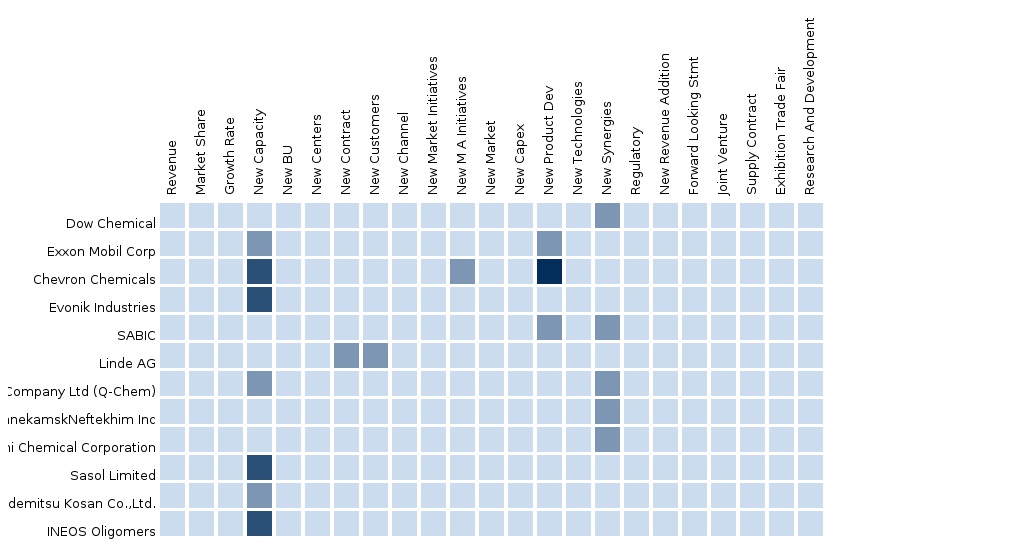 Please fill in the form below to receive a free copy of the Summary of this Report
Custom Market Research Services
We will customize the research for you, in case the report listed above does not meet with your exact requirements. Our custom research will comprehensively cover the business information you require to help you arrive at strategic and profitable business decisions.
Please visit
http://www.micromarketmonitor.com/custom-research-services.html
to specify your custom Research Requirement
PRODUCT TITLE
PUBLISHED
1-butene


1-butene and 1-hexene, 1-octene,



Jun 2016
1-hexene


The C6 alpha olefin (1-Hexene) was 925.14 thousand MT in 2013, and is expected to reach 1,147.5 thousand MT by 2018, at a CAGR of 4.4%, for the given period. The growth is an outcome of increased demand for end-user applications such as polyethylene co-monomers (LLDPE, HDPE) and capacity expansions.



Upcoming
1-octene


1-octene and 1-butene, 1-hexene,



Upcoming
1-decene


1-decene and 1-butene, 1-hexene,



Upcoming
1-dodecene


1-dodecene and 1-butene, 1-hexene,



Upcoming
1-tetradecene


1-tetradecene and 1-butene, 1-hexene,



Upcoming
1-hexadecene


1-hexadecene and 1-butene, 1-hexene,



Upcoming
1-octadecene


1-octadecene and 1-butene, 1-hexene,



Upcoming
Europe 1-butene


1-butene-Europe can be segmented by Applications, Companies and Ingredients. Applications of 1-butene-Europe are Oilfield Chemicals, Detergent Alcohols, Lubricant, Polyethylene (PE), Polypropylene (PP), Alkylbenzenes, Linear & Branched, Polybutylene, Alpha Olefin...



Upcoming
North America 1-butene


1-butene-North America can be segmented by Applications, Companies and Ingredients. Applications of 1-butene-North America are Oilfield Chemicals, Detergent Alcohols, Lubricant, Polyethylene (PE), Polypropylene (PP), Alkylbenzenes, Linear & Branched, Polybutylene, Alpha...



Upcoming
Asia-Pacific 1-butene


1-butene-Asia-Pacific can be segmented by Applications, Companies and Ingredients. Applications of 1-butene-Asia-Pacific are Oilfield Chemicals, Detergent Alcohols, Lubricant, Polyethylene (PE), Polypropylene (PP), Alkylbenzenes, Linear & Branched, Polybutylene, Alpha...



Upcoming
Asia-Pacific 1-hexene


1-hexene-Asia-Pacific can be segmented by Applications, Companies and Ingredients. Applications of 1-hexene-Asia-Pacific are Oilfield Chemicals, Detergent Alcohols, Lubricant, Alkylbenzenes, Linear & Branched, Polybutylene, Alpha Olefin Sulfonates (AOS), Plasticizer...



Upcoming
Europe 1-hexene


1-hexene-Europe can be segmented by Applications, Companies and Ingredients. Applications of 1-hexene-Europe are Oilfield Chemicals, Detergent Alcohols, Lubricant, Alkylbenzenes, Linear & Branched, Polybutylene, Alpha Olefin Sulfonates (AOS), Plasticizer Alcohols...



Upcoming
North America 1-hexene


1-hexene-North America can be segmented by Applications, Companies and Ingredients. Applications of 1-hexene-North America are Oilfield Chemicals, Detergent Alcohols, Lubricant, Alkylbenzenes, Linear & Branched, Polybutylene, Alpha Olefin Sulfonates (AOS), Plasticizer...



Upcoming
Asia-Pacific 1-octene


1-octene-Asia-Pacific can be segmented by Applications, Companies and Ingredients. Applications of 1-octene-Asia-Pacific are Oilfield Chemicals, Detergent Alcohols, Lubricant, Alkylbenzenes, Linear & Branched, Polybutylene, Alpha Olefin Sulfonates (AOS), Plasticizer...



Upcoming
Europe 1-octene


1-octene-Europe can be segmented by Applications, Companies and Ingredients. Applications of 1-octene-Europe are Oilfield Chemicals, Detergent Alcohols, Lubricant, Alkylbenzenes, Linear & Branched, Polybutylene, Alpha Olefin Sulfonates (AOS), Plasticizer Alcohols...



Upcoming
North America 1-octene


1-octene-North America can be segmented by Applications, Companies and Ingredients. Applications of 1-octene-North America are Oilfield Chemicals, Detergent Alcohols, Lubricant, Alkylbenzenes, Linear & Branched, Polybutylene, Alpha Olefin Sulfonates (AOS), Plasticizer...



Jul 2015
Middle East 1-decene


1-decene-Middle East can be segmented by Applications, Companies and Ingredients. Applications of this market are Oilfield Chemicals,



Upcoming
North America 1-decene


1-decene-North America can be segmented by Applications, Companies and Ingredients. Applications of this market are Oilfield Chemicals,



Upcoming
Europe 1-decene


1-decene-Europe can be segmented by Applications, Companies and Ingredients. Applications of this market are Oilfield Chemicals,



Upcoming