Fracking Chemicals and its peer markets - Oxo-alcohols, Butyl glycol, Specialty Amines, Brine Fluids, Propenols, Acetylene, Perchloroethylene, Ethyl Ether OR Diethyl Ether, Dipropylene glycol and 350 other markets - adds up to total Derivatives market.

Fracking Chemicals can be segmented by Geographies, Companies and Materials. Geographies of this market are North America. Companies of this market are Baker Hughes Incorporated, Clariant Chemicals, AkzoNobel N.V., Albemarle Corporation, Ashland Inc, BASF SE , Calfrac Well Services Ltd, Chevron Phillips Chemical Company LIC, E.I. DU Pont DE Nemours, Halliburton, Linde AG, Schlumberger Limited, Solvay S.A., Dow Chemical, Trican Well Services and Weatherford International Ltd.. Materials of this market are Proppants.

Key Questions Answered
What are market estimates and forecasts; which of Fracking Chemicals markets are doing well and which are not?
What is the competitive landscape; How companies like Baker Hughes Incorporated, Clariant Chemicals and AkzoNobel N.V. doing in Fracking Chemicals?

What makes our report unique?

This report provides market sizing and forecast for the Fracking Chemicals market. It also provides market sizing and forecast along with the drivers/inhibitors/opportunity analysis for each of the micro markets.
The report provides deep dive competitive landscape covering the top players such as Baker Hughes Incorporated, Clariant Chemicals, AkzoNobel N.V. and Albemarle Corporation.
The reports provides benchmarking insight on the top players Baker Hughes Incorporated, Clariant Chemicals, AkzoNobel N.V. and Albemarle Corporation.
The report provide competitive intelligence on Baker Hughes Incorporated, Clariant Chemicals, AkzoNobel N.V. and Albemarle Corporation.

Audience for this report

Global Fracking Chemicals companies
Manufacturing Companies
Traders, distributors, and suppliers
Governmental and research organizations
Associations and industry bodies
Technology providers

Top developments

Solvay SA intends to acquire Chemlogics (U.S.) for $1.3 billion
Calfrac Well Services acquired Mission Well Services
Baker Hughes commercialized its ClearStar fracturing fluid system
Halliburton commercialized the UniStim Service
Schlumberger launched the moment tensor inversion service
Baker Hughes introduced a new frac-pack system design
Schlumberger introduced the SPARK Simulation technology delivery platform
Clariant Oil Services acquired champion technologies assets in its deep water Gulf of Mexico business
Trican Well Services Ltd. completed the acquisition of i-TEC Well Solutions
Halliburton's new stimulation vessel




1 Introduction
1.1 Analyst Insights
1.2 Market Definitions
1.3 Market Segmentation & Aspects Covered
1.4 Research Methodology
2 Executive Summary
3 Market Overview
4 By Materials
4.1 Proppants
5 By Geographies
5.1 North America
6 By Companies
6.1 Baker Hughes Incorporated
6.2 Clariant Chemicals
6.3 AkzoNobel N.V.
6.4 Albemarle Corporation
6.5 Ashland Inc
6.6 BASF SE
6.7 Calfrac Well Services Ltd
6.8 Chevron Phillips Chemical Company LIC
6.9 E.I. DU Pont DE Nemours
6.10 Halliburton
6.11 Linde AG
6.12 Schlumberger Limited
6.13 Solvay S.A.
6.14 Dow Chemical
6.15 Trican Well Services
6.16 Weatherford International Ltd.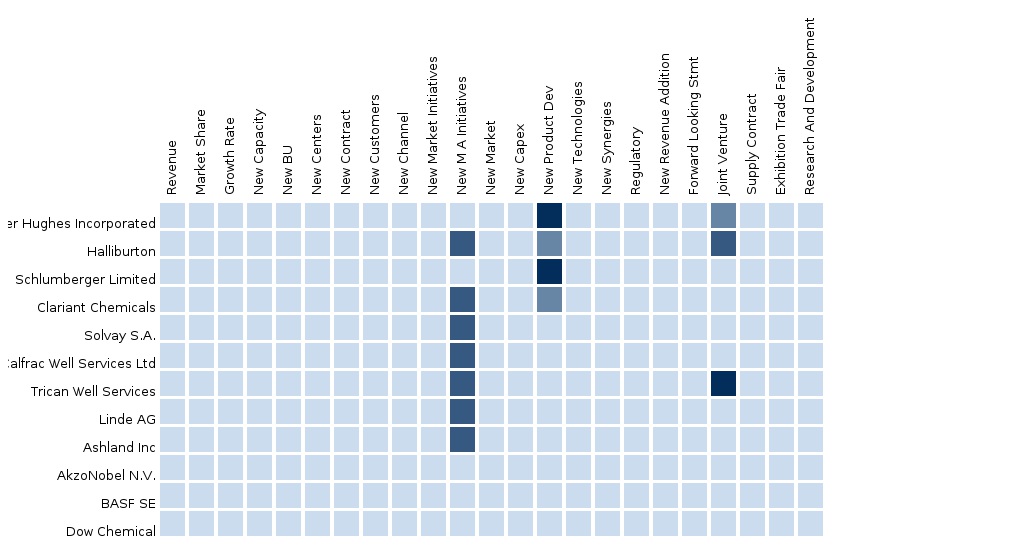 Please fill in the form below to receive a free copy of the Summary of this Report
Custom Market Research Services
We will customize the research for you, in case the report listed above does not meet with your exact requirements. Our custom research will comprehensively cover the business information you require to help you arrive at strategic and profitable business decisions.
Please visit
http://www.micromarketmonitor.com/custom-research-services.html
to specify your custom Research Requirement
PRODUCT TITLE
PUBLISHED
Proppants


Proppants can be segmented by Geographies and Companies. Geographies of this market are North America. Companies of this market are Baker Hughes Incorporated, Clariant Chemicals, AkzoNobel N.V., Albemarle Corporation, Ashland Inc, BASF SE , Calfrac Well Services Ltd,...



Upcoming
Asia-Pacific Fracking Chemicals


Companies of this market are Baker Hughes Incorporated, Clariant Chemicals India Ltd, AkzoNobel N.V., Albemarle Corporation, Ashland Inc, BASF SE , Calfrac Well Services Ltd, Chevron Phillips Chemical Company LLC, Halliburton Company, Linde AG, Schlumberger Limited,...



Upcoming
North America Fracking Chemicals


Companies of this market are Baker Hughes Incorporated, Clariant Chemicals India Ltd, AkzoNobel N.V., Albemarle Corporation, Ashland Inc, BASF SE , Calfrac Well Services Ltd, Chevron Phillips Chemical Company LLC, Halliburton Company, Linde AG, Schlumberger Limited,...



Upcoming
Europe Fracking Chemicals


Companies of this market are Baker Hughes Incorporated, Clariant Chemicals India Ltd, AkzoNobel N.V., Albemarle Corporation, Ashland Inc, BASF SE , Calfrac Well Services Ltd, Chevron Phillips Chemical Company LLC, Halliburton Company, Linde AG, Schlumberger Limited,...



Upcoming
4 of 4 items
4 reports | Show