Electronic Warfare System and its peer markets - Unmanned Systems, Homeland Security, Amphibious Landing Craft, Telemetry System, Shoulder Fired, Battlefield Management System, Airborne Systems, Air and Missile Defense Radar, Armored Vehicle and 9 other markets - adds up to total Defence/ Homeland Security market.

Electronic Warfare System can be segmented by Geographies, Companies, Applications and Types. Geographies of this market are Asia-Pacific, Middle East, North America, Latin America, Europe, Rest of World and Africa. Companies of this market are Bae Systems PLC, Eads, Lockheed Martin, Northrop Grumman, The Raytheon, Thales Group, Other Companies, LS Telecom, SAAB, Drs Technologies, Inc., Elbit Systems, Esterline, General Electric, ITT Corporation, Rafael Advanced Defense Systems, Rockwell Collins, Safran and Teledyne Technologies Incorporated. Applications of this market are Electronic Attack, Electronic Protection and Electronic Support Measure. Types of this market are Air Based System, Naval Based System and Land Based System.

Key Questions Answered
What are market estimates and forecasts; which of Electronic Warfare System markets are doing well and which are not?
What is the competitive landscape; How companies like Bae Systems PLC, Eads and Lockheed Martin doing in Electronic Warfare System?

What makes our report unique?

It will provide you market insights into Electronic Attack, Electronic Protection and Electronic Support Measure.
This report provides market sizing and forecast for the Electronic Warfare System market. It also provides market sizing and forecast along with the drivers/inhibitors/opportunity analysis for each of the micro markets.
The report provides deep dive competitive landscape covering the top players such as Bae Systems PLC, Eads, Lockheed Martin and Northrop Grumman.
The reports provides benchmarking insight on the top players Bae Systems PLC, Eads, Lockheed Martin and Northrop Grumman.
The report provide competitive intelligence on Bae Systems PLC, Eads, Lockheed Martin and Northrop Grumman.
Many times, customers do not get specific intelligence they are looking for in multi-client syndicated studies. So we offer 10% customization which will ensure you get the desired market intelligence, may it be specific to Electronic Attack, Electronic Protection and Electronic Support Measure applications or Electronic Warfare System market in Asia-Pacific, Middle East, North America and Latin America.

Audience for this report

Global Electronic Warfare System companies
Manufacturing Companies
Traders, distributors, and suppliers
Governmental and research organizations
Associations and industry bodies
Technology providers

Top developments

EADS North America to provide support and service to four CN235 Maritime Patrol Aircraft for Mexican Navy
Elbit Systems Awarded Israeli Ministry of Defense $23 Million Contract to Operate and Maintain Elbit Systems' Simulators in Use by the Israeli Ground Forces
US Navy confirms its selection of Raytheon for Next Generation Jammer Electronic Warfare Program
Work commences on River Class contract
BAE Systems Detica repositions as BAE Systems Applied Intelligence
Airbus Group, Inc. Continues to Successfully Serve the U.S. Coast Guard with Delivery of 16th HC-144A Ocean Sentry Aircraft
Airbus Group to highlight its commitment to India at Defexpo 2014
Northrop Grumman Unveils Advanced Pulse Generation Technology with Direct Digital Synthesis for Next Generation Advanced Threats
12 Month contract awarded to support RAF Typhoons
Raytheon Company has been awarded a $12,921,937 contract to exercise options for Cooperative Engagement Capability for the AN/USG-2B Shipboard System and three planar array antenna assembly systems.




1 Introduction
1.1 Analyst Insights
1.2 Market Definitions
1.3 Market Segmentation & Aspects Covered
1.4 Research Methodology
2 Executive Summary
3 Market Overview
4 By Applications
4.1 Electronic Attack
4.2 Electronic Protection
4.3 Electronic Support Measure
5 By Types
5.1 Air Based System
5.2 Naval Based System
5.3 Land Based System
6 By Geographies
6.1 Asia-Pacific
6.2 Middle East
6.3 North America
6.4 Latin America
6.5 Europe
6.6 Rest of World
6.7 Africa
7 By Companies
7.1 Bae Systems PLC
7.2 Eads
7.3 Lockheed Martin
7.4 Northrop Grumman
7.5 The Raytheon
7.6 Thales Group
7.7 Other Companies
7.8 LS Telecom
7.9 SAAB
7.10 Drs Technologies, Inc.
7.11 Elbit Systems
7.12 Esterline
7.13 General Electric
7.14 ITT Corporation
7.15 Rafael Advanced Defense Systems
7.16 Rockwell Collins
7.17 Safran
7.18 Teledyne Technologies Incorporated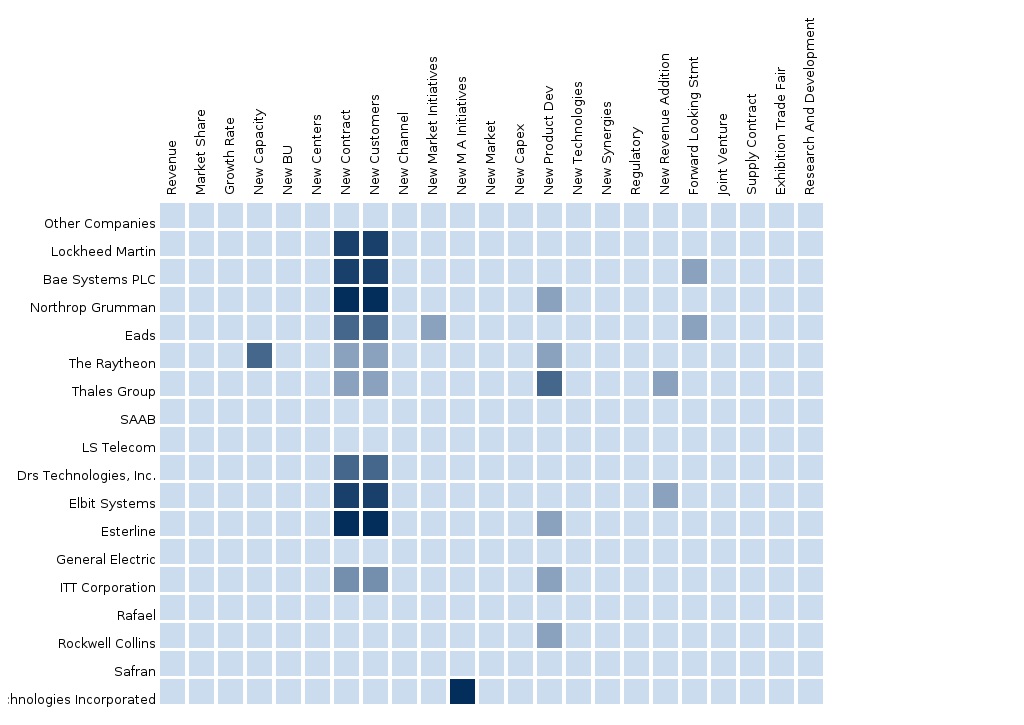 Please fill in the form below to receive a free copy of the Summary of this Report
Custom Market Research Services
We will customize the research for you, in case the report listed above does not meet with your exact requirements. Our custom research will comprehensively cover the business information you require to help you arrive at strategic and profitable business decisions.
Please visit
http://www.micromarketmonitor.com/custom-research-services.html
to specify your custom Research Requirement
6 of 6 items
6 reports | Show
Electronic Warfare System