Crystal oscillator and Actuator adds up to total Piezoelectric devices market.

Crystal oscillator can be segmented by Processes, Geographies, Endusers, Companies, Types and Technologies. Processes of this market are Surface Mount and Thru Hole. Geographies of this market are North America, Asia-Pacific, Europe, Rest of World and Latin America. Endusers of this market are Telecommunication systems, Consumer Electronics, Aerospace & Defense, Industrial Manufacturing and Automotive Sensors. Companies of this market are EPSON, Fox electronics, Pericom semiconductor, TXC corporation, CTS, NDK, KDS, Vectron and Kyocera Kinseki. Types of this market are SPXO, TCXO, VCXO, FCXO and OCXO. Technologies of this market are AT Cut, BT Cut and SC Cut.
Key Questions Answered
What are market estimates and forecasts; which of Crystal oscillator markets are doing well and which are not?
What is the competitive landscape; How companies like EPSON, Fox electronics and Pericom semiconductor doing in Crystal oscillator?
What makes our report unique?
This report provides market sizing and forecast for the Crystal oscillator market. It also provides market sizing and forecast along with the drivers/inhibitors/opportunity analysis for each of the micro markets.
The report provides deep dive competitive landscape covering the top players such as EPSON, Fox electronics, Pericom semiconductor and TXC corporation.
The reports provides benchmarking insight on the top players EPSON, Fox electronics, Pericom semiconductor and TXC corporation.
The report provide competitive intelligence on EPSON, Fox electronics, Pericom semiconductor and TXC corporation.
Audience for this report
Global Crystal oscillator companies
Manufacturing Companies
Traders, distributors, and suppliers
Governmental and research organizations
Associations and industry bodies
Technology providers
Top developments
Epson achieves world's lowest jitter and lowest power for a programmable VCXO
Company introduced a new product family of Temperature Compensated Crystal Oscillators (TCXO)
Epson Launches VCXOs for Mobile Base Stations and Optical Communications Equipment
Epson Introduces New Differential Output Crystal Oscillator
TXC launched Real-Time Clock module (RTC),TXC's RTC module (RT series)
1 Introduction
1.1 Analyst Insights
1.2 Market Definitions
1.3 Market Segmentation & Aspects Covered
1.4 Research Methodology
2 Executive Summary
3 Market Overview
4 By Processes
4.1 Surface Mount
4.2 Thru Hole
5 By Endusers
5.1 Telecommunication systems
5.2 Consumer Electronics
5.3 Aerospace & Defense
5.4 Industrial Manufacturing
5.5 Automotive Sensors
6 By Types
6.1 SPXO
6.2 TCXO
6.3 VCXO
6.4 FCXO
6.5 OCXO
7 By Technologies
7.1 AT Cut
7.2 BT Cut
7.3 SC Cut
8 By Geographies
8.1 North America
8.2 Asia-Pacific
8.3 Europe
8.4 Rest of World
8.5 Latin America
9 By Companies
9.1 EPSON
9.2 Fox electronics
9.3 Pericom semiconductor
9.4 TXC corporation
9.5 CTS
9.6 NDK
9.7 KDS
9.8 Vectron
9.9 Kyocera Kinseki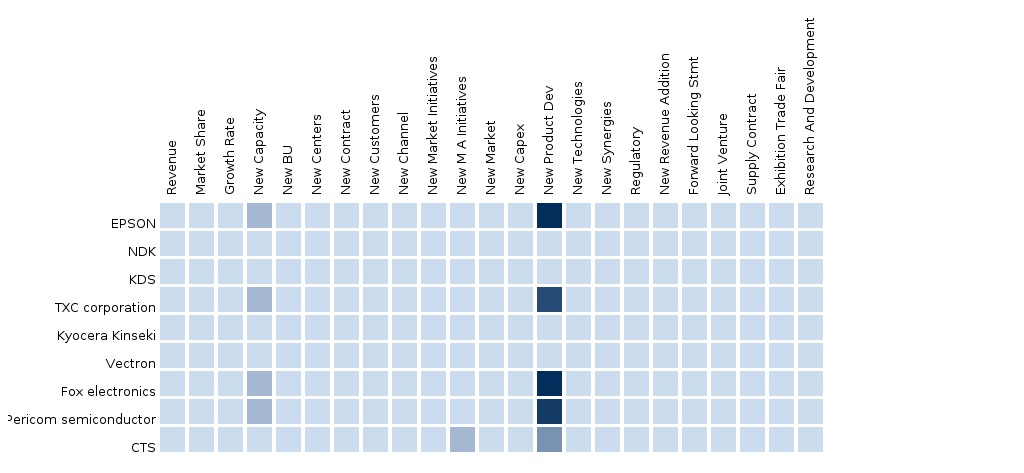 Please fill in the form below to receive a free copy of the Summary of this Report
Custom Market Research Services
We will customize the research for you, in case the report listed above does not meet with your exact requirements. Our custom research will comprehensively cover the business information you require to help you arrive at strategic and profitable business decisions.
Please visit
http://www.micromarketmonitor.com/custom-research-services.html
to specify your custom Research Requirement
PRODUCT TITLE
PUBLISHED
SPXO


SPXO and TCXO, VCXO,



Upcoming
TCXO


TCXO and SPXO, VCXO,



Upcoming
VCXO


VCXO and SPXO, TCXO,



Upcoming
FCXO


FCXO and SPXO, TCXO,



Upcoming
Asia-Pacific Crystal oscillator


Crystal oscillator-Asia-Pacific and Other Types, SPXO, TCXO,



Upcoming
Latin America Crystal oscillator


Crystal oscillator-Latin America and Other Types, SPXO, TCXO,



Upcoming
North America Crystal Oscillator


Crystal oscillator-North America and Other Types, SPXO, TCXO,



Upcoming
Europe Crystal oscillator


Crystal oscillator-Europe and Other Types, Simple Packaged Crystal Oscillator (SPXO),



Upcoming
8 of 8 items
8 reports | Show