Global Building Insulation Materials Market Research Report
Building Insulation Materials and Building & Construction Chemicals and Building & Construction Materials adds up to total Building & Construction market.

Building Insulation Materials can be segmented by Geographies, Companies, Ingredients, Types and Applications. Geographies of this market are Europe, North America, Asia and Rest of World. Companies of this market are BASF SE (Parent), Bayer MaterialScience, Bbmg Corporation, Byucksan Corporation, Csr Ltd, Beijing New Building Material, Dow Chemical, GAF, Huntsman Corporation, Industrial Insulation Group, Ineos Group Limited, Johns Manville Corporation, Kingspan Group Plc, Knauf Insulation, Nitto Boseki Co. Ltd, Owens Corning, Paroc Group, Recticel SA/NV, Rockwool International, Saint-Gobain Corporation, Sig Plc, Thermafiber Inc, Ursa Insulation Sa, Uralita SA, Paramount Glass Mfg Co Ltd and Syntheon LLC. Ingredients of this market are Aerogel. Types of this market are Wool, Plastic foams and Other insulation materials. Applications of this market are Walls, Roofs and Floor.

Key Questions Answered
What are market estimates and forecasts; which of Building Insulation Materials markets are doing well and which are not?
What is the competitive landscape; How companies like BASF SE (Parent), Bayer MaterialScience and Bbmg Corporation doing in Building Insulation Materials?

What makes our report unique?

It will provide you market insights into Walls, Roofs and Floor.
This report provides market sizing and forecast for the Building Insulation Materials market. It also provides market sizing and forecast along with the drivers/inhibitors/opportunity analysis for each of the micro markets.
The report provides deep dive competitive landscape covering the top players such as BASF SE (Parent), Bayer MaterialScience, Bbmg Corporation and Byucksan Corporation.
The reports provides benchmarking insight on the top players BASF SE (Parent), Bayer MaterialScience, Bbmg Corporation and Byucksan Corporation.
The report provide competitive intelligence on BASF SE (Parent), Bayer MaterialScience, Bbmg Corporation and Byucksan Corporation.
Many times, customers do not get specific intelligence they are looking for in multi-client syndicated studies. So we offer 10% customization which will ensure you get the desired market intelligence, may it be specific to Walls, Roofs and Floor applications or Building Insulation Materials market in Europe, North America, Asia and Rest of World.

Audience for this report

Global Building Insulation Materials companies
Manufacturing Companies
Traders, distributors, and suppliers
Governmental and research organizations
Associations and industry bodies
Technology providers

Top developments

Paroc Fatio and Linio is the new range of fire resistant thermal insulation
IIG launched a new Mineral Fiber Insulation Line with two new products,
Paroc Group opened its new stone wool insulation plant in Russia.
Bayer MaterialScience commissions
Thermafiber has announced the launch of UltraBatt™
GAF innaugrates its second polyisocyanurate (ISO) plant.
BASF unveiled its new high-performance insulating material at its Lemförde location.
Paroc introduce a new product,
BASF Partners with MOHURD to Promote Construction Insulation Materials in China.
BASF has signed a contract with ROCKWOOL to sell BASF Wall Systems GmbH & Co. KG.




1 Introduction
1.1 Analyst Insights
1.2 Market Definitions
1.3 Market Segmentation & Aspects Covered
1.4 Research Methodology
2 Executive Summary
3 Market Overview
4 By Applications
4.1 Walls
4.2 Roofs
4.3 Floor
5 By Ingredients
5.1 Aerogel
6 By Types
6.1 Wool
6.2 Plastic foams
6.3 Other insulation materials
7 By Geographies
7.1 Europe
7.2 North America
7.3 Asia
7.4 Rest of World
8 By Companies
8.1 BASF SE (Parent)
8.2 Bayer MaterialScience
8.3 Bbmg Corporation
8.4 Byucksan Corporation
8.5 Csr Ltd
8.6 Beijing New Building Material
8.7 Dow Chemical
8.8 GAF
8.9 Huntsman Corporation
8.10 Industrial Insulation Group
8.11 Ineos Group Limited
8.12 Johns Manville Corporation
8.13 Kingspan Group Plc
8.14 Knauf Insulation
8.15 Nitto Boseki Co. Ltd
8.16 Owens Corning
8.17 Paroc Group
8.18 Recticel SA/NV
8.19 Rockwool International
8.20 Saint-Gobain Corporation
8.21 Sig Plc
8.22 Thermafiber Inc
8.23 Ursa Insulation Sa
8.24 Uralita SA
8.25 Paramount Glass Mfg Co Ltd
8.26 Syntheon LLC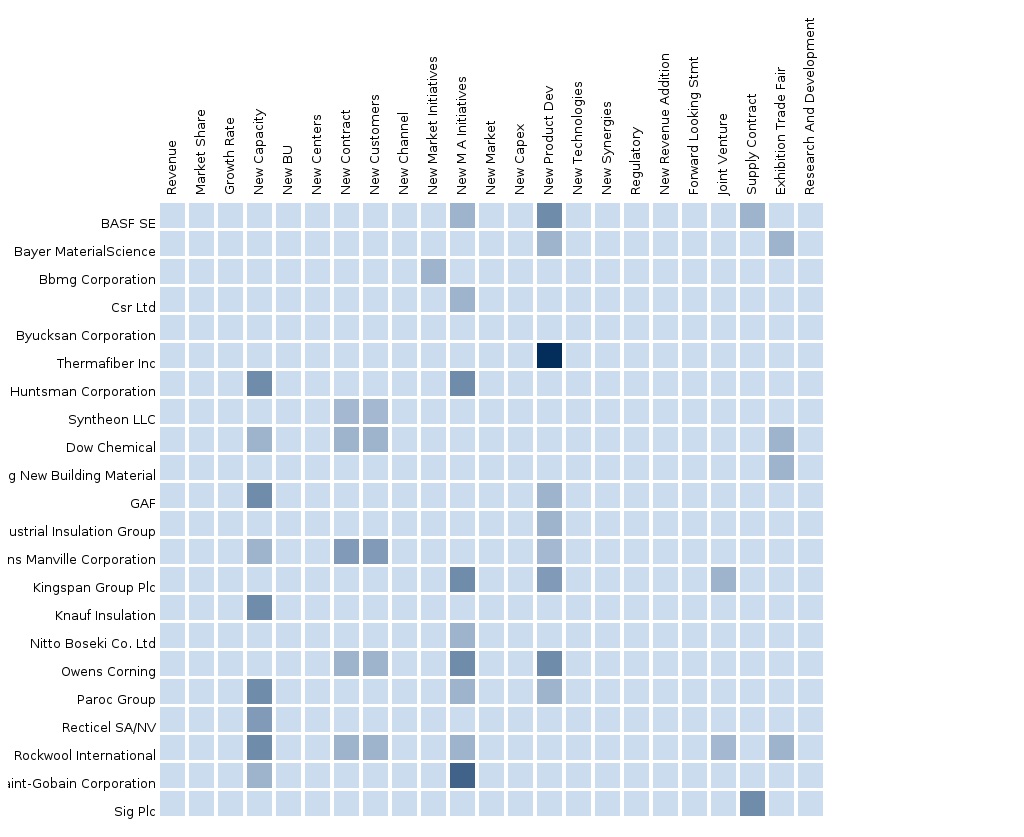 Please fill in the form below to receive a free copy of the Summary of this Report
Custom Market Research Services
We will customize the research for you, in case the report listed above does not meet with your exact requirements. Our custom research will comprehensively cover the business information you require to help you arrive at strategic and profitable business decisions.
Please visit
http://www.micromarketmonitor.com/custom-research-services.html
to specify your custom Research Requirement
PRODUCT TITLE
PUBLISHED
Wool


Wool and Plastic foams and Other insulation materials...



Upcoming
Plastic foams


Plastic foams and Wool and Other insulation materials adds up to...



Upcoming
Walls


Walls and Roofs and Floor adds up to total



Upcoming
Roofs


Roofs and Walls and Floor adds up to total



Upcoming
Floor


Floor and Walls and Roofs adds up to total



Upcoming
Rockwool


Rockwool and Glasswool adds up to total Wool market. Rockwool can be...



Upcoming
External wall


External wall and Internal wall and Cavity wall adds up to total



Upcoming
Internal wall


Internal wall and External wall and Cavity wall adds up to total



Upcoming
Cavity wall


Cavity wall and External wall and Internal wall adds up to total



Upcoming
Flat roof


Flat roof and Pitched roof adds up to total Roofs market. Flat roof...



Upcoming
Pitched roof


Pitched roof and Flat roof adds up to total Roofs market. Pitched roof...



Upcoming
11 of 11 items
11 reports | Show
Building Insulation Materials