The global Bioinformatics Market, by increasing funding by government and private organization, was pegged at $2.5 billion in 2013 and expected to be $ 9.7 billion by 2018, growing at a CAGR of 20.8% from 2012 to 2018.
The report "The Global Bioinformatics Market forecast, 2012-2018" analyzes the Bioinformatics market into Bioinformatics knowledge management, Bioinformatics services, Bioinformatics platforms. Bioinformatics knowledge management tool accounted for the largest share of around 40% of the overall Bioinformatics market.
North America is the Global leader in the Bioinformatics Market accounted for the largest share of around 45% of the market followed by Europe and Asia, due to increasing application of bioinformatics in both biotech and pharmaceutical research. Triggered by the advancements in bioinformatics and their increasing application in healthcare research, biotech and pharmaceutical companies are venturing into bioinformatics field for drug discovery process.
Major drivers of the market are decreasing cost of DNA sequencing, increasing funding by government and private organization, Rise in initiatives by research Institutes, growing IT support, etc.
The report also provides an extensive competitive landscaping of companies operating in Bioinformatics market include Accelrys Inc., Affymetrix Inc., Life Technologies Corporation, Illumina Inc. and CLC bio.
Segment and country specific Company shares, News & Deals, M&A, segment specific pipeline products, product approvals and product recalls of the major companies have been detailed.
Customization Options:
With Market data, you can also customize MMM assessments that meet your Company's specific needs. Customize to get comprehensive industry standard and deep dive analysis of the following parameters:
Product Analysis
Usage pattern (in-depth trend analysis) of products (Segment wise)
Product Matrix which gives a detailed comparison of product portfolio of each company mapped at country and sub segment level
End-user Adoption rate analysis of the products (Segment wise and Country wise)
Comprehensive coverage of Product approvals, Pipeline products and Product recalls
Procedure Volume Data
Number of laboratories, research institutes, universities where bioinformatics products are installed
Researchers Perception analysis
Fast turn-around analysis of Researchers response to market events and trends
Pattern analysis of usage of Bioinformatics applications by Researchers opinion about products from different companies
Brand/Product Perception Matrix
Comprehensive study of customers perception and behavior through our inbuilt social connect tool checking the virality and tonality of blogs
Analysis of overall brand usage and familiarity and brand advocacy distribution (Detractor/Neutral/Familiar)
Competitive Intelligence
The company share analysis of Bioinformatics market in the region
The crucial developments and strategies of companies inculcating in their portfolio
1 Introduction
1.1 Analyst Insights
1.2 Market Definitions
1.3 Market Segmentation & Aspects Covered
1.4 Research Methodology
2 Executive Summary
3 Market Overview
4 By Submarkets
4.1 Bioinformatics Content/Knowledge Management Tools
4.2 Bioinformatics Platforms
4.3 Bioinformatics Services
5 By Applications
5.1 NGS data analysis, storage and management
5.2 Metabolomics
5.3 Proteomics
5.4 Phylogenetics
5.5 Transcriptomics
5.6 Other Applications
6 By Industries
6.1 Medical Biotechnology (Bioinformatics)
6.2 Animal Biotechnology (Bioinformatics)
6.3 Academics (Bioinformatics)
6.4 Agricultural Biotechnology (Bioinformatics)
6.5 Environment Biotechnology (Bioinformatics)
6.6 Forensic Biotechnology (Bioinformatics)
6.7 Other industry (Bioinformatics)
7 By Geographies
7.1 North America
7.2 Europe
7.3 Asia-Pacific
7.4 Rest of World
8 By Companies
8.1 Accelrys
8.2 Affymetrix
8.3 Agilent Technologies
8.4 Biomatters Ltd
8.5 CLC bio
8.6 Ocimum Biosolutions Ltd.
8.7 IDBS
8.8 Illumina
8.9 Biomax Informatics AG
8.10 Kinexus Bioinformatics Corporation
8.11 Integromics
8.12 Instem plc
8.13 Partek Incorporated
8.14 GenoSplice technology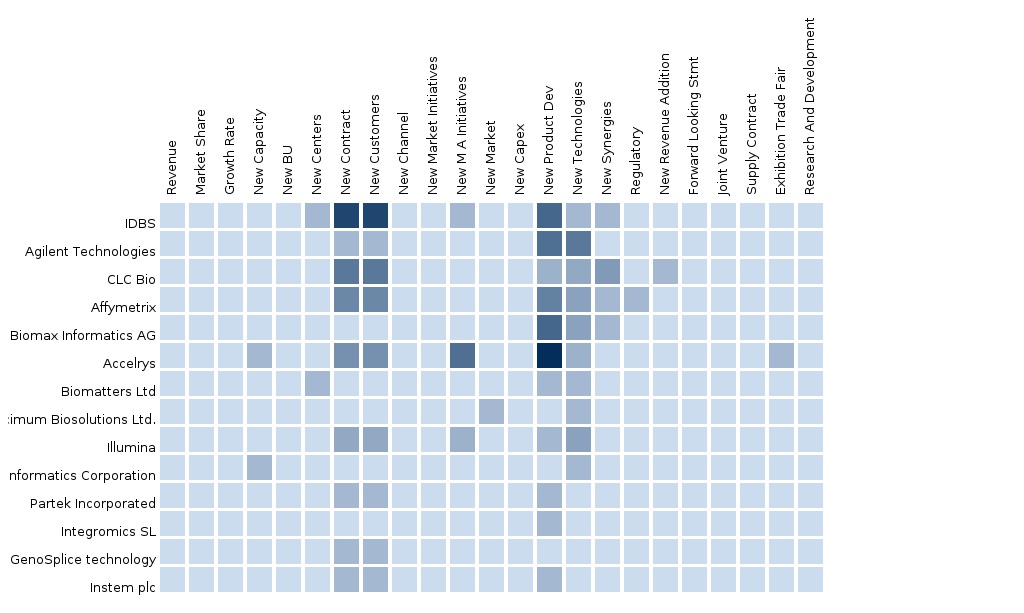 Please fill in the form below to receive a free copy of the Summary of this Report
Custom Market Research Services
We will customize the research for you, in case the report listed above does not meet with your exact requirements. Our custom research will comprehensively cover the business information you require to help you arrive at strategic and profitable business decisions.
Please visit
http://www.micromarketmonitor.com/custom-research-services.html
to specify your custom Research Requirement
PRODUCT TITLE
PUBLISHED
Bioinformatics Content/Knowledge Management Tools


The global Bioinformatics Knowledge Management tool Market, by increasing funding by government and private organization, was pegged at $1.18 million in 2012 and expected to be $ 3.41 billion by 2018, growing at a CAGR of 19.3% from 2012 to 2018. The report "The Global Bioinformatics Knowledge Management tool Market forecast, 2012-2018" analyzes the Bioinformatics market into Generalized Knowledge management and Specialized Knowledge management. The report also provides an extensive competitive landscaping of companies operating in Bioinformatics Knowledge Management tool market include Accelrys Inc., Affymetrix Inc., Life Technologies Corporation, Illumina Inc. and CLC bio.



Upcoming
Bioinformatics Platforms


The global Bioinformatics platform Market, by increasing funding by government and private organization, was pegged at $901 million in 2013 and expected to be $ 3.6 billion by 2018, growing at a CAGR of 22% from 2012 to 2018. The report "The Global Bioinformatics Platform Market forecast, 2012-2018" analyzes the Bioinformatics platform market into Sequence alignment, structural analysis, sequence analysis and sequence manipulation platforms. The key players in the Bioinformatics platform market include Pacific Biosciences, Illumina Inc., PerkinElmer Inc., Life Technologies Corporation, and Roche Applied Sciences.



Upcoming
Bioinformatics Services


The global Bioinformatics Services Market, by increasing funding by government and private organization, was pegged at $ 761.2 million in 2013 and expected to be $ 2.48 billion by 2018, growing at a CAGR of 21.8% from 2012 to 2018. The report "The Global Bioinformatics Services Market forecast, 2012-2018" analyzes the Bioinformatics market into Bioinformatics knowledge management, Bioinformatics services, Bioinformatics platforms. The report also provides an extensive competitive landscaping of companies operating in Bioinformatics Services market include Accelrys Inc., Affymetrix Inc., Life Technologies Corporation, Illumina Inc. and CLC bio.



Upcoming
Drug Development (Bioinformatics)


Drug Development (Bioinformatics) and NGS data analysis, storage and management,



Upcoming
Clinical Diagnostics (Bioinformatics)


Clinical Diagnostics (Bioinformatics) and NGS data analysis, storage and management,



Upcoming
Molecular Medicine (Bioinformatics)


Molecular Medicine (Bioinformatics) and NGS data analysis, storage and management,



Upcoming
Gene Therapy (Bioinformatics)


Gene Therapy (Bioinformatics) and NGS data analysis, storage and management,



Upcoming
Reproductive Biotechnology (Bioinformatics)


Reproductive Biotechnology (Bioinformatics) and NGS data analysis, storage and management,



Upcoming
Crop yield improvement (Bioinformatics)


Crop yield improvement (Bioinformatics) and NGS data analysis, storage and management,



Upcoming
Pests resistance (Bioinformatics)


Pests resistance (Bioinformatics) and NGS data analysis, storage and management,



Upcoming
Soil quality improvement (Bioinformatics)


Soil quality improvement (Bioinformatics) and NGS data analysis, storage and management,



Upcoming
Nutritional quality (Bioinformatics)


Nutritional quality (Bioinformatics) and NGS data analysis, storage and management,



Upcoming
Waste Clean up (Bioinformatics)


Waste Clean up (Bioinformatics) and NGS data analysis, storage and management,



Upcoming
Alternative energy sources (Bioinformatics)


Alternative energy sources (Bioinformatics) and NGS data analysis, storage and management,



Upcoming
Climate change studies (Bioinformatics)


Climate change studies (Bioinformatics) and NGS data analysis, storage and management,



Upcoming
North American Bioinformatics


The North American Bioinformatics Market, by increasing funding by government and private organization, was pegged at $1.36 billion in 2013 and expected to be $ 4.05 billion by 2018, growing at a CAGR of 20.1% from 2012 to 2018. The report "The North American Bioinformatics Market forecast, 2012-2018" analyzes the Bioinformatics market into Bioinformatics knowledge management, Bioinformatics services, Bioinformatics platforms. The report also provides an extensive competitive landscaping of companies operating in Bioinformatics market include Accelrys Inc., Affymetrix Inc., Life Technologies Corporation, Illumina Inc. and CLC bio.



Upcoming
European Bioinformatics


The European Bioinformatics Market, is driven by increasing funding by government and private organization, was pegged at $ 761 million in 2012 and expected to be $ 2.3 billion by 2018, growing at a CAGR of 19.7% from 2012 to 2018. Europe is the second largest leader of the market, due to rising Government support and funding. The report also provides an extensive competitive landscaping of companies operating in Bioinformatics market include Accelrys Inc., Affymetrix Inc., Life Technologies Corporation, Illumina Inc. and CLC bio.



Upcoming
Asia-Pacific Bioinformatics


The Asia-Pacific Bioinformatics Market, is driven by increasing funding by government and private organization, was pegged at $ 580 million in 2012 and expected to be $ 2.19 billion by 2018, growing at a CAGR of 23.8% from 2012 to 2018. The report "The Asia-Pacific Bioinformatics Market forecast, 2012-2018" analyzes the Bioinformatics market into Bioinformatics knowledge management, Bioinformatics services, Bioinformatics platforms. The report also provides an extensive competitive landscaping of companies operating in Bioinformatics market include Accelrys Inc., Affymetrix Inc., Life Technologies Corporation, Illumina Inc. and CLC bio.



Upcoming
Asia-Pacific Bioinformatics Content/Knowledge Management Tools


The Asia-Pacific Bioinformatics Knowledge Management tool Market, is driven by increasing funding by government and private organization, was pegged at $ 237 million in 2012 and expected to be $ 790.3 million by 2018, growing at a CAGR of 22.2% from 2012 to 2018. The report "The Asia-Pacific Bioinformatics Knowledge Management tool Market forecast, 2012-2018" analyzes the Bioinformatics market into Generalized Knowledge management and Specialized Knowledge management. The report also provides an extensive competitive landscaping of companies operating in Bioinformatics market include Accelrys Inc., Biomax AG International., IDBS, Instem plc, etc.



Upcoming
North American Bioinformatics Content/Knowledge Management Tools


The North American Bioinformatics Knowledge Management tool Market, by increasing funding by government and private organization, was pegged at $452 million in 2012 and expected to be $ 1.48 billion by 2018, growing at a CAGR of 18.5% from 2012 to 2018. The report "The North American Bioinformatics Knowledge Management tool Market forecast, 2012-2018" analyzes the Bioinformatics market into Generalized Knowledge management and Specialized Knowledge management. The report also provides an extensive competitive landscaping of companies operating in Bioinformatics Knowledge Management tool market include Accelrys Inc., Agilent Technologies, Inc., Kinexus Bioinformatics, etc.



Upcoming