Automotive Lighting and Wire Harness & Connector, Electric Cable, Relay, Actuator, Motor, Switch and Sensor adds up to total Electronics / Electric Parts market.

Automotive Lighting can be segmented by Geographies, Companies and Submarkets. Geographies of this market are Asia-Pacific, North America, Europe and Rest of World. Companies of this market are Bayraktarlar Holding A.S., Changzhou Xingyu Automotive Lighting Systems Co. Ltd, DEPO Auto Parts Ind. Co. Ltd, Federal-Mogul Corporation, FIEM Industries Ltd, General Electric, Hyundai Mobis, Ichikoh Industries Ltd, Koito Manufacturing Co. Ltd, Magneti Marelli S.P.A, Osram GMBH, Royal Philips Electronics, SL Corporation, Stanley Electric Co. Ltd, TYC Brother Industrial Co. Ltd, Valeo S.A., Varroc Lighting Systems, Wipac Limited, Zizala Lichtsysteme GMBH, Magna International INC., 3M Industrial and Transportation, Grupo Antolin-Irausa and Hella Automotive. Submarkets of this market are Automobile Lighting and Two Wheeler Lighting.

Key Questions Answered
What are market estimates and forecasts; which of Automotive Lighting markets are doing well and which are not?
What is the competitive landscape; How companies like Bayraktarlar Holding A.S., Changzhou Xingyu Automotive Lighting Systems Co. Ltd and DEPO Auto Parts Ind. Co. Ltd doing in Automotive Lighting?

What makes our report unique?

This reports provides most granular segmentation on Automobile Lighting and Two Wheeler Lighting.
This report provides market sizing and forecast for the Automotive Lighting market. It also provides market sizing and forecast along with the drivers/inhibitors/opportunity analysis for each of the micro markets.
The report provides deep dive competitive landscape covering the top players such as Bayraktarlar Holding A.S., Changzhou Xingyu Automotive Lighting Systems Co. Ltd, DEPO Auto Parts Ind. Co. Ltd and Federal-Mogul Corporation.
The reports provides benchmarking insight on the top players Bayraktarlar Holding A.S., Changzhou Xingyu Automotive Lighting Systems Co. Ltd, DEPO Auto Parts Ind. Co. Ltd and Federal-Mogul Corporation.
The report provide competitive intelligence on Bayraktarlar Holding A.S., Changzhou Xingyu Automotive Lighting Systems Co. Ltd, DEPO Auto Parts Ind. Co. Ltd and Federal-Mogul Corporation.

Audience for this report

Global Automotive Lighting companies
Manufacturing Companies
Traders, distributors, and suppliers
Governmental and research organizations
Associations and industry bodies
Technology providers

Top developments

Valeo equipped the new Volkswagen Phaeton with its new BeamAtic Premium adaptive lighting system
OSRAM launched next generation of Mini TOPLED and TOPLED classics which generates high quality white light, perfect for the interior lighting of cars, buses, trains, & aircrafts.
OSRAM launched the Onyx Copilot automotive reading light with LED technology
Hella entered into a supply contract with Opel to supply its LED tail lights for the new mid-range Cascada convertible car.
Ichikoh entered into the headlamp market of two wheelers
Royal Philips Electronics partnered with Automotive Distribution Network (ADN) (U.S.), an umbrella organization consisting of four companies in automotive aftermarket
Hella intends to invest $100 million for its new Irapuato lighting facility in the Mexican state of Guanajuato.
Magneti Marelli supplied its lighting technologies to some of the recently launched premium class automobiles
TYC Brothers formed a joint venture with Varroc Group
Varroc acquired Visteon's equity interest in its China-based lighting JV, Visteon TYC Auto Lamps Co. Ltd




1 Introduction
1.1 Analyst Insights
1.2 Market Definitions
1.3 Market Segmentation & Aspects Covered
1.4 Research Methodology
2 Executive Summary
3 Market Overview
4 By Submarkets
4.1 Automobile Lighting
4.2 Two Wheeler Lighting
5 By Geographies
5.1 Asia-Pacific
5.2 North America
5.3 Europe
5.4 Rest of World
6 By Companies
6.1 Bayraktarlar Holding A.S.
6.2 Changzhou Xingyu Automotive Lighting Systems Co. Ltd
6.3 DEPO Auto Parts Ind. Co. Ltd
6.4 Federal-Mogul Corporation
6.5 FIEM Industries Ltd
6.6 General Electric
6.7 Hyundai Mobis
6.8 Ichikoh Industries Ltd
6.9 Koito Manufacturing Co. Ltd
6.10 Magneti Marelli S.P.A
6.11 Osram GMBH
6.12 Royal Philips Electronics
6.13 SL Corporation
6.14 Stanley Electric Co. Ltd
6.15 TYC Brother Industrial Co. Ltd
6.16 Valeo S.A.
6.17 Varroc Lighting Systems
6.18 Wipac Limited
6.19 Zizala Lichtsysteme GMBH
6.20 Magna International INC.
6.21 3M Industrial and Transportation
6.22 Grupo Antolin-Irausa
6.23 Hella Automotive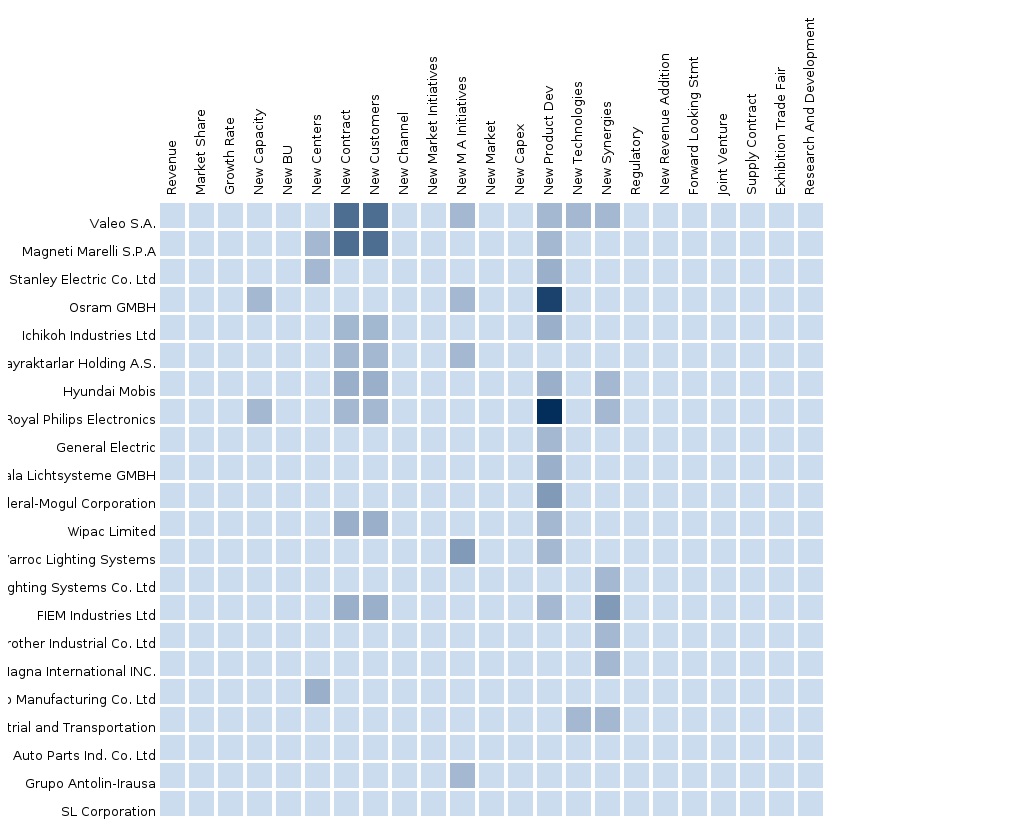 Please fill in the form below to receive a free copy of the Summary of this Report
Custom Market Research Services
We will customize the research for you, in case the report listed above does not meet with your exact requirements. Our custom research will comprehensively cover the business information you require to help you arrive at strategic and profitable business decisions.
Please visit
http://www.micromarketmonitor.com/custom-research-services.html
to specify your custom Research Requirement
PRODUCT TITLE
PUBLISHED
Europe Automobile Lighting


The strict lighting and safety regulations in the European region pose a challenge for the manufacturers to provide advanced technologies at an affordable price. The European automotive lightings market was valued at $5.88 billion in 2013, to grow at 5.5% annually. It is projected to reach $7.69 billion by the end of 2018.



Upcoming
Asia-Pacific Automobile Lighting


The automotive lighting manufacturing companies have started to look at Asia-Pacific as the largest destination for the automotive lighting. The Asia-Pacific automotive lightings market was valued at $9.20 billion in 2013, and expected to grow at 7.5% annually. It is projected to reach $13.23 billion by the end of 2018.



Upcoming
North America Automobile Lighting


The North American automotive lightings market was valued at $4.06 billion in 2013, to grow at 6.9% annually. It is projected to reach $5.68 billion by the end of 2018. The major lighting technologies used in vehicles in this region are halogen based. The demand for LED technology is estimated to increase with an implementation of low cost of LED technologies that is under development.



Upcoming
3 of 3 items
3 reports | Show