Global Phosphatic Fertilizers in Grains & Oilseeds Market
The phosphatic fertilizers market for grains & oilseeds can be segmented by ingredient, company, geography, and macroindicator.
The ingredients include phosphorus chemicals. The major regions considered in the report are North America, Europe, Asia, Latin America, and RoW. The main macroindicator that has an impact on the market is agricultural land.
The major companies of this market include Agrium Phosphate, EuroChem Phosphates, Yara Downstream, Coromandel Fertilisers, and CF Phosphate, among others.
Customization Options:
Along with market data, customize the MMM offerings in alignment with your company's specific needs. Customize to get a comprehensive summary of the industry standards and a deep dive analysis of the following considerations:
Geographic & climatic factors impacting phosphatic fertilizers in grains & oilseeds:
To analyze the region-specific climatic conditions that are suitable for application of the different types of phosphatic fertilizers (Diammonium phosphate, Monoammonium phosphate, and superphosphate) to improve the productivity of grains & oilseeds
A detailed analysis regarding the soil, slope, and water requirement along with the application of phosphatic fertilizers particularly for the improved growth of grains & oilseeds
Analysis of the leading fruits & vegetables producing regions:
A detailed study of the regions with highest yield for grains & oilseeds. This will help to estimate the potential market for phosphatic fertilizers in grains & oilseeds (Diammonium phosphate, Monoammonium Phosphate, and superphosphate)
Crop-Phosphatic Fertilizers usage data:
In-depth study of the different types of phosphatic fertilizers for application of variety of grains & oilseeds
Trade analysis:
Phosphatic fertilizers imported annually in each country, tracked till sub-segment level
Phosphatic fertilizers exported annually in each country, tracked till sub-segment level
Historical Data and Trends:
Country-specific target markets in terms of agricultural, irrigated, organic, and arable land
Country-specific area under each crop and crop type
1 Introduction
1.1 Analyst Insights
1.2 Market Definitions
1.3 Market Segmentation & Aspects Covered
1.4 Research Methodology
2 Executive Summary

3 Market Overview

4 by Ingredients
4.1 Phosphorus Chemicals
5 by Geographies
5.1 North America
5.2 Europe
5.3 Asia
5.4 Latin America
5.5 ROW
6 by Companies
6.1 Potash Corp. Phosphate
6.2 Agrium Phosphate
6.3 EuroChem Phosphates
6.4 Yara Downstream
6.5 Coromandel Fertilisers
6.6 CF Phosphate
6.7 Office Cherifien des phosphates
6.8 Mosaic phosphate crop nutrients
6.9 ICL Fertilizers
6.10 PhosAgro Phosphate based products
6.11 Others
6.12 BASF SE
6.13 Bayer AG
6.14 Dow Agrosciences LLC
6.15 E.I. du Pont de Nemours and Company (DuPont)
6.16 Monsanto Company
6.17 NUFARM LIMITED
6.18 Sociedad Quimica y Minera de Chile SA
6.19 SumitomoHealth & Crop Sciences
6.20 Syngenta AG
6.21 Others(Company)
6.22 Uralkali JSC
6.23 Indian Farmers Fertiliser Cooperative
6.24 Makhteskim Agan Group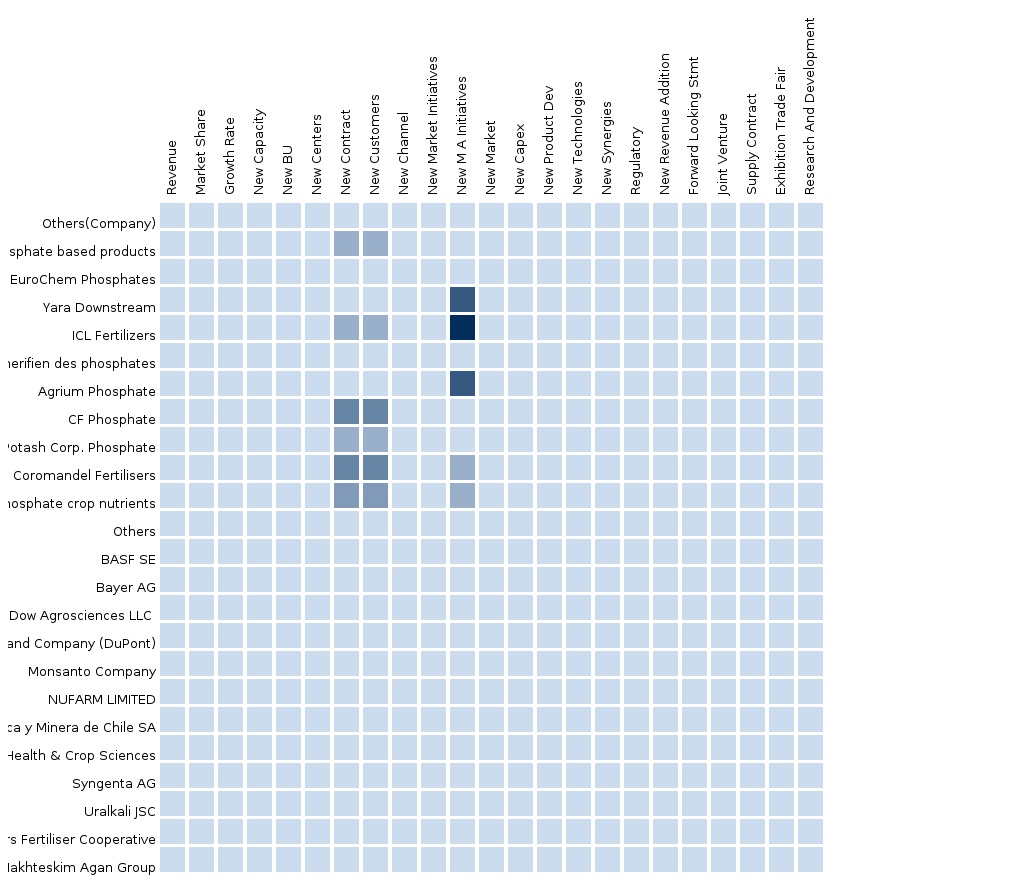 Please fill in the form below to receive a free copy of the Summary of this Report
Custom Market Research Services
We will customize the research for you, in case the report listed above does not meet with your exact requirements. Our custom research will comprehensively cover the business information you require to help you arrive at strategic and profitable business decisions.
Please visit
http://www.micromarketmonitor.com/custom-research-services.html
to specify your custom Research Requirement
Phosphatic Fertilizers in Grains & Oilseeds