The market for agricultural adjuvants in fungicides can be segmented in terms of companies, regions, macro-indicators, and end-users. The major regions considered in the study of this market are North America, Europe, Asia, and Latin America.
The most important macro-indicator of this market is the agricultural land. The end-users of this market comprise grains & oilseeds and fruits & vegetables.
The major companies operational in this market are Brandt Consolidated, Wilbur-Ellis Company, Dow Corning Corporation, Huntsman Corporation, Solvay S.A., Adjuvant Plus Inc., Garrco Products Inc., Helena Chemical Company, Interagro (UK) Ltd., Momentive Performance Materials Inc., Tanatex Chemicals B.V., Winfield Solutions, Llc., Lamberti S.p.A., AkzoNobel Specialty Chemicals, Clariant Industrial & Consumer, Nufarm Crop Protection, Croda International Plc., Evonik Industries, and Clariant International Ltd.
Customization Options
Along with the market data, you can also customize MMM assessments that meet your company's specific needs. Customize to get comprehensive industry standards and deep dive analysis of the following parameters.
Technical analysis
Agricultural adjuvants improve the efficiency of the agrochemicals and increase the yield and productivity of crop. However, the use of agricultural adjuvants also depends upon the prevailing climate, crop type, and method of application.
A regional geographical analysis and its suitability for particular type of agricultural adjuvant for fungicide is necessary as its effectiveness depends upon water chemistry, pH level of soil, and temperature
To study the effectiveness of agricultural adjuvant with fungicide as it differs with the type of crop, and application rate
Type of Agricultural adjuvant to be used with fungicide
Agricultural adjuvants are classified as activator (surfactants, oils, ammonium fertilizer), and utility (water conditioners, drift control, compatible, cidifier/buffers, antifoam). Activator adjuvants directly improve the efficiency by increasing the rate of absorption, whereas utility adjuvants alter the physical or chemical characteristics of the mixture.
To identify the type of adjuvant (activator or utility) suitable for use with fungicide
Agricultural Adjuvants Usage Data
Some agricultural adjuvants may be more favorable for the growth of a particular crop
Combination of agricultural adjuvants (activator or utility) – fungicides preferred for a particular plantation (crops, fruit & vegetable, turf & ornamental)
Competitive Intelligence
What is the competitive advantage the competitor enjoys over others
Which companies operate in the segment with similar product portfolios or target the similar markets
Arriving at a competitive benchmarking by taking into account the top industry players in the same category
Regulatory framework
To list the regulatory issues in import policies of the countries if they are adversely affecting the agricultural adjuvants in fungicides market
Certain adjuvants have adverse effects on aquatic species, and certain types are detrimental to fish life. Hence, adjuvants are treated with caution at many places
1 Introduction
1.1 Objectives of the study
1.1.1 Overall goal of writing the report
1.2 Market Definition and Scope of the study
1.2.1 Market Definition
1.2.2 Areas covered
1.2.3 Markets Covered
1.3 Stakeholders
1.4 Research Methodology
1.4.1 Secondary sources
1.4.2 Primary Sources
1.4.3 Market estimation methodology (Top-down, bottom-up, data triangulation.)
1.4.4 Macro indicators for the study
1.5 Assumptions
1.6 List of Acronyms
2 Market Overview
3 Agricultural Adjuvants in Fungicides, By Geographies
3.1 North America
3.1.1 North America, By MacroIndicators
3.1.1.1 Agricultural Land-North America
3.1.2 North America, By Geographies
3.1.2.1 U.S.
3.1.2.2 Mexico
3.1.2.3 Canada
3.2 Europe
3.2.1 Europe, By MacroIndicators
3.2.1.1 Agricultural Land-Europe
3.2.2 Europe, By Geographies
3.2.2.1 France
3.2.2.2 Italy
3.2.2.3 Germany
3.2.2.4 Europe - Other Geographies
3.3 Asia
3.3.1 Asia, By MacroIndicators
3.3.1.1 Agricultural Land-Asia
3.3.2 Asia, By Geographies
3.3.2.1 Japan
3.3.2.2 China
3.3.2.3 Australia
3.3.2.4 Asia - Other Geographies
3.4 RoW
3.4.1 RoW, By MacroIndicators
3.4.1.1 Agricultural Land-RoW
3.4.2 RoW, By Geographies
3.4.2.1 South Africa
3.5 Latin America
3.5.1 Latin America, By MacroIndicators
3.5.1.1 Agricultural Land-Latin America
3.5.2 Latin America, By Geographies
3.5.2.1 Argentina
3.5.2.2 Brazil
3.5.2.3 Latin America - Other Geographies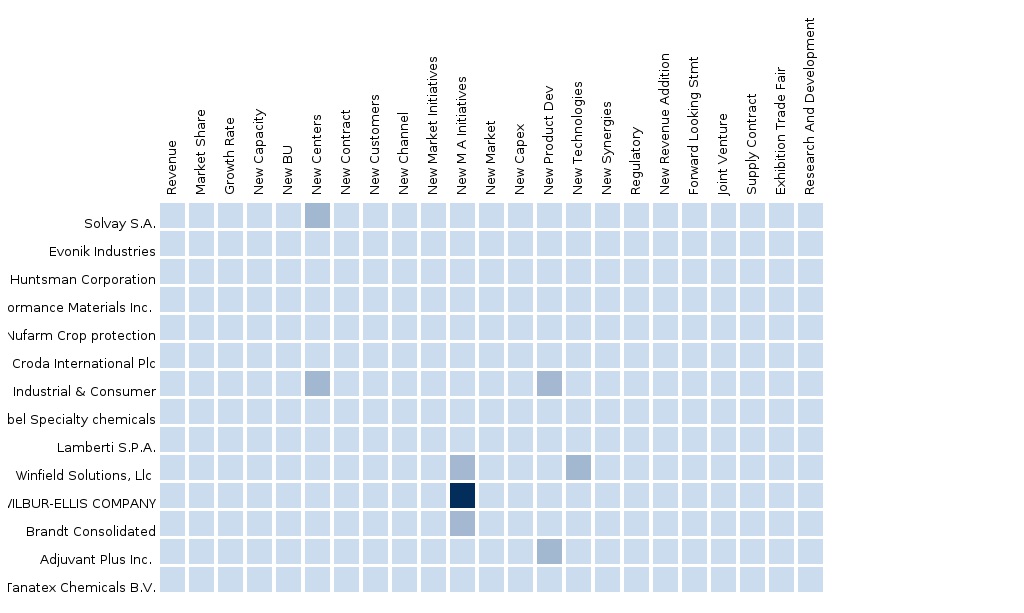 Please fill in the form below to receive a free copy of the Summary of this Report
Custom Market Research Services
We will customize the research for you, in case the report listed above does not meet with your exact requirements. Our custom research will comprehensively cover the business information you require to help you arrive at strategic and profitable business decisions.
Please visit
http://www.micromarketmonitor.com/custom-research-services.html
to specify your custom Research Requirement
Agricultural Adjuvants in Fungicides